From their first day on a hot kitchen line or working their way through the early basics at culinary school, most professional cooks entertain the big dream of owning their own restaurant.
Add bartenders and baristas to the mix and you have a lot of potential establishments on the proverbial drawing board.
By the time many get off the ground, they've taken on investors and bank loan officers who are more concerned with return per square foot than sticking to a certain ethos or perfectionist level of quality.
Having learned from peers who see their dreams burdened with bloat, or because they fall in love with a tiny space, or for a long list of other interesting reasons, many restaurateurs in Toronto are sticking to a smaller footprint.
When their family craft beer bar, Bar Volo, had to move out of its decades-old home to make way for a condo, the Moranas scoured the city for a new spot.
"I lived in that neighbourhood for 10 years," says Tomas Morana about the part of College Street that stretches west of Bathurst. "I frequented Souz Dal because it was cool and the owner didn't really care about smoking in the back."
When the property came available, the team that includes his dad Ralph and brother Giulian jumped at the opportunity.
Until the 1960s it was an alleyway beside a Cinema
The narrow but efficient space is only eight-and-a-half feet wide, goes back 125 feet and makes a dogleg right turn before opening into their back patio that is only slightly wider than the rest of the room.
Until well into the 1960s it was an alleyway beside the Royal Cinema. Two brothers managed to put in a pizzeria there and the address went through several changes before becoming the eclectic tiki bar Morana remembers fondly.
Once they had a lease signed, he and Ralph stripped it back to the bare brick walls and created the type of watering hole that might have been gently aging in Spain or Italy for over a century.
That means patrons all elbow their way to the bar to place an order from over 20 carefully chosen beer options.
"I'm not really a huge fan of big bars," says Morana. "I know people seek a level of comfort when they go out, but we're never going to have big cushy stools at the bar."
Food was a matter of making do with what they had. The landlord offered the space between them and the Royal as a kitchen. After a bit of consideration, the Moranas thought it was better to get someone else to take on the space as a standalone business.
They had an existing relationship with Pawel Grezlikowski who was looking for a home for the restaurant concept that would become PG Clucks. The Nashville hot chicken nicely complements the tapas-style options that fill out the rest of the menu at Birreria Volo and Morana says many guests find a beer turns into an entire meal.
Food trucks have, by their nature, some of the smallest kitchens in the city. And from their experience running one James Carnevale and Nick Genova must feel that their 300 square feet of prep kitchen and takeout window is palatial.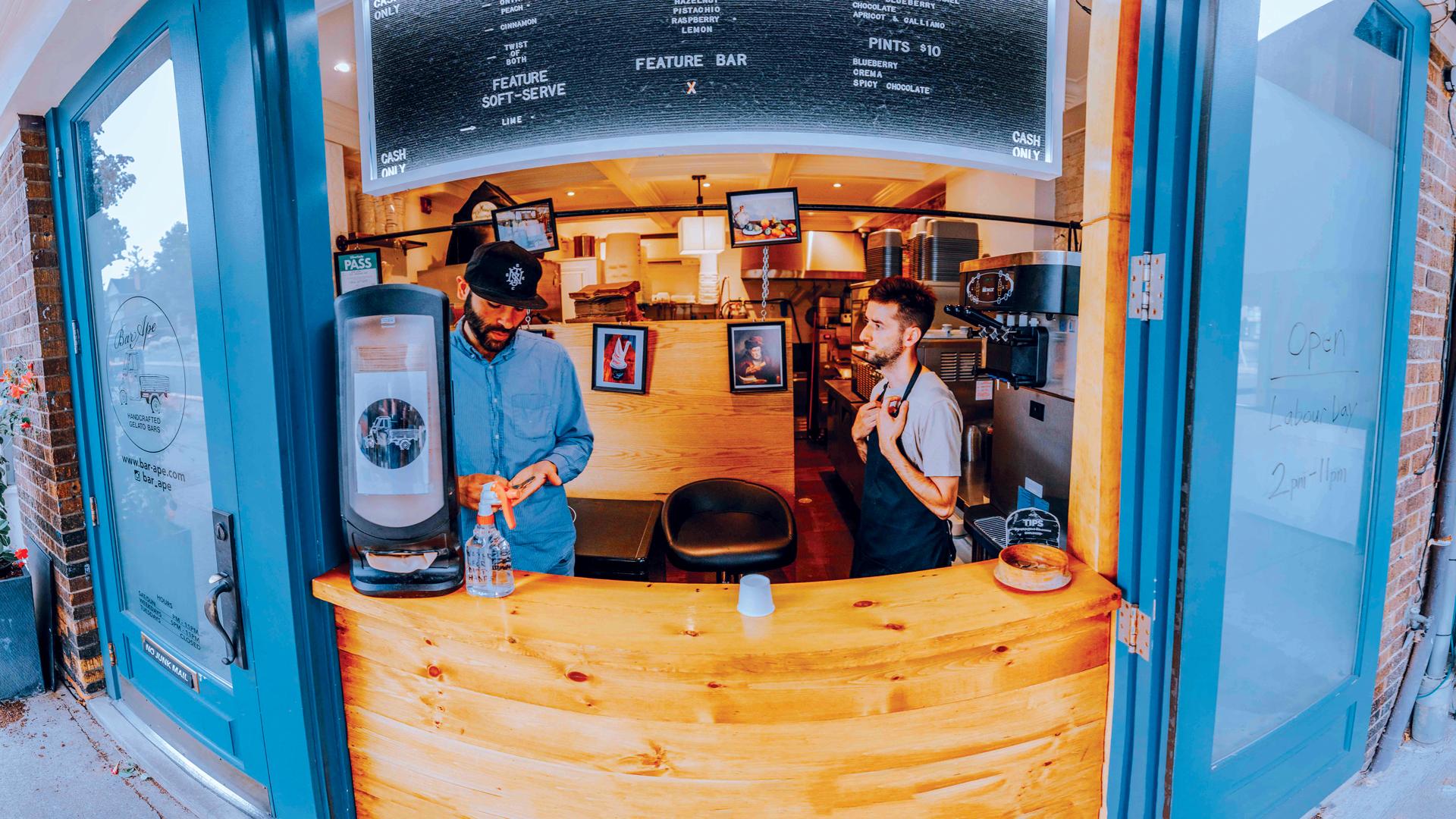 From May to the last weekend of September, Bar Ape attracts a bustling crowd of locals and further-flung gelato lovers to the corner of Rushton and St. Clair West.
They're there for gelato bars that were born out of the need to be as efficient as possible and to make truck service make sense. At peak, they got to the point where they could pass 400 of the premade bars through the generous window of the vintage Piaggio Ape truck every hour.
Carnevale thinks they were also first in Toronto to strike out on the idea of serving gelato from a soft-serve ice cream machine. It's faster to pull a handle than scoop from a tub, they realized. That, plus, a very short list of flavours made from local ingredients in their seasonal peak, keep the time-per-customer down and the line moving.
As they're "trying to get to the point where we can live our lives instead of it consuming everything," Carnevale says the team is beginning to plan for an expansion to other locations. "I want people to consider going to [another location] because there are things that are not offered at the original," he says. "Flavours will always be different and the concept there is different enough to make some go to both."
freezers were elevated to create storage underneath
Even without inventory, storage can be a headache for Carnevale. He has dry goods and custom-ordered cups in his father's garage; there's half a skid of coconut sitting in a friend's coffee shop. Two years ago, they hacked a way to elevate the freezers off the ground and create storage space underneath.
Leading-edge coffee has found its way into rooms little bigger than a demi-tasse. It makes sense that if you care more about quality beans and artful preparation you'll spend less time (and money) worrying about how many overstuffed chairs you can fit within range of your WiFi router.
But in typically conservative fashion, Toronto's municipal authorities were slow to warm to the idea of these tiny cafés.
In 2010, when Sam James wanted to open his original, eponymous shop on Harbord, deputy mayor Joe Pantalone was quoted by media outlets saying, "I wouldn't call them stores. I'd call them cubicles. We're not in Japan here where people can rent cubicles."
Even with just 200 square feet of space, the coffee bar thrived and Sam James has gone on to open even smaller Coffee Pockets – the one in the Annex is a counter barely as wide as four people. Not long after, Joe Pantalone retired from municipal politics following an unsuccessful run for mayor.
James has been joined by several other strictly joe-to-go spots in the past decade but no one has been more extreme than Joshua Campos of the Coffee Lab on Spadina Avenue at Richmond Street.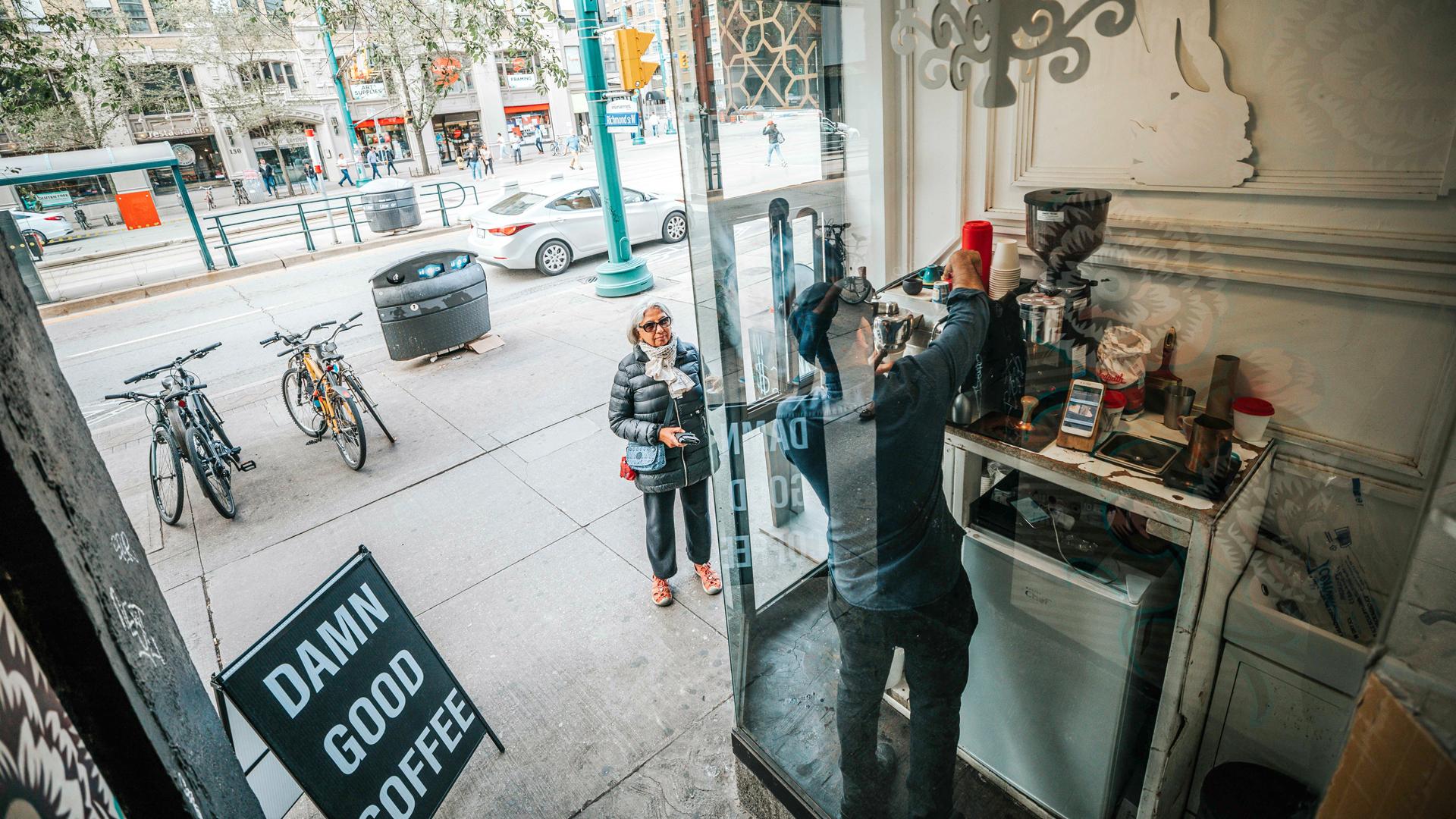 He managed to fit his entire operation into just 18 square feet. This tiny space once served as a display window beside the building's entrance.
The Coffee Lab is far from a small-for-the-sake-of-it gimmick. Not having to worry about things like staff to wipe tables means that Campos can maintain his focus entirely on the caffeinated fare.
He brings in beans from notable roasteries all over North America and beyond. Ordering a coffee "for here" means the Spadina sidewalk or a bench out front, but the serving dishes are still carefully chosen to look like they belong in a modernist museum.
the restaurant ten only serves that many diners at once
But it's not just the quick-and-casual end of the spectrum that benefits from a minimalist approach. Julian Bentivegna's Ten, on College Street, only serves that many diners at once (20 total on any particular night). They get a refined, plant-forward tasting menu served directly from his kitchen that is surrounded by a chef's bar.
Bentivegna, just 25, knew that he wanted his own eatery to be drastically smaller than average. When he set out to find a space for it, he had a target of 900 square feet in mind.
The space he found on College Street is 1,100 square feet. "I really like how it felt like a Toronto space to me – one long shot. I could envision where the bar was going to be."
His resumé is littered with a few of North America's finest names in dining and working in those places contributed to his motivation to stay minimal. "Grace in Chicago and Alo can fit 60 or 70 people," he points out. "There, I felt like the nights we were doing 20, I felt better about the food that was going out and the experience that each guest was getting."
And he buys the idea that if your name is beside the 'head chef' title, your hand should be on the pan (or plating tweezer). "A lot of the time when chefs do become owners, they're no longer cooking. And that's a shame," he says.
A small restaurant not only feels accessible in the emotional sense but it can also be easier to get around. Most establishments in Toronto, west of Yonge at least, put their washrooms in the basement. Bentivegna consciously set out to build them on the main floor – along with a chef's bar that is mostly at wheelchair height.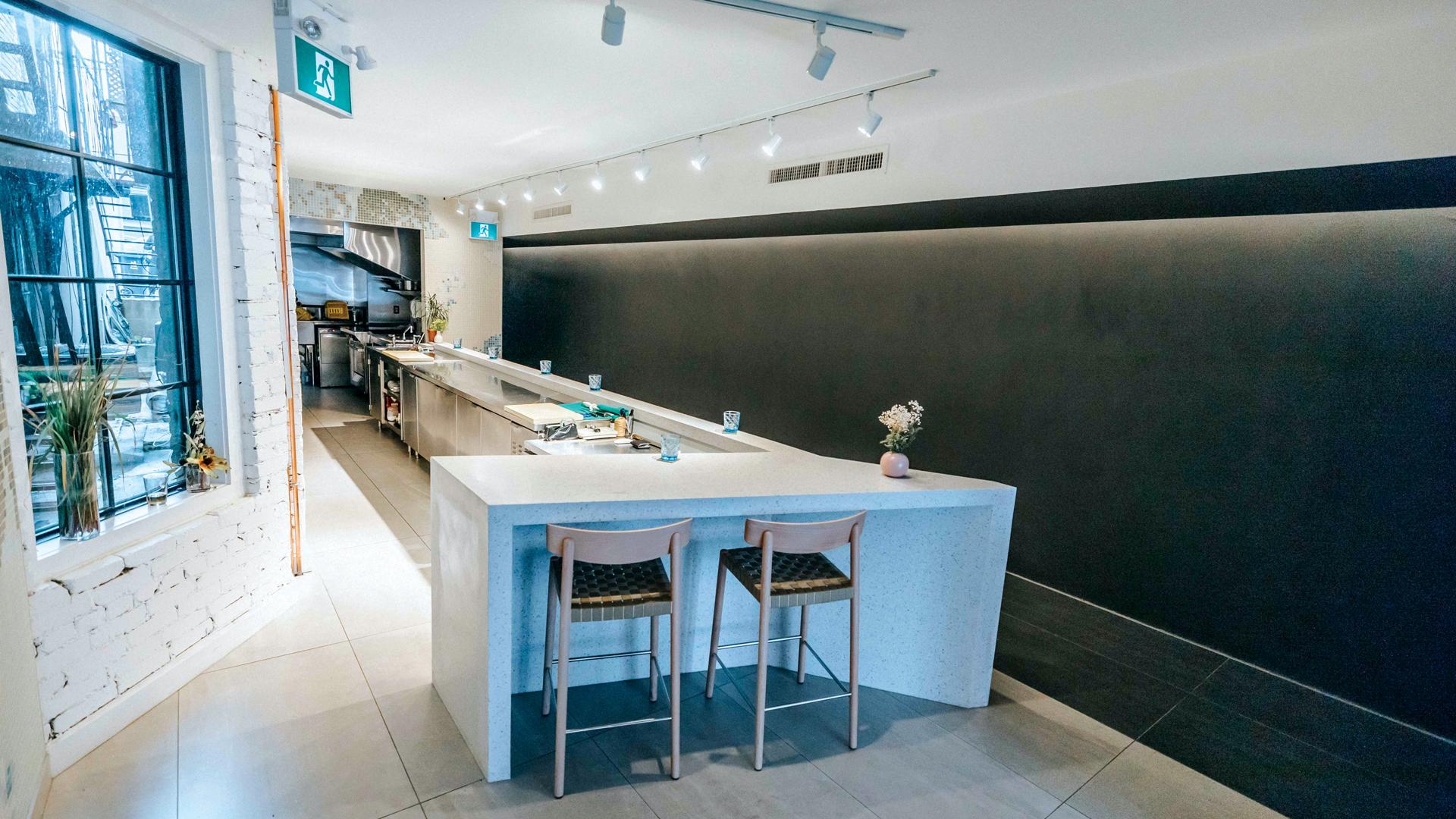 With the spare focus on the same micro-seasonal tasting menu every night, diners at Ten enjoy a level of camaraderie you don't usually associate with fine dining and that means some end up making new friends.
But "the nicest part about it," Bentivegna explains, "is that I don't have to answer to investors. I have full autonomy over the experience."
Whether it's that yearning for autonomy, slavish devotion to the product or a hell-or-high-water allegiance to a particular neighbourhood, chefs, restaurateurs and other hospitality entrepreneurs seem keen to add minimal and small to Toronto's dining and drinking options. As the city's residents and restaurant owners become increasingly squeezed by the cost of operating a business, these smaller-than-a-condo establishments might eventually evolve from being an anomaly to the ordinary.