It's no secret that Ontario is home to some of Canada's richest farmland. Every summer, we're lucky enough to ditch the sour off-season strawberries and floppy imported kale in favour of a fresh Toronto farmers' market bounty from right here at home.
Crisp air, organic produce and a chance to connect with our neighbours and local farmers — there's so much to love about farmers' markets. They're always a welcome reprieve from all of the cold-weather doughnut and fried chicken purchases we've been indulging in (no, the iceberg lettuce on your burger doesn't count as a serving of vegetables).
While the Toronto squirrels may have gotten to the veg in your own garden before you did, you can leave it to the pros at these Toronto farmers' markets to bring you everything you need. And with pick up and delivery options making it more accessible than ever, there's no excuse to skip out on supporting the finest farmers, fishers, bakers and makers our province has to offer.
11 of Toronto's freshest farmers' markets
1. Deeply Rooted Farmers' Market
455 Cosburn Ave.
New to East York this year, Deeply Rooted is Toronto's first Black and Indigenous farmers' market. Every Sunday from May 8 – September 25, visitors can connect with Black and Indigenous farmers and artisans, and discover amazing products like crushable craft brews from Red Tape Brewery and delicious snacks and pantry items from RicherEarth Vegan Eats. "Healthy, organic and culturally appropriate food is a human right, not a privilege, and we are dedicated to making that right more accessible to Black and Indigenous communities," writes Deeply Rooted Farmers' Market on their website.
2. Dufferin Grove Farmers' Market
875 Dufferin St.
Operating since 2002, this year-round farmers' market is one of the longest-running in the city. When COVID threatened to disrupt the weekly market, they were quick to pivot to an online store where customers could order all the regular market fare for pick-up or delivery. Now, the market is finally back in the park, so you can find us perusing the stalls under Dufferin Grove's tall trees with the smell of freshly-made bread from the park's wood-burning oven.
3. Afro-Caribbean Farmers' Market
1531 Eglinton Ave. W. & Oakwood Ave.
Every Sunday until September 25, a Little Jamaica parking lot is transformed into a vibrant community hub. Much more than an average farmers' market, it is a joyful celebration of the neighbourhood's cultural roots, just as much as it is a resistance to the new developments that threaten the area. Above all, it's a place for good food — with a mix of produce grown by urban farmers from the diaspora and an assortment of artisanal sauces, fresh breads and desserts — all locally-made.
afrocaribbeanfarmersmarket.com
4. St. Lawrence Farmers' Market
93 Front St. E.
As if there wasn't enough to love about the iconic indoor market's many stalls, a seasonal outdoor farmers' market stocked with freshly-picked produce from around the province is the cherry on top. Open since 1803, shopping at the St. Lawrence Market is like doing your weekly grocery trip in a slice of history.
5. Trinity Bellwoods Farmers' Market
241-257 Shaw St.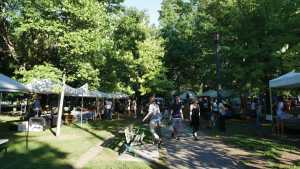 Trinity Bellwoods Park may conjure up images of boozy weekend picnics, but it dons a more wholesome look every Tuesday afternoon when this farmers' market pitches its tents. Pick up fresh produce from Aldergrove Farms, or sustainably-caught fish from Baffin Island at the First Fish stall. And for your next picnic, a trip to the rotating stand of Ontario wines and ciders couldn't hurt, either.
6. Evergreen Brickworks
550 Bayview Ave.
This airy, Saturday morning market is the perfect start to any weekend. You won't have any trouble finding what you need, with over 50 vendors selling everything from produce to baked goods to VQA wine — this is one of the largest farmers' markets in the city. Better yet, this market operates year-round, so you never have to miss out on those fresh fruits and veg.
7. Sorauren Farmers' Market
50 Wabash Ave.
Sorauren Park's joyful market is the perfect way to offset the Monday blues. Aside from nourishing the neighbourhood with farm-fresh produce and artisanal goodies, this market has partnered with Sistering and Ne-Me-Res to provide healthy food to those who need it most via their Gratitude/Donation table.
8. Withrow Park Farmers' Market
725 Logan Ave.
On top of the regular farmers' market fare, this east end market is piloting a new Urban Grower Project. To encourage urban agriculture, all local growers — whether you farm in your backyard or on your balcony — can participate in the market as a vendor.
9. Montgomery's Inn Farmers' Market
4709 Dundas St. W.
Set outside of a 19th-century Canadian inn, this Etobicoke gem was historically part of a 400-acre farm which supplied food for the Mongomery family and their guests. While the farm may be long gone, you can still celebrate its roots by shopping local produce, preserves, cheese and charcuterie from around Ontario every Wednesday afternoon.
10. The Leslieville Farmers' Market
150 Greenwood Ave.
Sprawling across Greenwood park, this weekend market has an exceptional lineup of farmers, bakers, brewers and everything in between. With live performances by local musicians each week, every Sunday shopping trip feels like a party.
11. Underpass Park Farmers' Market
29 Lower River St.
While an underpass may be the last place you expect to do your grocery shopping, the Underpass Park Farmers' Market is a vital part of the Corktown community. Despite the unusual location, you can expect to find some amazing vendors. Pick up produce at City Girl Greens, a female-owned urban farm, or take a taste of Trinidad at the Firecracker Pepper Sauce stall.