Veganism has been undergoing a radical change in recent years. From fast food to fine dining, a slew of forward-thinking chefs are going above and beyond to turn preconceptions of vegan eating on their head, showing people it can be beautiful, colourful and vibrant, with flavours to match. There's vegan pasta, vegan pizza, vegan sushi spots and so much more — meat might be off the agenda, but good eating certainly isn't. 
Seitan, tofu and tempeh are frequently key players when it comes to recreating the texture of animal-based ingredients. Seitan is a form of hydrated gluten; tofu is made of condensed soy milk; while tempeh is made from fermented and cooked soybeans, packed into a block. All three are used to delicious effect: there's charring on the 'meat'; the 'fish' tastes of the sea; the 'cheese' is gooey and golden. And underpinning it all is fresh, seasonal veg that's anything but boring.
There's also a movement in modern vegan cooking that doesn't try to recreate the textures and flavours of meat, instead focusing on showcasing plants and grains in their simple beauty.
Of course, vegan cooking isn't the complete solution to our planet problems. There are all sorts of arguments about how healthy it is, as many fake meats and cheeses are super processed. Not to mention many of them aren't actually that good for the environment — tofu, for example, relies on crop monoculture and pesticides.
But no matter which camp you're in, no one can say that eating less meat isn't better for you and the environment, and if that means you need to eat a fake burger that bleeds beet juice once a week, who's to say that isn't OK?
Certainly not us, and given the creative cooking at these Toronto outposts, we'll say it's a safe bet you'll be eating it far more often than that...
The best vegan restaurants in Toronto: The Fashion District
1. Parka Food Co.
424 Queen St. W.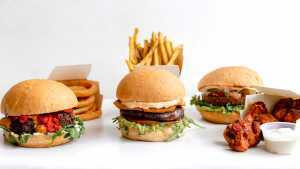 On a mission to make healthy eating an easier, more fun experience, Parka reimagines comfort food classics as wholesome and plant-based, yet still deliciously indulgent. Creamy mac 'n' cashew cheese goes beyond the traditional, coming in different variations like truffle mushroom or broccoli pesto. Meanwhile, biting into a juicy burger is also a way to get your veggies in, with options like the portobello mushroom patty, loaded with chipotle aioli, onion rings, guacamole, organic arugula and plum tomato. Hearty chili, salads and bowls also make it onto the menu, along with a cashew cheese and mushroom gravy poutine.
2. Pizzeria Du
536 Queen St. W.
The story of Pizzeria Du is as heart-warming as its pizzas are delicious — which, seeing as the plant-based pizzas are gob-smackingly good, is very. The Queen Street restaurant comes from the same team behind Avelo, the fine-dining plant-based restaurant known for its vegan hazelnut ice cream with sea salt and gold flakes, but this time it's the humble pizza that gets a plant-based glow up.
The takeout spot, located inside the new Osteria Du, is named for Avelo's chef Dualco, who sadly passed away. The restaurant cancelled the launch of its latest outpost, and switched up the concept to become Pizza Du to showcase Dualco's signature pizza crust.
The best vegan restaurants in Toronto: The Entertainment District
3. Rosalinda
133 Richmond St. W.
Golden hour dining at Rosalinda is an ethereal experience. The restaurant's west-facing floor-to-ceiling windows allow golden beams of sunlight to bathe every corner of the airy, greenery-laden dining room, including the artfully presented vegan meal on your plate. It's the perfect time to savour Rosalinda's compact, Latin-inspired menu; standouts like the black bean fritters with whipped garlic aioli deliver on big spice and bright flavours, and the meaty mushroom birria tacos ooze with a finger-licking-good queso blanco.
Don't skip out on sipping a cocktail with your meal, especially if you're obsessed with mezcal (like us). The three-ounce mezcal negroni sees the classic tipple turned on its head with a spotlight-stealing cameo from the bold Mexican spirit.
4. Planta Queen
180 Queen St. W.
Previously relegated to ordering the most boring of sushi (we're looking at you, cucumber roll), vegans can finally satiate their sashimi dreams at Planta Queen. Ahi watermelon nigiri mimics the texture and flavour of raw fish, while the dragon roll is stuffed with tempura broccoli, spinach and spicy unagi sauce.
From chef David Lee, the menu of plant-based fare features all the greatest hits from Asian cuisine — there's BangBang Broccoli; wonton soup in a mushroom broth; and General D's Cauliflower. Slurp up udon noodles in a truffle-scented coconut cream, and don't you dare skip on the dumplings.
5. Copper Branch
Multiple Locations
If a big bowl of chilli is as comforting as a hug, Copper Branch's plant-based version is the equivalent of a hug from your mum, i.e. it's warming, it's wholesome and it makes you feel better, no matter what kind of trouble you've got yourself in. Elsewhere, colourful bowls filled with sweet potato, beets and spiced chickpeas are sure to boost your mood — but for something that feels a little less, erm, healthy, tuck into the family-size mac 'n' cheeze.
The best vegan restaurants in Toronto: The Annex
6. Guerilla Burger
454 Bloor St. W.
This kitchen inside of Eva's Original Chimney's is single-handedly crushing the stereotype that vegan burgers are all flimsy little discs of black beans and disappointment. These gargantuan burgers are stacked with craving-smashing toppings like chili, butternut squash mac n' cheeze, kimchi or jerk coleslaw. These babies aren't just hearty — they're also some of the best comfort food we've ever had, plant-based or otherwise. Just make sure you bring a napkin (or five), because things are about to get messy.
The best vegan restaurants in Toronto: Kensington Market
7. Buddha's Vegan Restaurant
666 Dundas St. W.
Buddha's is practically synonymous with Toronto's vegan food scene. With more than 30 years under its belt, the humble Chinese restaurant has thrived off of cult-like success with foodies (and anyone with taste buds, really) across the city. The dining room is often teeming with ravenous guests, so takeout may be your best bet to experience Buddha's drool-worthy vegan meals. Their imitation meat offerings are vast — soya steak, veggie chicken, fake shrimp and duck are all seasoned to salty-savoury perfection in steaming soups and on towering piles of tasty noodles or fried rice.
8. Hawker
291 Augusta Ave.
This fine-dining plant-based restaurant follows the 'naturalism' ideology — basically, treating food like an experience, where you're aware of every ingredient you're consuming. In practical terms, that means some very well-thought-out, very delicious small plates like the smoked poblano 'Starry Night' biryani. Pro tip: don't miss out on their house-made vegan ice cream for dessert.
9. The Hogtown Vegan
382 College St.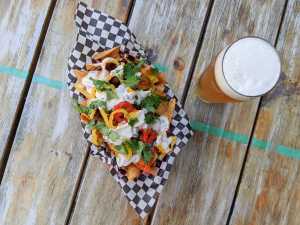 Comfort food classics and pub fare, but make it vegan. We're talking crispy fried soy wings tossed in your choice of sauce; nachos piled high with barbecue soy pork, pickled hot banana peppers, nacho cheez, sunflower seed sour cream and cilantro; and fully loaded chili cheese fries. As for mains, there's a dish for everyone, with a menu stretching from tacos, burgers, wraps and sandwiches to unchicken on a Belgian waffle and beer-battered tempeh fish and chips.
10. Saigon Lotus
6 St. Andrew St.
We're willing to wager this unassuming little restaurant tucked away in Kensington cracks many Torontonians' top 10 favourite restaurants. The Vietnamese dishes on the menu are teeming with big and boisterous flavours, and they're all reasonably priced (vegan dining can be expensive, we know.)
Spicy vegan chicken banh mis fly out of the kitchen at breakneck speed, seemingly ordered by every table. What's more, we're also smitten for Saigon Lotus' serene atmosphere — we'd gladly return to keep gawking at their gorgeous ceiling mural (hand-painted by one of their employees, no less).
11. Eat Nabati
160 Baldwin St.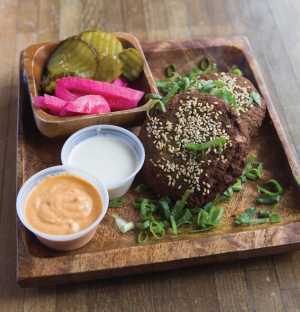 'Nabati' is an Arabic adjective that means 'made of plants' and that's exactly what this fast-casual Kensington hub specializes in. Inspired by outdoor markets and street food culture, Eat Nabati combines Middle Eastern flavours with seasonal, local produce. Dishes are wallet-friendly (most menu items are under $10) and full of bold, healthy freshness.
They have meat-style shawarmas that are completely plant-based, but you'd never know it, and a variety of dishes like za'atar cauliflower with beet tahini that can be served over fresh pita, rice, fries or lentils. There are also four types of tahini sauces for all your dipping needs.
12. Veggie D'Light
160 Baldwin St.
Veggie D'Light is, well, delightful. Under the watchful eye of Jamaican-trained chef Peter McKenzie, the restaurant puts a veggie spin on Caribbean classics. Vegan jerk roti; bowls with whole grains like quinoa, brown rice and flax; leafy veg and fresh salads feature prominently on the menu, all designed to put a spring in your step. Caribbean flavours make you think of warmer climes — all we need now is the beach and the palm trees…
The best vegan restaurants in Toronto: Trinity Bellwoods
13. Bloomer's
715 Queen St. W.
The second location of this popular plant-based bakery focuses more on Bloomer's sweet side with vegan pastries, cakes and those delectable donuts that get hand-made every morning. Start your day off right with donut flavours like rose pistachio and cinnamon sugar or seasonal specials like pecan butter tart and banana pudding. They have daily rotating flavours so you're always in for a surprise treat.
Looking for a savoury option? Bloomer's has bagels — perfect vessels for their dairy free cream cheese spreads. If you've got a special vegan or dairy-free friend in your life, their cakes will impress anyone at the party with fun flavours like Campfire with vanilla frosting, graham cracker crumbs, chocolate ganache and marshmallows — oh and you can crown your cake with donuts, too.
14. Fat Choi
94 Ossington Ave.
Family-run restaurant Soos has been an Ossington favourite since 2013 and their plant-based, permanent pop-up Fat Choi is so good that it can convert any meat-lover into a plantaholic. Inspired by Chinese Malaysian food ('fat' in Cantonese means prosperity and 'choi' means vegetable), Fat Choi literally stands for plant-based prosperity.
Their menu rotates every week, but some dishes you can expect to find are char kaway teow (popular Malaysian street food noodles); char siu bao on a Chinese steamed bun with pickled veg; and sloppy jacks with bourbon barbecue jackfruit, samba mayo and kimchi. They also have jars of their sambal chili which you're going to want to stock your kitchen cabinets with.
15. Stefano's Sandwiches
1214 Dundas St. W.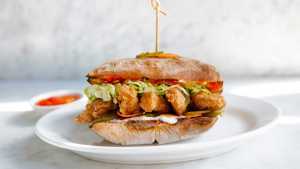 Known for their delicious plant-based pasta dishes, the team behind Gia (formerly Ufficio) have transferred their affinity and apt for vegan dining into a brand-new concept: Stefano's Sandwiches. Stefano's has been operating out of the same location as Gia, but a permanent new location is in the works and slated to open this spring.
These aren't the sandwiches you remember from sad school lunches — Stefano's sammies come fully loaded on house-made ciabatta. Menu items like the vegan fried chicken sandwich (topped with vegan mayo, lettuce and pickles from White Lily Diner), and the Beyond Italian sweet sausage (with chipotle mayo, rapini chimichurri, sautéed onions and VegCheese crema) will make you forget all about their meaty counterparts.
16. Hello 123
1122 Queen St. W.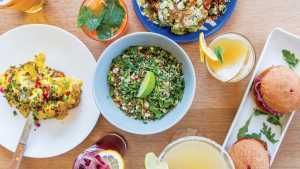 Hello 123 promises happy food and happy times, which is a pretty bold claim. But this Queen West spot more than delivers, with plates of almond and banana french toast, chickpea 'omelettes' with greens, and Irene's Massive Breakfast, a feast of a chickpea and kale omelette in ranchero sauce, roasted wedges and sourdough toast, pancakes, seared tempeh, and a side salad; a dish that laughs in the face of hunger. And that's just for the a.m. — there are burgers, booze and more.
17. Gia
1214 Dundas St. W.
While not entirely vegan, the plant-forward menu at Gia promises plenty for vegetarians and vegans to enjoy. Slurp up dishes like creamy Tonnarello al Tartufo with truffles and cashew butter or the Rigatoni Salsiccia with house-made vegan sausage. Then, sink your teeth into the fluffy house-made focaccia — pure heaven (and also vegan). Organic and sustainable wines are prominent on the drinks list, but be sure to start with one of their craft cocktails, like the Smoke Show with mezcal, dry curacao, green chartreuse and lemon.
The best vegan restaurants in Toronto: Little Italy
18. La Bartola
588 College St.
Chef Ivan Castro grew up cooking traditional recipes with his mother and grandmother in Mexico City and has combined his unique food history with the power of plants to create a truly beautiful and original College Street oasis. The restaurant, recently awarded a Bib Gourmand in Toronto's Michelin Guide, dishes up beautifully constructed and presented Mexican cuisine, like creamy moles, braised hibiscus flower tacos and refried-bean-filled tetelas. Everything that comes out of chef Castro's kitchen is a masterclass in texture, flavour and creativity. Coupled with La Bartola's passionate and knowledgeable staff, it's an unforgettable dining experience.
19. Odd Burger
Multiple locations
If you're in a fast food kinda mood, absolutely do not look at Odd Burger's website, absolutely do not read the menu and absolutely do not order the Preposterous Burger. Which, for the record, totally lives up to its name. It's huge, for one thing: a doorstop-sized house-made charred seitan patty is swaddled in crisp lettuce and light and fluffy bun. It's also preposterously delicious, the patty infused with beet juice for added oomph. The Golden Arches better watch out…
The best vegan restaurants in Toronto: Roncesvalles
20. The Goods
279 Roncesvalles Ave.
The team at The Goods believes in the healing power of whole, fresh food. Food that's delicious, food that's natural, food that's, well, good. It's the place to find prepped soups, salads and smoothies, game-changing dressings, and — since the pandemic — easy meal kits so you can eat top-quality meals at home. It's a simple ethos, and it's a good one.
The best vegan restaurants in Toronto: Parkdale
21. Lovebird
1277 Queen St. W.
We know what love tastes like, and it's Lovebird's vegan fried chick'n sandwich, topped with sauce, slaw and pickles. Or maybe it's their fried chick'n bao buns, three soft and fluffy steamed buns with pickled carrot and cucumber, spicy vegan mayo and sesame seeds. Or possibly even the vegan smash burger with vegan cheese, lettuce, tomato, onions and pickles on a vegan bun. Look, it's all delicious and we love it all — and we especially love that it's made with organic, non-GMO soy, pea protein and spices.
22. Vegan Danish Bakery
1312 Queen St. W.
In our opinion, a life without pastries isn't much of a life at all, which is why we thank the food gods for the aptly named Vegan Danish Bakery, where you can get your chops around — yep, you guessed it — vegan danishes. But also vegan biscotti, peanut butter cups, cinnamon buns, cheesecake slices… Shall we tell you more or shall we just see you there?
vegandanishbakery.wordpress.com
The best vegan restaurants in Toronto: Church-Wellesley
23. Avelo
51 St. Nicholas St.
Day in and day out, Avelo is setting the bar high for vegan dining in Toronto. The Church-Wellesley spot is owned by the same team behind Pizzeria Du and Osteria Du, but this is by far their swankiest outing yet. Found in a Victorian heritage home on St. Nicholas St., Avelo offers an intimate plant-based five- or eight-course tasting menu with an emphasis on creativity.
24. Soy Boys
471 Church St.
Come for the burgers, stay for the vegan soft serve. Soy Boys on Church St. serves up craving-satisfying fast food in a flash. They also plant one tree in Madagascar for every burger purchased, so you certainly shouldn't ever feel guilty about ordering a second (or third).
The best vegan restaurants in Toronto: Leslieville 
25. Udupi Palace
1460 Gerrard St. East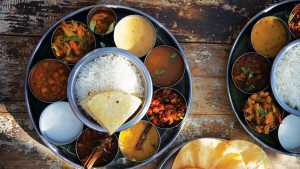 Named for a town on the southwest coast of India known for its temples, Udupi Palace is a vegetarian spot that also offers vegan, gluten-free and nut-free options. Specializing in South Indian dishes, the menu has items like spongy idlies served with house-made sambhar and chutney.