When the days get shorter, the weather turns frigid and Mariah Carey's "All I Want For Christmas" starts crooning its way into our every waking thought, we know the holidays are right around the corner. It's time for some of our favourite traditions — and here at Foodism, we have quite a few. Our city comes alive with holiday cheer in the months of November and December, aided by a lengthy lineup of Christmas markets and pop-ups that see flocks of toque- and mitten-sporting visitors every year.
We're still regulars at the best bars in Toronto, but around this time of year, you can catch us dodging any semblance of Christmas blues at the holiday-themed haunts that will be popping up across the city. Sipping tinsel-topped tipples surrounded by magical decor, you might just catch us humming a carol or two before the night is over (excuse our singing, we're working on it).
We have our act together this year, too, and we're getting all of our gift shopping done at Toronto's Christmas markets before that late-December panic sets in. Plus, we've even put together a guide for foodie gift ideas to help you find the perfect present, faster than you can say "egg nog."
Toronto's Christmas markets and pop-ups have us feeling extra jolly. With all of the themed bars, Toronto Christmas markets and festivals on our list, our December calendar is packed with much more than Advent chocolates this year.
Toronto Christmas markets and pop-ups
1. Mistletoe and Margaritas at Papi Chulo's
121 Ossington Ave.
Toronto loves getting cozy in holiday-themed bars more than Santa loves cookies. Ossington's Papi Chulo's is famous for the twinkling lights strung across the ceiling year-round, but during its Mistletoes & Margaritas event, the space is transformed into a full-fledged Santa's Village. Starting November 18, the Mexican restaurant will be adding festive cocktails to its regular menu along with the cheery holiday decorations.
2. Miracle
875 Bloor St. W.
Just like ol' Saint Nick himself, one of our favourite boozy cocktail traditions is back in town for the holidays. From November 21 to December 31, 2022, you can find Miracle at 875 Bloor Street West. As always, the jolly joint will feature heartwarming holiday decor and delicious themed cocktails, this year crafted by the team at Civil Liberties. A host of merry new concoctions are on the menu this year, too, like Santa's Little Helper, which mixes up gin, spiced caraway syrup, eucalyptus, sage, lime and seltzer.
3. One Of A Kind Winter Show
100 Princes' Blvd.
Get all of your holiday shopping done (and have a blast doing it) at the One Of A Kind Winter Show, on from November 24 to December 4, 2022. More than 600 vendors and artisans from across Canada will be posted up in the Enercare Centre for the festive affair. Expect to find a bounty of craft products like baked goods and sweet treats, spices, snacks and kitchenware, along with art, clothing and jewellery. It's a wonderfully family-friendly event, but on December 1, adult holiday fun is on the menu when the One Of A Kind Winter Show stays open until 11 p.m. with live DJ Sets and hourly giveaways. Grab a tasty tipple and enjoy the show. 
4. Evergreen Winter Village
550 Bayview Ave.
Evergreen Brickworks is a magical location year-round, but on December 18, 2022 it will be transformed into a winter wonderland. Free to enter, the Evergreen Winter Village will have an ice rink, artisan Christmas market, winter hikes, music and tasty craft food and drink. 
5. Java Jingle
102 Portland St. and 2031 Yonge St.
Both locations of Toronto's Dutch-Indo Little Sister Restaurant are getting their very own Java Jingle holiday bar. Sip a tasty bevvy out of a Grinch glass, then get the party started with a holiday shooter (or two) surrounded by tinsel, twinkling lights and Christmas trees. This year, take your pick from the menu's 17 merry cocktails and two gleeful shots.
6. Union winter — Presented by TD
55 Front St. W.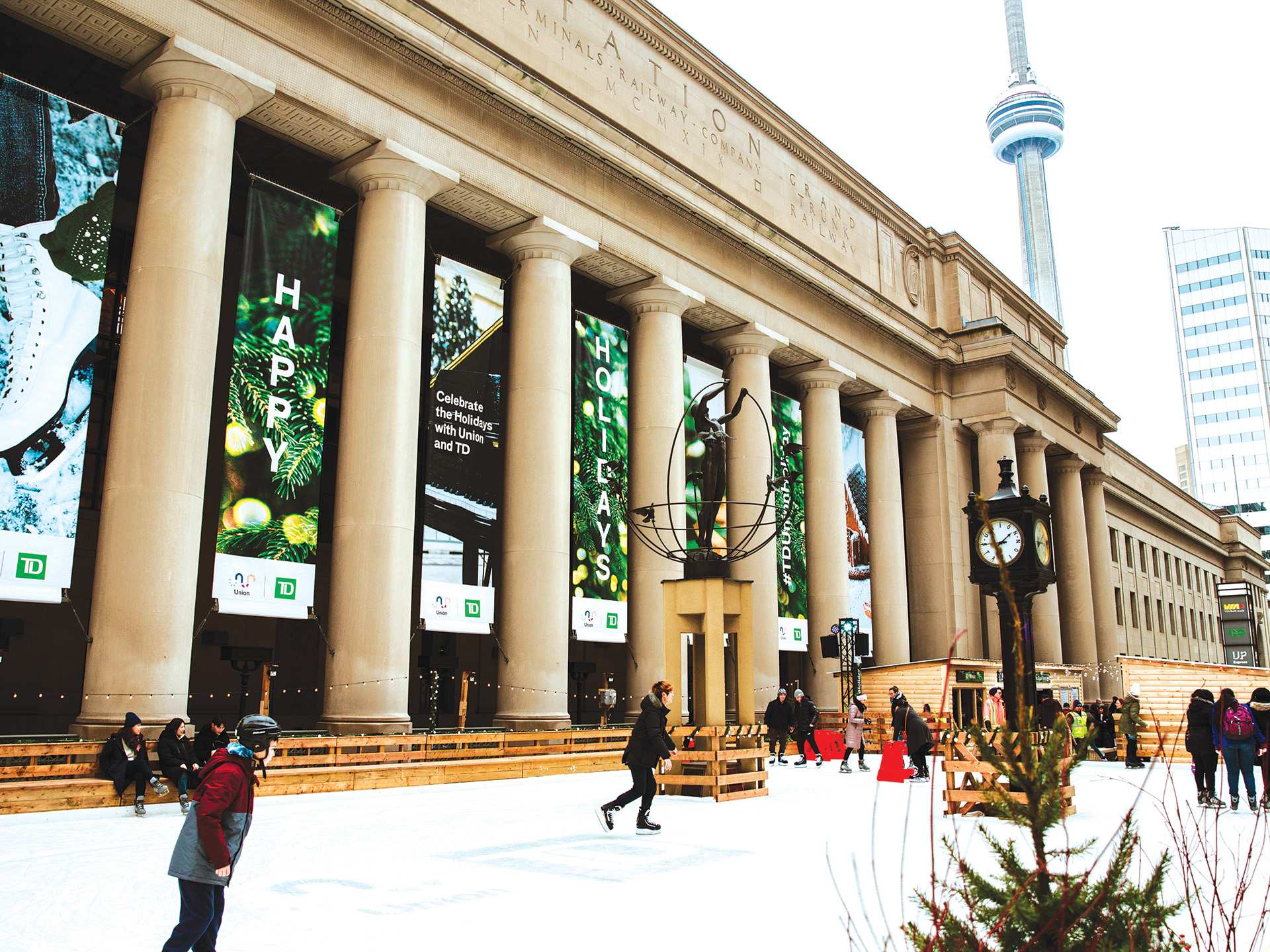 Back with their biggest ice surface to date, Union Winter skating rink will be welcoming visitors from November 28, 2022 to January 29, 2023. As in previous years, both entrance and skate rentals are completely free. Plus, things get groovy on Friday and Saturday nights, when DJs mix live from the rink.
7. The Thirsty Elf
100 Front St. W.
We don't know about you, but we're almost as excited about The Thirsty Elf as we are about Christmas itself. Don your ugliest holiday sweater and waltz into the cheerful atmosphere at the Fairmont Royal York's themed pop-up, on from November 17 to December 17. You'll find us sipping away on The Naughty List cocktail (cranberry, cinnamon, lime, ginger beer, vodka and mint), full to the brim with festive cheer (and booze).
8. Fair in the Square
100 Queen St. W.
Gift shopping, skating, carnival rides and seasonal treats: Get ready for Toronto's Holiday Fair in the Square. An annual event in Nathan Phillips Square, it's part Christmas market, part winter carnival. New this year is a partnership with the Cavalcade of Lights which will transform the Square into a gorgeous sparkling winter wonderland. Visit from December 2 to December 23, 2022.
9. Distillery Winter Village
55 Mill St.
Is it even the holidays if you haven't posted a pic with your boo under the big red heart at The Distillery Winter Village? Torontonians flock here every year for the twinkly lights, iconic turkey legs and 50-foot Christmas tree. Grab a tasty crêpe and steaming cup of hot chocolate from one of the many food cabins, then pop into a store that catches your eye for some holiday shopping. The market runs from November 17 to December 31, 2022.
thedistillerywintervillage.com
10. Stackt Holiday Hills
28 Bathurst St. 
From November 18 to December 31, 2022, North America's largest shipping container market is hosting a winter festival like no other. Holiday Hills at stackt market is completely free to enter, and the list of attractions is long. Get lost in immersive photo installations and experiences, peruse vendor markets, have a blast with exciting winter games, vibe out to live music and join in on outdoor wellness programs. You can even ride a ferris wheel with a warm beverage and enjoy enchanting views of downtown Toronto.
11. KIND Winter Fair
229 Richmond St. W.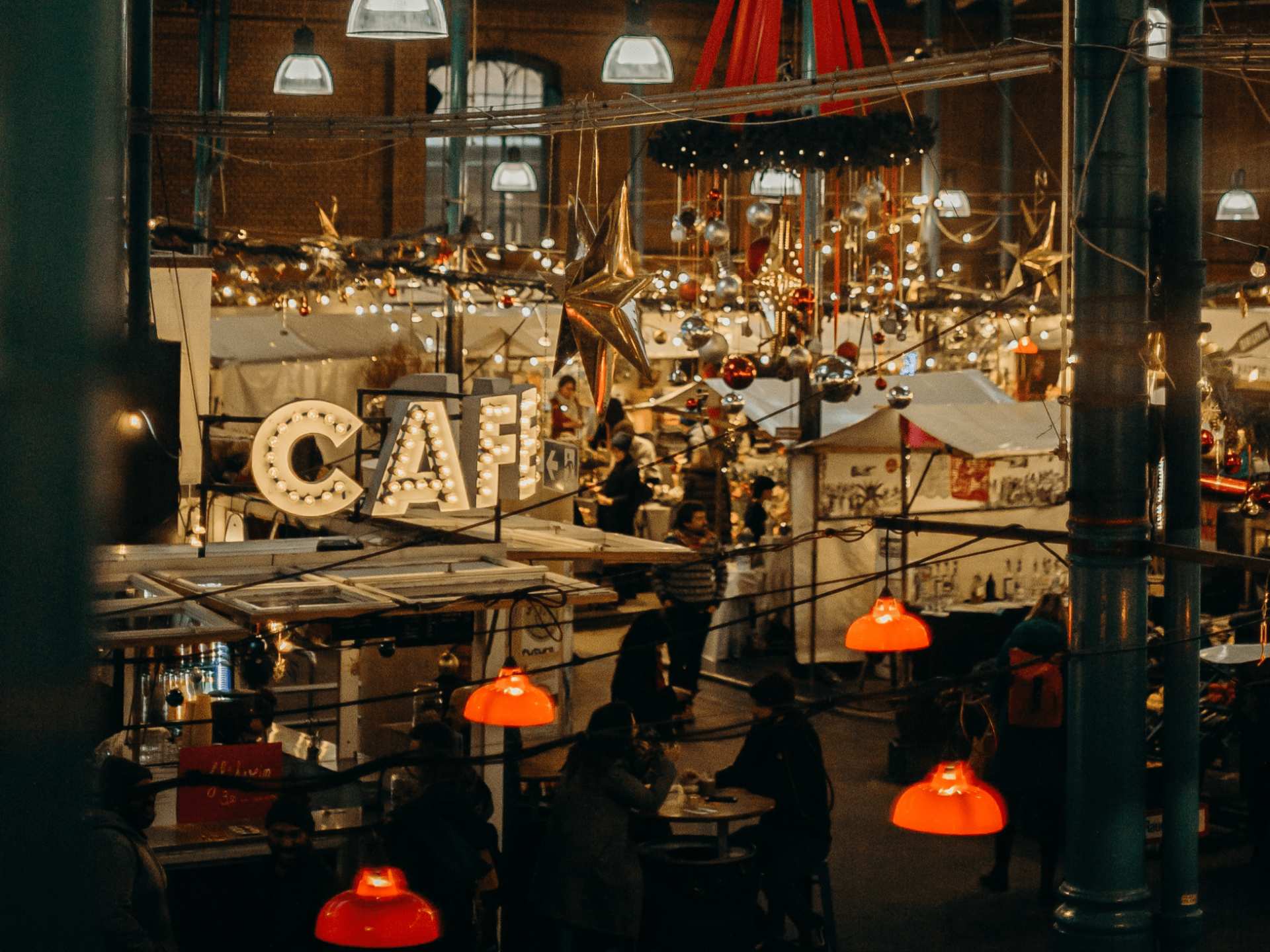 This 19+ cannabis-friendly holiday market is the first of its kind. Decked out in festive decor and with lots of live music, KIND Winter Fair will feature more than 30 cannabis brands, street food vendors from cannabis markets and local artisans. Plus there will be two fully-stocked bars onsite slinging drinks. This year's fair is taking place at the sprawling RendezViews patio. Visit on either December 7 or 8 from 4–10 p.m.
12. Glow Christmas
650 Dixon Rd.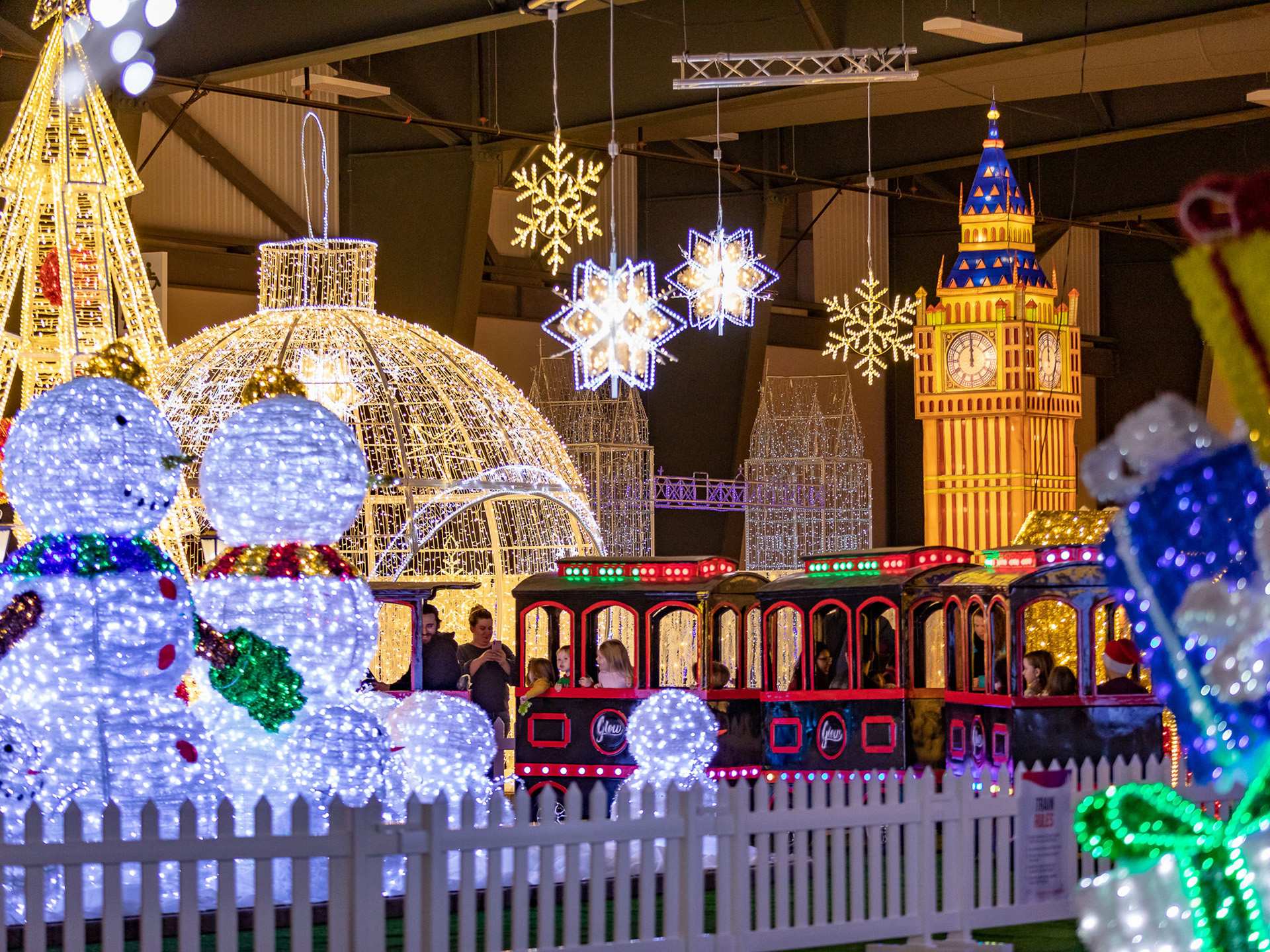 Savour delicious food, sip on holiday inspired drinks, shop for one-of-a-kind gifts and much more at this family-friendly, indoor Christmas festival in Etobicoke. There's plenty for kids to do, too — they'll have a blast decorating cookies with Mrs. Claus, enjoying story time with Santa's helpers, taking a train ride on the Glow-comotive, and then visiting with Santa himself. The best part? Adults can take their cocktails through the entire event. In our humble opinion, a tasty drink in hand is the best way to enjoy the twinkling lights.
13. Christmas at the Castle
1 Austin Terr.
Immerse yourself in the wonders of the holidays at Casa Loma on a winter waltz through their two pop-ups, Christmas at the Castle and their Holiday Lights Tour. Kicking off December 1 and running until January 8, these experiences have become a festive tradition for Torontonians every year. Gaze in glee at the 40-foot Christmas tree in the castle's Great Hall, enjoy thrilling daytime theatrical performances and family activities, then a dazzling evening stroll through Casa Loma's Holiday Lights Tour in the garden.