We can't be the only ones that step foot into 1279 Queen Street West and have memories of wild nights at Wrongbar flood back to us, but once you get past that initial nostalgia there's nothing at all wrong with the new bar and restaurant that's taken its place. For the uninitiated, Miss Thing's is a tiki-themed space that serves up a Polynesian menu, with the requisite tropical cocktail list to accompany it. The man dishing out the cocktails behind the wood is bar manager Robin Wynne, previously of Fynn's Temple Bar, Rock Lobster and R&D. Initially treating bartending as a creative outlet, he's now made a career out of it – one that's included consulting for some of the most high-profile spots in the city.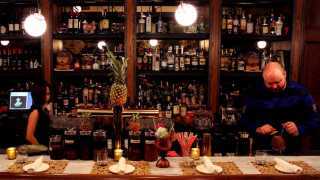 We chatted to Robin about his passion for cocktails, his favourite Toronto haunts and the importance of 'island time'...
Can you tell us about Miss Thing's and its cocktail program?
The Miss Thing's cocktail program is fun, approachable, exotic and memorable. Nav Sangha [owner and operator of Miss Thing's] and I want our guests to have a connection with Miss Thing's when they come in. For the cocktails, we take inspiration from Polynesian culture, pan-Asian culture, and also inspiration from the local neighbourhood here. I want the program to be adventurous and fun, where people are intrigued to try new flavours they might not be accustomed to. I want them to remember the cocktail and tell their friends how good of a night they had at Miss Thing's because they tried something new and liked it.
People seem to be really into the tiki-inspired menu. Why do you think that is?
From my current perspective, I think in Toronto, and North America in general, people work too much. There seems to me to be an imbalance of personal time versus work time. I see people stressed out and taking vacations to 'reset' and to reconnect with themselves and their loved ones. I feel tiki culture can be a bit of an escape of real life, and temporarily take people to a memory or a feeling of being on vacation where the drinks are playful and exotic, and the setting is more relaxed. If you have ever gone to the Caribbean, you hear people saying the phrase "island time" a lot. At tiki bars, when you visit, I believe that you can get away and find some island time. At Miss Thing's, I think it's important to provide that escape, regardless of it being just a dinner or drinks, you always want to help people find some balance by giving them a great experience with good music, great food, great drinks, and great service. If all of these happen, you can create that escape for a guest for the evening.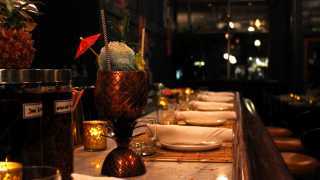 What drew you to the art of cocktail making?
I was a chef for 10 years in various corporate chains, and worked my way up the rankings. At some point I realized I was a creative, and unless you are in the executive position making those creative calls, you are just executing someone else's menu – soulless cooking, to a degree. I made the move to front of house and started managing restaurants. I was working at a pub in Toronto, and trying to save on labour on one of the quieter nights by bartending myself. This night of the week was fun, and allowed me to let my kitchen creativity run rampant in the cocktail arena. I was doing crazy savoury cocktails and other strange flavour pairings. It became a popular night and really brought a new vibe to the pub. It blossomed into bar consulting at different venues around the city, and opened up a whole new circle of friends and opportunities.
What is your favourite spirit and why?
My favourite spirit is rum. From an early age I was visiting the Caribbean and seeing island life, and going on trips in my younger years exploring and tasting rums. And now I am lucky enough to be invited to distilleries to work with some companies. I really do have a passion for all things rum and it is my main spirit of choice always. Appleton was my first love before branching out to other brands. I also have great memories with Tortuga from the Cayman Islands (although distilled in Jamaica).
What is your favourite cocktail to drink and/or make?
I really love a Manhattan, but I prefer it with rum nine of out ten times and with a dash of Amaro Nonino. I like making this version it for people – some wouldn't think rum would be a good spirit to use in a Manhattan, but there are certain rums that have as much or more flavour than some whiskeys nowadays.
Are you a sweet, salty, sour, bitter or unami kinda guy?
Most of my friends and my bartending brethren would say I'm a sweet guy, although I love savoury cocktails. I also have a big heart and soft spot for rosé sparkling, whether it be champagne or not. North America hasn't caught up to the rosé world as much as Europe!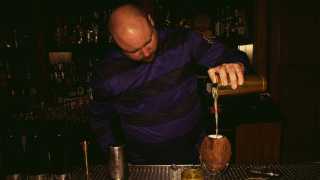 Is there someone that you have drawn inspiration from in the industry?
Being honest, I got into this later than most, and haven't got the decades under the belt that most have. One of my good friends and a consulting partner, Nishan Nepulogodo, from Blowfish in Toronto; Frankie Solarik from BarChef; Rob Montgomery of The Miller Tavern; Sandy de Almeida from The Drake. I have connected with these bartenders, been to their bars, watched them, learned from them and competed against them. They were great enough to be honest with me about my cocktails, and visions of where I wanted to go with them. I'm still nervous when I have to make Sandy a drink! Her honesty can be hard at times, but it's refreshing to see she can be honest and respectful with your drink and give you some hints. I also have a friend named Paul Boehmer, a great chef in this city. His farm-to-table style of cooking, use of ingredients, and care of product is something that I admire. I like to use ingredients in my cocktails like he does in his cooking – fresh when possible, dried if needed and unique approaches to showcase the ingredients.
When you're not working, where do you like to go out and drink?
I love visiting friends at their bars - Frankie at BarChef, Nishan at Blowfish, Rob at The Miller Tavern, Charlie Lamont at Dailo, and many many others.
What is one of the biggest trends that you're seeing in the industry right now?
I think that tiki culture has been simmering for the past three years in Toronto, and is now getting some brick-and-mortar attention with bars being built and dedicated to it. I think the speakeasy movement is just past its peak, and changing to cool little unique bars like Linwood Essentials, Rush Lane, Bar Begonia, and Bar Batavia.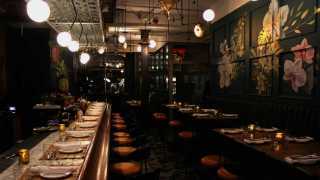 What is an average night like for you?
My day starts at 3:30pm, setting up and rushing to have everything ready for 5pm dinner. Service comes fast and furious, with many cocktails being ordered and guests also opting to dine at the bar instead of tables. There isn't any time to have a break, really, so you drink a lot of water and sneak a piece of pineapple or eat an orange that you've zested already. At 10pm, you transition from dinner to late night crowds and you're making cocktails until 2am. Cleanup takes you to about 3:30am, and then if you've got enough energy, you grab some late night pho, or diner food to fill your belly. Rinse and repeat 4-5 days a week!