Just when we thought we were over Zoom for good, an invitation to an intimate tequila tasting with singer-songwriter Nick Jonas and fashion designer John Varvatos showed up in our inbox.
We hit "attending" way faster than we'd like to admit, but it's not like we had other plans, plus we think it's high time to change our perceptions of tequila. 
Tequila in North America was something you had to brace yourself for. That one friend (or maybe it was you) would order a round of shots and the group would scramble to prepare: salt on hand, lime wedge, deep breaths, then it was bottoms up and pray that everything stays down.
The burn of low-quality tequila has left many with a bad taste in their mouth, and the experience of sipping high-quality, craft tequila as elusive as a Saturday morning in college without a hangover.
But tequila doesn't have to come with a trigger warning. From Cinco de Mayo cocktails to the ideal compadre for delicious Toronto tacos, good tequila is something that is meant to be enjoyed, sipped and savoured. 
It's a spirit that embraces the culture of Mexico, its people and its beautiful Jalisco blue weber agave.
During a trip to Mexico in 2018, Nick Jonas and John Varvatos were inspired by their shared love for high-quality, craft tequila and had a vision to create their own brand that would honour the ingredients and history of this legendary spirit. Enter, Villa One Tequila.
We caught up (and drank) with the two pals and business partners, along with "the Godfather of Tequila," master-distiller Arturo Fuentes, who is based at Stoli's Fabrica de Tequilas Finos distillery in Jalisco, Mexico (where Villa One is crafted). There was intriguing conversation, easy sipping and not a single lime in sight.
On the inception of Villa One Tequila 
Nick Jonas: "We were listening to great music, had great food and great tequila and we were thinking about what we should call the brand and what we wanted it to represent. And really, it was about that experience that we were having: being with people we loved, having wonderful life experiences. And at some point, I made a toast and said, "to life as it should be." And that became something that we actually ended up putting on our bottle, it became our mantra.
The following day, we woke up, a little hungover, and looked at the door of the villa and there was a plaque on it that said, "Villa One," so it seemed like a perfect fit and like everything was happening for us, kind of a cosmic, wonderful thing.
And the next step was to get down to Jalisco and meet with the man, the myth, the legend Arturo Fuentes who really helped us bring the vision to life, of what is, I think, a top notch tequila."
It seemed like a perfect fit and like everything was happening for us, kind of a cosmic, wonderful thing
John Varvatos: "When Nick said, "to life as it should be," when he gave the toast at like 3 a.m., we thought it was important. When you think about everything that everybody's lived through in the last year, when you think about trying to get back to life as it should be, it's even more important today.
We met Arturo when we got to the Finos distillery. He took us on a tour of the agave, we did some harvesting and then we came back into the distillery where he took us through the cooking and distilling process. It ended up as a tasting with Arturo having a table of about sixty flutes of tequila that he had created.
That's really when the magic began for us because we were excited, we wanted to create something that was best-in-class, we didn't want to just put our names on something. We were true partners in this and we wanted something that stood above the crowd, and Arturo was our guy to do that. In that region, they call him, "the Godfather" because he's created so many great tequilas over the years, but the best one is Villa One."
Arturo Fuentes: "I remember the first time that I met Nick Jonas and John Varvatos. They visited us in Tequila, Mexico, they were very excited and they were very clear: "We are here because we want the best tequila." We combined the best characteristics and quality of the two main regions of tequila: the highlands of Jalisco and Tequila Valley. And finally, we achieved the best tequila. [I have] almost fifty years of experience in this and I am very proud. It's my pride."
On favourite tequila cocktails 
Nick Jonas: "I do a spicy margarita with the silver and I do a Bloody Maria, which is very delicious. With the reposado, I keep it pretty simple, I just do it on the rocks, a little bit of club soda and an orange wedge, which is really nice.
And then with the añejo, to pull out some of those chocolate flavours and notes, I pair it with some chocolate bitters and a little bit of coffee and it is phenomenal as an after-dinner drink or something to lift you back up if you're having a lull. 
I like to play around and find new cocktails. And, you know, I'm no professional by any means. But I have gotten some good reviews at home."
On making a tequila that stands out 
Nick Jonas: "Arturo's master craftsmanship has gone into this and John and I believe that we brought the same level of focus, attention to detail and care that we bring to everything else we do. We didn't just approach this like it's a celebrity brand that we're slapping our name on. This means something to us, we wake up thinking about tequila, we go to bed thinking about it, it's a major part of our life.
It's something that we we hold as a badge of honour to have had the opportunity to create this brand, to work with Arturo, to work with each other, I think that really sets us apart.
Our price point for the quality is, I think, exceptional, and sets us apart in a different category. We know we're in the early stages, and we're just starting to get our wings here, but it's been incredible to see how much passion there is around this brand."
We didn't just approach this like it's a celebrity brand that we're slapping our name on
John Varvatos: "We were set from the beginning that there was no reason to do a tequila unless we really felt that we could do something best-in-class. It was all about raising the bar. And I think with Arturo, we're honoured and we're proud of what he's created together with us. It's really very special."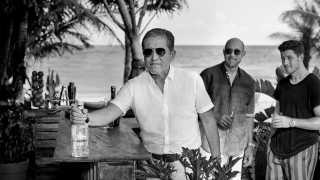 On the changing perception of tequila
Nick Jonas: "I think it's come a long way and there's been so many top-notch, quality brands that are out there now. It's so inspiring to see the landscape change and to see so many great brands, which has made us more determined to make something of the highest quality. 
And listen, this is not to say that you can't shoot a chilled shot of Villa One. We encourage people to drink it any way they want to, it's about your personal experience. But it is amazing to see people that have some of those preconceived notions about tequila — the intensity of it at times — then taste this and see the difference.
It's an inspiring, exciting thing to be a part of that change in the narrative and it's been really fun to see people who maybe weren't tequila drinkers, or who had a bad experience in the past, try this and become a fan."
John Varvatos: "We're both sponges in this whole process, from day one in Jalisco all the way to today, we're still learning about it. And everywhere we're out, we want to learn from everybody else, to hear what they have to say. So it's fun being a student and also so passionate about what you're promoting."
On their creative partnership 
Nick Jonas: "The more time that we spent together, we aligned on the fact that we wanted to find something that challenged us and put us out of our element, because things we had done [prior] were within our universe, in a sense, and this was so far out, but a real point of passion for us.
So leading with that, it was kind of a natural fit to just say, "OK, let's take a big swing here, let's do something we've never done." And I think that's the beauty of our friendship and our partnership. We push each other and we care deeply about what we do together."