Rich in culture and in flavour, Korean food has a special place in our hearts, and there's a whole swath of top-notch Korean restaurants in Toronto. On Bloor from Bathurst to Christie Pitts Park, Koreatown is stuffed to the brim with Korean restaurants and bars of all kinds. Then there's the unofficial, but still well-loved Koreatown North on Yonge Street between Sheppard and Steeles. Add to that, a splattering of Korean restaurants in other neighbourhoods like the Ossington strip and new restaurants popping up all the time, and you've got a heck of a lot to choose from. 
Not only do you have to pick between some of the best restaurants in Toronto serving Korean food, but you also have to decide which of the many delicious Korean specialties you're going to dig into. From tender galbi and sizzling bibimbap to spicy kimchi and slurp-able japchai, the choices are endless. (Life's tough, we know.) 
Oh, and did we mention the Korean restaurants cooking up fusion fare and modern, inventive takes on Korean food? Yeah, you're probably going to have to eat your way through this whole list of Korean restaurants.  
The best Korean restaurants in Toronto and the GTA
1. Oddseoul
90 Ossington Ave., Toronto
Small in size but big in flavour, this hole in the wall on Ossington serves Korean snack plates with flair. Pull up a stool at one of the high-tops in this dive-y spot. The retro, grungy decor is minimal but that's A-OK with us — once you start digging into delicious fare like the mouth-watering smoked pork belly mandoo (Korean dumplings) everything else melts into insignificance. The squash poutine is a must-try.
2. Orote
276 Havelock St., Toronto
Orote opened up at the corner of Bloor and Havelock, on the outskirts of Koreatown, at the end of 2021, bringing the city a sparkling new option for contemporary Korean food. The simplistic, modern space leaves all the focus on the unique and intricate cocktails, and a menu of complex yet playful dishes. Created by chef Kwangtaek Lee, the menu sees his Korean background flawlessly married with local ingredients. They have an à la carte menu, but we say go for the six-course prix-fixe tasting menu to get the full experience.
3. Buk Chang Dong Soon Tofu
Multiple locations
Sizzling beef comes nestled in a bed of fluffy rice, crunchy bean sprouts and a medley of veggies, with a sunny yellow egg perched on top. It's Buk Chang Dong Soon Tofu's Hot Stone Pot Bibimbap — and, yes, it's served in a piping-hot stone bowl. Settle into the cheap and cheerful atmosphere with a beer or a glass of soju and order one of their namesake soon tofu dishes.
4. Kimchi Korea House
149 Dundas St. W., Toronto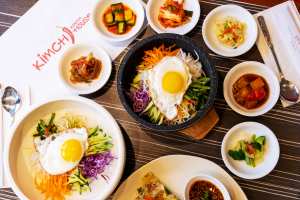 Owned and operated by an aunt and nephew duo, Kimchi Korea House has been slinging their house-made kimchi to Torontonians for the last decade. Try it in their kimchi bibimbap or buy it by the jar. The menu is brimming with dishes like spicy pork bone soup that will warm you up from the inside out.
5. Cho Sun Ok
7353 Yonge St., Thornhill
Naengmyeon, a Korean noodle dish, is the thing to get at this relaxed Korean restaurant in North York. Slide into a booth and dig into one of three different kinds of naengmyun, all made with thin, chewy arrowroot noodles and topped with pickled daikon, cucumber slices, a slice of pear and a hardboiled egg. The sauces or broth that the noodles come in are where they differ. Cho Sun Ok opened with 24 seats in 2005, and has since expanded twice to now have 80 seats, so that should tell you how well-loved this spot is.
6. Mapo Gamjatang
Multiple locations
If you're in need of a little health boost, a piping hot bowl of gamjatang (pork bone soup) from Mapo Gamjatang is sure to cure what ails you. The recipes used at their Scarborough and North York restaurants have been passed down for three generations, initially served at Mapo House in Seoul, Korea for over 50 years. The pork bones are rich in nutrients, vitamins, amino acids, calcium, potassium and protein, and they're boiled with siraegi (dried radish greens) and ugeoji (cabbage leaves) to help, ahem, get things moving, and cure hangovers. Who said healthy food can't be delicious?
7. Myungdong
8194 Bayview Ave., Markham
Listed as Myungdong Noodle Shabu Shabu and Myungdong Kalguksu online, and sporting a sign that's in Korean, you'll have to do a bit of searching to find this Korean restaurant in Markham. But they've been serving their authentic kalguksu (Korean noodle soup) for over 40 years, so it's well worth the journey. Get the kalguksu, of course, a thick beef broth filled with tender hand-cut noodles, carrots and zucchini, and be sure to add on an order of their mammoth, king-size dumplings — they're made to order and filled with pork and fresh vegetables.
8. Mapo Korean BBQ
708 Bloor St. W., Toronto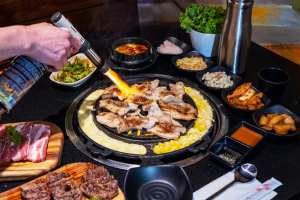 When you think of drool-worthy Korean food, barbecue might be the first thing to come to mind, and Mapo serves some of the best. Pull up to this quaint Koreatown spot and sink your teeth into juicy barbecue pork belly, beef bulgogi, rib-eye and pork ribs, all served with rice and banchan (little side dishes).
9. Myeongdong Gyoza Kalguksu
7117 Bathurst St. #106, Thornhill
Venture north to Thornhill for authentic Korean cuisine that goes beyond bibimbap. Start with the steamed king-size gyoza, then order the jaeyuk set so you can try their homemade kalguksu (hot beef broth with veggies and wheat noodles), too.
10. Korean Village Restaurant
628 Bloor St. W., Toronto
In 1978, the husband and wife duo of professional actor Ok Re Lee and fitness instructor Ke Hang Lee immigrated to Canada from South Korea with hopes of opening a traditional Korean restaurant in Toronto. Korean Village Restaurant is that dream come true. Draped with greenery inside and out, the lush atmosphere is the perfect backdrop for filling your belly with authentic Korean food. From grilled, sliced sirloin beef served as bulgogi; to their house-made kimchi; cold buckwheat noodle bowls; and hot stone bibimbap, the menu offerings are vast and delicious across the board.
11. Mama Lee's Korean Kitchen
16 Yonge St. Unit B, Toronto
Opened up by a mother-daughter duo during the pandemic, this takeout counter down by Harbourfront serves homemade Korean classics along with modern takes on Korean flavours. Snack on kimchi fries and crispy fried chicken or tofu, or dig into their filling rice bowls topped with meat and veggies.
12. Sariwon
7388 Yonge St., Thornhill
Owned and operated by a Canadian-Korean family, Sariwon is a D.I.Y., family-style Korean barbecue restaurant. Snack on banchan (small Korean side plates) while you grill your own deliciously pre-marinated meat to your liking. If you'd rather leave the cooking up to them, they have a wide-reaching menu of Korean dishes from stews to entrees like sizzling bibimbap and bulgogi.
13. Hawk & Chick
1426 Dundas St. W., Toronto
Stop by this tiny takeout spot in Beaconsfield Village to pick up one of their loaded bento boxes. They serve a mix of Korean and Japanese dishes here — enjoy both cuisines in meals like the spicy pork bulgogi bento with bacon and onion korroke (Japanese croquettes), pickled yellow radish and kimchi, served over purple rice. Lunchtime just got a whole lot better.