Brunching in Toronto is practically a sport. Pick one of Toronto's amazing restaurants a as your mark, keep your eye on the target and try to maintain your stamina while you wait in the longest of lines.
Sure, you could always make a reservation (if they accept them), but who has time for that? Brunch is a magical, whimsical thing that happens when the moment strikes. Once a table is finally ready at one of Toronto's best brunch spots, the mimosas are flowing and the eggs are glowing a sunny yellow, it all becomes worth it.
In this city, there are as many different kinds of brunches as there are stars in the sky. Sometimes, brunch is a cutesy affair in an airy, art-filled space that you definitely want to dress up for. Other days, it's a greasy, hangover-fuelled indulgence to help us recover from a night out at one of Toronto's best bars. And with new restaurants opening all the time, the brunching options are endless.
However you slice it, brunch in Toronto is a beautiful thing — and we've rounded up the best brunch places in the city (in descending order) to kick your day off with an excellent meal. Dig in.
The best brunch in Toronto
17. The Lakeview
1132 Dundas St. W.
The service here may not be the best, but when you're hungover, clutching your head in your hands and desperate for a greasy, bacon-topped meal, this is where you want to be. In fact, the lack of attention from your server might come as a welcome respite while you nurse a $5 mimosa or $7.50 caesar (hair of the dog, right?). Seemingly frozen in time, The Lakeview has yet to bring their prices (or décor) up to modern day.
Wrap your mouth around the juicy, dripping Captain Canuck sandwich with a quarter pound of peameal bacon, melted aged cheddar, caramelized onions, lettuce, tomato and sweet chili mayo. That'll cure what ails you.
If sitting in this almost-always-open diner starts giving you déjà vu, it's because the restaurant has a storied film and television career, appearing in a range of titles from Hairspray and The Shape of Water to The Boondock Saints and Umbrella Academy.
16. Saving Grace
907 Dundas St. W.
Bored of basic brunch? This down-to-earth spot in the Trinity-Bellwoods hood serves inventive takes on brunch favourites like french toast stuffed with lemon ricotta and waffles with honey-roasted plums and lavender custard. On the menu, you'll also find internationally inspired brunch items like eggs foo yung, quiche and frittatas. Pair it all with one of their fresh juices or a smoothie. They don't take reservations, so be prepared to wait for a table in this casual, quirky spot.
15. LOV
620 King St. W.
It's hard to peel your eyes away from the greenery-graced pillars, wall-mounted window frame mirrors and gold-bronze accents that decorate LOV on King West — but when your food arrives, it's sure to grab your full attention. Their small but mighty vegan brunch menu doesn't overextend itself, instead offering a handful of eye-popping, well-thought-out twists on the classics. Try a relatively new menu addition, the Chick'n Waffle: a crispy yet fluffy waffle topped with a fried oyster mushroom and drizzled with a mind-blowing spicy maple syrup.
14. Lady Marmalade
265 Broadview Ave.
Three words that will send waves of joy to those who love sleep and breakfast equally: All. Day. Brunch. David Cherry and Natalia Simachkevitch launched Lady Marmalade on Queen Street East 13 years ago, then moved to an airy spot on Broadview in 2018. Devotees were relieved to find that the menu stayed the same. Dig into faves like Huevos Migas, Moroccan Scramble and a rather delicious hash that can be made even more delicious with the addition of braised beef or pulled pork; order a cup of coffee; and soak in the Scandi design vibes.
13. Farmhouse Tavern
1627 Dupont St.
Take a break from the hustle of the city with a rustic-style breakfast at Farmhouse Tavern. This Junction-Triangle neighbourhood spot has all the laid-back farm feels. The weekend brunch menu is on the small side, but you won't be missing a thing after you tuck into any of their three kinds of eggs benny, or a fat stack of syrupy pancakes with seasonal fruit and cream. On Sundays, don't miss their "F*ck Mondays" half-price specials that last until all the food is gone.
12. Mildred's Temple Kitchen
85 Hanna Ave.
Every weekend morning, Mildred's Temple Kitchen faithfully carts out a hand-written chalk sign in Liberty Village that points towards the restaurant, reading something to the effect of "PANCAKES THIS WAY." Lured by the thought of pillowy breakfast treats, passersby will find more than just delectable blueberry-topped pancakes coming out of the kitchen. Huevos Monty, an eggy-cheese-and-tortilla bake, and the shakshuka, topped with feta and olives, are mouth-watering savoury options if you're taking a break from the sweet stuff.
11. Marben
488 Wellington St. W.
When dining at Marben, you might think that you've escaped downtown Toronto and landed inside a gorgeous turn-of-the-century farmhouse in the country. From the homey surroundings to the farm-fresh ingredients, brunch here never disappoints.
Marben might just have the best fry-up in the city: applewood smoked bacon, sunny eggs, fancy baked beans, plus whisky marmalade and miso butter to spread all over your chewy sourdough focaccia. This downtown classic does weekend brunch right with make-your-own mimosas, and a menu with lots of variety. You can get a tikka masala spin on shakshuka while your brunch buddies get a stack of grilled pancakes or a vegan burger with mac sauce and kimchi.
10. Cafe Landwer
Multiple locations
Move over, pancakes, waffles, muffins and oatmeal — shakshuka is our new favourite brunch food. Cafe Landwer, a 100-year-old international restaurant franchise with a location in the heart of the Financial District, serves hungry crowds the saucy Middle Eastern dish with labneh, feta, eggplant, halloumi and beef kebabs or sausage. There's a small patio for outdoor brunching in the summer, but the real experience is indoors; in the dining room, you're enveloped in a comforting golden-brown coffee colour that feels like a great big hug as you enjoy your meal.
9. Flo's Diner
70 Yorkville Ave.
Don't be fooled by the Yorkville address — Flo's is the antithesis of the fancy-schmancy neighbourhood in which it sits. With retro stools, a red-and-white checkered bar and cherry-red vinyl booths sticky from maple syrup, it's a real blast from the past, where breakfast is served every morning, seven days a week. Expect menu items as classic as the interior: eggs Benedict (five options), omelettes, french toast. Oh, and an Oreo cookie milkshake for good measure.
8. The Federal
1438 Dundas St. W.
Brunch with some funk (they've got a great selection of natural vino) isn't just a weekend thing at this Little Portugal fave. Every day from 9 a.m. to 3 p.m., bottomless coffee and arguably the city's best rösti await. Expect long lines on the weekend, so we recommend going during the week — we won't tell your boss if you have a cheeky mid-day caesar, garnished with a Cool Ranch Dorito.
7. Maha's Egyptian Brunch
226 Greenwood Ave.
You would expect to find fantastic South Asian cuisine in Toronto's Little India, but you might not have bargained for some of the city's most authentic Egyptian food. Head to Maha's Egyptian Brunch on Greenwood, just north of Gerrard, and you'll find an all-day breakfast menu of Cairo classics from chef-owner Maha Barsoom. Roasted eggplant, deep-fried cauliflower, cumin home fries, shakshuka and date-stuffed grilled cheese sammies all await you — and save room for one of their excellent honey cardamom lattes. Get there early: Maha's is known for its long lineups on Saturdays and Sundays.
6. Milou
1375 Dundas St. W.
This light-filled café-bistro-bar on the corner of Dundas West and Beaconsfield is the Toronto take on a quintessential Parisian hideaway (it's inspired by the kind of haunts where artists and writers like Hemingway would post up). From the black-and-white checkered floors to the uneven brick walls, the touches look old-school Paris. They don't take reservations, which is risky for brunch, but guest turnover is pretty quick. If you're not up for a plate of duck confit or steak frites for brekky, there are more morning-adjacent options like a scrambled egg breakfast sandwich on a brioche bun, or a savoury ham croque madame with bechamel, swiss cheese, dijon and a perfectly fried egg.
5. Starving Artist
Multiple Locations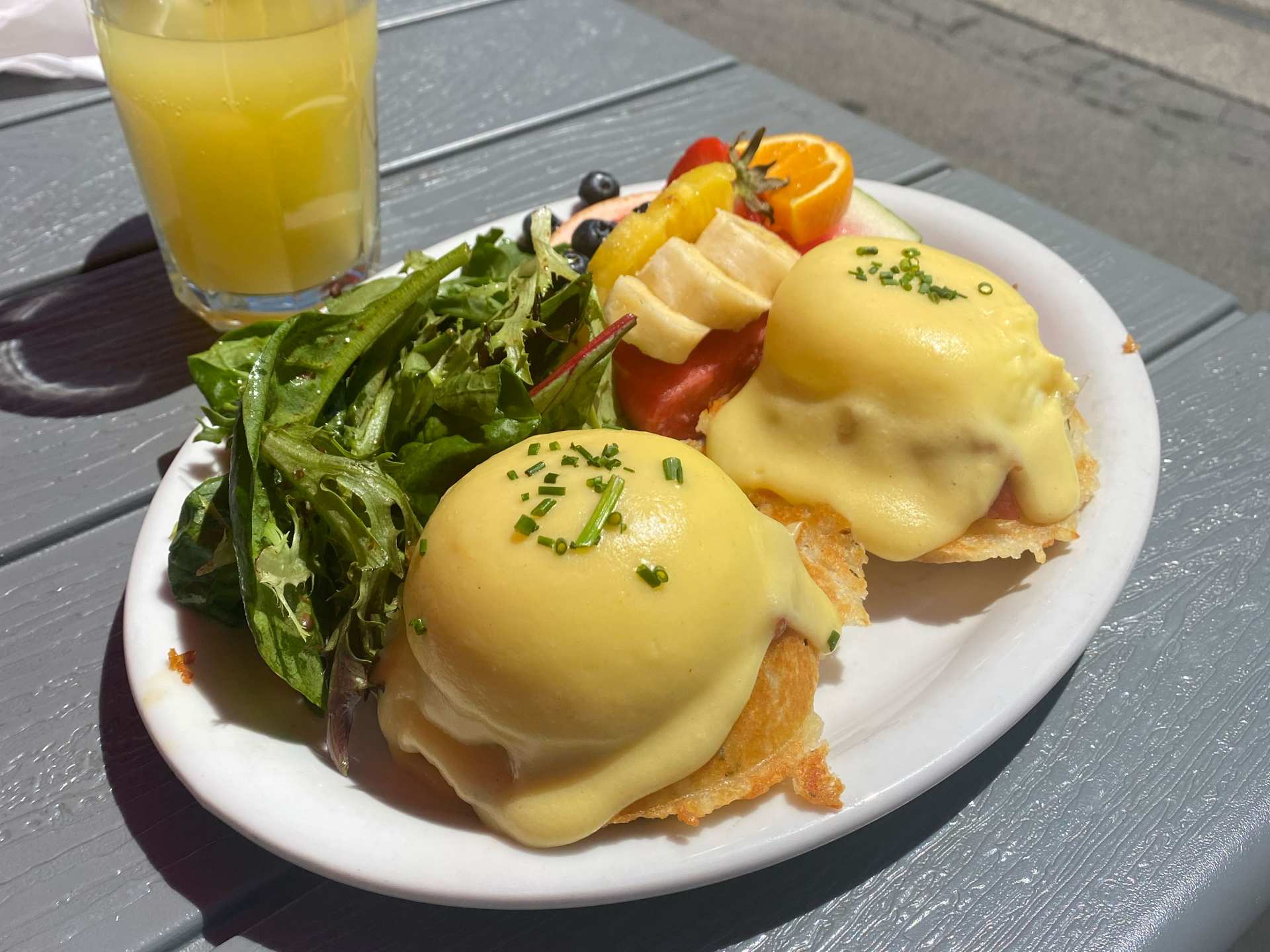 We have one word for you: waffles. And if you don't like those fluffy rounds of heaven, then you can walk away now. Starving Artist is all about the waffles — cinnamon raisin waffles come in the style of french toast; sandwich waffles come stuffed with fillings like spicy chicken, jalapeno, salsa and sour cream; and dessert waffles come in decked-out flavours like the Waffle S'more with roasted marshmallow fluff, chocolate chips and graham crumbs.
We think the real stars, however, are the potato waffles. Akin to a hash brown, but made in a waffle press, these savoury delights are crispy on the outside and almost mashed-potato-like inside. Enjoy them in the B. Benny, slathered with hollandaise, and topped with bacon and two beautiful poached eggs. While you're munching, check out the local, rotating art pieces that adorn the walls in this laid-back, contemporary setting.
4. BB's
5 Brock Ave.
BB's is back, baby, and are we ever pumped about it. When its previous building was sold during the pandemic, this Filipino-style brunch hot spot had to find a new home. Now Parkdale has been blessed with BB's fresh digs — although it's full of nostalgic nods to sari-sari (convenience) stores in the Philippines. From Friday to Sunday, you can get your paws on heaping plates of salty-delicious-hangover-curing silog (garlic-fried rice topped with a runny egg) with a choice of protein like longanisa (house sausage), fried milkfish or, our fave, corned beef hash. Caesar lovers will lose it over their tamarind spiked version.
3. Reign
100 Front St. W.
OK, technically this one is more of a breakfast than a brunch, since it's served weekdays 6:30 a.m. to 11 a.m. and weekends from 6:30 a.m. to 11:30 a.m. But if you're one of those morning people, Reign at the Fairmont Royal York is well worth getting out of bed for.
Fluffy lemon pancakes come with local maple syrup and a decadent blueberry compote; avocado toast is topped with heirloom tomatoes and a delicate poached egg; while the St. Lawrence sami, piled with peameal bacon, caramelized onions and cheddar cheese, will cure any morning groggies.
On Sundays, Reign also serves an $89 brunch with pantry buffet and choice of main. Whether for breakfast or brunch, the plush atmosphere of green velvet chairs and leather banquettes paired with elegant dark wood and marble fixtures is the perfect place to cozy up on those chilly fall mornings.
2. The Drake
1150 Queen St. W.
No matter what time of day it is, The Drake is always a go-to for a great meal in a hip, art-clad setting. The hotel is a dining destination, nightlife hot spot and local arts hub all rolled into one. But we particularly like their weekend brunch, offered Saturdays and Sundays from 9 a.m. to 4 p.m. (for all you late risers).
Settle into a spot in the light-filled café, the art-adorned main dining room or on the recently redone, year-round rooftop patio, the Sky Yard. Start with one of their well-made brunch cocktails like the Breakfast Martini, or a classic caesar or mimosa. Then, dig into mains like the show-stopping Drake Breakfast: two eggs, bacon, sausage, baked beans, homestyle potatoes, sourdough toast and oven-roasted tomatoes. Yum. The burger here is so good, we would forgive you for ordering it for brunch (yes, it's on the menu).
1. White Lily Diner
678 Queen St. E.
The old-school interior, the retro booths, the all-day diner menu — White Lily Diner doesn't do bells and whistles. Honestly, we're here for it. In their place is irresistible comfort food that you can't stop shovelling into your mouth — just nod and smile while your brunch companion prattles on about something that isn't thick-cut bacon.
The closest this east-end staple gets to Instagram theatrics is the knife staked through the heart of their deli sandwiches — though that's more to contain the mountain of pastrami and pickles threatening to escape. Don't forget the doughnuts.