MIMI Chinese: What's the vibe
MIMI Chinese is unapologetically gorgeous and demands your attention from the moment you're greeted by a maître d' in a pressed, black bowtie to the first time you see yourself in the glowing gold foil bathroom mirror. Damn, MIMI (and you) looks really good. Red pulses through the entire Davenport Road space, punctuating the inky-black dining room with pops of scarlet that could ward off any evil (if not, the Sichuan peppers will).
MIMI is the special occasion, a celebration of China's diverse culinary history gently cared for by young, talented hands that you can watch working away from the window that's cut into the dining room's back wall. Psst, it's a one-way mirror; the kitchen can't see you.
MIMI Chinese: What's on the menu
Chef David Schwartz and his team have had two years to go over every thoughtful detail, every intricate dish, and it shows. Open up a glorious, leather-bound menu (remember those?) and flip through imaginative food inspired by China's southern regions.
A cooling scallion and ginger scallop, influenced by Guangdong Province, sits in a slurpable scallion oil and soy broth and will offset the heat from dishes like the Hidden Crispy Chicken. Yes, it's actually hiding under 100 facing heaven chilies (the peppers grow skyward) from Sichuan Province. Yes it's dramatic, and we love that.
We've also never loved vegetables more. You know that feeling when you wake up thinking it's Monday, but it's actually still the weekend? Well, that's the Smacked Cucumber Salad, just pure, unexpected joy — that's the whole MIMI experience. 
The menu is divided into five sections: raw & cooling, savoury & warming, chef specials, noodles & rice, and vegetables, so you can mix and match à la carte, but we recommend the chef's tasting menu for your first time.
The tasting menu is $100 per person, and many of the dishes are scaled-down versions from the main menu, which means you can try more things. The crispy, lip-smacking shrimp toast and caramelized house char siu were some of our faves.
You can tell the team had a lot of fun creating their cocktails, and you'll have even more fun sipping them — especially if you choose the shareable Tea Ceremony with vodka, green tea, wildflower honey and citrus, poured tableside from an iron teapot.
For something smaller and just as crushable, the Jungle Panda comes in an adorable ceramic panda cup. It's a fresh, tiki-inspired cocktail with rum, Campari and bright notes of lychee, lime and mandarin. The addition of baijiu (a Chinese liquor and the world's top-selling alcohol) gives it that extra oomph.
MIMI Chinese: What else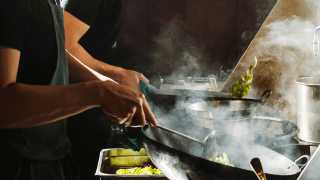 Since the pandemic delayed MIMI's opening, the pop-up Sunny's Chinese was created in lieu. Spoiler alert: It was a massive hit. Sunny's was so successful that a brick-and-mortar location is due to open in Kensington Market this spring. Catch us sipping natural wine while the wok and charcoal grill fire up more amazing regional Chinese food.
Dinner and drinks for two: around $250
MIMI Chinese, 265 Davenport Rd., mimichinese.com