When I first visited ONE Restaurant, a fine dining eatery in Yorkville's luxurious Hazelton Hotel, executive chef Darby Piquette and his team surprised me. Before my meal, they told me they were excited to deviate from their normal menu of show-stopping tomahawk steaks and buttery lobster spoons, and create all-new vegan dishes, just for me.
I hadn't heard that from a restaurant before, and I knew then that there would be no sad side salads or thin Beyond Meat burgers served that evening. Hands trembling with excitement, I grasped my fork and knife and held on for dear life as I was delivered a master class in the delicious flavours and boundless creativity possible with plant-based cooking.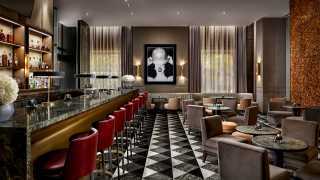 The experience was a dream come true. Anyone who has attempted fine dining with a special diet knows how difficult it can be — and to hear ONE Restaurant didn't see my restrictions as an inconvenience was music to my ears. ONE is also a wonderful place for a meal, period — it strikes the perfect balance between easy-going and fine dining, with servers that offer exceptional service and warm, genuine conversation.
Little did I know that soon after my first visit, ONE Restaurant would introduce a full-fledged plant-based menu. Eyes sparkling and mouth salivating, I returned to Yorkville eager to taste the dishes chef Piquette had developed for his guests en masse. Once again, I was surprised; not only did ONE's plant-based menu surpass my expectations, but my meal was even more fine-tuned, with clear consideration for exemplary textures and outstanding presentation. It's not hyperbole when I say ONE Restaurant serves some of the best vegan food in Toronto.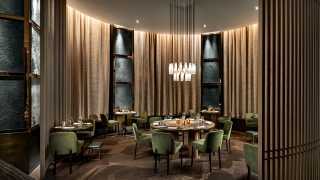 ONE Restaurant: "Pulled pork" tostada
The tostada is chef Piquette's avant-garde masterpiece, a textural playground that's pure merriment from start to finish. With streaks of colourful sauces criss-crossing the plate, it resembles a gawk-worthy piece you might find at a Basquiat gallery. I dig into mounds of BBQ jackfruit splashed with vibrant hot sauce and swaths of creamy jalapeño toum, then crunch on juicy pickled cabbage slaw and a crispy tostada, all topped with a light sprinkle of coconut cotija. I have to hold myself back from scarfing it down with zest — every bite is worth savouring, I discover, and each forkful presents its own unique blend of flavours and textures. I let the tango play out on my tongue before diving in for another bite.
ONE Restaurant: Mushroom bolognese
Mushrooms have long been acclaimed as hearty meat replacements, and they're the hidden stars of the plant-based bolognese sauce in this dish. Sprinkled with a pine nut 'parmesan' and bomba, this pasta plate is sure to leave vegans and meat eaters alike slumped back in their chairs, rubbing their bellies in satisfaction.
ONE Restaurant: Corned beet reuben
I'm fully convinced that this sandwich was created by a crack team of white-coat-sporting scientists tasked with developing the perfect meat substitute. Thin beet slices, tucked neatly in between slices of buttery toasted sourdough rye, don't exactly replicate beef flavours — they surpass them. A bold statement, I know, but biting into this sandwich is a divine experience. The beets — those little reality-bending discs of flavour — are enveloped in reuben sauce and melt in my mouth exactly how a perfectly cooked steak would.
ONE Restaurant: Korean broccoli tacos
These heavenly pieces of bite-sized perfection aren't actually on the new plant-based menu, but in my humble opinion, they deserve to be. A vegan take on ONE Restaurant's Korean chicken tacos, pillowy soft taco shells display broccoli fried to uber-crisp perfection, resting on pickled cabbage and slathered in a gochujang and sesame aioli. The delicate blend of nutty, sweet and spicy compliments a glorious crunch that leaves me wanting to unabashedly lick my plate clean.
Dinner and drinks for two: Around $110 before tax and tip.
ONE Restaurant, 116 Yorkville Ave., onerestaurant.ca