Freshly baked cookies, how do we scoff thee? Let us count the ways. We eat you for breakfast, we eat you for dessert, we eat you as a snack. You are truly the sweetest treat of all. But we're not talking about any old cookies: we're talking about Toronto's very best cookies from one of these brilliant bake shops.
Whether you like yours gooey or crisp, we've got you covered. We've got pizza-sized cookies (click this way for straight-up pizza), mini cookies, normal-sized cookies, but no matter how big they are, we promise they're all dough, dough good. In fact, they're just as good as these pies. And you know what goes really well with a cookie? A coffee from an independent coffee shop. 
Plus, all these bake shops are independent businesses – so the more you eat, the more you help. And that's something we can definitely get on board with.
10 of Toronto's best cookie shops
1. Craig's Cookies [pictured]
You know you're loved when a cotton-candy-pink box of Craig's Cookies shows up. Toronto's original stuffed cookies are packed with ooey-gooey treats like brownies, shortbread and mini-eggs – not to mention a whole lot of nostalgia. Pop Tart-stuffed cookie, anyone? The flavours change seasonally so you'll find gingerbread, white chocolate and Ferrero Rocher around the holidays, but you can always count on a mixed box of classics from their Parkdale or Church St. location to make your day.
2. Sweet Flour Bake Shop
Enjoying life's sweet moments is easy when you have gourmet cookies from this Junction bake shop. The just-crispy-enough outside and soft centre combo is one smart cookie creation. Every dozen of their signature cookies – from sticky butterscotch toffee to chocolate rainbow – is baked to order. You can also get cookie cakes or a decked-out pizza cookie, topped with chocolate ganache, M&Ms, toffee and caramel sauce.
3. Le Gourmand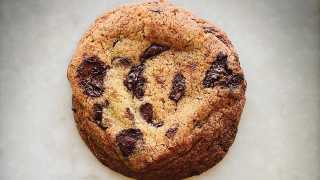 We would eat a Le Gourmand cookie for breakfast, lunch and dinner – if we were lucky enough to get our paws on them. The soft, chewy clouds of chocolate at this downtown café go quick. Thankfully they're baked fresh on the hour. They're so good, even their oatmeal raisin cookie sells out.
4. @Bite.Me.Cookie
This home-based cookie company delivers tasty baked goods to your doorstep every weekday, with as little as 24-hours notice. The cookies — which come in flavours like Love Knot Pretzel and the salty-sweet, chip and chocolate collab, Shuffle My Ruffle — are on the thinner, crispier side of things, which is no problem. That just means we get to have twice as many, right?
5. Almond Butterfly
Come for the burgers and the pancake stacks, stay for the baked goods – and relax in the knowledge that they're all vegan and gluten-free. These cookies are anything but fun-free though, and come in all sorts of delicious combo, from peanut butter to ginger molasses. They even make a breakfast cookie, which, if you ask us, is the best possible way to start the day.
6. Bobbette & Belle
These guys might be known for their pies and and their cakes, but they do a mean cookie, too. Order them by the tray – that's the kind of portion size we like to see – and nibble your way through ginger cookies, caramelised pecan squares, chocolate fleur de sel cookies, shortbread and alfajores. 
7. The Night Baker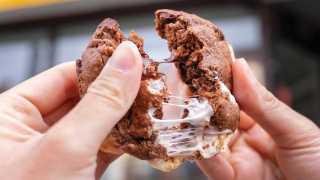 What do you get when two chemists turn into night-time bakers? Really good cookies, that's what. Pull apart these lab experiments from College. St. and you'll find a melty, scrumptious surprise inside. The creative fillings like warm apple pie or purple jam in the ube cheesecake cookie are a trip and a treat.
8. Short and Sweet Bakeshop
This Avenue Road bakery has intricately decorated cupcakes and cakes that are almost too pretty to eat, but it's their twice-baked cookies and sammies – buttercream or cream cheese frosting sandwiched between two cookies – that steal the show.
9. Lamanna's Bakery
You've seen the photo. There's not much left to be said, is there? Only that you can get these giant pizza cake slices in all kinds of versions, like the Nutella Big Slice, topped with Nutella-filled bombolini, and mini cannoli also filled with Nutella; or the Custard Tart Big Slice, topped with dulche de leche, custard tarts and whipped cream. Phwoar. 
10. Bakerbots Baking
Bakerbots Baking happens to be one of the best bake shops around. Just check out their pies if you want extra proof. They claim to have invented the ice cream sandwich – a bold move, yes, but we're here for it – which means you can't come here without trying one, and getting to eat two of their cookies in the process. We won't complain about that, that's for sure.