Flavour of the Week: the Anne Boleyn
Parts & Labour duo Richard Lambert and Jesse Girard add to their expanding list of eateries with a modern spin on the traditional British pub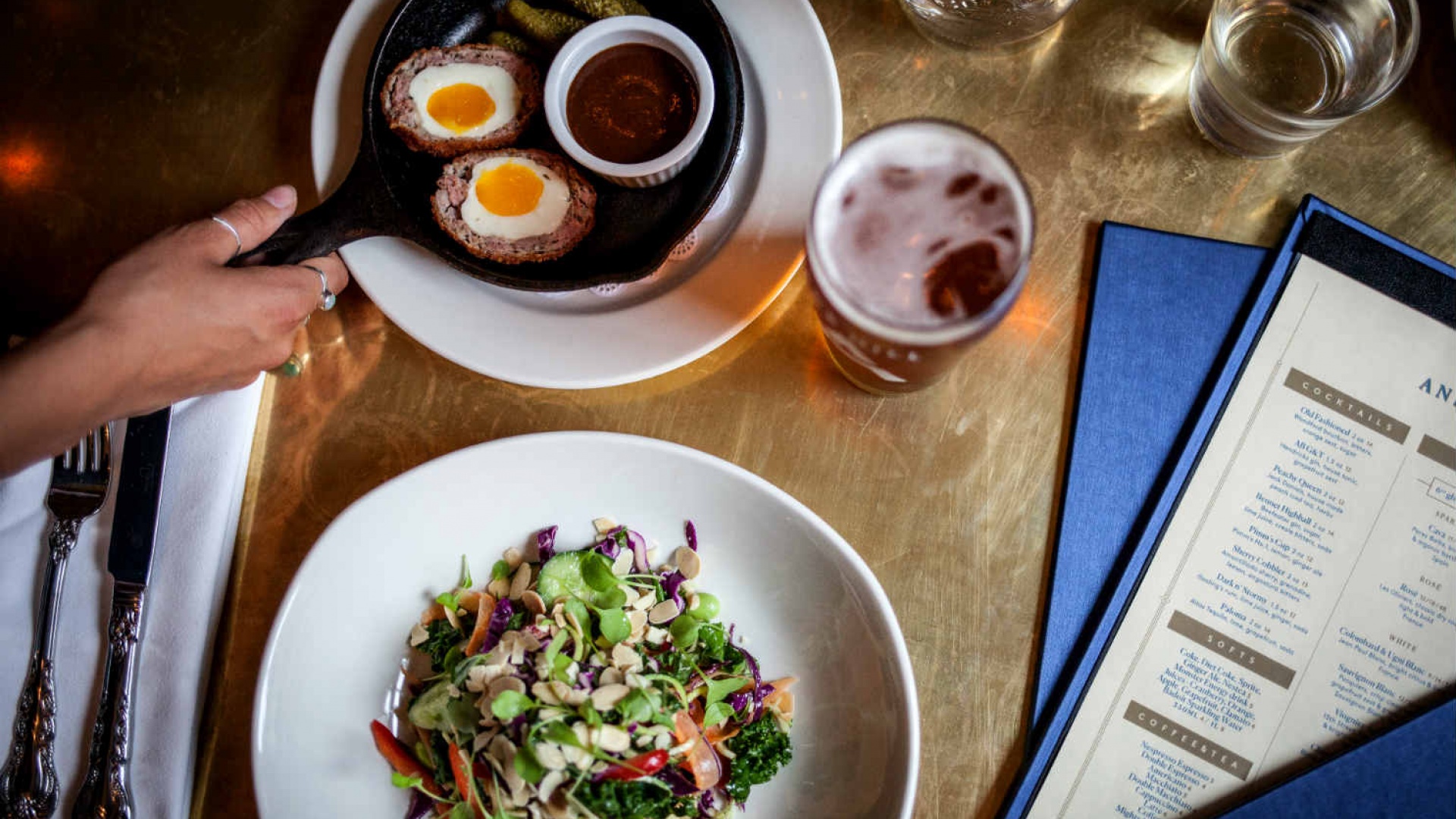 What's the vibe?
For Parts & Labour's latest project, Richard Lambert and Jesse Girard offer a modern take on the traditional English pub with the Anne Boleyn. The interior is contemporary but includes an assortment of old trophies and knick-knacks that accent the space, as well as different sized medieval-style paintings all over the walls of the pub. They're imported from London and beyond, and according to Lambert, inspired by the walls of paintings at a pub he visited in the UK.
With an ample supply of TVs and a capacity of 250 guests, the Anne Boleyn is an ideal place for game nights with friends. A large brass bar in the centre of the pub welcomes the after-work crowd but we like the intimacy of the library room and its floor-to-ceiling shelves of books (which we're not 100 per cent sure we're allowed to pick up and read, but we're tempted). 
What to drink?
True to British form, the Anne Boleyn does not skimp on the booze. A decent range of wines are available here while the beer list combines well-loved North American and European pours alongside more unique local options like a Blood Brothers IPA. Classic cocktails like the Paloma and Dark n' Stormy nicely round out the beverage list, each carefully assembled.  
View on Instagram
What to eat?
Chef Brent Pierssens is no stranger to Lambert and Girard's style, having previously worked as a chef at other Parts & Labour operations. He's put a twist on a number of familiar dishes, adding ginger, Egyptian and Moroccan spice to punch up a creamy butternut squash soup, for example.
Fans of authentic British food won't be disappointed in the menu with traditional dishes like bangers and mash or fish and chips. The latter uses a flaky and tender Northern Ontario lake fish fried in traditional beer batter with a side of classic mushy peas which, trust us, is more appetizing than it sounds. The highlight of the evening, however, was the banoffee pie. If you haven't enjoyed a slice before, you'll quickly understand why dulce de leche syrup, bananas, whipped cream and chocolate chips are a magical combination.
Dinner and drinks for two: around $100

117 Peter St., 416-901-1536, theanneboleyn.ca