Things don't become a 'classic' overnight; something Balderson – makers of fine Canadian cheese since 1881 – know only too well. For more than a century, Balderson master cheese makers have been working hard to create a collection of cheese that Canadians reach for time and time again, from packing a lunch to entertaining dinner guests.
While you're likely familiar with Balderson's range of cheddar cheese, which run the gamut from spreadable to their premium 5-year-old heritage, what you might not know is that the company has a history that's every bit as rich as those golden blocks. In 1881, a group of local dairy farmers in Lanark County, near Perth, hatched a plan. They formed a dairy collective, pooling their excess milk production to make a local cheddar cheese. Following construction of a small factory at a crossroads known as Balderson Corners, the story of Balderson began.
It has been over a century since those early days, and not surprisingly, a few things have changed. The cheese shop at the crossroads has passed to other hands and the factory has moved to a state of the art facility down the road. But the most important thing hasn't changed – Balderson still makes cheese with the same dedication and craftsmanship: each cheese block is still graded before leaving the facility to ensure Balderson continues to make the world's very best fine aged cheddar.
Balderson's cheddar, a full-flavoured cheese with a crumbly, rich texture and a satisfying sharpness that only improves with age, has never faltered. Those dairy farmers didn't know what the world would look like over a century later, but their instincts for careful aging and bold flavours, coupled with the pride Balderson cheese makers have today, has made Balderson a favourite for its fans all over Canada.
Today, the Canadian cheese company continues to impress, picking up prizes for their cheddar. Not only did the cheese scoop awards at the Royal Winter Fair and the British Empire Cheese Competition, Balderson also wowed on the international stage, taking home grand championships at the World Championship Cheese Contest and the International Dairy Competition in London.
Balderson's cheddar is a versatile cheese that can be enjoyed in every way, on any day (or every day, no judgement). From double-smoked mac and cheese to aged cheddar perfectly paired on wine and cheese night, Balderson has the cheese you're craving.
To find out more about Balderson, head to baldersoncheese.ca
Balderson cheese recipes
How to make the perfect charcuterie board with Balderson cheese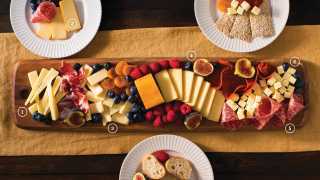 1. Balderson Royal Canadian Cheddar (aged 2 years) is the perfect balance between classic cheddar flavour and the secondary sharp taste from aging. With a rich body, creamy texture, and slightly acidic aroma, it pairs well with fruit and full-bodied red wine.
2. Balderson Double Smoked Cheddar has been aged for a full year for a smooth, smoky taste. Its darker exterior has a more intensified wood-smoke flavour, which comes from natural smoking using a variety of hardwoods. Pair with ales, lagers and dark beer.
3. Balderson Championship Cheddar has been aged for 12 months and has a well-rounded cheddar flavour and creamy texture. It pairs well with nuts, fruit and olives. Most white, red and sparkling wines will be a match for this cheese.
4. Having a variety of seasonal fresh fruit on your board not only adds a pop of colour – it's a great palate cleanser between cheeses. Figs are a great match for Balderson's medium and more mature cheddars.
5. Thinly sliced cured meats like prosciutto and salami add variety and flavour to your board. Cheese can be rich, so you want some salt to cut through that flavour. Baguette slices are a good choice for any cheddar, but especially aged cheddars like Balderson 2 Year Old. Thinly sliced and toasted artisanal breads or fruit breads are also ideal.
6. Balderson Extra Old Cheddar is aged 14-18 months to develop a stronger secondary sharpness. With a slightly drier and more crumbly texture, this clean cheddar flavour and slightly acidic aroma pairs well with crisp white wines, most young red wines, as well as beer, ales and lagers.
For more recipes, visit baldersoncheese.ca or Balderson Cheese on Facebook and Instagram.