Fall is all about harvesting that seasonal bounty Ontario is known for: root vegetables, leafy greens and of course winter squash a.k.a pumpkin. Thankfully, you don't have to go to an actual farm to get a taste of delicious seasonal fare. Toronto has plenty of restaurants that specialize in local, farm-to-table dining, bringing that harvest home to you. 
You might think that farm-to-table dining only belongs to restaurants outside the city, like the much-loved La Fontana in Elora – but that's where you're wrong. From the established Ruby WatchCo. with over ten years of creating daily seasonal menus on the east side, to the new fast-casual Season Six on Ossington where the standard four seasons just wasn't fresh enough, we've got the produce-focused establishments you need to eat at.
If you're looking to spice up your next meal this fall, try one of these farm-to-table Toronto restaurants that pride themselves on serving up what's in season from farms around Ontario.
Once you've had your fix of farm fresh, nothing screams fall more than a slice of pie at one of Toronto's best pie places. If you prefer to drink your apples instead of having them packed into a pastry, Toronto's Brickworks Ciderhouse has premium craft cider made with fresh Ontario heritage apples and seasonal sippers inspired by fresh locally produced fruit. 
6 of Toronto's best farm-to-table restaurants 
The Green Wood
This popular Leslieville brunch spot got a new bedtime and west-end digs. Both locations are open from morning to late and focus on rustic, Mediterranean home cooking. From towering sandwiches to those drool-worthy sweet potato beignets with maple dipping sauce, chef Ariel Coplan constantly revamps the menu to incorporate seasonal ingredients. He also co-created a nonprofit 'Not 9 to 5' to help the hospitality industry deal with mental health and addiction.
Richmond Station
This is our answer to a neighbourhood spot in the bustling, downtown core. Choose from daily chalkboards featuring seasonal specials or staples like the pastured beef Station Burger. Their menu has an entire vegetarian section, but if you're on board with charcuterie, they've got the city's best house-cured meats. Top Chef winner Carl Heinrich is fiercely committed to local and regenerative agriculture and even runs their own organic garden up in Creemore.
Marben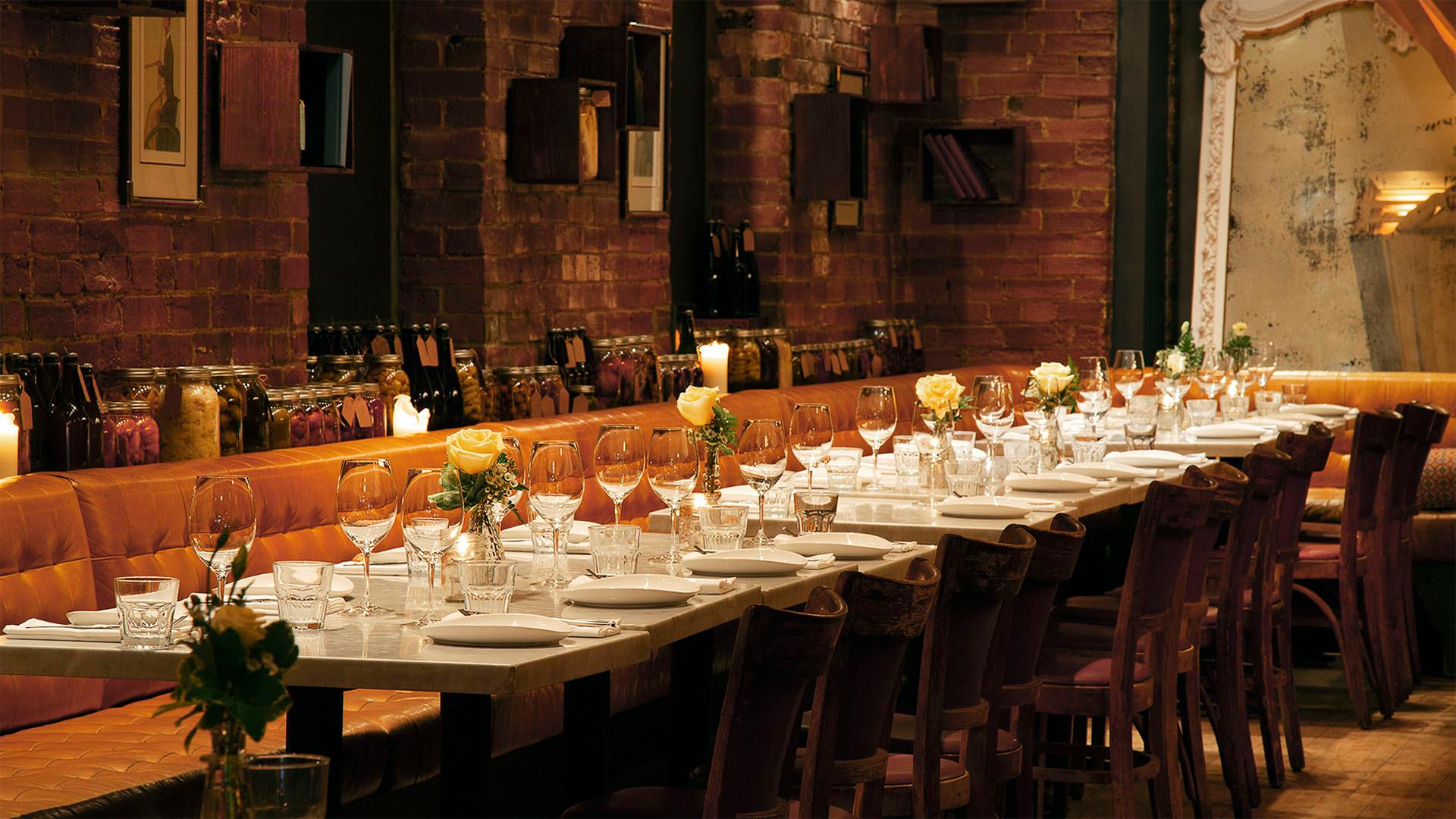 Head to the English countryside via Marben for a classic fry-up with bottomless mimosas on Saturday and mouthwatering roasts on Sunday. Eating the seasons has always been a mantra of chef Chris Locke and this Feast On certified spot's comfort food is good for both the soul and the earth.
Season Six 
If you think there are four seasons in a year, Ossington's latest Season Six will make you question everything you thought you knew. For them, four seasons wasn't enough to truly highlight produce at its peak. Menus change every two months at this joint that specializes in farm-to-counter sides and wood fired grilled meat inspired by the six seasons. The Autumn Six features dishes like mushroom oat risotto and slow braised brisket bourguignon, with vegan, vegetarian and gluten-free alternatives.
Farmhouse Tavern
The clue is in the name: you can guess that Farmhouse Tavern knows a thing or two about serving seasonal bites and you'd be right, but if you've ever checked out this Junction gem, you'd know that it brings the whole farm experience to the concrete city. 
Charming rustic decor meet hearty gourmet meals and laid-back vibes with an emphasis on serving fresh ingredients, lowering their carbon footprint and reducing food waste by clearing out the restaurant every Sunday with their "F*ck Mondays" food and drink specials.
Union
Let's face it, the French are really good at eating and drinkin,  and we could all use a little more Parisian inspo in our daily lives. Inspired by classic bistros in Paris, Union offers weekly menus full of seasonal twists on French familiars like the habanero steak tartare with a selection of local mustards and butter pickles, and organic, comforting soups with crème fraiche. Let's face it: everything just tastes better en français, plus they have dinner kits for nights when you just can't with another microwave meal.