Pho: Vietnam's national dish and our number one meal to get us through yet another Canadian winter. You won't be hard pressed to find a pho house in Toronto, but finding the best one? Well, not to worry, we've done the digging for you. From the legendary Pho Hung on Spadina to downtown's new Dzo Viet Eatery, we've got Toronto's best pho spots to warm you up when the air is so cold it hurts your face.
On a cold winter day, the only thing that might rival a piping hot bowl of pho, is a steaming bowl of ramen — but we'll let you decide which noodle soup deserves the top spot. After you've had your fill from one of the best pho spots in Toronto, follow up all that salty soup with a sweet bubble tea. 
Also, if you can't decide which of the best pho houses in Toronto is your pho house, we recommend taking yourself on a tour of them all. If you start in the Trinity Bellwoods hood, you can already check off two places: Golden Turtle and Pho Tien Thanh. Happy eating and may your pho be hot and your winter be less... wintery?
13 places to slurp the best pho in Toronto
1. Golden Turtle
125 Ossington Ave.
This Ossington stalwart knows what's up when it comes to pho — practice makes pho-fection when you've been around since 1987. You could easily get through all 20 pho options on their menu with prices this reasonable and soups this tasty. From the classic rare beef pho tai to the spicy satay chicken, Golden Turtle's pho will make you feel warm and fuzzy in no time.
2. Vit Beo
858 Bloor St. W.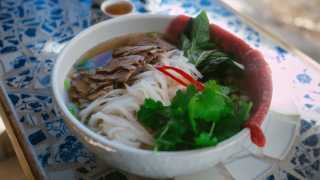 This quaint Bloor St. W. counter-service spot is the ideal place to cozy up with a big bowl of pho. Their beef pho is gluten-free and comes in an aromatic beef broth, while the vegan pho get its flavour from lemongrass tofu, tamari and herbs. Order takeout so you can bring a piece of Vit Beo (which translates to "chubby duck") home with you. You're also going to want to inhale the "Pok Pok" wings.
3. Pho Tien Thanh
57 Ossington Ave.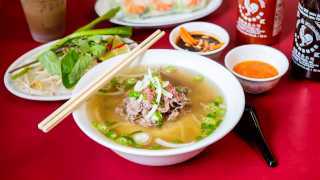 Also located on the Ossington strip, Pho Tien Thanh may look a little disjointed with its bright pink walls and worn tables, but the pho is absolutely on point. The bowls of steaming hot broth come packed with quality ingredients — and don't you dare skip their deep-fried spring rolls.
4. Pho Linh
1156 College St.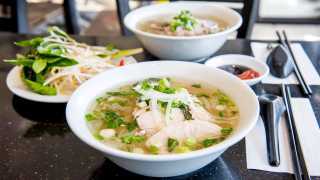 B.C. (Before COVID), this Brockton Village soup house would have lines outside the door on any given weekend. Once you slurp the deliciously warm broth in their rare beef and brisket rice noodle soup or tuck into their hot and spicy stew, you'll see that it's definitely worth the wait.
5. Hanoi 3 Seasons
1135 Queen St. E.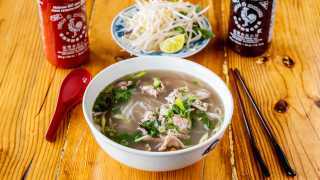 This North Vietnamese eatery has two east side locations and plenty of pho tasty enough to warrant seconds. The pho dac biet — with beef brisket, meatballs and tripe — is the restaurant's specialty, but each one is pretty darn special. Plus, those crispy rice crackers are great for dipping.
6. Dzo Viet Eatery
308 Dundas St. W.
Mixing up the traditional-style pho, Dzo Viet Eatery, a colourful new addition to Baldwin Village, serves dry pho with homemade pho soup on the side. But that's not all that's deliciously different. Their "Photine" has grilled beef dusted in pho spice and pho gravy covering a mountain of crispy fries and cheese. Yes, please.
7. Pho Dau Bo Restaurant
2437 Finch Ave. W.
Both the bowls and the flavours at this North York pho joint are BIG, so make sure you arrive hungry. Pho Dau Bo holds a special, nostalgic place in the hearts of many Torontonians who grew up coming here with their families on the weekends. For just over ten dollars you can tuck into one of their legendary bowls of rare to well-done beef noodle soup, brisket or vegetable. Happy slurping. 
8. Pho Metro
Multiple locations
From Scarborough to Milton, Pho Metro has been warming up and filling up hungry patrons all over the GTA and suburbia. Each location has special menu items created for that neighbourhood — the Scarborough location is famous for their Banh Xeo (Vietnamese sizzling pancake) and beef vermicelli soup — but it's their wide selection of pho that reigns supreme.  
9. Pho 88
Multiple locations
For over 25 years, this family owned and operated Vietnamese restaurant has been serving up unphogetable (sorry had to) bowls. People have loved their beef noodle soup so much, that Pho 88 has expanded into three locations across the GTA. They also have some pretty great dishes from other parts of Asia like their Shanghai noodles and Thai curry. 
10. Saigon Lotus
6 St. Andrew St.
Vegetarian, vegan, Vietnamese — this Kensington spot is the place for meat-free eats and veggie-loaded pho. If you have room for dessert, their selection of specialty lattes and drinks like the layered Rainbow Jelly Drink with coconut cream and Pandan tapioca noodles are a nice, iced sweet treat. 
11. Pho House
5230 Dundas St. W.
The broth at this Etobicoke pho house takes longer to get ready than anyone we know (12 hours!) and we're not even the slightest bit mad about it. The lengthy process, careful simmering methods and high quality ingredients give the pho here such a complex and delicious flavour that we'd gladly make the time for any day.    
12. Pho Hung
350 Spadina Ave.
Pho Hung has been a Toronto institution since 1985. Although it's changed locations a couple times, many of the original kitchen staff at this family-run spot still work there and the pho never disappoints. For under $10 you can get a big bowl of rice noodle soup with meat and veggies — and with prices like that, you'll definitely feel like it's still the 80s.
13. UFO Restaurant 
241 Niagara St.
We were a little hesitant to share about this place, because it's one of Toronto's best kept hidden gems. But alas, good meals are even better when shared, so we'll fill you in on our delicious little secret. The sign on this unassuming convenience store says "3 stars food groceries and restaurant," but, honestly, we'd give them ten for their pho with a side of eggs and bacon. Yup, that's right pho for breakfast, how did we ever live be-pho?