Veganism has been undergoing a radical change in recent years. From fast food to fine dining, a slew of forward-thinking chefs are going above and beyond to turn preconceptions of vegan eating on their head, showing people it can be beautiful, colourful and vibrant, with flavours to match. There's vegan pasta, vegan pizza, vegan sushi spots and so much more — meat might be off the agenda, but good eating certainly isn't. 
Seitan, tofu and tempeh are frequently key players when it comes to recreating the texture of animal-based ingredients. Seitan is a form of hydrated gluten; tofu is made of condensed soy milk; while tempeh is made from fermented and cooked soybeans, packed into a block. All three are used to delicious effect: there's charring on the 'meat'; the 'fish' tastes of the sea; the 'cheese' is gooey and golden. And underpinning it all is fresh, seasonal veg that's anything but boring.
There's also a movement in modern vegan cooking that doesn't try to recreate the textures and flavours of meat, instead focusing on showcasing plants and grains in their simple beauty.
Of course, vegan cooking isn't the complete solution to our planet problems. There are all sorts of arguments about how healthy it is, as many fake meats and cheeses are super processed. Not to mention many of them aren't actually that good for the environment — tofu, for example, relies on crop monoculture and pesticides.
But no one matter which camp you're in, no one can say that eating less meat isn't better for you and the environment, and if that means you need to eat a fake burger that bleeds beet juice once a week, who's to say that isn't OK?
Certainly not us, and given the creative cooking at these Toronto outposts, we'll say it's a safe bet you'll be eating it far more often than that...
The best vegan restaurants in Toronto: The Fashion District
LOV
620 King St. W.
A brightly lit space with large windows, white walls, beautiful brass finishings and lush plants, LOV is an Instagrammer's paradise — befitting its spot on King West's chic restaurant row. Billed as a "fast-fine" restaurant, the menu features a variety of cuisines, offering a little something for everyone. You'll find comfort food favourites like mushroom risotto and mac'n'cheese alongside tacos, curry and, of course, avocado toast. We'd recommend going for the Big LOV Cheeseburger, a black bean patty topped with tomato, Boston lettuce, mixed greens, red onion, pickle, big LOV sauce and vegan mozzarella.
Parka Food Co.
424 Queen St. W.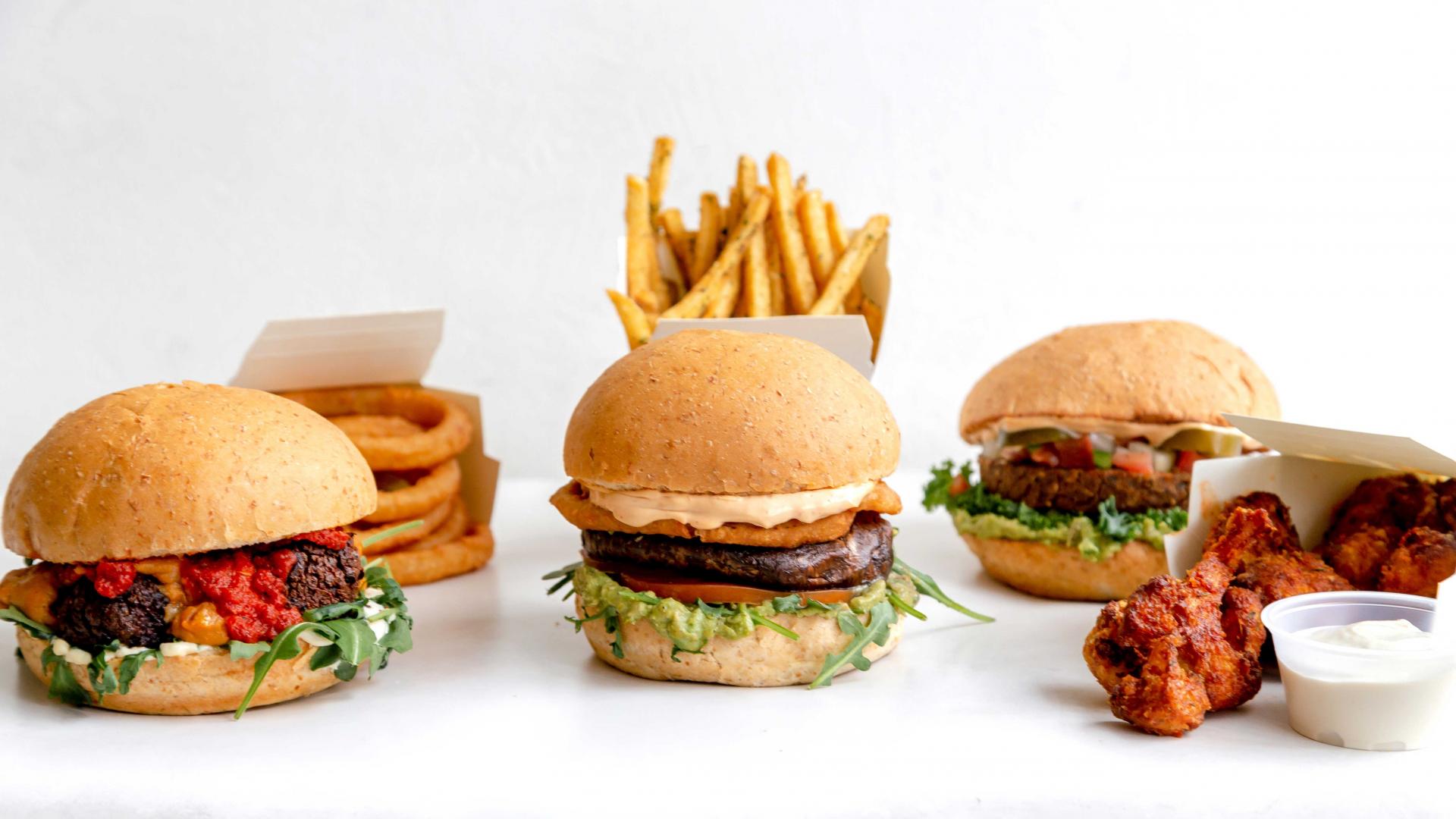 On a mission to make healthy eating an easier, more fun experience, Parka reimagines comfort food classics as wholesome and plant-based, yet still deliciously indulgent. Creamy mac 'n' cashew cheese goes beyond the traditional, coming in different variations like truffle mushroom or broccoli pesto. Meanwhile, biting into a juicy burger is also a way to get your veggies in, with options like the portobello mushroom patty, loaded with chipotle aioli, onion rings, guacamole, organic arugula and plum tomato. Hearty chili, salads and bowls also make it onto the menu, along with a cashew cheese and mushroom gravy poutine.
Pizzeria Du
536 Queen St. W.
The story of Pizzeria Du is as heart-warming as its pizzas are delicious — which, seeing as the plant-based pizzas are gob-smackingly good, is very. The Queen Street restaurant comes from the same team behind Avelo, the fine-dining plant-based Italian restaurant known for its vegan hazelnut ice cream with sea salt and gold flakes, but this time it's the humble pizza that gets a plant-based glow up. The takeout spot, located inside the new Osteria Du, is named for Avelo's chef Dualco, who sadly passed away. The restaurant cancelled the launch of its latest outpost, Vitalia, and switched up the concept to become Pizza Du to showcase Dualco's signature pizza crust.
The best vegan restaurants in Toronto: The Entertainment District
Rosalinda
133 Richmond St. W.
Rosalinda's vibrant meat-free menu is the jewel in the crown of Toronto's vegan movement. You can expect Latin-inspired plates like meaty mushroom birria tacos and warm guajillo chili noodles tossed in a finger-licking crispy garlic dressing.
 Planta Queen
180 Queen St. W.
Previously relegated to ordering the most boring of sushi (we're looking at you, cucumber roll), vegans can finally satiate their sashimi dreams at Planta Queen. Ahi watermelon nigiri mimics the texture and flavour of raw fish, while the dragon roll is stuffed with tempura broccoli, spinach and spicy unagi sauce. From chef David Lee, the menu of plant-based fare features all the greatest hits from Asian cuisine — there's BangBang Broccoli; wonton soup in a mushroom broth; and General Lee's Cauliflower. Slurp up udon noodles in a truffle-scented coconut cream, and don't you dare skip on the dumplings.
LosCo Vegan
111 Richmond St. W.
An all-vegan, all-delicious churro twist is the order of the day at LosCo, the next iteration of Top Chef Canada contestant Elia Herrera's Los Colibris, located inside the Assembly Chef's Hall. The menu capitalizes on Herrera's Mexican heritage and modern training to put a contemporary, plant-based spin on classic dishes. Think young coconut ceviche, acai bowls and coconut chia bowls — this is health food, but not as you know it.
Copper Branch
Multiple Locations
If a big bowl of chilli is as comforting as a hug, Copper Branch's plant-based version is the equivalent of a hug from your mum, i.e., it's warming, it's wholesome and it makes you feel better, no matter what kind of trouble you've got yourself in. Elsewhere, colourful bowls filled with sweet potato, beets and spiced chickpeas are sure to boost your mood — but for something that feels a little less, erm, healthy, tuck into the family-size mac 'n' cheeze.
The best vegan restaurants in Toronto: Trinity Bellwoods
Bloomer's
715 Queen St. W.
The second location of this popular plant-based bakery focuses more on Bloomer's sweet side with vegan pastries, cakes and those delectable donuts that get hand-made every morning. Start your day off right with donut flavours like rose pistachio and cinnamon sugar or seasonal specials like pecan butter tart and banana pudding. They have daily rotating flavours so you're always in for a surprise treat. Looking for a savoury option? Bloomer's has bagels — perfect vessels for their dairy free cream cheese spreads. If you've got a special vegan or dairy-free friend in your life, their cakes will impress anyone at the party with fun flavours like Campfire with vanilla frosting, graham cracker crumbs, chocolate ganache and marshmallows — oh and you can crown your cake with donuts, too.
Fat Choi
94 Ossington Ave.
Family-run restaurant Soos has been an Ossington favourite since 2013 and their plant-based, twice-a-week pop-up Fat Choi is so good that it can convert any meat-lover into a plantaholic. Inspired by Chinese Malaysian food ('fat' in Cantonese means prosperity and 'choi' means vegetable), Fat Choi literally stands for plant-based prosperity. Their menu rotates every week, but some dishes you can expect to find are char kaway teow (popular Malaysian street food noodles); char siu bao on a Chinese steamed bun with pickled veg; and sloppy jacks with bourbon barbecue jackfruit, samba mayo and kimchi. They also have jars of their sambal chili which you're going to want to stock your kitchen cabinets with.
Stefano's Sandwiches
1214 Dundas St. W.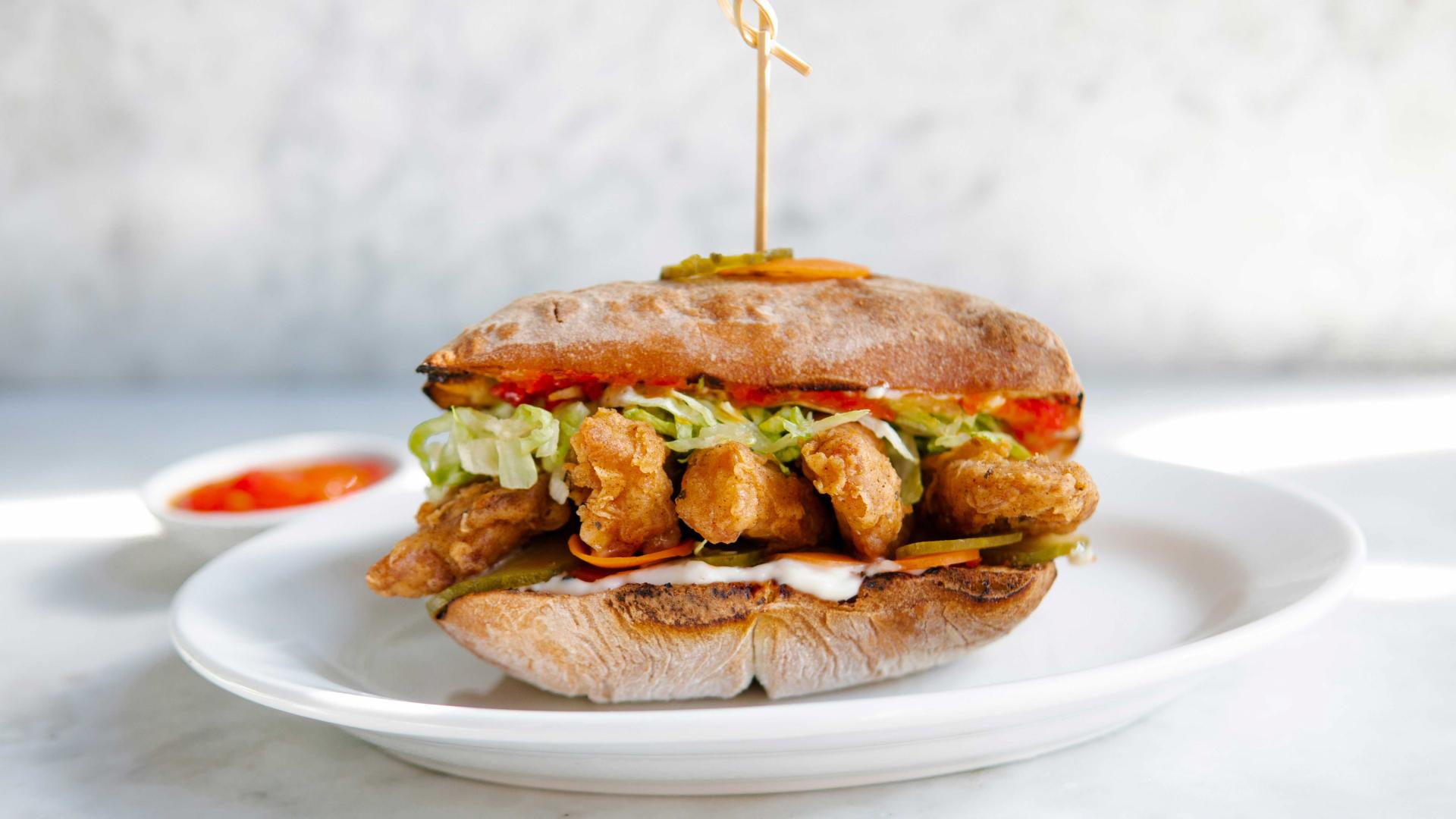 Known for their delicious plant-based pasta dishes, the team behind Gia (formerly Ufficio) have transferred their affinity and apt for vegan dining into a brand-new concept: Stefano's Sandwiches. Stefano's is operating out of the same location as Gia, with takeout and delivery available. These aren't the sandwiches you remember from sad school lunches, Stefano's sammies come fully loaded on house-made ciabatta. Menu items like the vegan fried chicken sandwich (topped with vegan mayo, lettuce and pickles from White Lily Diner), and the Beyond Italian sweet sausage (with chipotle mayo, rapini chimichurri, sautéed onions and VegCheese crema) will make you forget all about their meaty counterparts.
Hello 123
1122 Queen St. W.
Hello 123 promises happy food and happy times, which is a pretty bold claim. But this Queen West spot more than delivers, with plates of almond and banana french toast, chickpea 'omelettes' with greens, and Irene's Massive Breakfast, a feast of a chickpea and kale omelette in ranchero sauce, roasted wedges and sourdough toast, pancakes, seared tempeh, and a side salad; a dish that laughs in the face of hunger. And that's just for the a.m. — there are burgers, booze and more.
The best vegan restaurants in Toronto: Little Italy
La Bartola
588 College St.
Chef Ivan Castro grew up cooking traditional recipes with his mother and grandmother in Mexico City and has combined his unique food history with the power of plants to create a truly beautiful and original College Street oasis. Until you can enjoy their backyard patio or dine inside their colourful walls, where they are offering dinner experience boxes that will take you on a journey through Mexico's different regions from the Yucatan to Oaxaca. Their taco kits with handmade tortillas, from-scratch salsas and delicious meat-free toppings like braised hibiscus and jackfruit al pastor will make you question every Old El Paso box you've ever opened.
Globally Local
Multiple locations
If you're in a fast food kinda mood, absolutely do not look at Globally Local's website, absolutely do not read the menu and absolutely do not order the Preposterous Burger. Which, for the record, totally lives up to its name. It's huge, for one thing: a doorstop-sized house-made charred seitan patty is swaddled in crisp lettuce and light and fluffy bun. It's also preposterously delicious, the patty infused with beet juice for added oomph. The Golden Arches better watch out…
The best vegan restaurants in Toronto: Roncesvalles
Sorry, I've got plants
476 Roncesvalles Ave.
We may not have many plans this year, but we're always looking to add more plants to our daily lives. Luckily, this Roncesvalles spot has us covered. Sorry I've Got Plants' storefront, which sells takeout food, groceries and low-waste goods, was only open for a few months before the pandemic hit, so they focused more on developing it as a hub for their low-waste meal kits. New dishes are added every week to their opt-in program and each kit comes with enough food for two portions and at $10 a plate, they make plant-based cooking accessible and affordable. Life's too short for sad salads, so SIGP has tons of hearty, flavourful meals like Kimchi-Jjigae, a bright red stew with rice, veggies, tofu, vegan kimchi and lots of garlic and gochujang. Sorry not sorry.
The Goods
279 Roncesvalles Ave.
The team at The Goods believes in the healing power of whole, fresh food. Food that's delicious, food that's natural, food that's, well, good. It's the place to find prepped soups, salads and smoothies, game-changing dressings, and — since the pandemic — easy meal kits so you can eat top-quality meals at home. It's a simple ethos, and it's a good one.
The best vegan restaurants in Toronto: Kensington Market
The Hogtown Vegan
382 College St.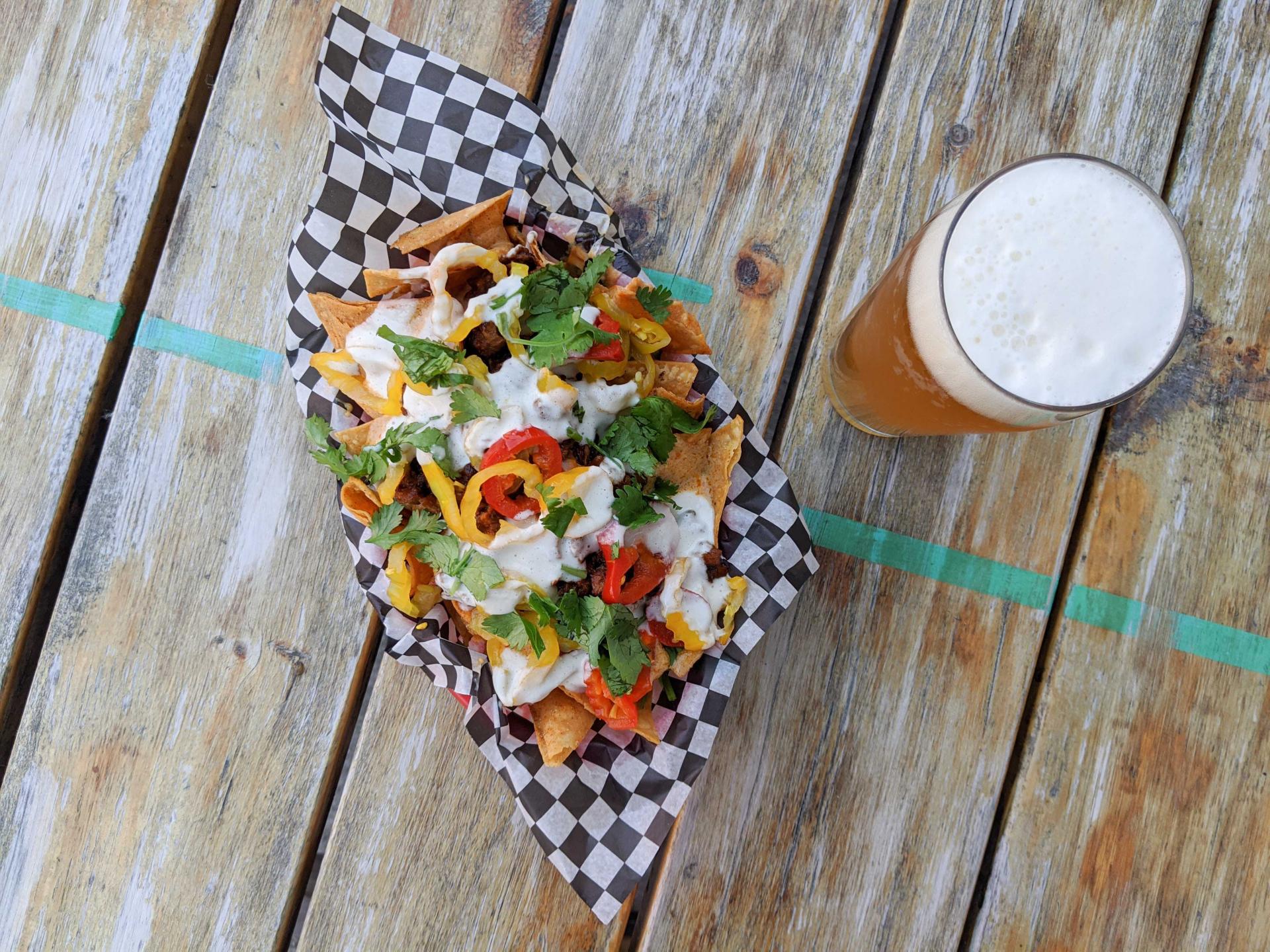 Comfort food classics and pub fare, but make it vegan. We're talking crispy fried soy wings tossed in your choice of sauce; nachos piled high with barbecue soy pork, pickled hot banana peppers, nacho cheez, sunflower seed sour cream and cilantro; and fully loaded chili cheese fries. As for mains, there's a dish for everyone, with a menu stretching from tacos, burgers, wraps and sandwiches to unchicken on a Belgian waffle and beer-battered tempeh fish and chips.
Eat Nabati
160 Baldwin St.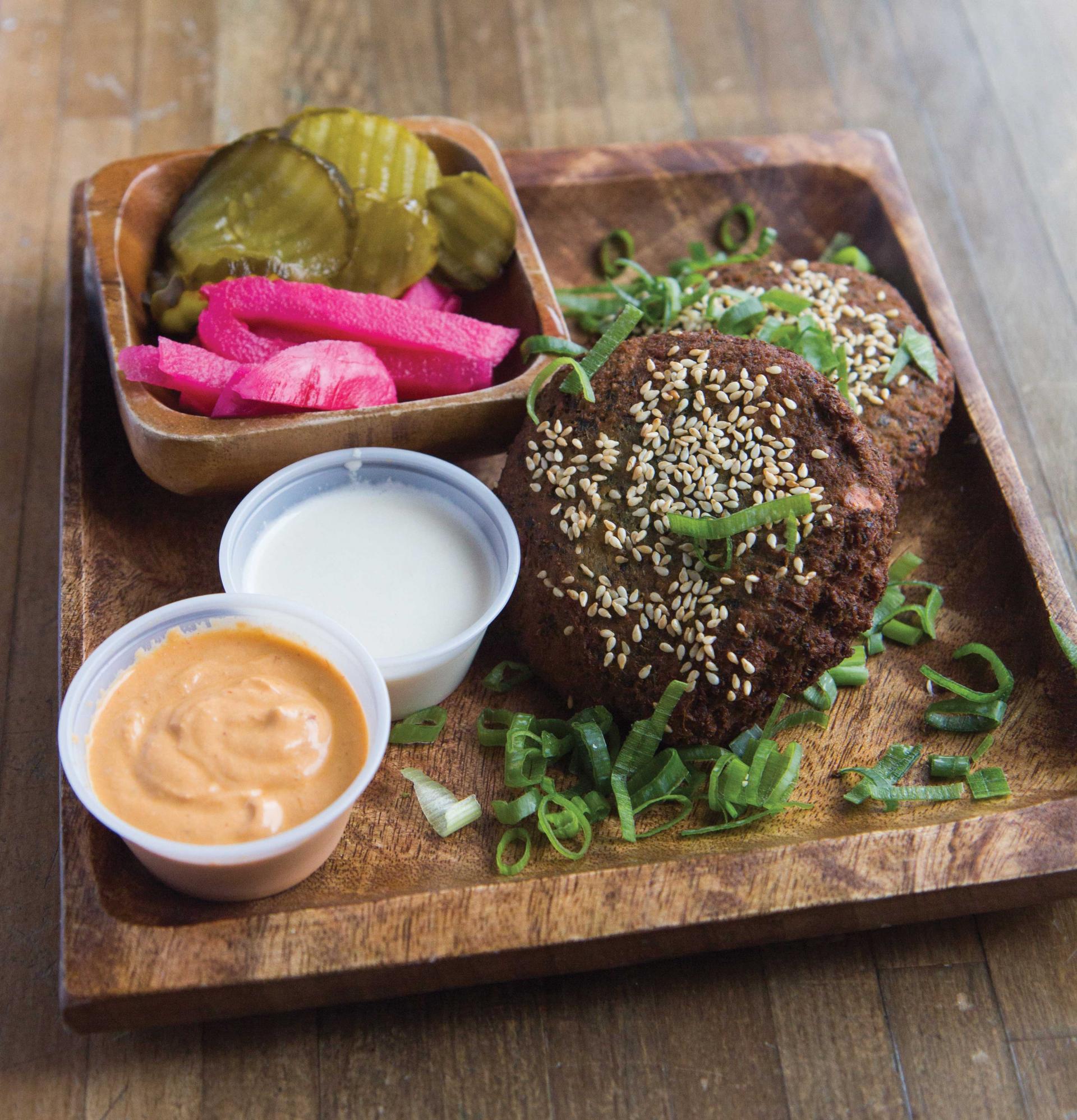 'Nabati' is an Arabic adjective that means 'made of plants' and that's exactly what this fast-casual Kensington hub specializes in. Inspired by outdoor markets and street food culture, Eat Nabati opened last year on the iconic Baldwin Street and combines Middle Eastern flavours with seasonal, local produce. Dishes are wallet-friendly (most menu items are under $10) and full of bold, healthy freshness. They have meat-style shawarmas that are completely plant-based, but you'd never know it, and a variety of dishes like za'atar cauliflower with beet tahini that can be served over fresh pita, rice, fries or lentils. There's also four types of tahini sauces for all your dipping needs.
Urban Herbivore
Multiple locations
From offering free tap water instead of bottled to using biodegradable packaging made from corn and sugarcane, taking care of the planet is at the heart of everything they do at Urban Herbivore. They source local, organic ingredients wherever possible and most of their menu is gluten-free. Everything at this café and eatery is made from scratch with an ethos of root to stalk cooking. Stop in for juices, smoothies, coffee and baked goods, or tuck into a full lunch with their selection of hearty bowls, soups and sandwiches.
Veggie D'Light
160 Baldwin St.
Veggie D'Light is, well, delightful. Under the watchful eye of Jamaican-trained chef Peter McKenzie, the restaurant puts a veggie spin on Caribbean classics: vegan jerk roti, bowls with wholegrains like quinoa, brown rice and flax, leafy veg and fresh salads feature prominently on the menu, all designed to put a spring in your step. Caribbean flavours make you think of warmer climes — all we need now is the beach and the palm trees…

The best vegan restaurants in Toronto: Parkdale
Bar Vegandale
1265 Queen St. W.
Last year, after the original location of Vegandale Brewery shuttered (displacing beloved first-floor spot Doomies in the process), the bar quickly relocated across the street under a new name: Bar Vegandale. And lucky for fans of Doomies, the fast food vegan joint also has a home inside the new establishment, taking care of the food program. The cheeseburgers are the way to go here. They're known for having one of the best Big Mac dupes out there — and a vegan one at that too.
Lovebird
1277 Queen St. W.
We know what love tastes like, and it's Lovebird's chickun parmigiana bun, with notzzarella cheese and marinara sauce. Or maybe it's their coconut bowl, with fried chickun, butternut squash, carrots and coconut curry on brown rice. Or possibly even the tahini bowl, with hummus and, erm, tahini. Look, it's all delicious and we love it all — and we especially love that it's made with organic, non-GMO soy, pea protein and spices.
Vegan Danish Bakery
1312 Queen St. W.
In our opinion, a life without pastries isn't much of a life at all, which is why we thank the food gods for the aptly named Vegan Danish Bakery, where you can get your chops around — yep, you guessed it — vegan danishes. But also vegan biscotti, peanut butter cups, cinnamon buns, cheesecake slices… Shall we tell you more or shall we just see you there?