Make this: Walnut-crusted roasted lamb rack
Richard Andino, executive chef at Pétros82 inside Hotel X Toronto, shares his recipe for mouthwatering Australian rack of lamb.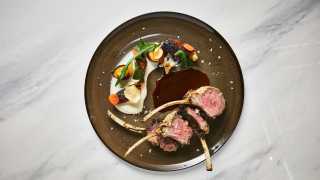 Makes 4
Preparation time 20 minutes
Cooking time 40 minutes
Ingredients
½ cup fresh bread crumbs
2 Tbsp minced garlic
2 Tbsp chopped fresh rosemary
2 tsp salt, divided
1 ¼ tsp black pepper, divided
4 Tbsp olive oil, divided
1 rack of lamb (7 bone, 28 oz +, trimmed and frenched)
1 Tbsp Dijon mustard
Method
Preheat oven to 450 F (230 C). Move oven rack to center position.
In a large bowl, combine bread crumbs, garlic, rosemary, 1 tsp salt and ¼ tsp pepper. Toss in 2 Tbsp olive oil to moisten mixture. Set aside.
Season the rack all over with remaining 1 tsp salt and 1 tsp pepper. In a large, heavy oven-proof skillet, heat remaining 2 Tbsp olive oil over high heat.
Sear the rack of lamb for 1 to 2 minutes on all sides. Set aside for a few minutes. Brush rack of lamb with mustard. Roll in bread crumb mixture
until evenly coated. Cover the ends of the bones with foil to prevent charring.
Arrange the rack bone-side down in the skillet. Roast the lamb in preheated oven for 12 to 18 minutes, depending on the degree of doneness you want.
With a meat thermometer, take a reading in the centre of the meat after 10 to 12 minutes and remove the meat, or let it cook longer, to your taste.* Let it rest for 5 to 7 minutes, loosely covered, before carving between the ribs.
*Allow internal temperature to be 5 to 10 degrees less than you like because the meat will continue to cook while it sits.
Bloody Rare: 115 to 125 F, Rare: 125 to 130 F, Medium Rare: 130 to 140 F, Medium: 140 to 150 F