A big blue sky stretches endlessly above our car as we wind our way deeper and deeper into a landscape of sloping vineyards and roadside fruit stands. We're on our way to Niagara, but no, not that one. Just 30-minutes east of Niagara-on-the-Lake, Ontario's well-known epicentre of viticulture, sits the Niagara Benchlands: a charming pocket that's home to beautiful trails, quaint towns peppered with boutiques, and, most importantly, some outstanding wine.
While Niagara-on-the-Lake is well-known for its established and polished wineries (and coach loads of wine-loving guests), many don't know that Niagara's wine region is split between two neighbouring areas. While you won't find household names like Jackson Triggs and Inniskillin in the Benchlands, the wine produced in this appellation consistently turns heads internationally.
"We are considered some of the best growing sites in Niagara," says Erin Mitchell, president of Megalomaniac Winery, a 26-hectare vineyard atop the escarpment. After some meandering up a twisting dirt road, we are rewarded with panoramic views and a glass of their excellent Bubblehead Sparkling Rosé. The pale pink bubbly with toasty berry notes won gold at the 2019 Ontario Wine Awards.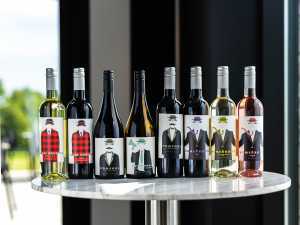 "It has to do with the great air movement up here on the escarpment, which gives us a wonderful view as well. But there are some actual growing benefits to be had here with our limestone soil ... and the varieties that we grow here focus on the things that Ontario does well," says Mitchell.
Megalomaniac allows varieties like cabernet franc — typically grown for blending with other grapes — to shine on their own. The winery started in 2010, but it didn't take long for their wines, with names like Narcissist and Big Mouth, and iconic labels with men in bowler hats, to find a place in people's hearts. "What we're trying to do is the opposite of what the names indicate, which is to be tongue-in-cheek about the pretension that often surrounds the winery."
With swoony black and white awnings, topiaries and chandeliers, Megalomaniac's patio reminds me of a Parisian storefront. While we could happily spend all day here, Mitchell is keen for us to see their mature 17-year-old vines on one of their "Insta-worthy" Vineyard Walks which began last year.
"A lot of wineries you go to, you never step foot in the actual vineyard," says Mitchell. "There are a lot of opportunities to learn about winemaking, see the cellars and that phase of the production of wine. But we're a farm at the end of the day."
In 2020, Mitchell took over the winery when her father retired. Though she now lives in Niagara-on-the-Lake, the Beamsville local admits to being biased about the Benchlands.
"You drive through the rolling hills, you get up on the escarpment and you get down on Highway 8. It's more of these lovely country roads ... It's kind of the analogy of Sonoma versus Napa in California … This is the Sonoma, where it's a bit more under the radar than Niagara-on-the-Lake."
Five minutes down the road, we reach Vineland Estates. Taking a respite from the late afternoon sun, we duck into the dark cathedral-esque log barn, which acts as their tasting room. Here, we work our way through a sensational flight, featuring everything from sparkling chardonnay to riesling made using some of the oldest vines in Canada.
Riesling was one of the most popular plantings when Ontario's wine renaissance began in the 1970s, and Vineland Estates was the first to plant vines from Herman Weis, a legendary grower in Germany's Mosel Valley. The riesling we try is from Vineland's St. Urban Winery, named after sister winery St. Urbans-Hof, where Weis brought the vines. Elevation St. Urban Riesling is made solely from grapes grown and tended — from vine to glass — at the winery. And it shows — the medium-sweet wine, with bags of acidity and plenty of zesty notes, is complex, well balanced and a total treat.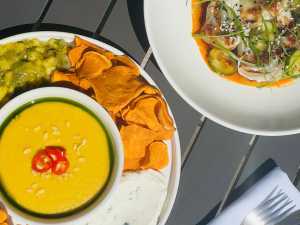 At the restaurant next door, executive chef George Ward is making sure that Vineland Estates is equally renowned for its farm-to-table cuisine as it is for its wine. "It's one thing to sit there and come up with ideas," says Ward. "It's another thing to see it, to touch the soil, to talk to the farmers and to find what they can grow for you."
Inside the 1845 farmhouse, diners can tuck into Ontario quail and lamb while soaking up the views. For Ward, who grew up in the area, this corner of the world is special. "It has a very small-town appeal: It's working with the local purveyors and winemakers and local people. Everybody knows everybody here, and I love that." Vineland's tasting menus also put wine front and centre with the option to pair a glass with each course.
"It has small-town appeal — everybody knows everybody"
On day two, we head to Redstone Winery, where chef David Sider takes a different approach. While recognizing the role it plays in any winery restaurant menu, Sider didn't want guests to be beaten over the head when matching wines to their entrées.
"Having that recommended pairing on the menu is a benefit for some people, but it's also a shame if you have to write off a whole dish on the menu just because you don't like chardonnay," says Sider.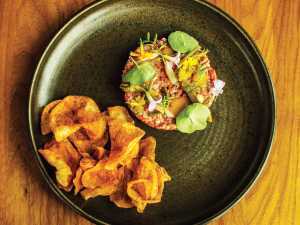 Guests can try asparagus-topped beef tartare or albacore tuna marinated in salsa verde, alongside organically farmed wine from the 15-hectare estate winery.
Originally a sister brand to Tawse Winery, Redstone Winery got its own digs in 2015. Named for its heavy red-clay soil, the winery is suited to making Bordeaux-style wines like cabernet franc, cabernet sauvignon and syrah.
To demonstrate the vineyard's unique topography, Redstone Winery's Vicki Smyth gives us a tour of the property. "Even though both properties have a cab franc, they're from different vineyards. The terroir will show through in the wines — even though they're made by the same people, in the same style, they are different."
Matt Giffen, a self-described "recovering banker," has been fascinated with agriculture his entire life, from growing grapes for Niagara wineries to discovering European beers. Realizing no one was taking advantage of the area's terroir during the craft beer boom, he launched Bench Brewing Company — the last stop on our trip — in 2016 and opened to guests two years later.
"We really lean into the beer from wine country and try to be stewards of the land and draw from as many local ingredients as possible," says Bench Brewing's general manager Anthony D'Aprile. Located at the foot of the Beamsville Bench, the brewery benefits from the same great soil and climate as its neighbouring wineries.
"We try to be stewards of the land and draw from local ingredients"
"We released our first series of beer called Hopsters, where we're using a percentage of our own hops. What happens when we take the most local hops and combine them with some of the best hops in the world?" The answer is some of Ontario's most exciting and innovative beer, which can be enjoyed on one of the region's best summer patios.
Feeling sozzled and happy, we head to Inn on the Twenty, a stunning hotel and restaurant which opened in 1993. As demand outweighed supply, the company renovated the Jordan House Tavern & Lodging down the street, attaching a block of upscale rooms to the historic tavern. Though Jordan Village continued to grow, it never lost the small-town charm of its tree-lined streets and shops.
Pearl Morissette's winery began making small vintages in Jordan Station in 2007, before bringing on Daniel Hadida as chef-owner of Restaurant at Pearl Morissette a few years later. Today, it consistently makes its way onto national best restaurant lists. This year, they opened RPM Bakehouse, a high-pedigree bakery with slow-fermented loaves so good, Torontonians are making the trek.
Time moves differently in this beguiling region, and I have trouble believing the Niagara Benchlands is only an hour away from the hustle and bustle of Toronto. With that in mind, I decide it won't hurt to stick around for one more glass before our designated driver brings us back to the big smoke, our bellies and a trunk full of Niagara wine.