Quality chefs don't just appear overnight. It takes hard work and dedication to reach the top of the pyramid — something Patrick Kriss, chef and co-owner at Alo, Aloette and Alobar, and the founder of Alo Group, knows only too well. It's not about the flashiest dish or the best new restaurant concept. It's about honing your craft and perfecting every plate, a feat that takes years — and a whole lot of discipline — to achieve. 
Kriss went from being a chef at Auberge du Pommier to working in world-renowned kitchens in New York and France, and it didn't take long to gain a name for himself. But it wouldn't be until 2015, when the Scarborough-native opened Alo on Spadina Avenue, that Kriss would solidify the hype and prove that he wasn't just a flash in the pan. The contemporary French fine-dining spot in downtown Toronto began serving blind, multi-course tasting menus to huge fanfare, winning awards and routinely being touted as one of the best restaurants in Toronto. And before any whispers of a Michelin Guide arriving in Canada had even started, it became a destination worth travelling for.  
Though the pandemic was a great equalizer for chefs across the city — Toronto Life reported about how Kriss spent much of 2020 flipping burgers at Aloette — today, Kriss is back behind the pass where he belongs. As chef-partner at the Ace Hotel Toronto, Kriss overseas all menus at the swanky new digs, including the Mediterranean-inspired restaurant Alder, the Lobby and the hotel's soon-to-open rooftop, Evangeline. 
When I spoke with Kriss, the Michelin Guide had not yet announced its stars. Yet, despite the buzz surrounding his restaurants' impending accolades (Alo and Alobar Yorkville each received one star, while Aloette received a Michelin Guide recommendation), the acclaimed chef remained humble. From the Michelin Guide and eating out in Toronto to future projects, I chat with the "simple dude" at the forefront of some of the country's most exciting cuisine.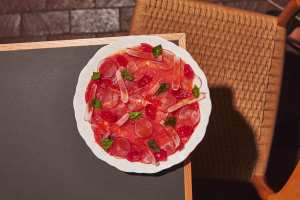 Alder is the first time you've collaborated with a hotel group. What was that experience like?
"The place was designed, the kitchen was designed, long before Alo was brought in. We were given the space — you have a hearth, you have a wood oven. And then we're like 'What are we cooking? How do we want it to feel, how do we want it to look?' It has to complement the room, it has to be a little bit rustic but a little bit refined, we need to use the wood oven and the grill. But I don't want everything to come off of it because that's a little bit overwhelming if you're eating grilled food all night. Some components can come off of it, like charred onions for a dressing or charred poblano for an aioli with fresh tuna. So you get the contrast of light and fresh with a bit of the richer, darker smoked poblano."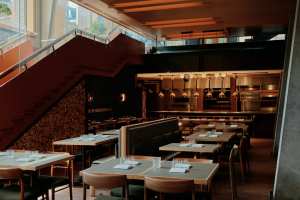 What is the cuisine or concept at Alder?
"As you know, we don't really do concept restaurants. It's just not really who we are. We cook to the clientele and the space and the price point. With the fire and all that, we got most of our inspiration from Mediterranean cuisine — less butter, less jus and more olive oil and lots of lemon. More vinaigrettes than aiolis. That's what we cook towards."
How does cooking at a hotel restaurant affect your approach?
"I think we treat Alder as a neighbourhood restaurant not a hotel restaurant. There are 123 rooms in it, so not everyone's eating there every night. We have to cater to the people that we're going to see two or three times a month. So we're going to change the menu; we'll keep it very seasonal. Some dishes that people really like, we'll bring them back."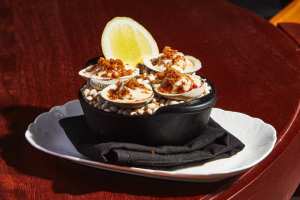 What's your favourite dish on the menu right now?
"Probably the suckling pig. Remember 10 years ago, when everyone was doing suckling pig? Everyone loves it and it's delicious. Maybe everyone will start serving suckling pig again. We take whole pigs, we roast them and serve them with some crackling. Then we have a corn succotash on the side."
Which of your restaurants is your favourite to dine in?
"To be honest with you, I've never eaten in my restaurants. Never once — never ever never sat down in any of the restaurants and had a meal. I don't know, I just don't feel comfortable doing it. I don't want to make the staff feel uncomfortable. I just have never done it, never started and I never have and I never will."

Where do you you love to eat in the city?
"I just went to the new Select [Bistro] and I had a great meal. I like Terroni, I like Edulis, I like RASA. I never eat anywhere, but I just ate dinner back-to-back nights, which is very different for me. I just had a nice meal at Bar Isabel.
I don't really do tasting menus, which is funny. I like to go order à la carte. I like to go to Morton's for a steak. I'm just a simple dude — I go out for a martini, have some oysters and then go home. I'm not fussy, I don't like to be fussed over. I don't like any of that bullshit."
So how do you get into the mindset of cooking for people who like fancy food and tasting menus?
"I kind of have to switch my brain to every single restaurant I go to ... Alobar [Yorkville] is four years old, Aloette is five, Alo is seven. So, it took a while to figure out, but now it's just kind of like, "Oh, this is a good idea for Alo ... And I'll send it to someone on the team. I don't really pay attention to what it is, I just like an idea or an ingredient. I just got to know what works and what doesn't work, and I also rely on my team to tell me. I could be completely wrong. [They might say,] 'That's not going to work here.' And I'm like, yeah, you're probably right. I always say I'm wrong before I'm right."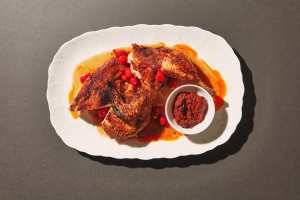 How do you feel about the Michelin star's arrival in Toronto?
"I try not to think about it. Like, 'How many stars do we think we're going to get?' We don't really talk like that here. Every day, we just make sure the customer is taken care of. I think it's great for tourism, that's my biggest thing with Michelin. I think it'll bring a lot of staff into the city to populate all the restaurants that are opening. There'll be some talent that have worked in Michelin-starred restaurants, that don't necessarily want to always work in Michelin starred restaurants, but will bring a sense of experience and knowledge to the city. It can't hurt, right?"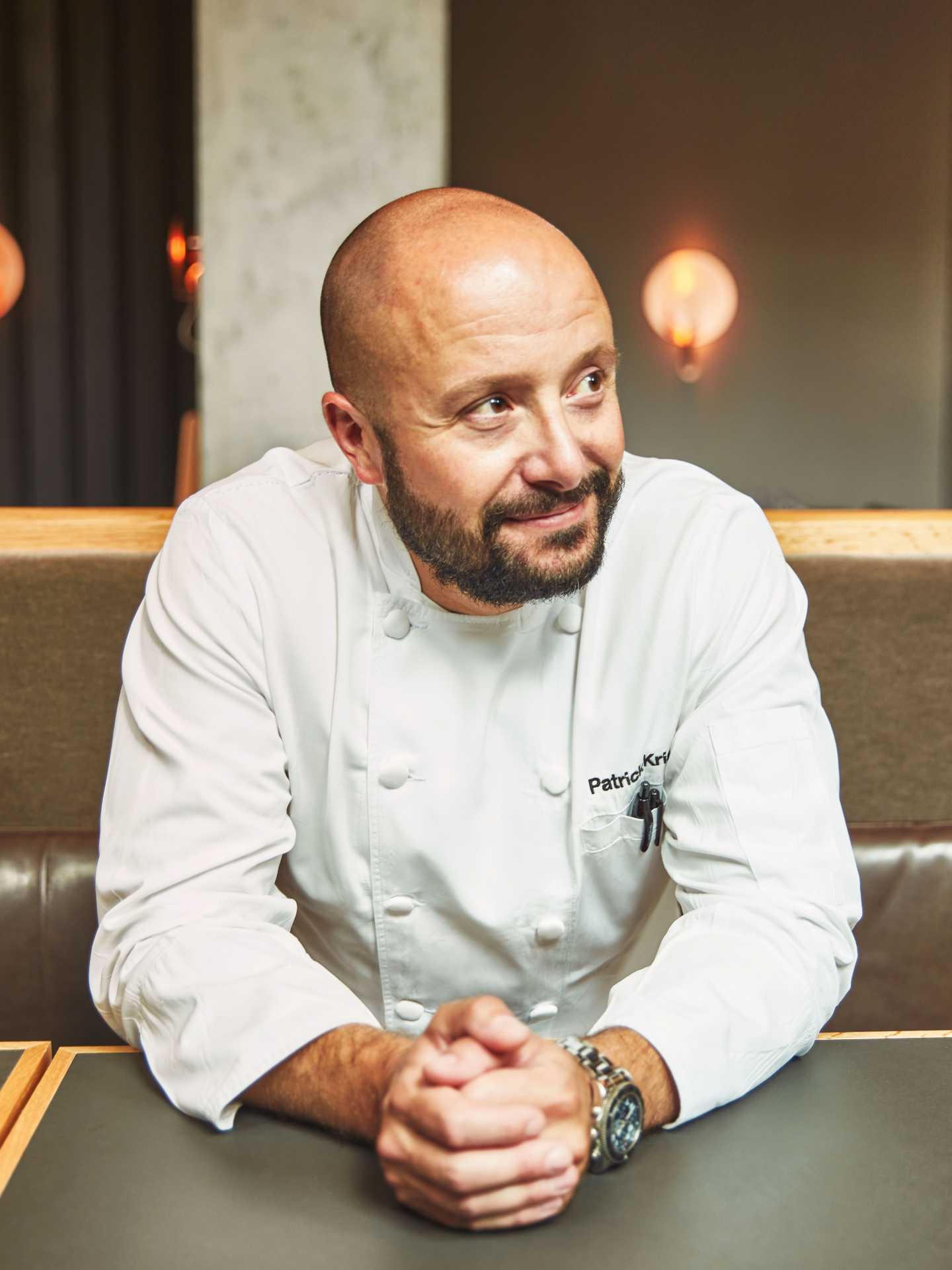 How do you maintain the standards of excellence and manage the pressure that comes with being the number one guy?
"Pressure? Hmm. I don't think of myself as the number one guy..."
Really? We're pretty sure you're the top guy...
"I just say, I'm the dude from Scarborough. That's all I say. I don't really listen to that. Like, I'm sitting at the corner table in jeans and I still haven't changed into a chef jacket, I'm drinking a Starbucks ... I don't really think about it.
I want my customers taken care of, I want good product. I want a fun environment. I want staff to do well, I want staff to make a living. It's tough to know that this is a career not just part time while you're going to school. They can make a living, they can have a family, they can grow with us, have opportunities with us. And the pressures come from media and all that stuff. I can't really control that.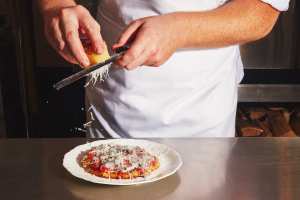 How did you find your passion for cooking?
"I don't really believe in passion. I was working on Rosedale Golf Club. I'd just finished university ... I was a horrible student. Then I said to the chef there 'Hey, I want to get into the kitchen,' and he kind of rolled his eyes at me. But he let me in. And I just kind of thought, 'OK, let's see what I can make of myself in this.' [Growing up] we always had dinner at 5:30 or 6 p.m. My grandma would always make pies. My dad owned restaurants and bars in Scarborough. So it was always in our nature. It was cooking. But not like this."
What drives you?
"We have a responsibility to deliver to our customer, that's what pushes me. Fear of sucking. The fear of failure is a huge one for me. You don't want to fail — you don't want to let down your staff, your customers. That's a big night out. It's expensive, they've read all this stuff about us. You want to deliver every night."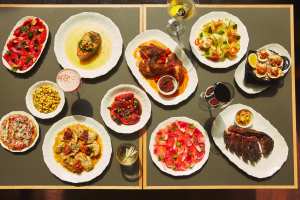 What has been your proudest moment as a chef?
"When we got on La Liste, it's a French list [that recognizes the most impressive global restaurants for international gourmet travellers]. Or, like, any international lists. It's me and my team [at these awards ceremonies], and we're sitting there like, 'There's Grant Achatz. There's Thomas Keller. That's fucked up. That's cool.'"
What's next for you?
"We got lots of stuff coming. I just can't talk about it..."
Can you give us a clue?
"Right now I think we have five leases signed. All in the city. We signed a lease on the second floor beneath Alo and we're gonna do private dining... it'll be a smaller salon. And then we have a couple of Aloettes coming, working on a catering company and another Alobar."