It's no secret that chefs know the best places to eat. So we're setting out to talk with as many Toronto chefs as possible to find out where they like to chow down and how they enjoy their precious days off. No gatekeeping here — our new Day Off Diary series is all about sharing, and how chefs care for themselves when they're not sweating on the line.
While everyone loves a new Toronto restaurant opening, we want to go beyond the lists of best Toronto restaurants to discover those hidden gems and underrated mom-and-pop eateries that make Toronto so special. We chatted with Taylor McMeekin, the new executive chef at The Drake Hotel. McMeekin knew he wanted to cook from an early age and used his experiences growing up to launch a career in some of Toronto's top kitchens, like The Chase and Mildred's Temple Kitchen.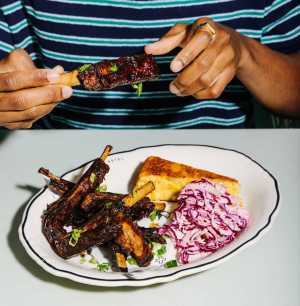 "Everything from being on my uncle's farm as a kid, playing with livestock and fishing, to foraging with my parents and going on long hikes through the bush — that all came together to identify me as a cook," he says.
"Sustainable fishing has always been a big deal for me"
When the pandemic hit, McMeekin had the opportunity to work at Fogo Island Fish as a chef ambassador, where he strived to bring premium, ethically harvested seafood to restaurants across the country. 
"Sustainable fishing has always been a big deal for me. A lot of the fisheries and fishing in Georgian Bay and Owen Sound, where I'm from, became very sparse after a lot of really poor commercial fishing decisions in the Great Lakes. So that led me to that piece."
Eventually, McMeekin began to miss the community of working in a kitchen. Then a chance arose that he couldn't turn down. 
"I was looking for a group of people that I could get along with and build something together with. I saw such a great opportunity at The Drake and got lucky enough that they offered me a job."
Taylor McKeekin's Day Off Diary
How do you like to start your day off?
"After I wake up, I'll usually make a latte at home. Then, I'll sit on my front porch, have my coffee, read the news and think about what that day will entail. I live near Christie Pitts, just north of the park — between Dupont and Bloor. It's nice to have Fiesta Farms about 25 feet away. 
Sometimes breakfast is as easy as walking out and grabbing a breakfast sandwich at Saving Gigi or a little pastry from Bà Nội."
Do you cook at home or do you need a break?
"I love cooking at home. There are a lot of cooking activities that are just so cathartic, whether it's making stock or chicken noodle soup. I also have a deep freeze, so I occasionally enjoy putting things in there. 
I make a lot of styles of curry because it's super easy to pull out. I usually have some form of chilli or pozole in my freezer. I've got a lot of stocks in there. One of my favourite things to make is roast chicken. I will always take the leftovers and make chicken noodle soup — it's so comforting, and I make my own egg noodles. That's more of a cold-day thing, though." 
"I can't turn down morels. I have five tattoed on my arm"
What do you eat for lunch?
"I've been going to Donna's a lot. It is beautifully prepared, simple and not pretentious at all — just good ingredients and some good craftsmanship. The BLT is pretty awesome, but they've had morels on toast the last few times I've been. I can't turn down morels because it's one of the first mushrooms I ever properly identified and ate myself. I have five tattooed on my arm."
I've always been a west-sider, so it's hard to go outside of there when there's just so much good stuff around. Ossington is never a bad scene. Foxley is one of my favourite places for dinner, probably my most frequently visited restaurant — I've been going there for so many years. It's been pretty amazing to see how consistent Tom [Thai] has been over almost 20 years there."
What do you like to do after eating?
"If I'm food shopping, I'll usually head to Fiesta Farms or Kensington Market — I'll hit up Hooked for fish, or Sanagan's Meat Locker occasionally. But if I have a good amount of time, and I'm not trying to schedule myself too thinly between hanging out with friends, I'll cycle over to Pasture Butchery on Kingston Road, because it's pretty spectacular. It's a trek on my single-speed bike, but it's worth it."
Any stops for a drink?
"I really love hitting Grape Witches for a glass of wine and maybe a couple of snacks in the afternoon. That's a beautiful spot, and they are just pouring wines that are bangers all the time. And if we're talking wine, Midfield Wine Bar is also great. I've definitely gravitated towards natural wine in the last little while. I find it opened up a whole new world of possibilities with pairings of food and different acid structures. I think it's very food-driven as well as being delicious, and it also has some great principles surrounding it.
I also like beer. Burdock Brewery has been my favourite in the city for a while; it's also a great patio to go sit on. True History Brewing is doing some wonderful things. They make traditional German and Czech-style beers, and they have a Czech-style tap [a hladinka pour], so they can pull you a full glass of head if that's what you want."
Do you ever host?
"I have a group of friends that I do dinner parties with. We just had a pizza party the other night and made nine pizzas with all sorts of strange toppings. It's always a little different. We've done everything from hotpot to French-style haute cuisine. Everybody has different skill sets.  In one group, there are no other chefs — just friends who really like to eat and cook. And then there's definitely a group of chef friends that get together to cook and be a little silly. Like how can we put the weirdest ingredients together? It's great to just get together with people, cook and share stories."