Dinner can be a complicated affair, with complex cooking techniques, molecular mixology and elaborate garnishes tweezered onto tiny food for tiny appetites. But dinner can also be a hulking great slab of meat plus fire, served at one of Toronto's best steakhouses with a generous glass of merlot, natch. 
That's not to say that a steak dinner is simple. On the contrary, the steaks at Toronto's best steakhouses are made with love and precision — a process which begins long before it makes it onto your plate. Ontario's (and the world's) finest farms are sourced and tapped for their prime cuts of meat, before being dry-aged and seared to a perfect medium rare (we hope?). And that's before we've got to the sides — duck-fat, skin-on fries, crispy brussels sprouts and creamy mashed potatoes — or the classic pepper and mushroom sauces. There's a reason why our list features some of the best restaurants in Toronto, period. 
From all-out indulgence in a leather booth to an interactive, Teppanyaki cooking experience, there's a delicious steak with your name on it. Steakhouses are also some of the most romantic restaurants. Make a date at one of Toronto's best steakhouses and start dreaming of your flawless filet, succulent seafood sides and ice-cold martinis that will make you feel like James Bond.
8 of the best steakhouses in Toronto
1. Jacobs & Co. Steakhouse
12 Brant St.
Jacobs isn't the place to pinch your pennies — you won't find much on the menu for under $100 — but you're guaranteed an exceptional night of cuisine with all the accoutrements. The dry-aged steaks are cooked to perfection, the service is impeccable and the drinks (classic with a twist) are perfectly at home served inside one of Toronto's best steakhouses.
Go for all-out opulence: Order the foie gras and the aged white cheddar popovers, followed by a thoroughly decadent dessert. Then, cap the night off by revelling in the pitch-perfect atmosphere of the piano bar with a digestif. It's said that fans of this Michelin-recommended restaurant have been known to fly in for the beef — luckily, we don't have to.
2. BlueBlood Steakhouse
1 Austin Terrace
Sometimes, you want a classic to be updated: This is not one of those times. A great steak just tastes better when it's enjoyed in a setting that would make Sherlock Holmes weep, like Blueblood Steakhouse. Situated inside Toronto's Gothic Revival-style Casa Loma mansion, the steakhouse is full of lush drapes, wood panelling and chandeliers that pair exquisitely with the luxe menu of Wagyu beef carpaccio, grilled octopus and Canadian prime filet from Green Bay, P.E.I.
3. Hy's Steakhouse & Cocktail Bar
365 Bay St.
We think this is exactly the type of place where 007 would enjoy a deliciously cold martini and a porterhouse steak, before hopping into a chopper waiting on Bay Street. Hy Aisenstat recognized an appetite for quality meat in Calgary back in 1955, and today, Hy's has set the gold standard for Canadian steakhouses. It's known for its beef, fresh seafood and top-notch service (order a steak diane and have it flambéed tableside) but its carefully curated wine and cocktail lists are worth perusing.
4. Barberian's Steak House
7 Elm St.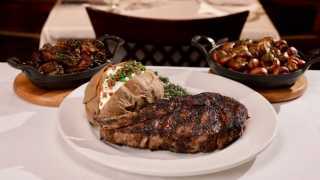 If you haven't been to Barberian's, you've probably longed to eat a juicy steak in their dining room. Their reverence for top-quality steaks that are dry-aged and butchered in-house is what has kept this place in business for over 60 years.
5. STK Toronto
153 Yorkville Ave.
Not only does this steakhouse know its way around a tomahawk steak, it's also the place to catch up and get a little loose with friends. At their Brunch & Bubbles, you can enjoy surf n' turf, lobster eggs benny or pancakes that tower over you like tomorrow's hangover.
6. Harbour Sixty Steakhouse
60 Harbour St.
In an ever-changing city like Toronto, it's nice to know you can rely on classic dining establishments like 60 Harbour Street (located at the very same address). This 1917 building looks straight out of Manhattan's Park Avenue with its royal blue awnings, flower urns and angelic sculptures. Step inside and you'll find plenty of marbling, both on the ceilings and on your steak.
Slip into a booth and order caviar, lobster towers and oysters to go with your meat. Celebs have been known to frequent this stalwart, but the real star is the beef. Order bone-in rib steak, Japanese Wagyu and prime rib — all for a hefty fee, but that's a problem for tomorrow.
7. Prince Japanese Steak House
5555 Eglinton Ave. W.
This ain't no Benihana. Prince Japanese Steak House in Etobicoke brings high-quality ingredients to an authentic Teppanyaki cooking experience, resulting in an interactive — and lip-smackingly tasty — evening. Order ribeye, New York sirloin or lobster tail and watch as chef whips up dinner on the 'teppan' (iron plate) in front of you. Complete the dining encounter with handmade sushi and sashimi.
8. J's Steak Frites
1198 Queen St. W.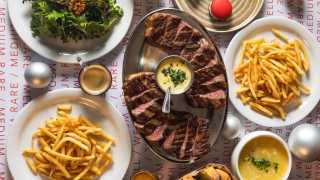 Life is full of decisions, but at J's Steak Frites on Queen West, there's one less head-scratcher to noodle over. As the name suggests, the menu here features steak, fries and a house dipping sauce — plus a couple of cameos from close relatives like walnut salad and soup. Inspired by Parisian L'entrecôte steakhouses, this cute little bistro is focused on cozy decision-less dinners, and our addled brains of the past few years are INTO IT. If you just need to pore over a menu at some point during dinner, let us steer you in the direction of the cocktail and wine menu to toast your blissful meal.