You've probably (hopefully) heard of Greektown, and maybe you've even dined at a few of its many wonderful tavernas. But amazing Greek food can be found all over the city, not just on Danforth Avenue. We've tracked down the best Greek restaurants in Toronto, so you can satisfy all your spanakopita cravings. 
From traditional Hellenic hideaways that have been around for over 20 years to modern takes at stunning, newer additions like Myth and Bar Koukla, we've got the best of the best Greek food in Toronto right here. 
Thanks to its amazing cultural diversity, Toronto is a culinary hub for food from all over the world. Whether you're craving Chinese food, a perfect plate of pasta from an Italian restaurant, or an afternoon at an English-inspired high-tea, you're guaranteed to find it in Toronto. Now it's time to take a trip to the Mediterranean via your plate at Toronto's best Greek restaurants. 
The best Greek restaurants in Toronto 
Mamakas Taverna
80 Ossington Ave.
Mamakas, one of Toronto's best restaurants, continues to blow us away with their refined yet approachable homestyle cooking and not-in-your-face coastal atmosphere. At this Ossington hideaway (right next door to sister spot, Bar Koukla), the Mediterranean summer is endless. The cuisine expertly balances the teachings of past generations while embracing modern touches for some truly remarkable dishes from land and sea. You haven't really tasted feta until you've tried their barrel-aged brick. 
Myth
522 King St. W.
This Meditteranean mega restaurant (it's 5,000-square-feet!) was one of the hottest restaurants of 2021, which means you'll have better luck getting a reso this year! The sprawling space pays tribute to ancient Greece with fun, colourful dishes that will light up your evening. 
Snack on shareable meze and seafood, and don't skip the wine list which covers Greece and beyond.
Estiatorio VOLOS
133 Richmond St. W.
Philoxenia (Greek hospitality, meaning 'friend to the stranger') is what you'll find at the Financial District's Estiatorio VOLOS, alongside exceptional twists on traditional Greek food.
Inside this light-filled eatery, natural wood and stone elements breathe life into the space, as does their daily-changing menu of fresh produce, meat and seafood. You won't find a better moussaka outside of Greece.
Bar Koukla
88 Ossington Ave.
We can't help but stop and stare at Bar Koukla's glowing copper fixtures, sparkling terrazzo countertop and curtains made out of repurposed fishing rope. From the outside window, it's one of Toronto's most beautifully designed spaces, and it's even better inside.
Expect small sharing plates of Aegean-inspired dishes like baked feta wrapped in phyllo and topped with pomegranate; grilled lamb ribs with creamy tzatziki; and chewy sesame bread with whipped honey butter.
Krystos Modern Greek Cuisine
3200 Dufferin St.
If you need to fuel up before a day of shopping at Yorkdale Mall, get yourself a savoury, perfectly crispy, golden-brown spanakopita from Krystos. Once you peel your eyes away from the restaurant's sparkling marble and glass (and flowing waterfall), we're sure dishes like their shawarma-style gyro and heavenly Greek fries will catch your eye. Their specialty is marinated meat so make sure you try some.  
Agora 
921 Queen St. W.
This fast-casual eatery is the perfect spot for lunchtime lulls. Find grab-and-go Greek dishes like pita (made fresh in-house every day) and dips; big, lush salads ; and souvla boxes with grilled marinated chicken and their tangy house tzatziki. Agora is right across from Trinity Bellwoods Park, and we can't think of anything better than posting up in the park with a fried-halloumi cheese pita. 
The best Greek restaurants in Toronto's Greektown 
Mezes
456 Danforth Ave.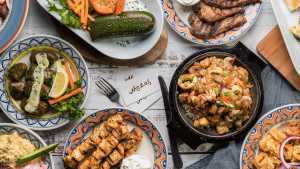 There's a time and a place for frou-frou dishes and cocktails. Mezes, on the Danforth, is neither — but frankly, it's all the better for it. Expect a warm welcome, a huge menu, and delicious Greek food. Indulge in tableside flaming cheese (saganaki), souvlaki piled high and save room for sweet baklava.
Atlantis Authentic Greek Cuisine
526 Danforth Ave.
Big personalities and bigger portions abound at this Danforth Avenue gem. It's hard to have a bad time here. Blue, the colour of the Mediterranean Sea, and crisp white cover the homey space while hot plates of grilled whole fish (ask your server for today's catch) and lamb souvlaki marinated in their special blend of fresh herbs and spices fly out of the kitchen. 
Pantheon Restaurant
407 Danforth Ave.
Feel like you're dining at a close friend's house at this family-run restaurant that's been around for 25 years. Painted frescoes decorate the walls and familiar faces treat you like you're their first customer ever. You'll leave here feeling full in more ways than one.
They're known for their grill skills so definitely order yourself something charred and delicious. The grilled octopus and calamari are our faves.  
Athens Restaurant 
707 Danforth Ave.
Let's take it back to 1977 when this legend graced us with its presence smack dab in the eastern stretch of Greektown. At this Hellenic hideaway, just east of Pape, they continue to source their ingredients from local farmers' markets so dishes are fresher than fresh.
Don't be surprised if they invite you into the kitchen to see the day's specials for yourself. This sense of welcome along with their approachable takes on classic dishes like gluten-free mousaka and vegan stuffed peppers have made this restaurant withstand the test of time.