Pasta is most commonly associated with Italy (although its origins are hotly contested), but these days it's a universal language.
Spaghetti bolognese, simmered for hours on the stove says, "I'll take care of you, we're family." Pappardelle in lamb ragu says, "I want to impress you." Frivolous, frilly campanelli just wants to have a bit of fun. But whatever shape you're going for, there's no two ways about it: A bowl of freshly cooked, handmade pasta is hard to beat.
It's one for meat eaters and veggies, and these days, even the vegan and gluten-free options are knocking it out of the park when it comes to satisfying texture and depth of flavour.
It's no surprise that it's one of our favourite dishes, no matter the occasion: mates, dates; fast or slow. From Sugo to Bar Vendetta, Toronto's Italian restaurants know where it's at. That being said, you could try your hand at making Matty Matheson's ricotta and egg yolk raviolo (whatever you do, do not f*ck up the yolk).
Many of these places are doing takeout, delivery or fresh pasta kits that you just need to cook in boiling water at home. It's safe to say dried supermarket pasta will never be the same again.
The best pasta in Trinity Bellwoods
1. Bar Vendetta
928 Dundas St. W.
We would definitely seek revenge on anyone who took an unsolicited bite of our pasta from Bar Vendetta, the Dundas West pasta and wine bar from the creative mind of legendary restaurateur Jen Agg. If you're a spaghetti person, get the pomodoro with tomato and ricotta. If you're a white sauce fan, get the sausage lasagna with mushrooms and rich fontina cheese. Sop up the leftover sauce with their house-made rosemary focaccia.
2. GIA
1214 Dundas St. W.
Meat dishes might not appear on the menu at this plant-forward Italian spot from the same team behind the now-closed Ufficio, but we promise you won't miss it when you sink your teeth into their flavourful pastas. The rich and creamy agnolotti, with porcini and wild mushrooms, chives and parmigiano reggiano, is a dish that still dances through our dreams at night. Vegans will have a field day with plenty of options like panko-crusted vegan meatballs and vegan pappardelle bolognese. Oh, and don't skip out on the house-made focaccia.
3. La Palma
849 Dundas St. W.
We've got three words for you: 100-layer lasagna. A staple since day one, you can always find this bad boy on the menu at La Palma. And yes, the ooey gooey masterpiece of mozzarella and rich bolognese sauce really does have 100 layers. Other pasta dishes at the stylish Dundas West restaurant rotate with the seasons while upstairs, swanky sister bar and lounge Casa La Palma offers another backdrop for chef Craig Harding's delectable cooking.
4. Enoteca Sociale
1288 Dundas St. W.
For 11 years, Enoteca Sociale has been answering our carb-loving prayers with heaping plates of their beloved house-made pasta. Their amatriciana with guanciale (juicy bites of cured pork cheek), pecorino and tomato sauce with a hint of heat is a pasta you'll keep coming back to over and over again like a fave pair of sweatpants. If you're looking for a treat-yourself-Tuesday, the cavatelli with chicken liver ragu, bechamel and breadcrumbs should do it. When in doubt, get the tried-and-tested cacio e pepe.
The best pasta in Brockton Village
5. Giulietta
972 College St.
Giulietta brings simple ingredients to life and to light with fresh-made pasta dishes that won't leave you feeling like you have to take a nap for 20 years after. The butternut squash agnolotti with butter, chives and Umbrian black truffle are little pockets of pasta bliss and the pappardelle al ragu is a perfect date night treat with slow-cooked oxtail ragu, pangrattato and all the parm. Don't get us started on the rigatoni with octopus ragu, but good luck sharing...
6. Viaggio
1727 Dundas St. W.
We never want to say "buon viaggio" to our plates at this Dundas West house-turned-trattoria. Influenced by Italy's many diverse regions, the pasta dishes will take your taste buds on a culinary tour and yes, you can stay in your pyjamas. Curl up with a comforting bowl of creamy gorgonzola gnocchi with braised beef ragu and grana padano cheese or the cavatelli carbonara with pancetta and pecorino. For dolce? It's all about the tiramisu for two, duh.
7. Sugo
1281 Bloor St. W.
For that classic spaghetti and meatball joint, Sugo is the spot. From checkered tablecloths to nostalgic mozzarella sticks, Sugo's got that neighbourhood feel to it, plus enough pasta to cure all the Sunday scaries. Find plates of gnocchi or rigatoni and, of course, spaghetti piled high with parm. For more carb loading, they've got two-hander meatball and veal parmigiana sandwiches with the kind of sauce that drips down your sleeves. And, for god's sake, Do yourself a favour and get a cannoli.
The best pasta in King West
8. Gusto 101
101 Portland St.
Housed inside a repurposed garage, Gusto 101 has been serving modern takes on Southern Italian classics to the crowds of King West since 2012. Our favourite, and one of the most popular dishes on the menu, is the mafalde ai funghi, a ribbon-shaped pasta served with portobello, porcini and oyster mushrooms in a sinfully creamy truffle sauce that will make you want to lick your plate clean. Eastenders can also find this delicious dish at Gusto 501 in Corktown.
9. Pizzeria Moretti
328 Wellington St. W.
Sure, it calls itself a pizzeria, but you shouldn't overlook the pasta at this King West joint (it also serves bangin' lobster sliders, FYI). Tuck into familiar bowls like homemade tagliolini with wild mushrooms, or go off-piste with the inventive fettuccine with lobster, shiitake mushrooms, lobster bisque, cognac and leeks.
10. Oretta
633 King St. W.
Modern and chic, this beautifully designed Italian restaurant is exactly what you would expect from a trendy King West hotspot that's hip with millennials. It's hard not to fall in love with their pasta dishes, but don't get too attached — the menu rotates and even the seemingly sacred pastas are subject to change. But that just means there's always something new to try. Expect items like the paccheri bolognese with veal ragu or the linguine al tartufo nero with roasted mushrooms, truffle emulsion and shaved black truffle.
The best pasta in Yorkville
11. Sofia
99 Yorkville Ave.
Want your meatballs with a side of serious Hollywood glamour? Yorkville spot Sofia is the one for you. There's velvet, there's a piano, there's live music, and, of course, there's pasta. There are several shapes, all freshly made in house, which feature in generously portioned, richly flavoured dishes like the cavatelli draped in porcini, greens and walnuts. Beyond the carbs, there are plenty of Italian classics.
12. Sotto Sotto
120 Avenue Rd.
Sotto Sotto's ravioli parcels look so delightfully plump that we'd gladly lay our weary heads down on them for a little nap. And after said nap, we'd eat them. We're only messing, of course, but Sotto Sotto's pasta is undeniably bellissimo, whether you're opting for the delicately frilled campanelli, or hearty tubes of rigatoni. And, even better, they're doing fresh pasta and sauce kits, so you can still get your fix at home.
13. Trattoria Nervosa
75 Yorkville Ave.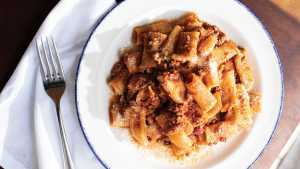 If Trattoria Nervosa's yellow building is a ray of sunshine in our day, their generous plates of pasta are a full-on hug — and boy, would we go for one of those at the moment. Mafalde are smothered in porcini, portobello and oyster mushrooms and truffle cream; rigatoni bolognese is blanketed with a rich veal and beef ragu. Rumour has it Nervosa is a Drizzy favourite...
The best pasta in Harbord Village
14. Daddyo's
673 Spadina Ave.
Fast, cheap and irresistibly delicious, Daddyo's on Spadina is the kind of restaurant that makes us feel a bit dirty — in a very good way. The red frontage is as warm and welcoming as owner Jeffrey, while the menu of classic Italian favourites — spaghetti with meatballs and spicy Italian sausage penne are its crowning glory — is peppered with bold choices like fries with wasabi mayo, and spicy jerk fries. We've heard the brownie is a winner.
15. Piano Piano
88 Harbord St.
Piano piano means slowly slowly in Italian. And slowly slowly is exactly how you should operate in this Harbord Village favourite — its menu is one to linger over: radicchio salad with orange, grapefruit, pecorino and pine nuts; and smoked burrata with romesco verde, pickled grapes and rosemary are just a few dishes to keep a lookout for. And that's before we've even reached the pasta, where you'll find us ordering the canestri alla vodka, with tomato, chilli, 'nduja and mascarpone. It's currently takeout only, of course, but you can still get your fix with their Piano Piano pasta kits. Sign us up.
The best pasta in Midtown
16. Grazie Ristorante
2373 Yonge St.
A Yonge and Eglinton staple, Grazie has been dishing up their pizzas, pastas and Italian entrées in a relaxed atmosphere for 30 years. Divided into sections by sauce type, the mighty menu of almost three dozen pasta dishes runs the gamut from wallet-friendly basics like spaghetti and meatballs in tomato sauce to more dazzling dishes like pappardelle with sautéed veal strips, sundried tomatoes and mushrooms in a veal jus with just a touch of cream. Picky or sensitive eaters will be pleased to know that they're often open to substitutions, including a gluten-free corn pasta.
17. 7 Numbers
516 Eglinton Ave. W.
7 Numbers is a family-run restaurant specializing in southern Italian soul food, overseen by matriarch Rosa Marinuzzi. 'Family' is a theme that runs throughout the spot's ethos: to eat here is to take a seat at the Marinuzzi dinner table. It's loud, warm and vibrant. And it might look like simple Italian, but showstoppers like the succulent Sexy Duck, some of the most tender calamari you'll find and lobster linguine are hiding some unmatched knowledge in the kitchen.
18. Nodo
794 St. Clair Ave. W.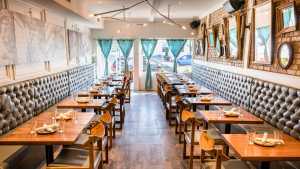 Classic Italian dishes made with traditional standards are the name of the game at this restaurant in Toronto's Wychwood neighbourhood. The easy and approachable menu offers a range of pastas, all made in house. Fan favourites include the slow-roasted duck pappardelle and the gnocchi crema tartufata, with wild mushrooms and truffle-garlic crema. Nodo also has two other locations — one in Leslieville and one in the Junction.
The best pasta in the Entertainment District
19. Amano
65 Front St. W.
One of the first restaurants to help put Union Station on the map as a food destination in its own right, rather than just a transient hub for travellers, Amano specializes in delightfully drippy handheld sandwiches and fresh pasta. During the lockdown, they've been offering meal kits to make their lasagna, rigatoni bolognese and spaghetti and meatballs at home.
20. The SÔS
118 John St.
Like the pasta station at a buffet, but actually tasty, The SÔS lets you pick your own pasta adventure. Start by choosing between long or short noodles (the exact type of pasta varies depending on the day), gnocchi or ravioli. Fillings also change, but might include crab and lobster or ricotta and honey. Vegan and gluten-free pastas are also available. Next up, select your sauce, then add veggies and toppings, like chilli shrimp or Beyond Meatballs, to your heart's content. And don't forget the side of garlic bread.
21. Tutti Matti
364 Adelaide St. W.
Alida Solomon was born in Toronto, but earned her pasta credentials after several years in the kitchens of Montalcino, Italy. Bringing back an ethos of Tuscan simplicity, where the focus is on fantastic ingredients cooked beautifully, the chef opened Tutti Matti in the Entertainment District in 2002. Enjoy pasta (made fresh and frozen for delivery) like pappardelle and tagliatelle from home — then add some brisket meat sauce or wild boar ragu to your order and dinner is sorted for the next few days.
The best pasta in Leslieville
22. Wynona
819 Gerrard St. E.
Everything is made in house at this Italian wine bar near Gerrard and Carlaw, from fresh sausages to an assortment of different pastas. Featuring just a few mains done really well, the miniature menu changes every week. Expect an abundance of seafood, alongside some meatier pasta dishes. In their bottleshop, you can buy their weekly-made fresh pastas to cook at home.
23. Frankie's Italian
892 Queen St. E.
After 10 years in operation, the team behind beloved spot Lil Baci's decided it was time for a change, opening up Frankie's Italian in 2018. Expect old school Italian classics alongside a few modern twists. To get the most bang for your buck, order The Frankie's Forty for pick up — you'll get your choice of bread, salad, one pasta and one pizza.
24. Ascari Enoteca
1111 Queen St. E.
A neighbourhood favourite, Ascari Enoteca offers simple Italian dishes paired with excellent wine — which, thanks to the lockdown, you can now tack onto your takeout or delivery order along with beer from local breweries like Avling and Burdock. There's heaps to choose from, but we'd order the spaghetti alla carbonara with house-made guanciale and grana padano cheese, topped with a beautiful sunny yellow egg yolk, or the pillowy ravioli stuffed with braised beef cheek and served in a silky squash purée with beef jus, swiss chard and crispy shallots. You know, just in case you were asking.