After a long summer spent outdoors, tucking into park picnics and dining out at every patio in the city, we're preparing to hunker down inside for the winter. Dropping temperatures (and climbing case counts) means spending more time at home, and the best accompaniment to cozying up indoors is home cooking. To brush up on our skills, we've found the best places offering cooking classes in Toronto.
Don't get us wrong, we still plan on dining out at the city's best restaurants, but there's something extra comforting about a home-cooked meal, especially as the weather changes. Hopefully this year, we can continue to host our friends and family indoors — one more reason to take one of these cooking classes in Toronto. Master a skill to improve your recipes or learn a new dish to add to your roster.
There's never been a better time to conquer the kitchen and there are tons of great classes around the city. Whether you're looking to bake delicate macarons, roll sushi or make pasta from scratch, there's a class for every interest and level of expertise.
1. Nella Cucina
876 Bathurst St.
Classes at this two-story kitchen supply shop come in four different formats. Get serious with the more intense, workshop-style hands-on individual classes. You'll be with other participants but working on your own to perfect a skill or recipe. For a fun social activity, the hands-on team classes allow you to work on a recipe with a date or a small group of friends. Interactive demos provide a more casual experience. It's just like watching a cooking show — but you actually get to taste the food. They also host specialty tastings, guest speakers and demonstrations where you can sit back and learn from experts in the field. From fresh pasta date nights and baking harvest pies to cooking Jamaican cuisine, there's something here for everyone.
2. Fresh City
multiple locations
Between Fresh City and their partner shops Mabel's Bakery and The Healthy Butcher, this trio of delicious food purveyors has a variety of virtual classes on offer. Learn the fundamentals of all things food and drink related, from simple recipe classes to wine tasting with a master sommelier. When in-person classes return, you can learn how to butcher different types of meat or even head up to Fresh City's Downsview Park farm to try your hand at being a farmer for the day.
3. Sushi Making for the Soul
201 Weston Rd. Unit G1 & online
Chef Sang Kim has been guiding students through the fundamentals of sushi-making since 2008. Classes begin with a primer in sushi etiquette to help participants better understand the history behind the classic Japanese dish before trying their hands at preparing it. Basic sessions cover several types of sushi roll, while more advanced lessons dive into nigiri- and sashimi-making. They offer both in-person and online classes.
4. Dish Cooking Studio
587 College St. & online
Three formats of classes allow you to try your hand at making a three-course meal, dividing into groups to create different components of a four-course meal or focus on cultivating one particular skill. Date night classes offer a romantic spin on this hands-on experience. Ramen 101, Dim Sum Brunch, Vegetarian Comfort Food and Date Night: Cooking with Craft Beer are just some of the many diverse options on Dish's calendar. Be sure to book beforehand — popular classes often sell out weeks in advance.
5. The Depanneur
1033 College St.
This cozy, multi-purpose hub hosts an eclectic line-up of foodie events, ranging from speakers and supper club dinners to a regular weekend brunch and cooking classes. Hosted on Thursday evenings, classes tackle basic culinary techniques like knife skills, as well as more niche topics like perfecting traditional European flatbreads. The space also features a regular "open mic night" for culinary talent on Wednesdays and Fridays, which gives you the chance to flex your newly-learned culinary skills.
6. Madame Gateaux
2034 Danforth Ave.
Cooking classes at this well-loved east end kitchenware shop range from skill-focused lessons to hands-on workshops for parents and kids. Technique classes like the fundamentals of making French macarons are led by co-owner Noel Yim, former pastry chef at the Windsor Arms Hotel. They've currently suspended their classes due to COVID but have said that they'll be back as soon as they can.
7. Hooked
Multiple Locations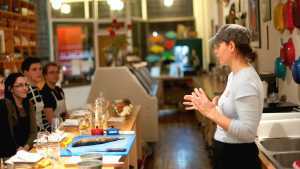 Dubbed as the "Knowledgeable Fish Store," this sustainable spot aims to put customers in the know when it comes to buying seafood. While Hooked now has various stores across Toronto, it's their Leslieville flagship where most of the cooking classes happen in non-COVID times. Choose from Fishmongering 101, where students are shown how to filet fish, pan fry and make an accompanying sauce, or dim sum workshops and Lebanese style fish cooking. All equipment is provided, plus recipes, snacks and dinner are included in the price of admission.