After the longest winter in the history of time itself, the sun has finally graced our faces and summer has landed on our doorstep. Despite the ever-changing weather, Toronto really only has two seasons: the cold, dark, dreadful winter and glorious soak-up-every-last-drop-of-sunshine patio season. With the warm weather finally here, we're leaving our houses and not looking back until the leaves change colour. Toronto's best patios are beckoning us and we are heeding the call.
There's no shortage of amazing patios in Toronto, whether you're after those hidden back patio gems, ritzy sky-high rooftop patios or heated patios for those cooler nights. And the cuisines on offer are as diverse as the locales — craft beer or a fruity cocktail, alongside hearty pasta or shareable snack plates, this list covers all the bases.
After the pandemic decimated indoor dining, many of Toronto's best restaurants have added new patios — sidewalk or otherwise. But, hey, we can't complain. The sun is shining, restaurants are open and we've rounded up all the best patios in Toronto for dining outside all summer long. Sink into those warm summer evenings on these beautiful Toronto patios and forget all the worries of the past. Pandemic, who?
The best Toronto patios in Trinity Bellwoods
La Palma
849 Dundas St W.
Between their second-floor patio overlooking Dundas Street West and their brand new street-side patio, La Palma and sister spot Casa La Palma offer plenty of seating for swank dining al fresco. Tuck into Craig Harding's menu of Italian favourites like sweet pea agnolotti or cacio e pepe pizza while you soak up the sunshine and sip on complex cocktails. Bonus: when dining indoors resumes, retractable windows make the whole restaurant feel like a patio.
Venice Beach Bar
1251 Dundas St. W.
Collaborations abound in lockdown, with yet another duo partnering up for some fun in the sun. The owners of Dundas West's Unboxed Market have teamed up with the people behind Bar Mordecai to create a "staycation-inspired" beach bar. Drinking cocktails and eating southern Californian snacks in a storage lot might not seem like paradise, but after a pastel paint job, that's exactly where you'll be transported to. 
Bar Vendetta
928 Dundas St. W.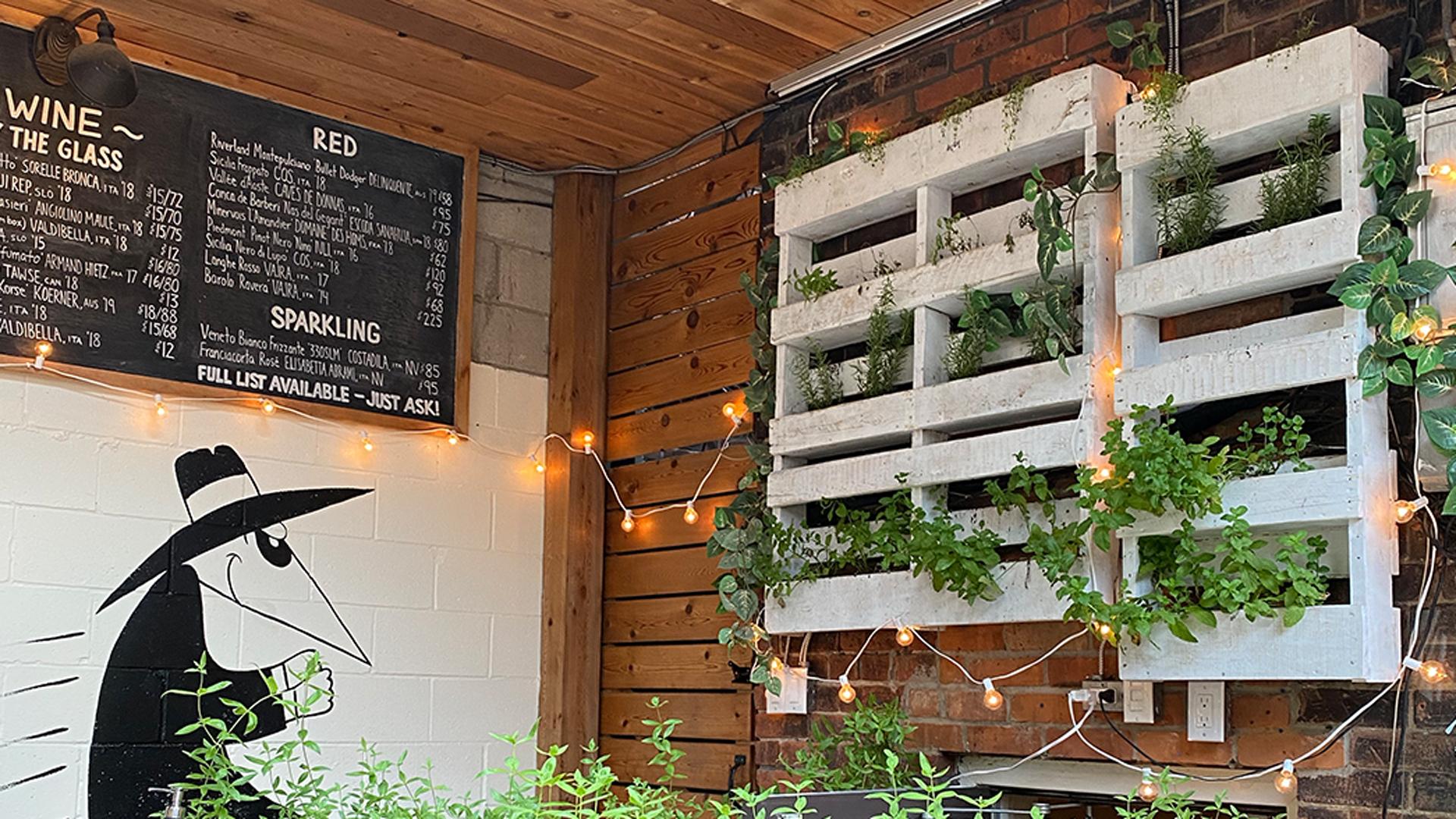 There would be a major feud if anyone took a bite of our pasta from Bar Vendetta without asking. We may have no-chill when it comes to pasta, but Vendetta's relaxed, backyard patio has chill written all over it. The wine list is long and specially curated which pairs wonderfully with the small, no-fuss chalkboard menu full of simple dishes done really well. Bonus: the patio is covered so you're all clear for carbs on rainy days.
The best Toronto patios on West Queen West
Fonda Lola
942 Queen St. W.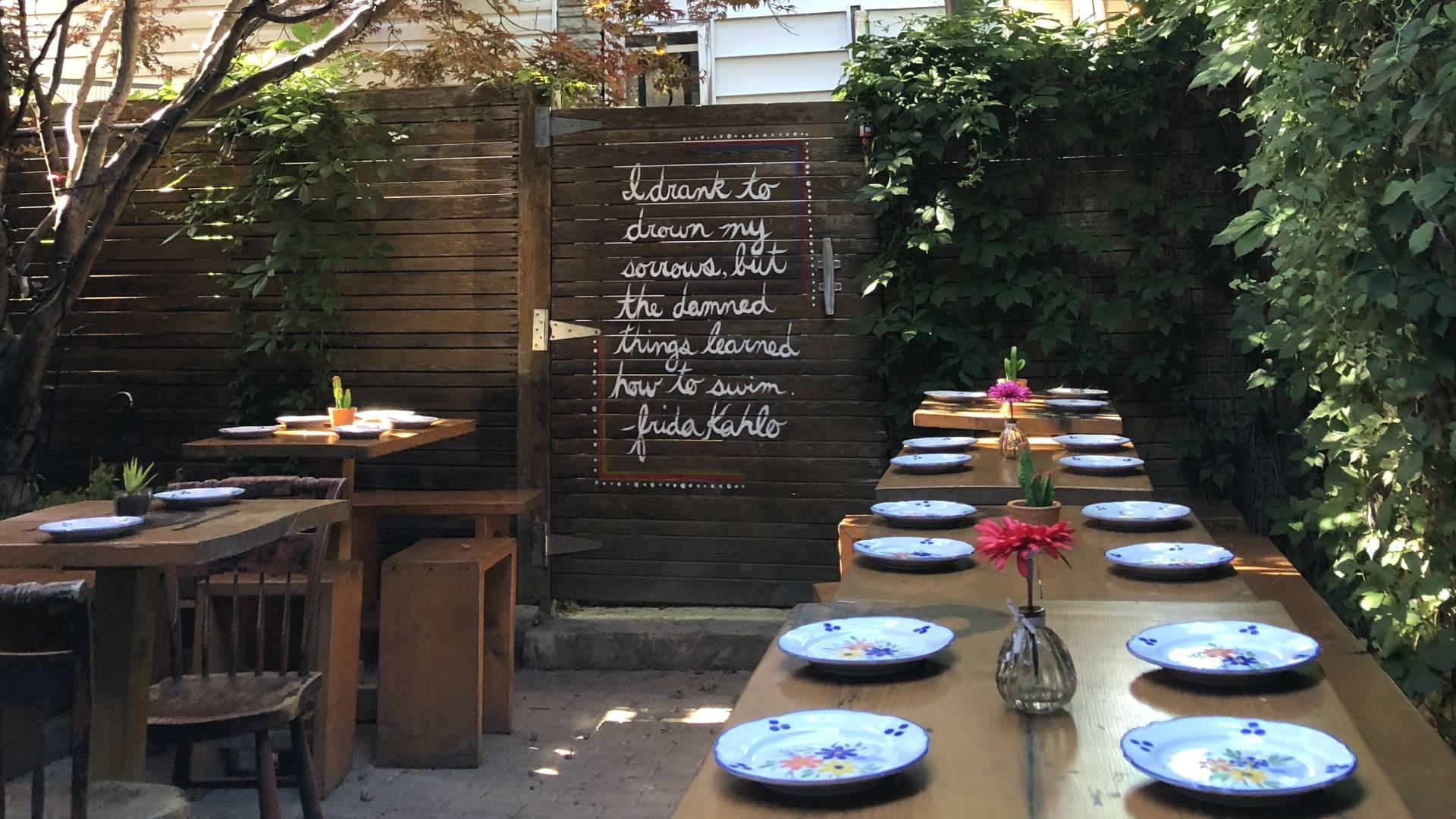 Behind this well-trodden part of Queen Street West lies one of the city's most adorable outdoor dining spaces. There's plenty of foliage (and often, accompanying wildlife like squirrels) on Fonda Lola's patio, which masks some of the noise from the street. Plus, there are enough trinkets and knick-knacks hanging around to keep you entertained (look out for the birdcage with Lucha Libre action figures imprisoned inside). Grab a cocktail and a taco and enjoy this suburban sanctuary.
Drake Sky Yard
1150 Queen St. W.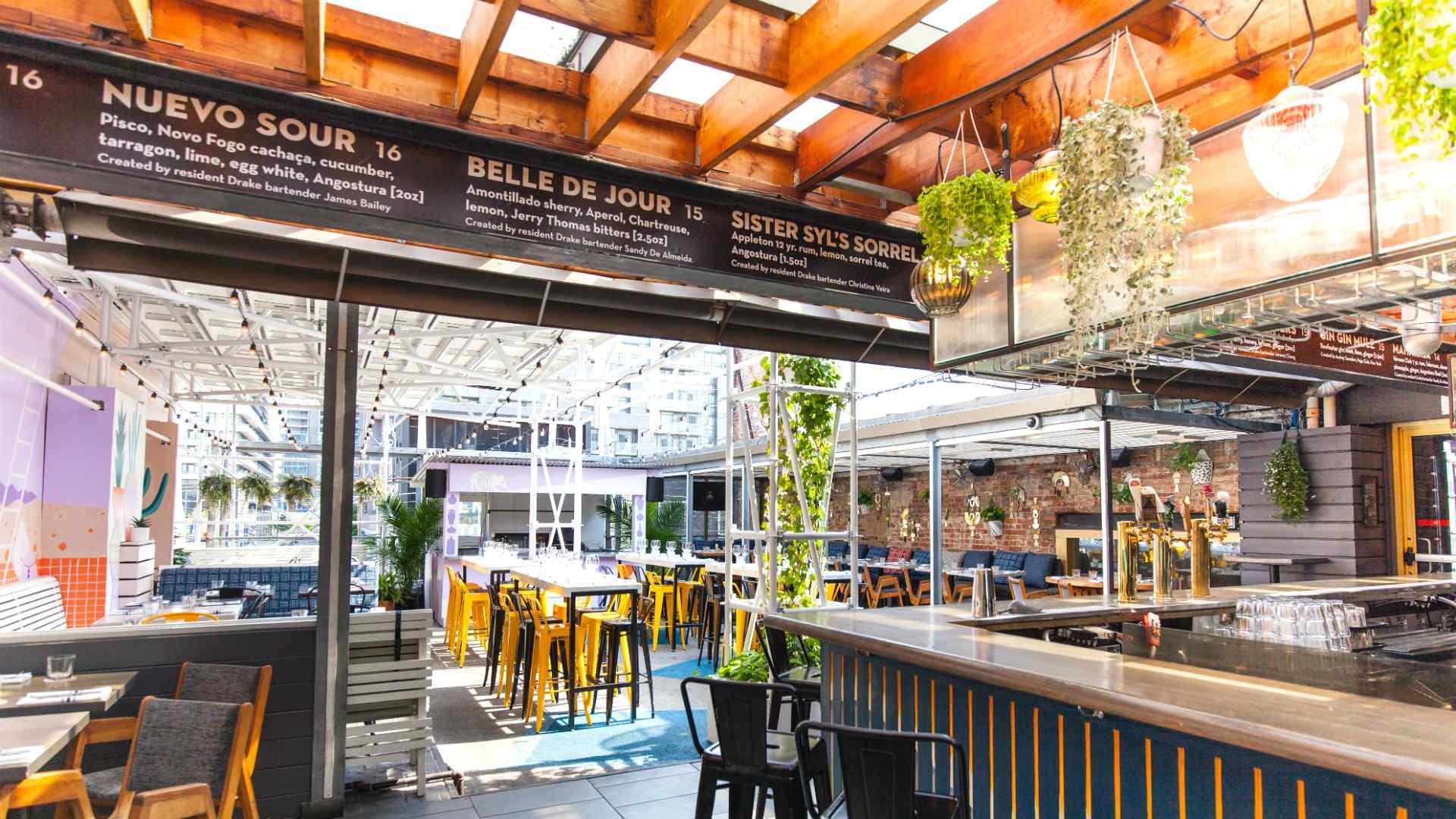 This colorful oasis on Queen Street West is an all-season space, thanks to its heated and covered patio. The soft furnishings and macramé wall hangings give the Drake Sky Yard a cozy feel.
The best Toronto patios in Liberty Village
Liberty Commons 
42 Liberty St.
The two-level heritage space at East Liberty and Atlantic houses the Big Rock beer and bottle shop on one side and the brewpub on the other for the ultimate all in one collab between the Big Rock brewers and Oliver & Bonacini. A large private dining room sits in the back of Liberty Commons as well as a 100-seat patio.
The best Toronto patios on King West
Baro
485 King St W.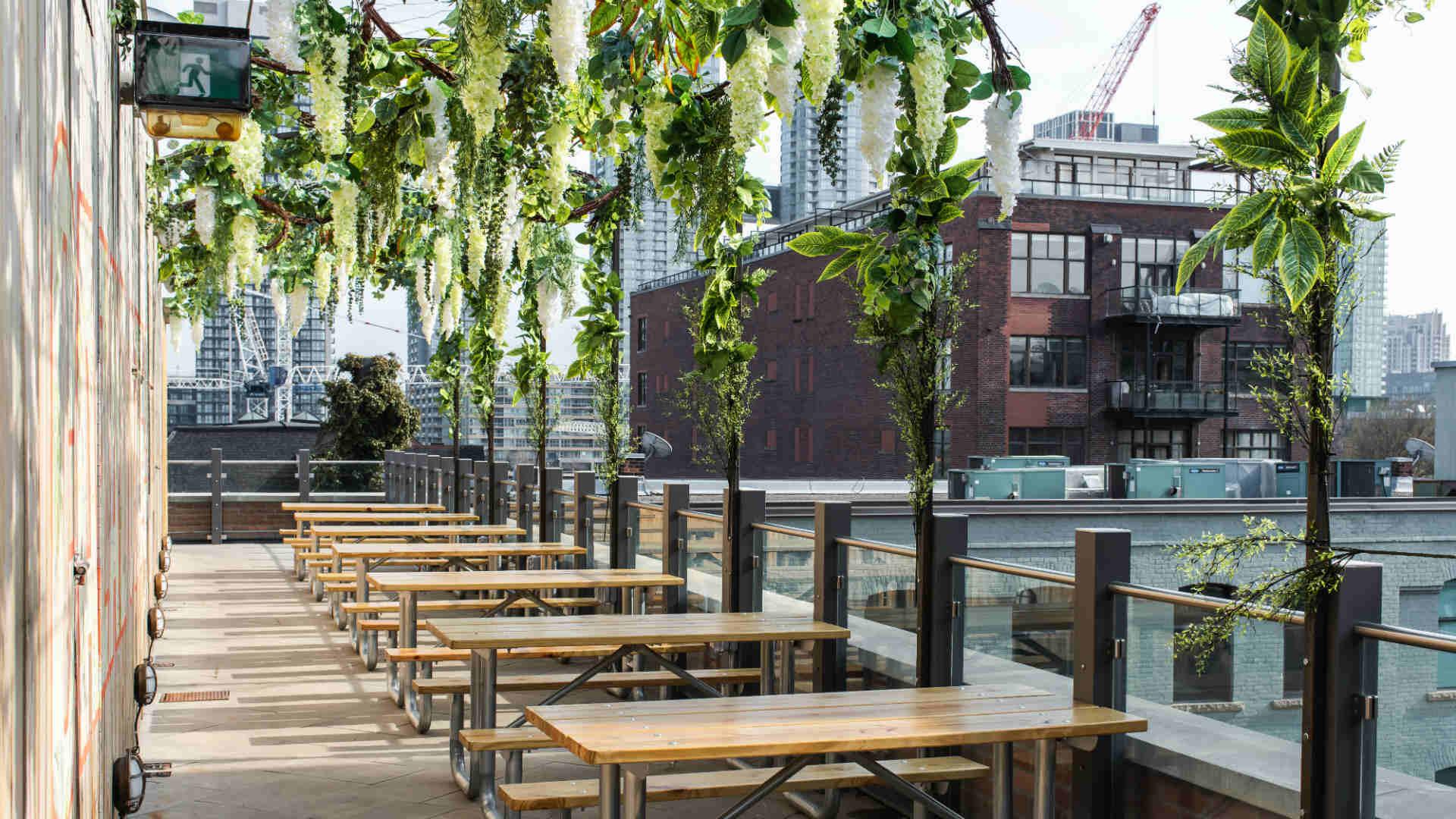 Overflowing with lush greenery, the rooftop at Baro is an oasis. An enclosed section with a retractable roof and window walls makes the airy space fit for a perfect patio afternoon even when Toronto's fickle weather isn't cooperating. In the patio's outdoor kitchen, chefs cook a menu of simple items like roast chicken and grilled broccoli over charcoal.
Labora
433 King St. W.
King Street hasn't exactly got the squeakiest reputation when it comes to social distancing — but one place that's been doing things right is Labora. Last summer saw the launch of the Spanish restaurant's sidewalk patio, inviting guests to enjoy paella in the sunshine, along with aperitivo hour specials on glasses of cava, daiquiris, negroni and Labora spritzs. From Wine Wednesdays to Date Night Thursdays, there are mucho reasons to visit this Mallorca-inspired spot. Buen Provecho!
Marben
488 Wellington St. W.
Head to Marben's farm-to-table patio for tasty bites of grilled Fogo Island squid with smoked chili miso sauce (yes, please), as well as classics like koji popcorn chicken and their famous dry-aged beef burger. Eating the seasons has always been a mantra of chef Chris Locke and this Feast On certified spot's comfort food is good for both the soul and the earth. Make sure to head out on the weekend for their "put an egg on it" brunch — transforming any of your lunch and dinner favourites to a decadent breakfast.
Gusto 101
101 Portland St.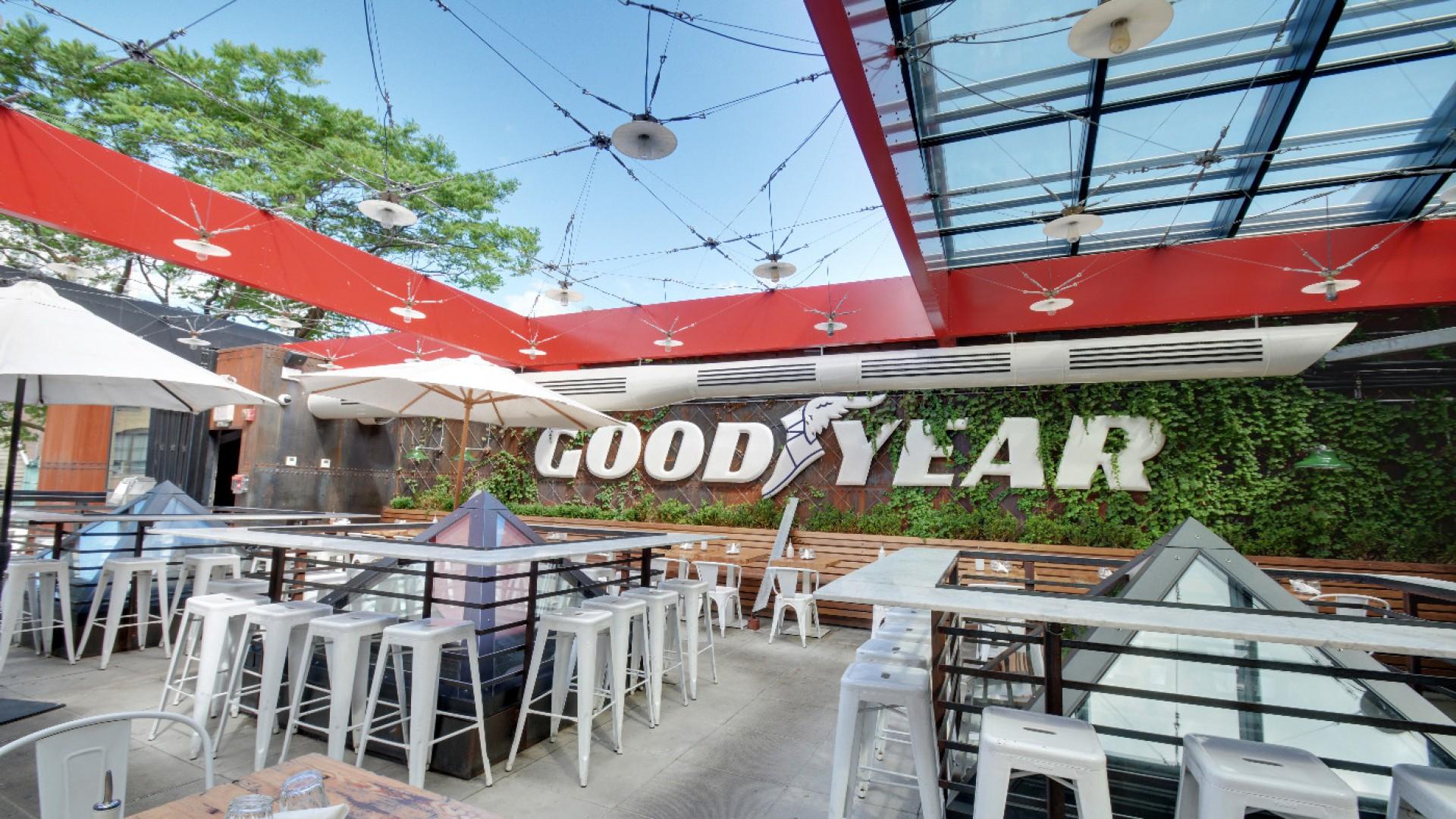 Clever design and construction doubled Gusto 101's all-season dining capacity. Its glassed-in rooftop patio, which sits atop the original former auto-body garage, creates an industrial-chic environment including an oversized Goodyear sign as a loud-but-cute nod to the building's former life. It all makes a fitting environment for tucking into the restaurant's modern Italian fare.
Lapinou
642 King St. W.
When Lapinou, an elegant King West bistro, opened up, we fell head-over-heels for its French charm and fantastic wine list. While the Parisienne spot has offered delivery during lockdown, we missed enjoying their homemade sourdough and duck breast in-person. Needless to say, we were thrilled (okay, we squealed) when Lapinou re-launched their adorable alleyway terrace, complete with strings of twinkly lights. C'est magnifique.
Xango
461 King St. W.
This eclectic, vibrant King West patio is serving up Nikkei food: an evolution of Chinese, Peruvian and Japanese cuisines. Bask in the glow of their (very Instagrammable) neon light feature while snacking on tempura shishito peppers and fresh sea bream ceviche with spicy citrus, pear compote and garlic chips.
Belfast Love
548 King St. W.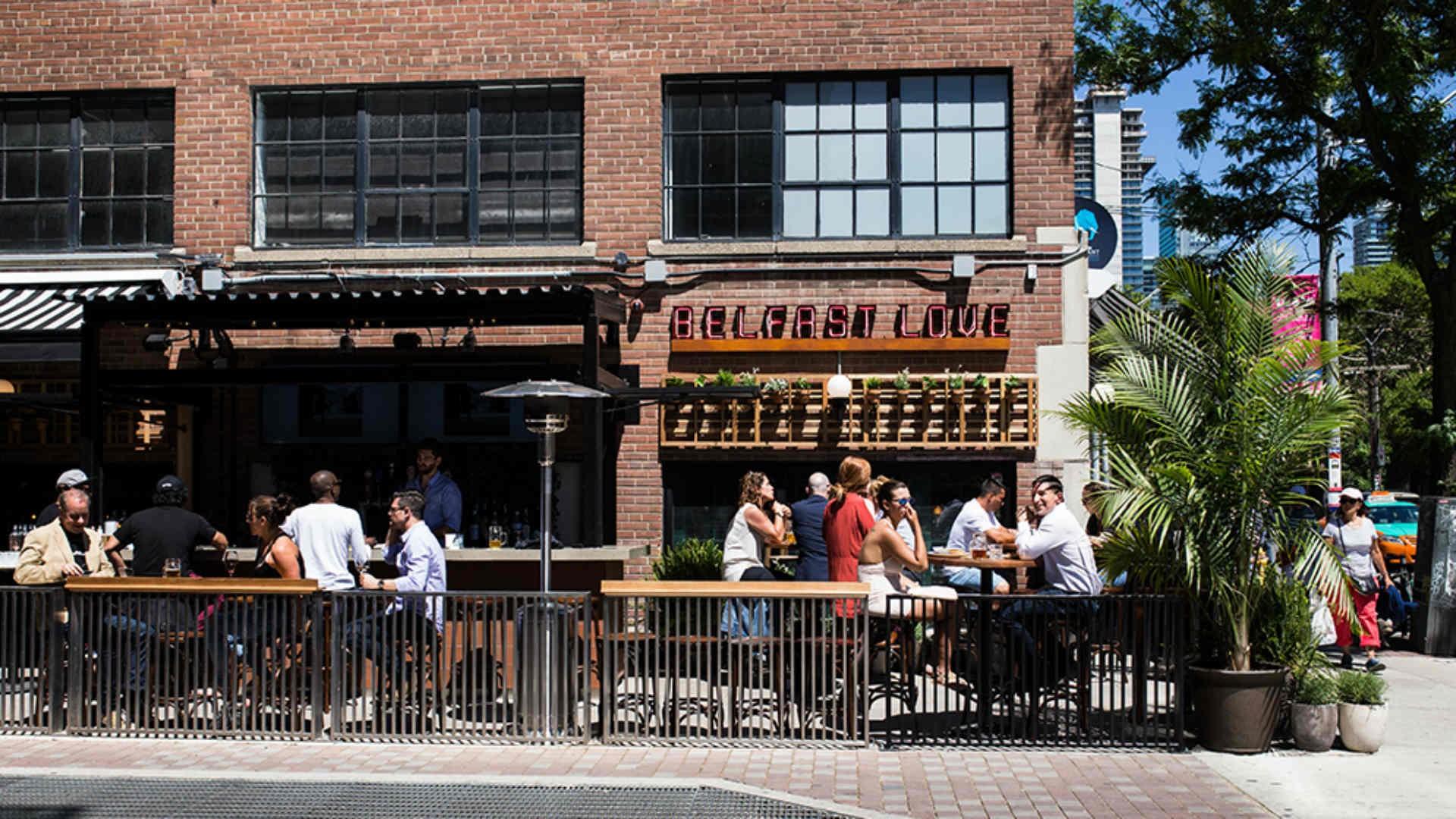 This side patio has long been a favourite, thanks to its outside bar and great location on King West — and that needn't change once the temperatures are slipping. Grab a seat underneath one of the heaters at Belfast Love, order a mimosa and enjoy people watching long into the fall.
Lavelle
627 King St. W.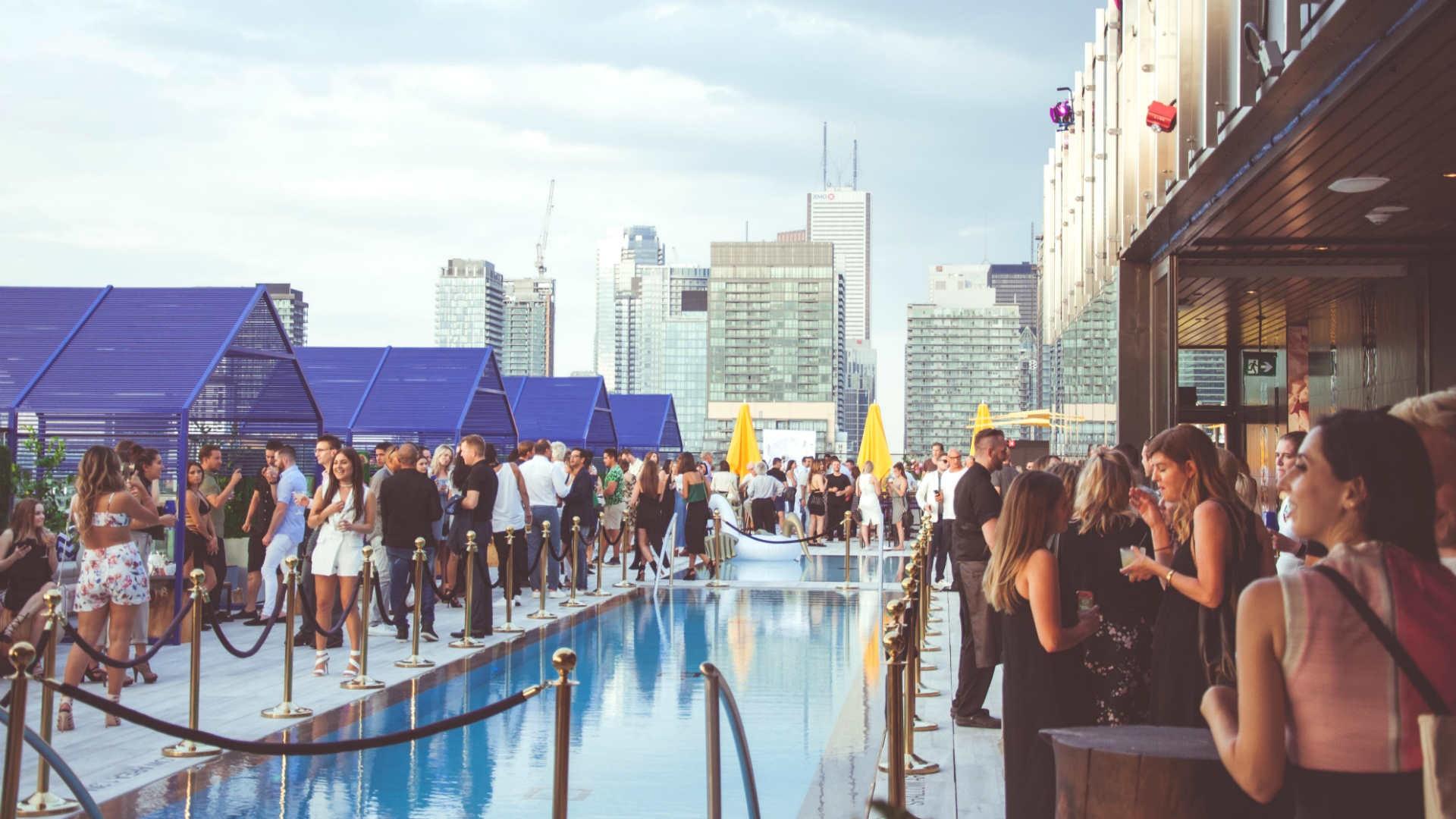 It might scream summer in the city, but with views like these, we'd argue that Lavelle is a destination for any time of year. With completely unobstructed views of Toronto, the King Street West spot is a great place to bring out-of-towners and point out local landmarks with a cocktail in hand.
Stackt 
28 Bathurst St.
There is always something on at this marketplace made entirely from shipping containers. More than 70 per cent of the 100,000-sq-ft space is outdoors — earning Stackt recognition for its sheer size alone. The outdoor food and beverage pavilion includes seating across multiple courtyards.
The best Toronto patios in the Downtown Core
Rendezviews x Sol Solar Powered patio
229 Richmond St. W.
What do you do with a vacant lot with a perfect view of the CN Tower in downtown Toronto? Answer: convert it into Toronto's biggest outdoor picnic. Rendezviews, a collaboration between the Fifth Social Club and the Ballroom, is back this summer, transforming a private parking lot at Richmond and John into a sea of picnic tables and umbrellas laid overtop a colourful mural.
The Rec Room
255 Bremner Blvd.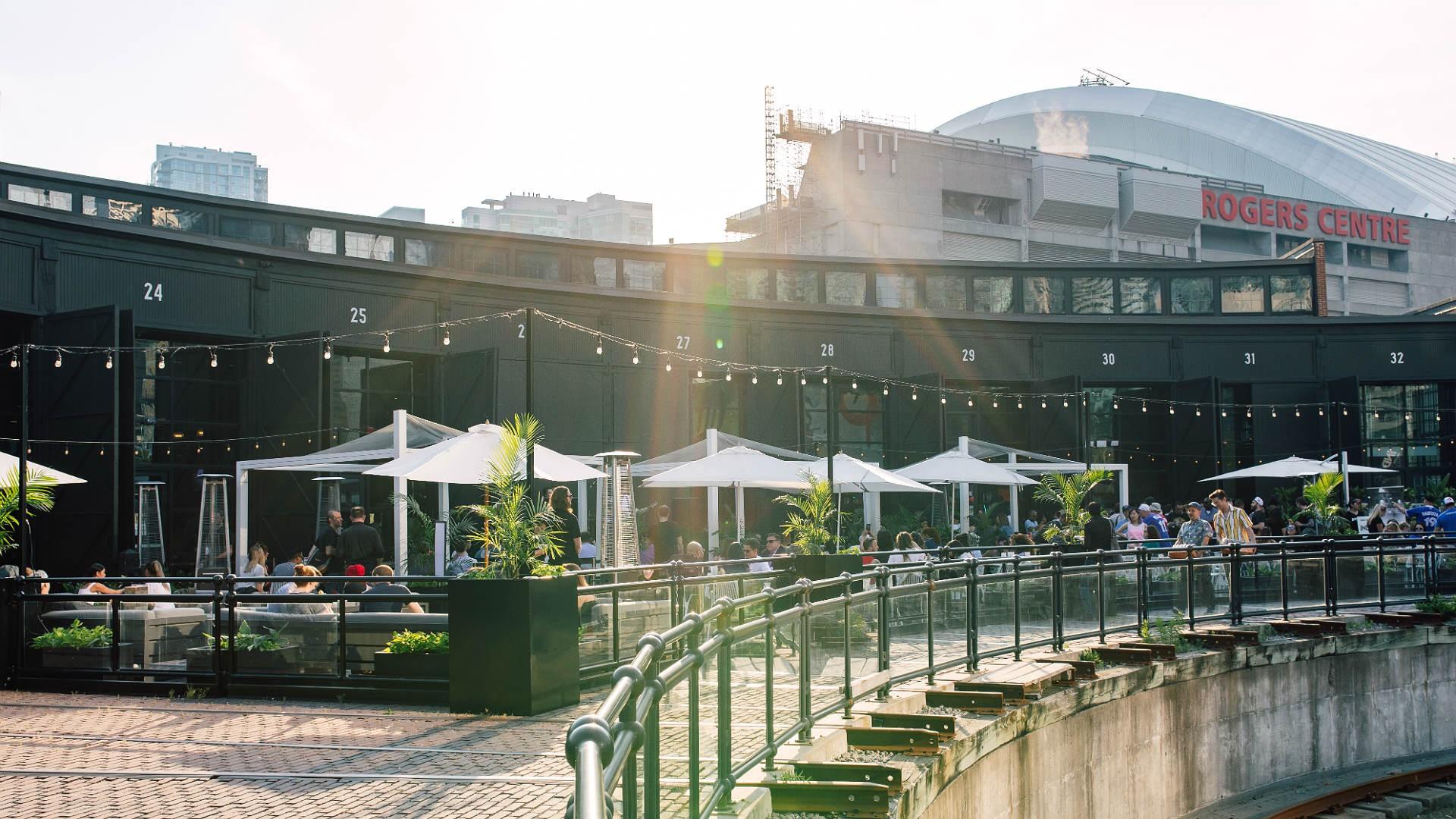 While you might be familiar with the sprawling mecca of food and entertainment that is the Rec Room, what you might not know is that their patio is one of downtown Toronto's best-kept secrets. The hidden oasis is decked out with lush greenery and canopies and features unobstructed views of the city. Aptly called the Deck, it's a place to hang out with friends, coworkers or even a date, and escape from the city while still being right in the heart of it.
Chotto Matte
161 Bay St.
Welcome to the jungle: When this nikkei restaurant empire opened up last year, we were already sold on its pisco cocktails and graffiti-decorated interiors. Fast-forward to 2021 and the foliage-filled patio that wraps around Front and Bay Street has given us another great reason to experience this Peruvian-meets-Japanese cuisine. Order snackable share plates like the tempura roll and octopus alongside yuzu martinis, and pretend you're 2,000 miles south of Toronto.
Betty's
240 King St. E.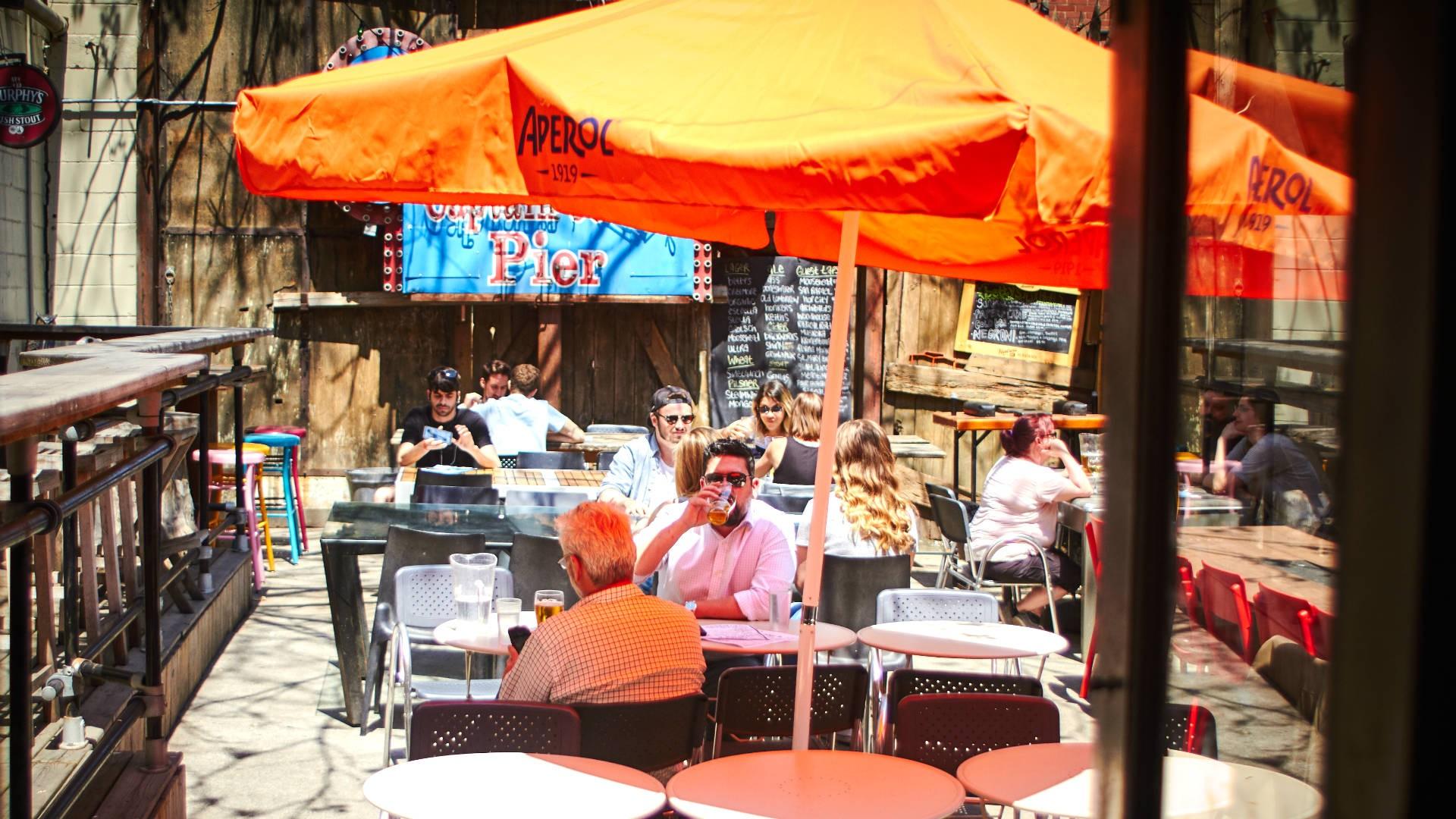 Commonly referred to as the east side's "American honky tonk" bar, Betty's is a long-standing institution for those seeking the right amount of craft in their drinks without any unnecessary pretentiousness. The whisky list impresses brown liquor aficionados, and the beer list is ever evolving and showcases Ontario's finest. Tucked away at the back is one of the best reasons to visit Betty's, its oasis of a patio, soundproofed from the hustle of King street. Perfect long summer evenings with the bar's popular negroni by the glass program.
Tutti Matti
364 Adelaide St. W.
Tutti Matti on Adelaide might be a well-loved Toronto institution — but until last year, all of its seating was consigned to the inside of the restaurant. Chef and owner Alida Solomon spent much of the year working away in the kitchen to bring wild-boar ragu and fresh pasta to fans during quarantine. Now, the Tuscan spot has opened up a patio from Wednesday to Saturday in front of the restaurant and in the spruced-up next door alley, which is kitted out with picnic tables and a colourful mural.
King Taps
100 King St. W.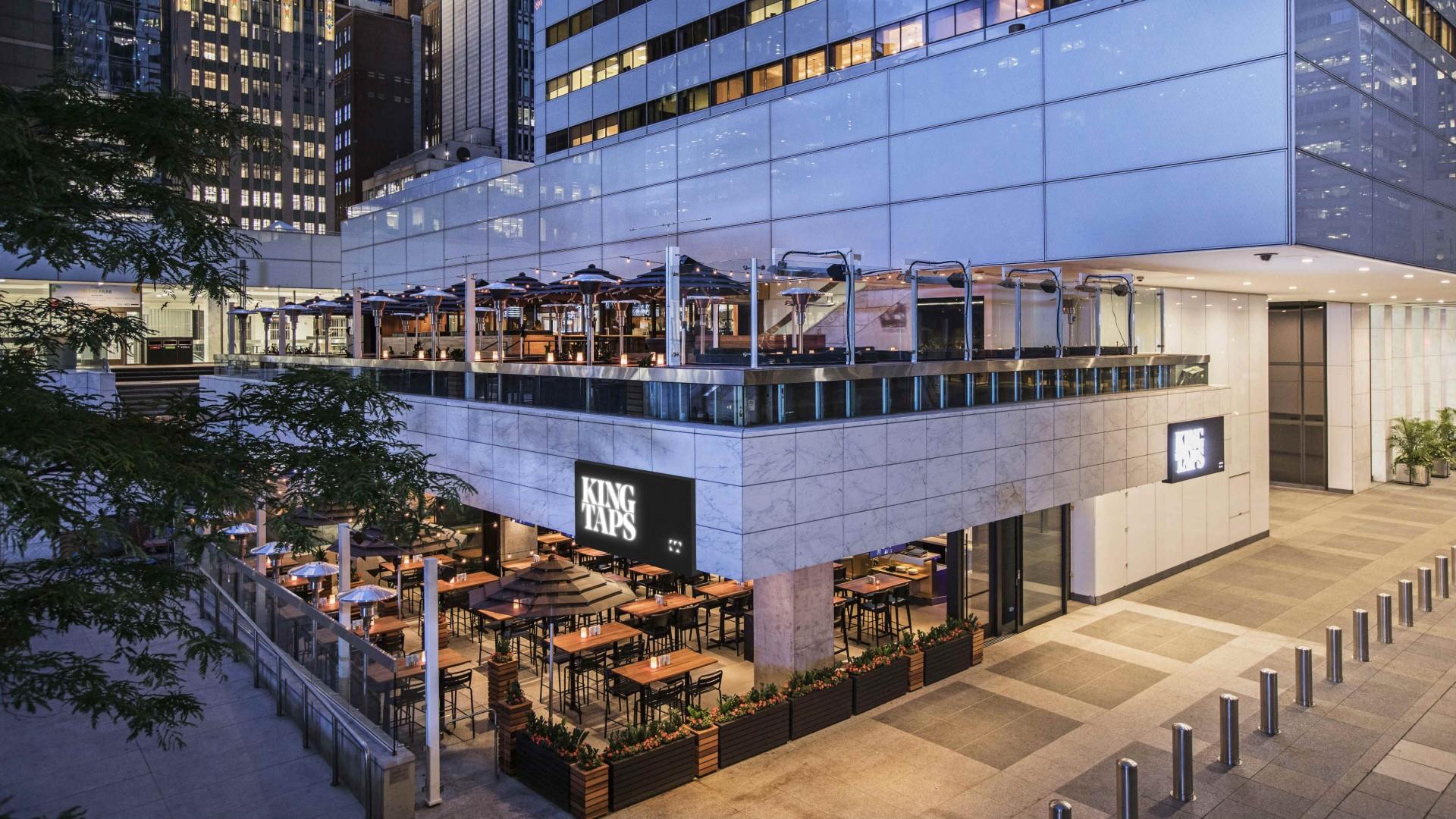 With a casually sophisticated ambiance and an impressive tap list, King Taps fits seamlessly into its Financial District setting at First Canadian Place. Rows of flat-screen TVs and a menu emphasizing pizza and sandwiches channel a sports bar vibe, but stylish touches like a gleaming marble bar, exposed brick walls and a sleek open kitchen ensure that no one is confusing this spot with their local watering hole (it is steps from Bay Street, after all). The 140-seat patio extends over two-storeys, with wooden high-tops set under glowing fairy lights.
The best Toronto patios in Kensington Market
El Rey Mezcal Bar
2a Kensington Ave.
El Rey Mezcal Bar reopened their colourful Kensington patio on March 24th and we practically ran there. Stop by for al pastor tacos with pineapple relish, chicken mole burritos and enough Mezcal to make you forget this past year. The patio is heated so you're basically in Mexico, right? Get yourself a margarita, you've earned it.
The best Toronto patios by the waterfront
Amsterdam BrewHouse
245 Queens Quay W.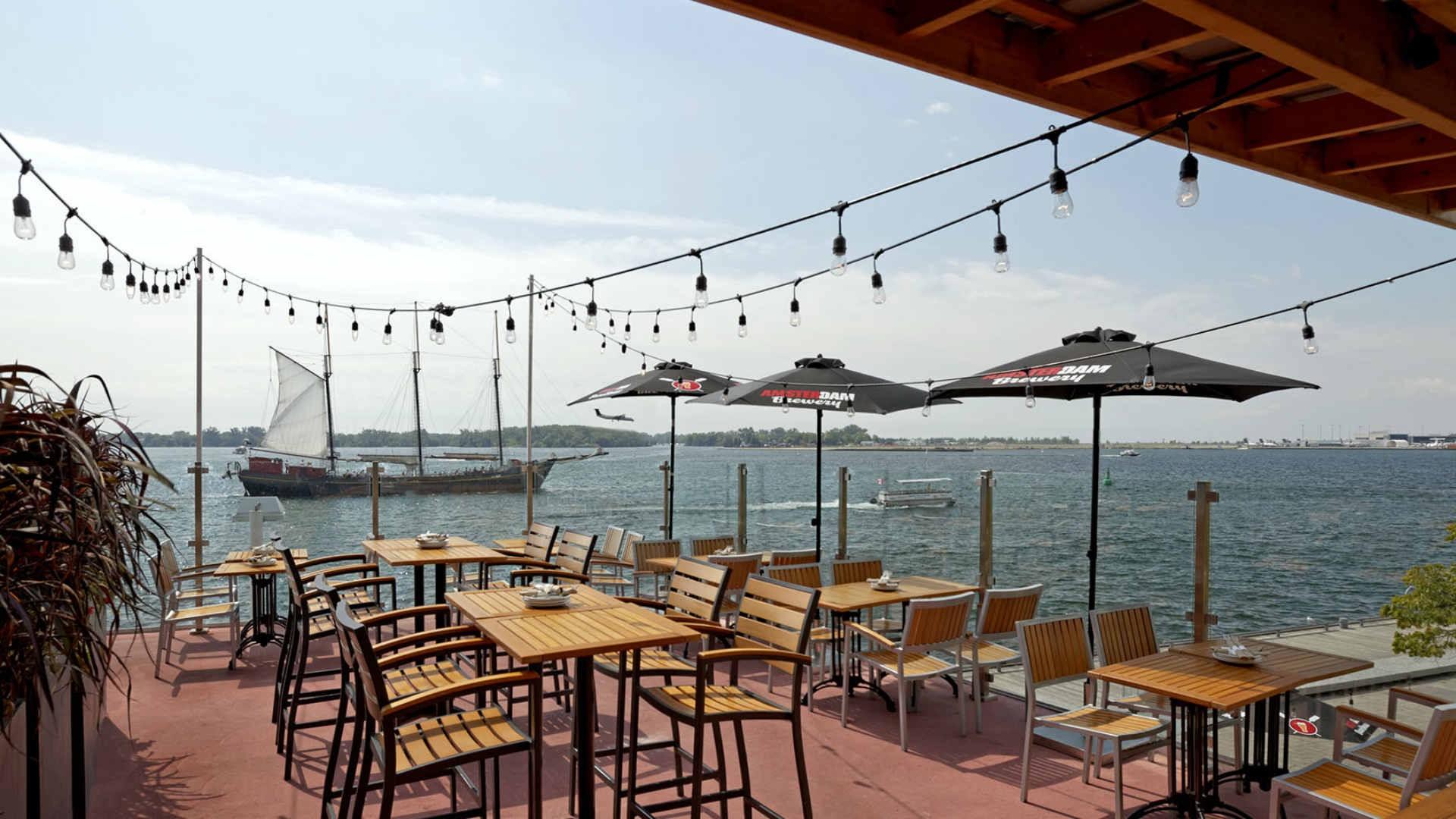 This waterfront spot is a great place to get your fill of Lake Ontario vistas. With three patios to choose from, Amsterdam BrewHouse is a summer stalwart for open-air dining and drinking, but with heated patios open on the warmer days of fall, you can extend those days of dinner with a view.
Cabana Waterfront Patio
11 Polson St.
You might know Cabana as Toronto's primo pool bar party hangout — but this summer, leave the tank top and the bikini-and-heels-combo at home. Transformed into Cabana Waterfront Patio last summer, this al fresco eating and drinking paradise is back, offering 50,000 square feet of patio space coupled with incredible lake-side views of Toronto's skyline. O&B is behind the food program here so expect full lunch, dinner and brunch menus with items ranging from barbecue back ribs to sushi rolls. They've also got plenty of classic cocktails on offer — and bottle service, of course.
The best Toronto patios in Yorkville
Il Patio di Eataly with Aperol
55 Bloor St. W.
If Aperol is the drink of the summer, Il Patio di Eataly is the place to enjoy the sunset coloured aperitivo. The Italian marketplace is transporting us to Rome with an al fresco dining option featuring bite-sized dishes like grilled zucchini and spicy chicken thighs, or full meals like Torino-style pizza to pair with all that spritz.
Bar Reyna
158 Cumberland St.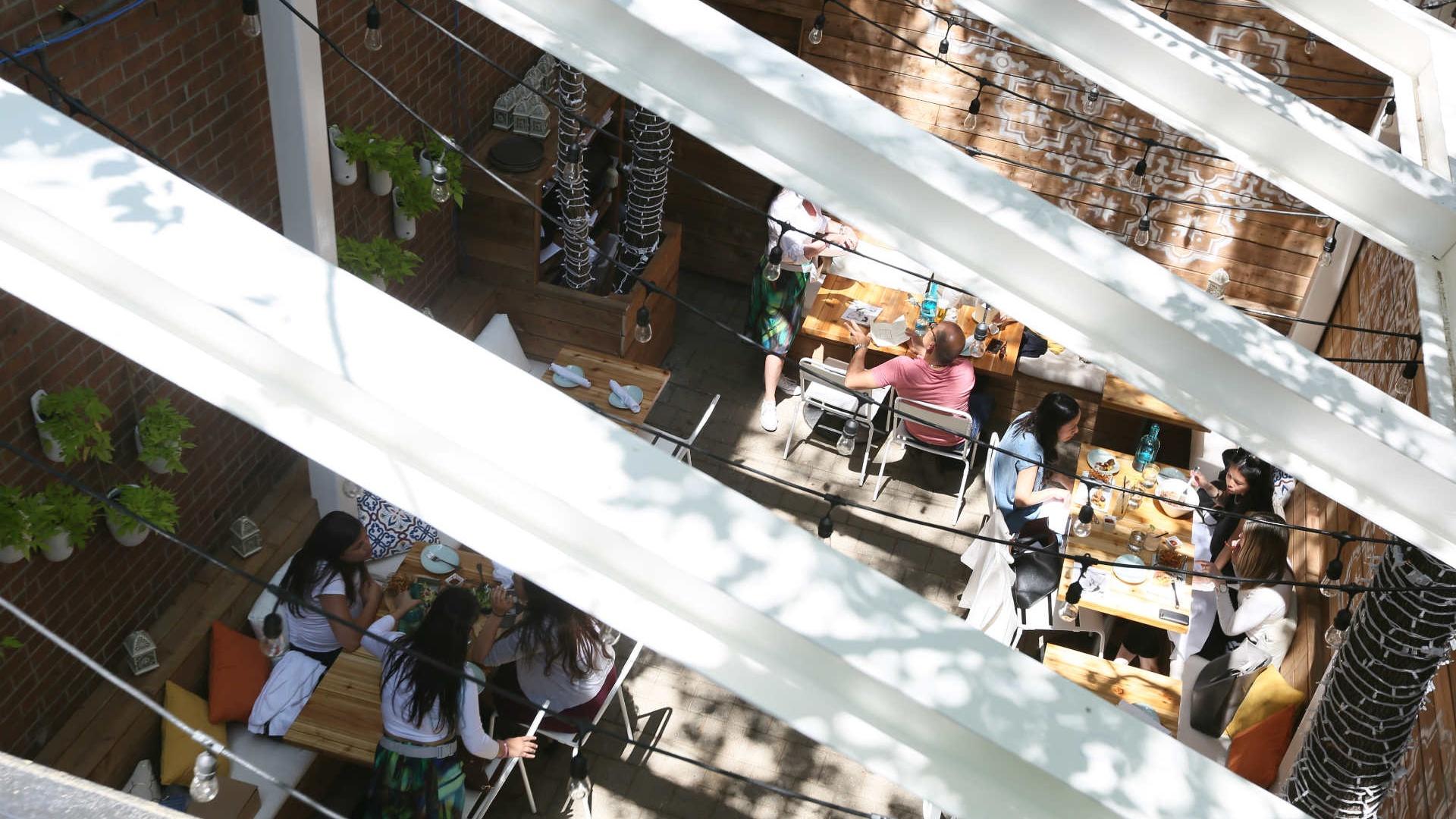 For Nicki Laborie, the former View the Vibe owner turned brains behind Bar Reyna, details mean everything. Laborie worked closely alongside head chef Omar Ma (formerly of Buca Yorkville) to create the vision for the menu, resulting in a set of dishes that feels like a direct passport to Greece, Spain and Turkey. The space is split over two floors: a cocktail bar upstairs, and a formal dining space on the main floor — the latter leads out to a gorgeous, hidden patio space and the true showstopper here. Tables have been built around the trees so they become living fixtures, while a retractable roof allows Bar Reyna to be patio approved all year round. You know where you'll find us.
The best Toronto patios in Midtown
Casa Loma Gardens
1 Austin Terrace
We're all itching for a change in scenery after a year at home, and what better place to go than a literal castle? With a menu of globally-inspired fresh summer fare at your fingertips, as well as a Royalty-inspired cocktail menu, you'll be feeling like a true monarch.
Little Sister
2031 Yonge Street
This Dutch-Indonesian food bar offers a unique taste of the Indonesian islands mixed with the personal history of chef-owner Mike Van Den Winkel who was raised in the Netherlands. Little Sister's casual, affordable menu is divided into skewers, snacks, sides and traditional dishes like nasi goreng and udang kari.
Each dish is full of flavour and heart and the lush greenery on their new patio will make you feel like you're in Bali (ermm, a busy street in Bali) instead of Yonge Street.
The best Toronto patios in the Distillery District
El Catrin
18 Tank House Lane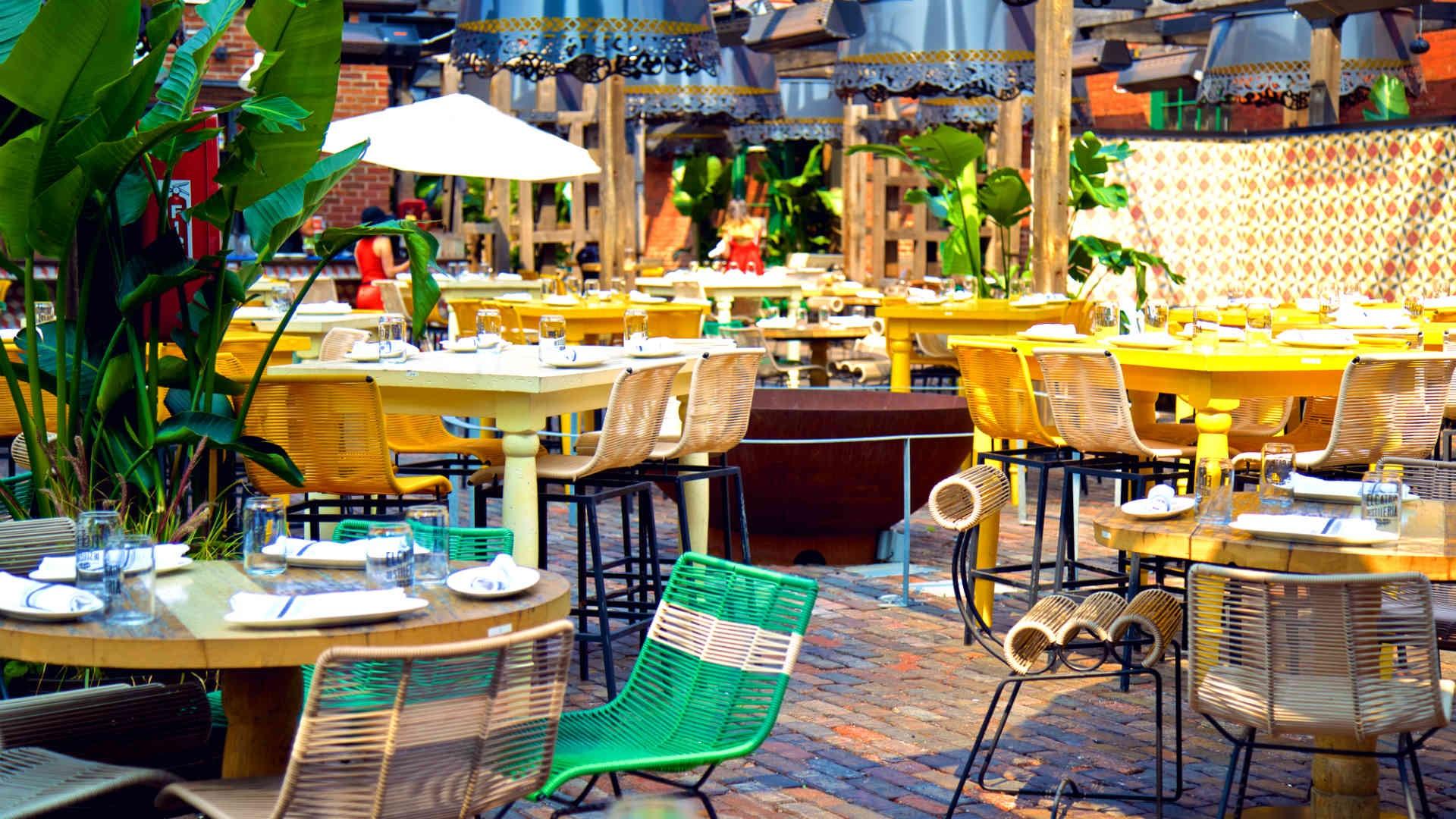 Guacamole and nachos aren't the only thing capable of transporting us to sunnier climes at El Catrin. Their weatherproof patio also does a pretty awesome job of making us feel that little bit closer to Mexico come fall and beyond. Their winning combination of heated patio, huge fire pits and blankets make this a great al fresco option for when the weather starts to get cooler.
Cluny Bistro & Boulangerie
35 Tank House Lane
Every day, Cluny opens its doors at 8 a.m. to service the under-caffeinated in its stunning, light-filled café. And from Wednesday – Sunday, their patio brings another glow to the Distillery District with thousands of twinkly lights woven through leafy vines. It's a truly magical experience that's sure to make you feel like you've been transported to a Parisian garden. Live your best "joie de vivre" with their French plates and pastries.
The best Toronto patios in the east end
Maison Selby
592 Sherbourne St.
From Oliver & Bonacini, Maison Selby is set in a historic mansion that's over a century old and has a checkered past. Each of the French bistro's rooms has a separate aesthetic, from the bright, tropical wallpaper in the room known as L'Orangerie, right down to the dimly lit speakeasy in the basement. A 32-seat garden patio wraps around the south side of the property.
The best Toronto patios in Leslieville
The Rooftop at the Broadview Hotel
106 Broadview Ave.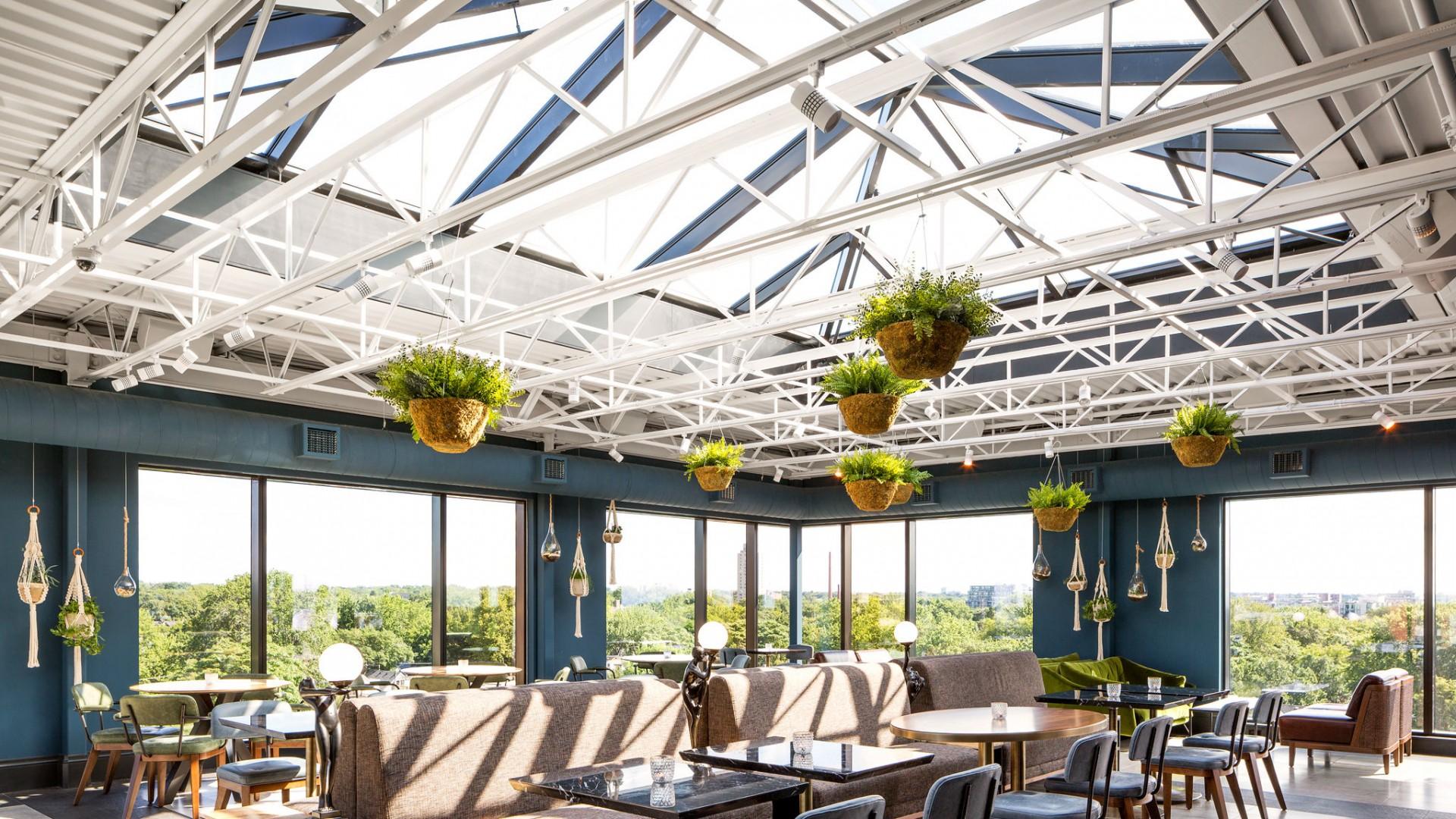 Set on the seventh floor of the Broadview Hotel, the Rooftop features dramatic views of the Toronto skyline and the Don River, with its east end location offering a rare bird's-eye perspective on the city. The lounge has floor-to-ceiling glass windows and a striking pyramidal skylight, with hanging plants further enhancing the feeling of connection to the outdoors. Buzzy vibes and a menu of $6 snacks, like chili-lime spiced popcorn and a chicken karaage bao, make the Rooftop a hip patio alternative — plus there's a large outdoor seating area.