After the longest winter in the history of time itself, the sun has finally graced our faces and summer has landed on our doorstep. Despite the ever-changing weather, Toronto really only has two seasons: the cold, dark, dreadful winter and glorious soak-up-every-last-drop-of-sunshine patio season. With the warm weather finally here, we're leaving our houses and not looking back until the leaves change colour. Toronto's best patios are beckoning us and we are heeding the call.
There's no shortage of amazing patios in Toronto, whether you're after those hidden back patio gems, ritzy sky-high rooftop patios or heated patios for those cooler nights. And the cuisines on offer are as diverse as the locales — craft beer or a fruity cocktail, alongside hearty pasta or shareable snack plates, this list covers all the bases.
After the pandemic decimated indoor dining, many of Toronto's best restaurants have added new patios — sidewalk or otherwise. But, hey, we can't complain. The sun is shining, restaurants are open and we've rounded up all the best patios in Toronto for dining outside all summer long. Sink into those warm summer evenings on these beautiful Toronto patios and forget all the worries of the past. Pandemic, who?
The best Toronto patios in Trinity Bellwoods
1. La Palma
849 Dundas St W.
Shrouded with greenery and overlooking Dundas Street West, La Palma's second floor patio offers a lush reprieve from the busy street. But if you can't grab a seat on the patio, the front windows open up in warmer weather, making the whole indoors feel like outdoors. Tuck into Craig Harding's menu of Italian favourites like sweet pea agnolotti or cacio e pepe pizza while you soak up the sunshine and sip on complex cocktails.
2. Bellwoods Brew Pub 
124 Ossington Ave.
The patio at Bellwood's Brewery is the place to be as soon as the warm weather hits. Our Sunday afternoon dreams are all about soaking up the sun with one of their brews in hand (Jelly King to be precise) and snacking on assorted cheese and flawless fries.
3. Found Coffee
189 Shaw St.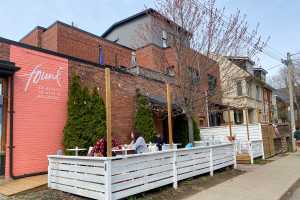 On the Lobb Avenue and Crawford Street entrance of Trinity Bellwoods Park, you'll find the side patio of Found Coffee. The bubble-gum-pink-and-white café is open seven days a week and is the ideal place to get away from the daily grind with a steaming cup of ethically sourced specialty coffee or soothing organic tea.
4. Bar Vendetta
928 Dundas St. W.
There would be a major feud if anyone took a bite of our pasta from Bar Vendetta without asking. We may have no-chill when it comes to pasta, but Vendetta's relaxed, backyard patio has chill written all over it. The wine list is long and specially curated, which pairs wonderfully with the small, no-fuss chalkboard menu full of simple dishes done really well. Bonus: the patio is covered so you're all clear for carbs on rainy days.
5. Foxley
207 Ossington Ave.
You know what they say — never judge a book by its cover, or, in this case, a restaurant by its façade. Foxley may be giving British pub on the outside, but that's far from what you'll find on the inside. The cozy bistro's exposed brick walls lined with art set the mood for sipping wine well into the evening.
Skip the cocktails at this spot and instead dive into their list of unique wines available by the glass or bottle. Peckish? Pair your vino with pan-Asian small plates like spicy crispy shrimp, fried general tao chicken wings and ceviche (they have three different kinds!). For a real treat, snag a spot on their secret back patio — it's one of the cutest on the strip
6. Reposado Bar & Lounge
136 Ossington Ave.
In our youth, tequila may have been synonymous with too many shots, but there's much more to this complex spirit — and Reposado is just the place to rediscover it. Known for their very impressive, extensive tequila collection, Reposado's list covers all the bases: blanco, reposado (duh), añejo, extra añejo and mezcal. Sample a selection with one of more than a dozen flight options. For something a little tamer, tequila is also the star of their cocktail menu. Sip on a margarita or paloma while you chomp tacos on their adorable back patio.
The best Toronto patios on West Queen West
7. Chadon Beni
936 Queen St. W.
Escape to Trinidad at Queen Street West and Shaw Street. The people-watching is prime beneath the mural at Chadon Beni, and their rum punch is pretty darn spectacular. Share a pitcher of punch and plates: crispy clam fritters, jerk chicken tacos, coconut curry crab dumplings. BRB never coming home.
8. Fonda Lola
942 Queen St. W.
Behind this well-trodden part of Queen Street West lies one of the city's most adorable outdoor dining spaces. There's plenty of foliage (and often, accompanying wildlife like squirrels) on Fonda Lola's patio, which masks some of the noise from the street. Plus, there are enough trinkets and knick-knacks hanging around to keep you entertained (look out for the birdcage with Lucha Libre action figures imprisoned inside). Grab a cocktail and a taco and enjoy this suburban sanctuary.
9. The Drake
1150 Queen St. W.
Anytime is a good time to dine on fresh, made-from-scratch fare on The Drake's beloved year-round, covered, heated rooftop patio, The Sky Yard. In the summer, they also have a cute and contained street-level patio that wraps around the side of the hotel. Weekends bring on their famous brunch, which you'll want to jump out of bed to dive right into. For dinner, start with the melt-in-your-mouth steak tartare or the crispy cauliflower bites. Don't sleep on the Drake burger — it's by far one of the best in the city.
The best Toronto patios in Liberty Village
10. Liberty Commons 
42 Liberty St.
The two-level heritage space at East Liberty and Atlantic houses the Big Rock beer and bottle shop on one side and the brewpub on the other for the ultimate all-in-one-collab between the Big Rock brewers and restaurant empire Oliver & Bonacini. A large private dining room sits in the back of Liberty Commons as well as a 100-seat patio.
The best Toronto patios on King West
11. Harriet's Rooftop
550 Wellington St. W.
Harriet's, at the top of 1 Hotel Toronto, is our new fave place to watch a summer sunset. The incredible views of the city are made even better with one of their specialty cocktails (usually the Spicy Sienna) in hand and a Wagyu taco in the other — now we're really thriving.
12. Baro
485 King St W.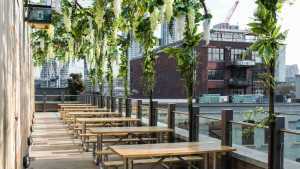 Overflowing with lush greenery, the rooftop at Baro is an oasis. An enclosed section with a retractable roof and window walls makes the airy space fit for a perfect patio afternoon even when Toronto's fickle weather isn't cooperating. In the patio's outdoor kitchen, chefs cook a menu of simple but delicious items like roast chicken and grilled broccoli over charcoal.
13. Marben
488 Wellington St. W.
Head to Marben's patio for tasty farm-to-table bites like Fogo Island squid and cucumber lettuce cups, as well as classics like koji popcorn chicken and their famous grass-fed beef burger on a beef fat brioche bun (yes, please). Eating the seasons has always been a mantra of chef Chris Locke and this Feast ON certified spot's comfort food is good for both the soul and the earth.
14. Gusto 101
101 Portland St.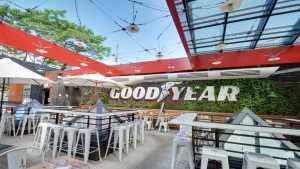 Clever design and construction doubled Gusto 101's all-season dining capacity. Its glassed-in rooftop patio, which sits atop the original former auto-body garage, creates an industrial-chic environment, including an oversized Goodyear sign as a loud-but-cute nod to the building's former life. It all makes a fitting environment for tucking into the restaurant's modern Italian fare.
15. Lapinou
642 King St. W.
When Lapinou, an elegant King West bistro, opened up, we fell head-over-heels for its French charm and fantastic wine list. Take delicate little bites of homemade sourdough and duck breast on their adorable alleyway terrace, complete with strings of twinkly lights. C'est magnifique.
16. Xango
461 King St. W.
This eclectic, vibrant King West spot serves Nikkei food: a fusion of Chinese, Peruvian and Japanese cuisines. Bask in the glow of their (very Instagrammable) neon light feature while snacking on crispy spicy squid, Japanese chicken dumplings and USDA angus beef sliders. The restaurant and its lush patio are tucked down a secluded alleyway, away from the hustle and bustle of King West.
17. Belfast Love
548 King St. W.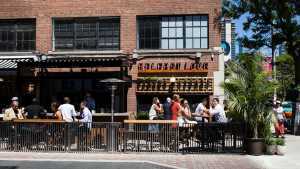 This side patio has long been a favourite, thanks to its outside bar and great location on King West — and that needn't change once the temperatures are slipping. Grab a seat underneath one of the heaters at Belfast Love, order a mimosa and enjoy people watching long into the fall.
18. Lavelle
627 King St. W.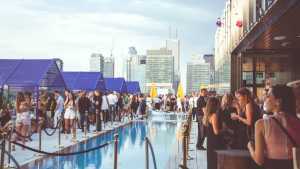 Its crystalline pool and Instagramable photo ops might scream summer in the city, but with views like these, we'd argue that Lavelle is a destination for any time of year. With completely unobstructed views of Toronto, the rooftop restaurant with sprawling patio is a great place to bring out-of-towners and point out local landmarks with a cocktail in hand.
19. Stackt 
28 Bathurst St.
There is always something on at this marketplace made entirely from shipping containers. More than 70 per cent of the 100,000-sq-ft space is outdoors — earning Stackt recognition for its sheer size alone. The outdoor food and beverage pavilion includes seating across multiple courtyards.
The best Toronto patios in the Downtown Core
20. EPOCH Bar & Kitchen Terrace
181 Wellington St. W.
'Epoch' means the beginning of a new era, and you can catch us celebrating the arrival of summer cozied up next to a fire pit on EPOCH's secret garden patio. Inspired by the English gastropubs of the 1990s, EPOCH pays tribute to pub culture but with a touch more sophistication (you're on the main floor of the luxe Ritz-Carlton after all). The greenery surrounding the terrace extends its way into the cocktails, blooming with floral notes and garden-fresh ingredients.
21. Rendezviews
229 Richmond St. W.
Toronto's favourite parking-lot-turned-mega-patio is back for the summer with not one but two concepts. Split into RendezViews East and RendezViews West, this sprawling patio offers even more bits and sips to choose from. RV West comes to us from The Ballroom so expect pub grub like burgers, chicken tenders and pizzas. Meanwhile, RV East comes from Selva, The Fifth Social Club and Pai. Oh, yes, that means you can expect chef Nuit Regular's incredible dishes like Tom Yum chicken wings, green chicken curry and crispy fish tacos. Rest assured, both sides have plenty of bevvies, too. 
22. The Rec Room
255 Bremner Blvd.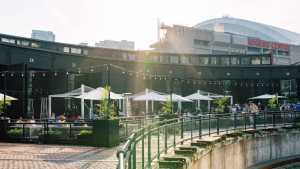 While you might be familiar with the sprawling mecca of food and entertainment that is the Rec Room, what you might not know is that their patio is one of downtown Toronto's best-kept secrets. The hidden oasis is decked out with lush greenery and canopies and features unobstructed views of the city. Aptly called the Deck, it's a place to hang out with friends, coworkers or even a date, and escape from the city while still being right in the heart of it.
23. Chotto Matte
161 Bay St.
Welcome to the jungle: This nikkei restaurant serves a jungle-themed brunch on Saturday afternoons on its lush, foliage-filled patio that wraps around Front and Bay Street. Outside of brunch, the menu of Peruvian-meets-Japanese cuisine features decadent share plates like wagyu aburi sushi with foie gras and snow crab croquettas. Order it all alongside some yuzu martinis, and pretend you're 2,000 miles south of Toronto.
24. Betty's
240 King St. E.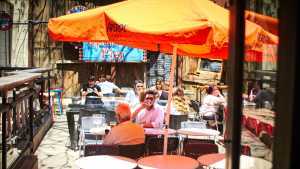 Commonly referred to as the east side's "American honky tonk" bar, Betty's is a long-standing institution for those seeking the right amount of craft in their drinks without any unnecessary pretentiousness. The whisky list impresses brown liquor aficionados, and the beer list is ever evolving and showcases Ontario's finest. Tucked away at the back is one of the best reasons to visit Betty's: its oasis of a patio, soundproofed from the hustle of King street. Perfect long summer evenings with the bar's popular negroni by the glass program.
25. Tutti Matti
364 Adelaide St. W.
Tutti Matti on Adelaide might be a well-loved Toronto institution — but until the pandemic, all of its seating was consigned to the inside of the restaurant. Now, the Tuscan spot has a permanent patio where you can tuck into chef and owner Alida Solomon's wild-boar ragu and fresh pastas. The patio is open from Wednesday to Saturday in the spruced-up next door alley, which is kitted out with cute tables and a colourful mural.
26. King Taps
100 King St. W.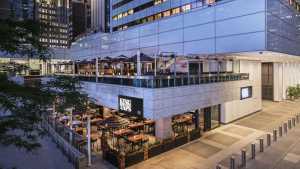 With a casually sophisticated ambiance and an impressive tap list, King Taps fits seamlessly into its Financial District setting at First Canadian Place. Rows of flat-screen TVs and a menu emphasizing pizza and sandwiches channel a sports bar vibe. Still, stylish touches like a gleaming marble bar, exposed brick walls and a sleek open kitchen ensure that no one is confusing this spot with their local watering hole (it is steps from Bay Street, after all). The 140-seat patio extends over two-storeys, with wooden high-tops set under glowing fairy lights.
The best Toronto patios in Kensington Market
27. El Rey Mezcal Bar
2a Kensington Ave.
El Rey Mezcal Bar's colourful Kensington patio is our go-to spot for bites and sips from the afternoon well into the evening. Stop by for al pastor tacos with pineapple relish, chicken mole burritos and enough mezcal to make you forgetti your regrettis. The patio is heated so you're basically in Mexico, right? Get yourself a margarita — you've earned it.
28. Ronnie's Local 069
69 Nassau St.
This iconic Kensington Market spot is a dive bar of epic proportions. There was a brief pandemic-scare (Ronnie's halted during a series of provincial lockdowns),  but now it's back and better than ever. In the summer, capacity doubles — grab a table and watch your Saturday plans disappear quicker than your lukewarm pint. Leave your airs and graces at the door — but don't forget your hand sanitizer and cash (Ronnie's doesn't accept cards). 
The best Toronto patios by the waterfront
29. Amsterdam BrewHouse
245 Queens Quay W.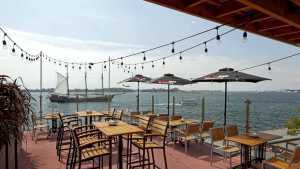 This waterfront spot is a great place to get your fill of Lake Ontario vistas paired with pub bites and beer. With three patios to choose from, Amsterdam BrewHouse is a summer stalwart for open-air dining and drinking. And with heated patios open on the warmer days of fall, you can extend those days of dinner with a view.
The best Toronto patios in Yorkville
30. Il Patio di Eataly with Aperol
55 Bloor St. W.
If Aperol is the drink of the summer, Il Patio di Eataly is the place to enjoy the sunset coloured aperitivo. The Italian marketplace is transporting us to Rome with two al fresco dining options: a full service patio on Bay Street and a walk-in only bar on Bloor Street. Sip on classic cocktails and Italian wine while you munch on Italian snacks or dig into the full menu of pizzas and pastas. 
31. Bar Reyna
158 Cumberland St.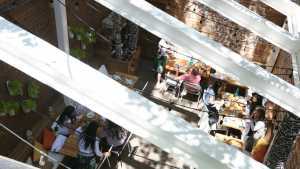 For Nicki Laborie, the former View the Vibe owner turned brains behind Bar Reyna, details mean everything. Laborie worked closely alongside head chef Omar Ma (formerly of Buca Yorkville) to create the vision for the menu, resulting in a set of dishes that feels like a direct passport to Greece, Spain and Turkey. The space is split over two floors: a cocktail bar upstairs, and a formal dining space on the main floor — the latter leads out to a gorgeous, hidden patio space and the true showstopper here. Tables have been built around the trees so they become living fixtures, while a retractable roof allows Bar Reyna to be patio approved all year round. You know where you'll find us.
32. ONE Restaurant
116 Yorkville Ave.
ONE Restaurant was initially opened by chef Mark McEwan, who mentored the man now at the helm: chef Darby Piquette. Dishes that celebrate seasonal produce are on the menu, served to guests on the sun-bathed, tree-lined patio or in the dining room decorated with hairy, textured walls you'll have to resist running your fingers through.
The Korean chicken tacos are bite-sized flavour bombs, and glistening lobster pieces surfing atop spoonfuls of vermouth beurre fondue seem to be ordered by nearly every table. The showstoppers, though, are the tenderloins — the 40 oz prime tomahawk would fit right in at the city's most premium chophouses.
Red leather seats beckon for a nightcap at the bar, scored by soft dance music trickling down from the ceiling. It's more of a place to meet a friend for a drink than for a raucous time — but if you're looking for a trip to the wild side, turn your eyes to the top shelf for a $350 shot of tequila.
33. Sotto Sotto
120 Avenue Rd.
To passerby, those dining on Sotto Sotto's patio are obscured by curtains (a preview of the hushed privacy of its interior). It's well-known that Sotto Sotto is regularly frequented by big-name celebrities, including one particularly prominent Canadian rapper — but the Italian eatery's draw extends well beyond a glimpse of Drake in the wild.
Servers glide around the floors of a house-turned-restaurant, Sotto Sotto's new home after the devastating Christmas fire of 2014 destroyed its previous location. Devour carbonara tossed with crispy pork cheek, grilled octopus with cherry tomatoes or homemade gnocchi served in a sauce of your choosing — a meal here will have you rubbing your belly and loosening your belt on the way out.
34. Kasa Moto
115 Yorkville Ave.
Kasa Moto's clean, eggshell exterior doesn't tip its hand to the sprawling, lush dining room and terrace waiting within. The two-story Japanese restaurant offers a refined seafood menu, twisting oceanic fare into lavish presentations. Don't skip the soft shell crab maki with soy glaze and wasabi aioli, or the spicy fried chicken with a sweet soy gochujang.
Nothing beats dining al fresco, and Kasa Moto's spotless rooftop patio is one of the best in the city. Heated for comfort and surrounded by lush greenery, the patio's sounds of warm conversations, light laughter and the faint clicks of chopsticks drift away into the night air.
The best Toronto patios in Midtown
35. Casa Loma Gardens
1 Austin Terrace
Dining in Casa Loma's exquisite gardens is a swoon-worthy experience: luxuriating in the lush garden with lights twinkling and water fountain tinkling. All the while, get your fill of delicious dishes like steak frites and lobster ravioli paired with original cocktails, beer and plenty of wine options by the glass or bottle.
36. Neon Tiger
14 Dupont St.

If you're in need of a patio, pronto, head to the two-storey, ultracool Neon Tiger at Dupont Street and Avenue Road. This bumpin' new spot has no less than three patios, where you can sip Sojitos (their take on a mojito with grapefruit soju, thai basil, lime and rum) all summer long. Their back patio seats 90, so there's plenty of room for the whole crew to enjoy Asian-inspired tapas like the KFC blini — red-onion pancakes topped with crispy chicken thighs and sweet fermented chili sauce.
37. Little Sister
2031 Yonge Street
This Dutch-Indonesian food bar offers a unique taste of the Indonesian islands mixed with the personal history of chef-owner Mike Van Den Winkel who was raised in the Netherlands. Little Sister's casual, affordable menu is divided into skewers, snacks, sides and traditional dishes like nasi goreng and udang kari.
Each dish is full of flavour and heart and the lush greenery on their new patio will make you feel like you're in Bali (ermm, a busy street in Bali) instead of Yonge Street.
The best Toronto patios in the Distillery District
38. El Catrin
18 Tank House Lane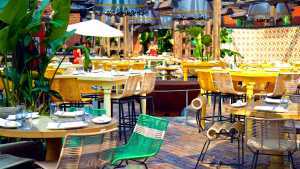 Chips and guac isn't the only thing capable of transporting us to sunnier climes at El Catrin. Their weatherproof patio also does a pretty awesome job of making us feel that little bit closer to Mexico. Their winning combination of heated patio, huge fire pits and blankets make this a great al fresco option for those cooler evenings and into the fall.
39. Cluny Bistro & Boulangerie
35 Tank House Lane
Cluny's patio brings another glow to the Distillery District with thousands of twinkly lights woven through leafy vines. It's a truly magical experience that's sure to make you feel like you've been transported to a Parisian garden. Live your best "joie de vivre" with their French plates and pastries.
The best Toronto patios in the east end
40. Maison Selby
592 Sherbourne St.
From Oliver & Bonacini, Maison Selby is set in a historic mansion that's over a century old and has a checkered past. Each of the French bistro's rooms has a separate aesthetic, from the bright, tropical wallpaper in the room known as L'Orangerie, right down to the dimly lit speakeasy in the basement. A 32-seat garden patio wraps around the south side of the property.
The best Toronto patios in Leslieville
41. The Rooftop at the Broadview Hotel
106 Broadview Ave.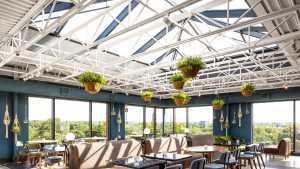 Set on the seventh floor of the Broadview Hotel, the Rooftop features unobstructed views of the city's skyline and Don River. In the summer, the glass façade opens up onto a sprawling terrace, making the whole restaurant feel like it's outside, even when you can't snag a seat on the patio. Head here for sip-able cocktails, elevated bar snacks and DJ beats.