Scrutinizing lockdown's 37th pepperoni pizza, I begin to wonder if I should switch up my regular order. Sure, the cheese is delightfully molten and the tiny pep cups are as crisp, glistening and abundant as in my dreams, but none of this, I realize, is technically good for me.
It's been more than a year since life took a dramatic turn, and most of us have been diligently fueling our stay-at-home lifestyle with comfort food. But as spring appears, it may be a good idea to clean up the way we eat.
For guidance when it comes to better eating, some of the best places to look are the world's Blue Zones.
Dotted around the world, in Ikaria, Greece; Okinawa, Japan; Sardinia, Italy; the Nicoya Peninsula, Costa Rica; and Loma Linda, California, these spots have attracted attention due to the longevity of their inhabitants who frequently live to reach centenarian status.
In these areas, rates of chronic disease are low, and health and happiness tend to be high.
So what do these geographically different zones all have in common? Among other things (like community involvement and exercise), residents of these spots have a fresh, local, plant-based approach to eating that's been directly linked to the impressive way they age.
Diets in the world's Blue Zones are loaded with legumes, fermented and wholegrain foods, and are light on meat and fish.
Blue Zone inhabitants don't overindulge in sugary or processed foods and tend to drink alcohol in moderation.
Diet isn't everything, but there are plenty of lessons to be learned from how the world's oldest citizens nourish their days, and here are a few ideas for getting started...
Power plants
Though you won't find people in Costa Rica's Nicoya Peninsula feasting on tofu and sweet potatoes as they do in Okinawa, what ties these, and other Blue Zone diets together is that they're all 95 per cent plant-based.
Forgoing meat has never been easier in Toronto, where a proliferation of vegan and vegetarian restaurants offer plant-based renditions of every dish imaginable.
"I can guarantee that once you try Planta you'll be back for more," says chef David Lee of his plant-based restaurants.
Opened in 2016, the vegan brand, created to promote plant-based dining, sustainability and seasonality, has now grown to include seven restaurants in the U.S. and Canada, from a burger bar to an Asian spot, with more coming this year.
"I find that meat-eaters are so surprised with the food at Planta, especially the burger," says Lee, who has managed to craft diverse menus that appeal to vegetarians, vegans and carnivores alike.
"I think that one day or two days out of the week to give your body a rest from all these high-fat animal proteins, it's such a great thing to do."
Planta's vibrant vegan dishes — in pictures:
Much like Blue Zone diets, the vegetarian menu at Shook emphasizes legumes and inventive preparations of a wealth of local crops.
Here, diners feast on "little mezze plates, dips, little fried things and bowls of marinated bits," says Ben Heaton, corporate executive chef of Iconink Hospitality and Scale Hospitality, the company that manages Shook.
Lighter and easier to digest than a meat-heavy spread, Shook's food is also exuberantly varied. "A lot of people are unaware of how explosive Middle Eastern food can be," says Heaton enthusiastically.
"It's nice to be able to eat lots of food that's light, acidic, poppy, fresh, full of spices, and leaves you feeling satiated and good."
Ordering in is one thing, but manipulating the plant kingdom into a delectable meal in your own kitchen is another beast altogether.
It takes some know-how. The type of reverence toward vegetables exhibited by vegan chef Matthew Ravenscroft, a man who professes plants to be his religion, also doesn't hurt.
Speaking to Ravenscroft, head chef at Rosalinda and the man behind the Dirty Raven website, you cringe inwardly when remembering atrocities committed to vegetables past.
"Try to look at a vegetable as enough," says Ravenscroft. "Treat vegetables the way you treat meat. Look at vegetables as a potential labour of love and you'll get better results."
There are nuances and flavours when you care more about vegetables
Anyone craving vegan enlightenment need only order one of Ravenscroft's Friday Night Delight meals, available through his website, to see how a pro gives produce the star treatment.
The menu might include inspired dishes such as maple-miso cauliflower with roasted eggplant and charred onions, brightened with blood orange and the juicy, crimson pop of pomegranate seeds.
"There are all these nuances and flavours when you care a little bit more about vegetables," he continues.
Ravenscroft, who offers vegan classes and recipes through his website, recommends investing in a weekly produce box, such as the ones offered through FoodShare, 100km Foods and Alma + Gil Produce.
"It encourages you to be creative and to think outside of the box," he says. "Now you have to eat it. You have to cook it. Forcing your own hand in that is pretty rewarding."
Beyond the classes offered through The Dirty Raven, Toronto is home to many online courses that can help budding cooks incorporate new ideas into their cooking.
George Brown College's Centre for Hospitality and Culinary Arts is a top spot for online classes covering an impressive range of subjects.
"Part of our job as educators," says Stephanie Bourgeois, Continuing Education Coordinator for GBC's Centre for Hospitality and Culinary Arts, "is to make sure that people are able to learn how things are made, learn about the different ingredients and learn about different cultures by actually getting their hands dirty and getting stuck into the food."
Quality Street
Ikarians excel at getting their hands dirty in the name of sustenance. When a meal calls for meat, it's most likely to be sourced from a nearby field, where it can be found in its animal form grazing on grass, foliage and scraps from the kitchen.
Floating in the Aegean Sea, this isolated Greek isle has retained many characteristics that hark back to another time.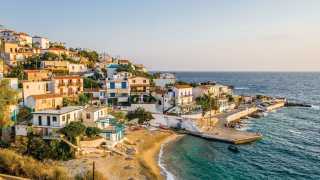 Here, residents make their own wine and grow much of their own food. They take naps and, even at 90, think nothing of walking miles over craggy terrain to visit family and friends.
As in other Blue Zones, animal proteins are used in Ikaria as a garnish or for celebrations, and aren't generally the centrepiece of a meal.
When it does get served, meat is hyper-local, organic, non-GMO and raised without the use of pesticides, hormones or antibiotics.
In Toronto, local companies like West Side Beef and Sunday Farms offer delivery of local, ethically raised chicken, pork and beef.
Thanks to the animals' natural diets and free-roaming lifestyles, their meat contains far more healthy fats, essential vitamins and nutrients than you'd find in their industrially raised equivalents.
Sip Smarter
If local meat is ideal, does the same hold true for local wine? Ask Sardinians and the answer might be a resounding, "Yes!"
Though it would be easy to credit Sardinians' longevity to their locale — admired as much for its surreal natural beauty, from grottos and glistening beaches to a jumble of dynamic hiking trails, as it is for its food, culture and ancient ruins — it's their habits that seem to add years to their lives.
Among the most effective? Easing the day's stress with a glass or two, of local cannonau wine. Said to contain two to three times the amount of flavonoids of other wines, cannonau may help protect the body from certain diseases.
Blue Zone inhabitants are masters of mindful drinking
In general, Blue Zone residents are masters of mindful drinking. They reach for little more than water, coffee, green or herb-steeped tea, and — oenophiles take note — red wine, every day.
Each of these beverages has been shown to positively affect well-being in its own way, from lowering rates of dementia and heart disease to having anti-inflammatory properties.
If red wine isn't your thing, cutting back has never tasted so good. Mocktail kits — such as the ones at Salty Paloma, a beverage company co-owned by Evelyn Chick, certified beverage expert and founder of Evelyn Chick Projects — help people mix complex, non-alcoholic bevvies at home.
"You don't want to be sitting around just having soda," says Chick, "because there are so many different aspects of enjoyment."
Made with locally sourced ingredients like Moore Kombucha and Pluck Tea, along with modern 'spirits' like Seedlip, Chick's mocktails are adult drinks with a unique range of flavours.
"It's not particularly trying to make up for the shortcomings of a cocktail that isn't an alcoholic drink," she says. "It's essentially creating a whole new category for mindful drinking that can stand on its own."
Go nuts
A bespoke mocktail might appeal to the Adventist teetotalers of sun-drenched Loma Linda, in California's San Bernardino County.
Here, lifestyle is dictated by the Bible, and locals consume a "Garden of Eden" diet. They also partake in regular exercise, no doubt taking inspiration from the winding network of trails and paths of Loma Linda, which is Spanish for "beautiful hill."
As in other Blue Zones, Loma Linda residents have a penchant for snacking on heart-healthy nuts. Nutritional superstars, nuts are a nutrient-dense food that adds flavour, satisfying crunch, protein and good fats to plant-based meals.
At Toronto's The Roasted Nut, almonds, cashews, walnuts and more are dry-roasted in small batches without the addition of unnecessary oils.
Unlike the detrimental results of downing processed nibbles crusted in orange dust, eating nuts in moderation, an ounce or two per day, can reduce the risk of heart attack, cardiovascular disease and cancer.
From peanuts to garbanzos, black beans and more, legumes are also ubiquitous among Blue Zone diets. So much so that they're described as "the cornerstone of every longevity diet in the world," by the Blue Zones website.
Low in fat and cholesterol, beans are high in fibre, a multitude of minerals and nutrients, and are a valuable source of protein.
In Costa Rica's Nicoya Peninsula, a paradisaical region as popular with surfers as it is with sun-seekers and wildlife enthusiasts, lunch is the heaviest meal of the day and black beans are always on the menu.
A typical casado, which translates to "married," is a popular meal featuring a choice of ingredients. Some casados have sweet plantain and picadillo, or hash made with chayote, plantain or potato mixed with ground beef.
Others might pair salad with a small piece of sautéed meat or fish and a fried egg. The one constant? A satisfying hillock of white rice topped with inky, deeply savoury frijoles negros.
Feast on ferments
Incorporating fermented soy beans into their meals packs a double-nutritional punch for the people of Okinawa.
On this island, found northeast of mainland Japan, plates often feature sweet potatoes, bitter melon, tofu and fermented foods.
If a thriving gut microbiome plays a vital role in one's overall condition, it's no wonder Okinawans enjoy near-superhuman lifespans.
For delicious ferments in Toronto, Alchemy Pickle Company makes a range of vegan products from certified organic, locally sourced produce. Owner and pickle- and ferment-maker Rebekka Hutton explains, "Fermentation involves using salt and time to create these sour flavours."
This process "preserves by inhibiting bad bacteria with the addition of salt. Over time, communities of good bacteria, or probiotics, join in to create a tasty acidic environment with layers of flavour." It's these probiotics that make fermented foods great for your gut and give your overall health a boost.
If you're not quite ready to relinquish your standing pizza order, keep in mind that better eating is just part of the Blue Zone puzzle.
People living in these areas get daily moderate exercise, are experts at de-stressing and, perhaps most importantly, tend to have a positive outlook and strong connections to social circles.
In Okinawa, people traditionally have a moai, or reliable social network, which keeps them engaged in their community. A plan de vida, or life plan, gives purpose and a sense of belonging to Ticos in the Nicoya Peninsula.
As spring unfurls, we can all try to look on the bright side here at home. Enjoy a socially distanced glass of wine with friends and toast to a future peppered with jaunts to far-off places.
Try a new recipe or wrestle an unfamiliar vegetable into submission. Serve your pizza alongside an exquisite plant-based side and you might soon feel as spry and satisfied as a 99-year-old Sardinian.