It's been 84 years since Torontonians have felt the sweet, sweet taste of freedom. One day seems to blur into the next, with the very brief joy of open patios fading behind us and another month of lockdown ahead of us. But this is Toronto, folks! Our city is often the scrappy underdog and our people are some of the most resilient around. And furthermore, there are always things to do in Toronto.
If you're already bored of ordering takeout and delivery from your usual spots, tried out takeout from the city's hottest new restaurants and run out of cocktail kits to make, we've got just the thing. Our list of fun, foodie activities is calling your name.
These aren't just your run-of-the-mill lockdown activities. We've got food to boost your mood (not to mention support local businesses), from the sandwiches that'll transform your lunch break to street eats designed to tempt and tantalize.
What's more, we're celebrating the new legalization of pre-made cocktails by ordering them from, well, anyone who makes them... Can we get some aspirin with that? 
From takeout food festivals to the cushiest of staycations, these are all the best things to do in Toronto this April.
25 things to do in Toronto this April
1. Visit the Street Eats Market
Open now; 9350 Yonge St.
The team behind several of Toronto's summer food festivals is back with a new outdoor eating event at Hillcrest Mall. Upwards of seven food trucks have rolled up to the Street Eats Market pop-up to peddle their delicious bites. Tuck into a beef bulgogi poutine from Golden Grill; a fried chicken sandwich smothered with pesto aioli, three cheeses and garlic rosé sauce from 6 Spice Rack; or a mouthwatering jerk chicken burrito from the Jerk Brothers. 
2. Watch our new In the Kitchen video series
Online now
Here at Foodism, we get to do some pretty cool stuff. But we'd have to say that we're the most excited to bring you In the Kitchen with Foodism. Our brand new video series shares exclusive recipes and stories from Toronto's best chefs and bartenders — and for the debut episode, we wanted to start things off with a bang.
Suzanne Barr, a powerhouse chef, author and advocate in the Toronto food scene, absolutely fits the bill. The former Saturday Dinette chef and our first host joined us for a day in the studio where she chatted about her love of cooking, what it's like to be a BIPOC female chef in Toronto, and how to whip up a hearty bowl of shrimp and grits.
3. Check into a hotel for a staycation
Open now; Various locations
Let's face it, leaving your home nowadays is a big freakin' deal, so why not make it worth your while with a staycation at one of the best Toronto hotels. From boutique boudoirs like The Annex and The Drake Hotel to luxury towers like the Shangri-La and the Ritz-Carlton, there's something special about staying in a hotel, even if you live just down the street.
Forget work from home when you can work from hotel. Everything is just so much better when you're in a plushy hotel robe and dialling room service for your desk lunch. These Toronto hotels know a thing or two about stylish and elegant stays that will make you want to move in for good and fall in love with the city all over again.
4. Take an online cooking class with George Brown College
Online now
Whether you're already a kitchen pro or more on the calamity spectrum of things, a cooking course is bound to provide inspiration. Let's be real: Instagram and YouTube videos can only do so much. It's time to get the professionals involved. So where better to learn than Continuing Education classes at George Brown College?
There is something for everyone in their Hospitality and Culinary Arts programs, whether you're into baking or beer.
5. Go on a juice cleanse
 Open now; Various locations
What if we told you that feeling more energized, radiant and just, well, better was a mere sip away — and a delicious sip at that?
OK, so that might not be totally true, but we'd never say no to a fresh juice from one of Toronto's array of juice bars. Most of these bars cold-press their juice to maintain the quality of the nutrients; they use sustainable, chemical-free packaging; and they're dedicated to selling only the freshest juices. That all sounds like a win-win to us.
Stop in at one of these fresh juice bars in Toronto, try out one of their cleanses or simply grab a juice or smoothie and you'll feel revitalized in no time...
6. Cut down on your meat consumption by trying these vegan restaurants
Open now; Various locations
Veganism has been undergoing a radical change in recent years. From fast food to fine dining, a slew of forward-thinking chefs are going above and beyond to turn preconceptions of vegan eating on their head, showing people it can be beautiful, colourful and vibrant, with flavours to match. There's vegan pasta, vegan pizza, vegan sushi spots and so much more — meat might be off the agenda, but good eating certainly isn't. 
Of course, vegan cooking isn't the complete solution to our planet problems. But no matter which camp you're in, no one can say that eating less meat isn't better for you and the environment, and if that means you need to eat a fake burger that bleeds beet juice once a week, who's to say that isn't OK? Certainly not us, and given the creative cooking at these Toronto vegan restaurants, we'll say it's a safe bet you'll be eating it far more often than that...
7. Reduce your waste with a visit to Unboxed Market
As a full-service grocery store, you can find all of your household items, pantry products, produce and more at Unboxed Market. But what you won't find is the excessive plastic packaging seen in supermarkets. Instead, items are sold loose and customers are able to fill up their own bags and containers.
8. Treat yo' self at a bakery
Open now; Various locations
There's nothing better than the smell of fresh baked bread… Other than eating it, of course. For a while, the enjoyment of bread had a scare — people were going against the grain, literally. The staff of life's reputation was getting muddled by the mass-produced. Thankfully, good artisan bread is making a comeback and giving us the dough we all deserve.
What's more, the level of care taken at these bakeries means they're getting inventive when it comes to being gluten-free, too. From sourdough to bakes to cakes to seriously delicious pies, these treats taste so good you won't miss the gluten. And many of them have taken the extra step to become totally vegan.
No matter your dietary requirements, here's a list of the best bakeries around the city to carb load with zero regrets
9. Upgrade your kitchen equipment with Tosho
When it comes to knives, Tosho sells the best: hand-forged Japanese steel. The amount of craftsmanship that goes into building these knives is extraordinary — it's a heavily involved process that often includes several skilled individuals creating each component of the knife, from handle makers to blacksmiths working by hand.
Having an unsharpened blade isn't just annoying, it's also really dangerous. Tosho offers sharpening services that'll make your steel shine bright again and cut through squash like butter. Or, do it yourself with their whetstones and honing tools.
10. Go on a wine tour with the city's best bottle shops
Open now; Various locations
Remember when alcohol could only be sold at designated, government-controlled stores? (Circa 2019.) It almost feels like we were living in the dark ages prior to the pandemic. Now that we've caught up with modern times, bottle shops in Toronto are popping up on every corner as a side hustle for some of our favourite spots. Amidst the lockdown, bars and restaurants have dipped into their wine cellars and brought out their best stuff, for sale by the bottle. 
Local, natural and rare wines that you'll never find at the LCBO are all on the menu. Plus, many of these bottle shops have a grocery component where you can get pantry items like fresh made pasta, cheese boards, delicious dips and made-in-house fire-baked bread. Date night, sorted.
11. Up your bartending game with tips from Toronto's top bartenders
Available now; Online
No matter how you swing it, your living room is not a beautifully decked out wine bar, nor is it a hipster joint serving itsy, bitsy cocktails that arrive at your table smouldering.
But, as lockdown stretches on interminably, we've been pushed to the upper limit of our creativity, as we battle on to make our condo cocktail bar a thing. If your gin and tonic is getting as stale as the citrus in your fruit bowl, we've got what you need to revive your bar game.
We chatted to five of Toronto's best bartenders to find out how they've been staying sharp during the pandemic and what pearls they could impart on how to create the perfect home bar. Here, the mixing moguls share their favourite bar tools, tips and tricks for how to bring that bar atmosphere into your home, plus some fun recipes to try tonight.
12. Get afternoon tea for takeout from the Four Seasons 
Available every weekend for pickup; 60 Yorkville Ave
Scones, marmalade and clotted cream — afternoon tea is what our dainty dreams are made of. More than just a midday meal, traditional tea service is an experience. While the lockdown lingers on, Café Boulud is bundling up their afternoon tea service into a perfect parcel of joy to take home and tuck into at your leisure. For $55, you'll get an assortment of scrumptious scones, sandwiches and sweets alongside a selection of teas. Orders must be placed 24 hours in advance for pick up on Fridays, Saturdays and Sundays.
13. Warm up from rainy April days with the best ramen in the city
Open now; Various locations
Maybe it's the comforting effect of soup, or the chewy, twisty noodles, but something about a big, piping hot bowl of ramen on a cold, grey day just hits different. Or really any day, who are we kidding? Between homegrown spots and Japanese imports who chose our city as the first place to expand internationally, Toronto has got some of the best ramen this side of Tokyo.
From classic tonkotsu to vegetarian, clam and tsukumen dipping ramen, we've got a whole rainbow of noodle soups for you. Here's where to find the best bowls of ramen in Toronto.
14. Switch up your lunch routine and try the city's best sandwiches
Available now for takeout and delivery; Various locations
Sandwiches are the original perfectly balanced meal. Whether it's the ideal ratio of bun to toppings in a well-executed sub; the buttermilk-soaked, crispy Nashville fried chicken popping up all over the city; or delicious, house-cured deli meat, Toronto's got a sandwich spot for you.
We've tracked down Toronto's best sandwiches from the old school California Sandwiches to the new delis on the block: Lambo's Deli and Flora's Deli. No matter your bun style or topping choice, you can always find that special sandwich for al-desko dining or a quick takeout and delivery option. Forget soggy leftovers, better lunchtimes are ahead.
15. Carb load with Toronto's top plates of pasta
Available now for takeout and delivery; Various locations
Pasta is most commonly associated with Italy (although its origins are hotly contested), but these days it's a universal language.
Spaghetti bolognese, simmered for hours on the stove says, "I'll take care of you, we're family". Pappardelle in lamb ragu says, "I want to impress you". Frivolous, frilly campanelli just wants to have a bit of fun. But whatever shape you're going for, there's no two ways about it: A bowl of freshly cooked, handmade pasta is hard to beat.
It's one for meat eaters and veggies, and these days, even the vegan and gluten-free options are knocking it out of the park when it comes to satisfying texture and depth of flavour.
It's no surprise that it's one of our favourite dishes, no matter the occasion: mates, dates; fast or slow. From Sugo to Bar Vendetta, Toronto's Italian restaurants know where it's at. 
16. Host your own home bar crawl with premade bottled cocktails from the city's best bars
Available now for takeout and delivery; Various locations
Praise be for another timely AGCO boon in the form of recently legalized pre-mixed bottled cocktails. Alcohol sold for delivery must now be securely closed, instead of sealed and unopened — making it much easier for restaurants and bars to offer more takeout and delivery options, including mixed drinks and growlers. From cocktail kit connoisseurs bottling up bevvies to monthly subscriptions that will keep you in bartender-mixed libations until spring, we've got the best premade bottled cocktails for pickup and delivery.
17. Slurp your way through the city's best pho
Open now for takeout and delivery; Various locations
Pho: Vietnam's national dish and our number one meal to get us through yet another Canadian winter. You won't be hard pressed to find a pho house in Toronto, but finding the best one? Well, not to worry, we've done the digging for you. From the legendary Pho Hung on Spadina to downtown's new Dzo Viet Eatery, we've got Toronto's best pho spots to warm you up when the air is so cold it hurts your face.
18. Take your tastebuds on a trip to France with Marvelous by Fred
Open now; 224 Queen St. W.
Everything at Marvelous by Fred is made from scratch, from croissants and pain bagnat (sandwiches) to the flat waffles stuffed with vanilla. Lip-smackingly good Belgium cakes are made by stacking two meringues on top of each other and welding them with whipped cream. Frédéric Vaucamps made his name by developing his own versions of the confection with coffee, cherry and caramel iterations. Delicieux!
Another staple at the bakeshop is the cramik brioche, a typical Flemish brioche from the north of France and Belgium. The kind studded with chocolate chip is our favourite version.
marvelousbyfredtoronto-order.ca
19. Find local shops to love
Open now for curbside pickup and delivery; Various locations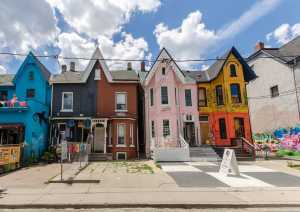 Look, Amazon had a really good year. As for our local Toronto small businesses, they can't say the same. So let's change that by shopping small when we can and supporting the independent business we know and love in our neighbourhood.
Going local doesn't mean breaking the bank, we've got a list of our favourite Toronto small businesses that are full of affordable gifts and unique treasures that you can't find anywhere else. From customizable bottles of Reid's gin in Leslieville to Salt Wine Bar on Ossington where you'll feel like you're at a Spanish market instead of freezing in an LCBO lineup, these local businesses have got all your foodie finds covered and then some.
20. Eat your way through the city's best sushi
Open now for takeout and delivery; Various locations
Serious foodies and sushi lovers are usually synonymous. When you think about it, this makes perfect sense — sushi, built on the foundations of the freshest, highest quality fish, rice and other ingredients, is all about using the very best produce and touching it as little as possible. The city has hundreds of sushi restaurants that adhere to different styles, from omakase (where the chef is there making the dishes right in front of you) to kaiseki (a bit like prix fixe), all-you-can-eat and à la carte. Lucky for you, we've rounded up the best sushi spots in Toronto, so all you have to do is bust those chopsticks out. 
21. Learn how to make the perfect charcuterie board
Available now; Online
The charcuterie board-bringer is always the favourite person in the room — not all heroes wear capes, OK? If you're stumped on where to start, we've got the ultimate guide for how to build that perfect charcuterie board.
To teach us a thing or two about assembling a charcuterie board, we've recruited the help of maître fromager, Afrim Pristine of the Cheese Boutique. From how to organize your cheese to which cured meat to buy, Pristine tells us everything we need to know about making a charcuterie board that's sure to impress.
22. Satiate your sweet tooth with the best cookies in the city
Open now for takeout and delivery; Various locations
Freshly baked cookies, how do we scoff thee? Let us count the ways. We eat you for breakfast, we eat you for dessert, we eat you as a snack. You are truly the sweetest treat of all. But we're not talking about any old cookies: we're talking about Toronto's very best cookies.
Whether you like yours gooey or crisp, we've got the best cookies in Toronto. We've got pizza-sized cookies, mini cookies, normal-sized cookies, but no matter how big they are, we promise they're all dough, dough good.
23. Visit a fully automated coffee shop
Open now; 1235 Bay St.
It's the year of contactless everything so why should coffee be any different? Enter Canada's first automated café. Located on Bay Street just north of Cumberland, the robo-barista serves up Dark Horse coffee, lattes and more. There's a touch screen, but you can go completely contactless by scanning the QR code and ordering from your phone. The partnership between RC Coffee and Dark Horse is set to be the first of many.
24. Order from the Afrobeat Kitchen pop-up
Open now; 1165 Bloor St. W.
Private chef and catering project Afrobeat Kitchen is back with another pop-up, this time at Caravan Cafe & Tea House on Bloor near Dufferin. For a limited time, you'll be able to get your hands, or mouth, on modern African eats from chef Victor Uguweke. Order for pick up or delivery through Ritual.
25. Eat your way through the best pizzas in the city
Open now for takeout and delivery; Various locations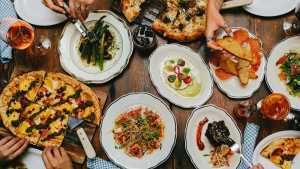 Whether you're talking about Neapolitan, sourdough, deep-dish pie, stuffed crust or calzone, pizza is a universal language. And there are very few occasions when a pizza wouldn't fit the bill — it's great with mates, it's great with dates and you can even find it at fancy Italian restaurants, too. But we're not the only ones to hold this opinion, which is probably why Toronto has a ton of great pizza places dishing up all kinds of slices to hungry city dwellers.