As lockdown continues to roll on indefinitely in Toronto, good takeout food has consistently been our lifeline. Many of the city's best restaurants have become well versed in delivery and takeout, bringing restaurant-quality eats to our table (or laps, no judgement). As we wait out yet another lockdown, we're continuing to support local business any way we can — which means ordering in.
From fine dining in our sweats at Alo and Aloette to vegetarian middle eastern options like Shook, we've got fast, fancy and everything in between. Missing those wine pairings and cocktail couplings from date night? Why not stop by one of Toronto's many great bottle shops — restaurants like Marben and Peter Pan pivoted to wine and grocery shops — and pick up a biodynamic bottle to go with your meal. You can also get cocktail kits for takeout and delivery alongside your favourite meals, while breweries, wineries and distilleries are also offering alcohol for takeout and delivery.
If you'd rather take on some of the cooking yourself, get one of these grocery boxes delivered right to your door. What a time to be — inside.
Here, we've rounded up some of our favourite bars and restaurants offering food delivery on apps like Doordash, Ritual and UberEats or through their websites. These are the best restaurants offering delivery and takeout in Toronto right now.
Restaurants offering takeout and delivery: 50 to order from right now
416 Snack Bar
181 Bathurst St.
We can't grab a seat at the bar and order the whole menu, but we can still get eggplant parm, oysters and Korean fried chicken delivered. 
Did we miss you?
Get in touch and we'll add your business to the list. Contact meredith.hardie@twentytwomedia.ca
And be sure to let us know which delivery apps you're available on!
Aba's Bagel Company
884 Eglinton Ave. W.
Don't let the name fool you — there are fresh salads, sandwiches, and a rotating menu of home cooking at this neighbourhood fave on Eglinton Ave. West. Started by Aba, who opened a What-A-Bagel franchise right in the heart of the upper village, this is the product of 15 years of hard work and a passion for bagels. Aba and his son Daniel serve up bagels, breads and schmears in a family atmosphere.
Akira Back
80 Blue Jays Way
Akira Back is serving up some raw deals on UberEats. Choose from sushi, sashimi or some of Akira's signature rolls.
Alma
1194 Bloor St. W.
Alma is open Wednesday to Sunday 5 p.m. - 9 p.m. for takeout direct from their website or delivery through their site.
Alo
163 Spadina Ave.
Frequently touted as Canada's top-rated restaurant, Alo was not immune to the difficulties a pandemic would pose to the hospitality industry. Luckily, for those of us unable to grab a reservation, the popular fine-dining spot quickly pivoted to multi-course meals. Menus change frequently, but a sample dinner might feature Japanese sashimi, east coast scallops and vanilla panna cotta with rhubarb and pistachio. Pick-up or delivery via Tock.
exploretock.com/alorestaurant/
Aloette
163 Spadina Ave.
Aloette is now available on UberEats.
Did we miss you?
Get in touch and we'll add your business to the list. Contact meredith.hardie@twentytwomedia.ca
And be sure to let us know which delivery apps you're available on!
Annabelle Pasta Bar
909 Davenport Rd.
Annabelle is now offering takeout. Order through their website or call 647 398 1585.
Antler
1454 Dundas Street West
If you're on the hunt for something different, Antler's non-traditional meat and innovative meals are available for delivery. Order directly through their website and schedule a pickup.
Bar Mercurio
270 Bloor St. W.
Bar Mercurio's organic, ancient flour pizzas are now available via their website, where you can schedule a pickup. 
Bar Reyna
158 Cumberland St.
This Yorkville favourite wasted no time coming up with picnic baskets this summer. Order classic dishes like halloumi souvlaki, Lebanese tacos and lamb pogo sticks to your door.
Barque Smokehouse
299 Roncesvalles Ave.
Got a hankering for ribs? Meat platters abound at this BBQ joint, which has a small shop for sauces, rubs, takeout and a curated selection of wines at its front entrance. "Open and smoking" from Wednesday to Sunday, Barque is the place to satiate your carnivore cravings during lockdown. 
Byblos (Uptown and Downtown)
Multiple locations
Order hummus to start, branzino to share and rolled baklava dessert all to yourself from Byblos Downtown and Byblos Uptown. Available through Tock, UberEats, Ritual and more delivery providers. 
Cactus Club Cafe
Multiple Locations
Cactus Club Cafe is offering some of their fave eats for delivery. Choose from wraps, sushi or power bowls — or celebrate with kits like the Jalapeno Margarita at home pack. Order pick up online or get delivery with DoorDash.
Cà Phê Rang
147 Spadina Ave. #109
If you're a fan of Matty Matheson, you'll know his best bud Rang Nguyen from the celeb chef's YouTube videos. The pair met when Rang was head chef at Le Sélect Bistro, but this time, they're teaming up over banh mi and steaming bowls of pho. Delivery and pickup are available Wednesday — Monday. Order on UberEats or pick up directly (at the former Birria Balam spot) by ordering through their website. 
CIBO
Multiple Locations
CIBO is offering most of their regular a la carte menu, plus beer and wine is available. All three CIBO Wine Bar locations are open daily for takeout and delivery (through Uber, Skip, DoorDash etc). 2 p.m. to 9 p.m.
Calii Love
Multiple Locations
Calii Love's King Street West location will prepare healthy menu items for pickup.
The Drake
1150 Queen St. W.
Not only is The Drake Hotel available on Uber Eats and for pickup — it also has one of the cutest bottle shops in the city on the ground floor. Order that burger, plus a handful of delicious sides, pick up some of their own P.E.C. wine and dream of the day you can visit in-person again. 
Donna's
827 Lansdowne Ave.
While the bright dining room is currently closed, fans of the Junction Triangle can still get their mitts on sandwiches (roast beef, shrimp salad, mushroom), kale salads and a great selection of wine.
Eastside Social
1008 Queen St. E.
Fishing for a good takeout spot on the east end? Eastside Social has all of your seafood needs covered. Order East Coast oysters, mussels marinieres, clam chowder for takeout (Wednesday — Sunday) or pick up one of their delicious meal kits with all the fixings. 
General Assembly Pizza
220 King St. W.
General Assembly Pizza is available for takeout and delivery. The Adelaide spot will also be offering a pizza subscription kit so you always have General Assembly in the freezer.
Gia Restaurant
1214 Dundas St. W.
If Toronto's vegan eateries have failed to tempt you thus far, allow us to introduce you to the pillowy agnolotti, spaghetti Pomodoro and lasagne made in-house at Gia on Dundas. Order their lovingly made dishes and dinners for two for pick up or delivery through their website and on Tock. 
Famoso Neapolitan Pizzeria
386 Bloor St. W.
Order anything from share plates and tapas to 15" deep dish pizza at Famoso Neapolitan Pizzeria. The Bloor St. West location is also providing the option for curbside pick-up or home delivery.
Flora's Deli
1276 Dundas St. W.
We first fell in love with Flora's Deli at a Blood Brothers popup in the fall. Fast forward to spring 2021, and Jesse Mutch — whose selection of cold cuts and Italian snacks was inspired by his nonna — is serving sammies to the good people of Toronto out of Mahjong Bar's kitchen. Call or text for pickup (416-732-7922)
Wednesday-Sunday, 11 a.m.-5 p.m. and head to Uber Eats to check out the current menu. Tons of great options abound but the Norma Gina, with eggplant, whipped ricotta, arugula and honey, still features in our dreams.
ubereats.com/ca/toronto/food-delivery/floras-deli
French Made
80 Blue Jays Way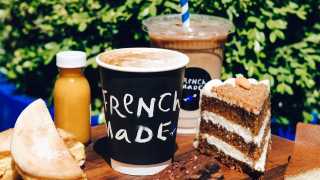 French Made is available for delivery on Uber Eats, Ritual and Door Dash. For pickup and a socially distant patio pastry, order online or call ahead for pickup.
Frankie's Italian
892 Queen St. E. 
Frankie's Italian is now offering takeout and Uber Delivery daily from 5 p.m. to 10 p.m. plus curbside pick-up (647 351 2524). 
Garleek Kitchen
1500 Queen St W
Garleek Kitchen is available on UberEats.
The Haam
342 Adelaide St. W.
A fusion spot ('haam' in Korean means adding or combining) specializing in sushi and tacos might raise some eyebrows — but that was before we feasted on their crispy shell gochujang barbacoa, spicy shrimp and teriyaki chicken offerings. From sashimi to soft shell, you're in for a delicious lunch order that will make it hard to return to those boring old sandwiches. 
Happy Burger
76 Lippincott St.
Happy Burger is available on UberEats, DoorDash and Skip the Dishes.
Hadrien Verrier Patisserie
1418 Dundas St. W.
Hadrien Verrier Patisserie is delivering faves like their salted caramel bread pudding from their site. All orders must be prepaid and should be made by 2 p.m. the day before. The patisserie also does contactless delivery on Saturdays and Sundays only. Alternatively, email info@hadrienpatisserie.ca.
Harry's Charbroiled
The Parkdale diner may be no more, but Harry's famous smash burgers are still making a beeline for your chops. From Plain Jane to the chorizo-filled Green Burger, there's a bun for you.
Joybird Fried Chicken
Stackt Market, 28 Bathurst St.
Leave it to Trevor Lui to take classic Southern soul food and put a Taiwanese (and completely delicious) spin on things. Stackt Market might be closed right now, but you can still get the OG TFC — a Taiwanese dark meat fried chicken — in a 3-, 5- or 10-piece serving. Don't worry hun, they've also got buns; the Joybirdie fried chicken sando is our top pick, but vegan bao burgers and chicken and waffles are also on offer. And don't miss sides like Kung Pao Cauli Bites and Durty Fries made to be dunked in whimsically dubbed sauces like Happy Ending. Pickup is available at the entrance of the Belgian Moon Brewery.
Kitchen Hub
Multiple Locations
With ordering-in now the new normal, we're looking to make our takeout choices even more sophisticated in 2022. Kitchen Hub currently has locations at Queensway and Parliament but will be opening its third flagship location later this year and will offer 13 in-house kitchens at full capacity. Customers can order multiple takeout options from Toronto's hottest restaurants — like Pai, Chubby's Jamaican Kitchen and Piano Piano — all in one order. 
LOCAL Public Eatery
171 E. Liberty St. #100
Order directly through their online store and find a treasure trove of cocktail kits, plus an extensive beer, spirit and wine collection alongside the usual burgers, sammies and perogies. 
Liberty Commons
42 Liberty St.
Farm to...your dining room table? From baby back ribs and jerk chicken to cauliflower mac n' cheese sides washed down with local brews from Big Rock Brewery Toronto, Liberty Commons will put you in the mood for cue. Order online for pick up or for delivery via UberEats.
Madrina Y Tapas
2 Trinity St.
We won't be heading to Barcelona any time soon, but thanks to the Distillery District's Madrina Y Tapas, we can dream about eating there. Executive chef Ramon Simarro has been creating some very special pre-fixe menus for the holidays and Valentine's Day, but guests can also order the restaurant's classic plates to enjoy on the sofa. Pair iberico ham and patatas bravas with with Spanish wine or a Grand Padrino kit so you can make their famous gin and tonics at home.
Mangia & Bevi
260 King St. E.
If you're looking for Neapolitan-style pies, pasta and other Italian goodies (and, honestly, who isn't?), Mangia & Bevi is available for pickup or delivery through Ritual, Doordash, Skip the Dishes, and UberEats. 
Minami
225 King St. W.
Introducing Aburi at Home: Minami is offering their signature elevated cuisine from the comfort of your home or at your next small gathering. Pickup or delivery (Tock and Ritual).
Mad Radish
Multiple locations
This gourmet fast-food restaurant has a new app that offers Torontonians the best of everything from one single location. All three of the family of brands — Luisa's Burritos & Bowls, Revival Pizza and Mad Radish salads — are available all under one digital roof. Order one of their chef driven meals from the app.
Oretta
633 King St. W.
Oretta is currently offering a tasty menu of pizza and pasta, plus baked goodness like bombolone with nutella and wine, bubbles and beer. 
Patois
794 Dundas St. W.
Chef Craig Wong's fire Caribbean-Asian fusion food is now available in takeout format. Choose from the Heat n' Serve Care Packages that need a quick nuke in the microwave (1/2 jerk chicken, dim sum) or order ready-to-eat feasts like The Whole Shebang, which comes with Jamaican patties, Double Trini Mac Pie, Chinese Pineapple Bun Burgers, the O.G. Fried Chicken and more. If your night is missing a little je ne sais quoi, Patois's French-inspired sister spot Bar Mignonette is just upstairs and has all the seafood you could ever need.
Pinkerton's Snack Bar
1026 Gerrard St. E.
In normal times, Pinkerton's is one of the east end's most happening spots for small bites and local brews. Fortunately, takeout options exist to tide you over until lockdown is lifted. Highlights from their bao and snacks menu include duck confit, jackfruit and Korean chicken sandwiches between pillowy white buns. Add a couple of their line of Dynamite Kid Cocktails in a can — handcrafted in flavours like martini, negroni and aperol spritz — and your evening is looking pretty good.
Pizzeria Libretto
Multiple Locations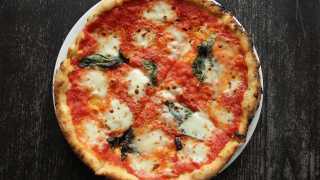 Pizzeria Libretto's King Street West and Danforth locations are delivering their famous Neapolitan- style pizzas and an assortment of classic Italian dishes.
Pukka
778 St Clair Ave. W.
Order Indian dishes like stuffed paneer and Punjabi chicken from Pukka's site, or by calling 416-342-1906 after 4 p.m.
Ramen Isshin
Multiple locations
It might not seem like the smoothest takeout option (hello, boiling hot broth on the move), but Toronto's best ramen spots have figured out how to seamlessly transport their soul-warming fare to us. Ramen Isshin is famous for their black sesame tan tan with wok-fried pork, Isshin black tan tan tare, spicy chives, bok choi, pork belly cha shu and black sesame. The Tsukumen dipping ramen and vegetarian options are also well worth an order.
Rudy
Multiple Locations
Order the smashburgers online for pickup or have that ooey-gooey poutine delivered via DoorDash. 
Shook
77 Portland St.
Months after opening in the summer of 2019, a fire forced Shook to shutter its doors — but it's finally made its comeback. The stunning, airy space has been reimagined as a café, bottle shop, retail market and restaurant all rolled into one, with plenty on offer amidst the lockdown. We recommend ordering flavourful spreads like za'alouk, hummus and mutabal — or sign up for their Hummus Club and get four weekly boxes of housemade dip and pita delivered to your door.
Sugo
1281 Bloor St W.
Skip the red-checkered tablecloths and order in from this Italian-American staple on Bloor. Pizza, pasta, deli sandwiches and burrata bruschetta available for pickup and delivery.
Stefano's Sandwiches
1214 Dundas St. W.
If you're still on the fence about going meatless, we have a feeling Stefano's could sway you. While Toronto has a great vegan restaurant offering, Dundas West's Gia has been making waves with its plant-based sandwich offshoot. With mouthwatering sammie options like vegan fried chicken (from Spain, breaded in their secret spice recipe) on ciabatta and vegan corn beef sandwiches on Brodflour's classic sourdough, there's plenty to turn a carnivore's cheek. But if you still don't believe us, Schitt's Creek's Dan Levy's ringing endorsement should do the trick. Pickup at Gia or UberEats.
The Shozan Room
164 Ossington Ave.
The Shozan Room is serving bento boxes, lunch combos and ramen. 
TOCA 
181 Wellington St. W.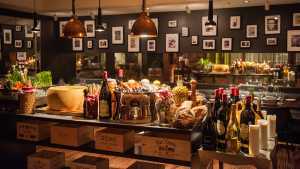 TOCA Trattoria at The Ritz-Carlton will be offering a Dine-at-Home menu now that indoor dining is unavailable. Whether you're craving authentic Italian options like burrata, potato gnocchi and Neapolitan pizza or want to indulge in delicious desserts, TOCA Trattoria has something for everyone. Easily order items from their menu via Tock and UberEats.
TORA
3401 Dufferin St. #612B
TORA's menu offers a variety of Japanese dishes including comforting miso soup, crispy gyoza and of course their signature flame-seared Aburi oshi. (Ritual, UberEats).
For more Toronto restaurants and bars offering takeout and delivery, check out Takeout COVID.