Toronto's events and festivals are finally back, baby! And to make up for lost time, it seems they're bigger and better than ever. Our social calendars are stuffed to the brim, our arms are slathered in sunscreen and we're ready to go out into the world and reintroduce ourselves to that whole small-talk-socializing thing. Do you remember what it's like to have fun with friends less than six feet away? We sure don't, but we're about to find out at these incredible Toronto festivals and events. 
We still love this city in the winter, but Toronto truly blossoms in the summer. From slushy streets and grey days to sun-soaked patios and farmers' markets, Toronto gets a huge glow-up in the summer. While we love al fresco dining at Toronto's best restaurants, there's something magical about being crowded into a field and digging into whacky food truck favourites or sitting at a chef's table during a special pop-up event. Toronto's festivals and events run the gamut, but there's one thing these all have in common: delicious food and drink. 
Lockdowns and COVID restrictions may be getting smaller and smaller in our rearview mirrors, but if there's one thing we learned about the pandemic, it's that it's not over until it's over. So we're setting out to make this the best summer yet, and Toronto is home to enough foodie festivals and events to make that happen. Sunglasses and stretchy shorts at the ready! We're heading out to the tastiest events and festivals in Toronto this summer.
July events and festivals in Toronto
Playa Patrón
July 7–10 | Ashbridges Bay Park, 1561 Lake Shore Blvd. E.
Tacos, tequila and tropical house music — sounds like a winning combination to us. This July, Patrón Tequila is launching its own summer beach party pop-up at Ashbridges Bay. The event will be kitted out with Talum vibes and beach bites curated by the former executive chef of NÜ Tulum, Cesar Castañeda. Choose between a $110 brunch seating complete with a three-course meal of modern Mexican cuisine and three Patrón tequila cocktails. Or arrive in the evening for a $25 beach party with DJs and a welcome cocktail, and more Mexican street food and tipples available for purchase onsite. Day or night, tequila and tacos always make for a good time. 
Wine Fest Toronto
July 8–9 | RendezViews, 229 Richmond St. W.
Did someone say all-you-can-taste wine? On July 8 and 9, Wine Fest Toronto is landing at the sprawling RendezViews patio. For $75, guests can sip their way through over 100 different wines from all over the world. Locally-grown bottles from Niagara appear alongside wines from California, Chile, South Africa, Argentina and more. Discover your new favourite wine, then buy a bottle through the online Wine Fest bottle shop. RendezViews East will be serving chef Nuit Regular's delicious dishes from Pai and Selva, while RendezViews West will offer pizzas, salads and snacks.
Field Trip
July 9 | Fort York & Garrison Common
After being on hiatus since 2019, Toronto's favourite music and art festival returns this summer. The one-day festival is a jam-packed Saturday with live music performances from Peach Pit, Kurt Vile and the Violators, Lucy Dacus, The Rural Alberta Advantage, Busty and the Bass and more. Meanwhile, Nathaniel Rateliff and the Night Sweats will close out the show. Listen to great tunes all day while you walk around taking in the vibe and checking out art from Analogue Gallery.
There's no shortage of food or drinks either — Collective Arts and Town Brewing have got the refreshments covered, and you'll have your pick of 15 different food trucks. From lobster rolls to jerk chicken, there's something here for everyone. General admission is $114, while kids under 12 get in for free — there's plenty of entertainment for the little ones, too.
Le Voyage
July 20–24 | Ashbridges Bay, 15 Ashbridges Bay Park Rd.
Ever wish you had your own yacht to cruise around the lake on? Grab seven of your closest pals and book Le Voyage presented by Grey Goose. For $1200, the private yacht experience hosts up to eight guests and includes a three-course, French-inspired meal and three Grey Goose cocktail demos with an onboard host and certified mixologist. You'll also have a live DJ to set the mood for the 2.5-hour cruise. Celebrity status not included.
Toronto's Festival of Beer
July 22–24 | Bandshell Park, Exhibition Place
Calling all beer drinkers: Toronto's Festival of Beer is back this summer for its 25th year and counting. Sample your way through more than 400 different kinds of beer, ranging from local to national and international. Discover the latest drink trends and unique beer styles while you chow down on everything from oysters to stone oven pizza and slow-roasted barbecue favourites. For $65, your ticket includes one commemorative beer sampling mug and five tokens that can be redeemed for beer, food or merch. Oh, and did we mention there will be live performances from Sam Roberts Band, The Strumbellas, The Revivalists, NAS and Matt Mays?
August events and festivals in Toronto
The Rosé Picnic
August 20 | Woodbine Park, 1695 Queen St. E.
Once one of the most underrated summer experiences, picnicking got a huge glow-up during the pandemic. But The Rosé Picnic has been doing it right since before picnicking was our only option. The annual event sees 20,000 picnickers dressed up in their cutest pink and white attire, spreading their blankets out in beautiful Woodbine Park and settling in with rosé and delicious bites. This year, chef Mark McEwan and The Food Dudes are behind the stellar food options, plus there's a Baskin Robbins ice cream station. There will also be live DJ performances, lawn games, a roaming fashion show and beauty stations. Tickets start at $40.
Events and festivals in Toronto that run all summer long
Symphony in the Gardens
Monday evenings June 6 – September 5 | Casa Loma, 1 Austin Terrace
Dining in Casa Loma's exquisite gardens is already a swoon-worthy experience: luxuriating in the lush garden with lights twinkling and water fountain tinkling. Now add in weekly live performances from the Casa Loma Symphony Orchestra and special guests, and you've got one heck of a romantic date-night. For $40 per ticket, enjoy theme nights like ABBA Mania, Disney/Dreamworks Night, Movie Night and Broadway Musicals. Every Monday sees a different theme take the stage. All the while, the regular garden menu is available so you can get your fill of delicious dishes like steak frites and lobster ravioli paired with original cocktails, beer and plenty of wine options by the glass or bottle.
The Alice: An Immersive Cocktail Experience
June 6 – October 6 | Thirty Six Knots, 1212 Yonge St.
Take a journey down the rabbit hole with this immersive pop-up experience. After selling out in Sydney, Melbourne, L.A., New York and Vancouver, The Alice has finally landed in Toronto. Set in a whimsically decked out space, this 90-minute experience will have you solving riddles and challenges just like Alice, to unlock your ingredients and create two bespoke Wonderland cocktails. For $47, your admission also includes a welcome drink, an "Eat me" cookie and more.
Jungle Brunch
Every Saturday, 12–4 p.m. | Chotto Matte, 161 Bay St.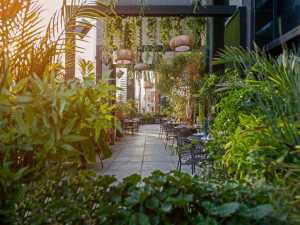 For the Torontonians who are obsessed with all things brunch (so all of us?), we bring you Jungle Brunch. Chotto Matte's themed event is back every Saturday from 12 p.m. to 4 p.m., served exclusively on their lush new patio. For $80 per person, you can tuck into their artful Nikkei cuisine, including dishes like spicy buttermilk chicken karaage and branzino sashimi ceviche. They also have a vegetarian menu for $70. You're already here so why not ball out and add $55 bottomless mimosas, wine and cocktails? Cheers. 
DJ Summer Sessions at The Pint
Select Fridays and Saturdays | The Pint Public House, 277 Front St. W.
A five-minute walk from the Rogers Centre, The Pint Public House is primed to be your go-to pre-game spot for the summer. Scarf-able pub favourites and old-school arcade games could reel in a crowd any day, but the real draw this season are the DJ Summer Sessions. Before every Jays game, sidle up to the patio for a pint from their wide draft beer selection or a slushie cocktail and bop along to DJ beats. Before concerts at the Rogers Centre, you can expect to warm up with the DJ spinning out the artist's greatest hits.