Carlo's Bakery: What's the deal
You've probably seen those vending machines stocked with rainbow-hued cakes in some of the GTA's most popular malls — the Eaton Centre, Yorkdale and Sherway Gardens among them. But all those treats behind the glass are just a small slice of the real deal: Carlo's Bakery.
Starring in the hit reality TV show Cake Boss, Buddy Valastro and his bake shop Carlo's Bakery are famous for their impeccable cakes and desserts. And now the brand has landed on our shores, opening its first Canadian outpost in Port Credit at the end of last year. Its roots may go back to Valastro's original shop in Hoboken, N.J., but the new location of Carlo's Bakery is Canadian owned and operated. And it's one of the best bakeries in the GTA.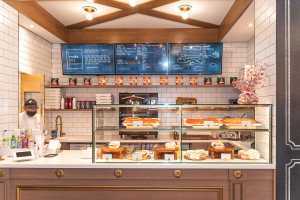 Carlo's Bakery: What's on the menu
Of course, you'll find those eye-catching rainbow slices, along with other flavours like chocolate fudge, red velvet and carrot cake. But we didn't come all this way for just a slice, so we'll be taking the whole cake, thank you very much. Order in advance for a guaranteed treat or for a custom cake, or press your luck and see what they have in the display case. But be warned: The most popular items tend to sell out.
One of the best sweets to ever grace my taste buds was their decadent lobster tail. This heavenly pastry is light and flaky, filled with a cloud of French cream and dusted with icing sugar. Doughnuts, cupcakes, cannoli, cake balls and more will tempt you from behind the glass.
Carlo's Bakery: Why it's worth the trip
Sure, you can order their cakes for delivery, but a visit to the beautiful bakery is well worth it. The space is the glam bake shop of our dreams — kitted out with lots of marble, gold detailing and beautiful light fixtures. Keep your eyes peeled for cute surprises like Alfredo's mouse house. Grab one of their sandwiches or pizza for lunch and post up on the patio. Then top it all off with gelato. And don't forget all your baked goods to-go.
167 Lakeshore Rd. W., Mississauga; carlosbakery.ca