There's nothing better than the smell of fresh baked bread… Other than eating it, of course. For a while, the enjoyment of bread had a scare – people were going against the grain, literally. The staff of life's reputation was getting muddled by the mass-produced.
The loaves sitting in grocery store aisles are highly-processed, low in nutrients and have an unnaturally long shelf life. Thankfully, good artisan bread is making a comeback and giving us the dough we all deserve.
What's more, the level of care taken at these bakeries mean they're getting inventive when it comes to being gluten-free, too. From sourdough to bakes to cakes to seriously delicious pies, these treat taste so good you won't miss the gluten. And many of them have taken the extra step to become totally vegan.  
No matter your dietary requirements, here's a list of the best bakeries around the city to carb load with zero regrets.
Blackbird Baking Co.
Blackbird Baking Co. is the Michael Jordan of Toronto bakers, the GOAT of gluten, the – it's just really good, okay? Since opening in Kensington nearly a decade ago, Blackbird's talented team has been working around the clock to ensure Torontonians have hand-crafted loaves and fresh pastries made with local ingredients.
Blackbird was the first Canadian inductee into Belgium's sourdough library (where starters from around the world are stored) which you can tour virtually. In light of the current situation Blackbird is now offering online home delivery. 
Primrose Bagel Co.
What started as a series of pop-ups and backyard parties has grown into a "bagel lifestyle brand" with its very own store on Oakwood Avenue. Primrose's hand-rolled, malt-boiled circles of doughy goodness are baked fresh every day and served with their signature schmears like wasabi-tobiko cream cheese and beet-citrus salmon gravlax.
Primrose also has bagel sandwiches to-go like their glorious tuna melt with crispy onions and Spanish paprika and the banh bagel with Vietnamese barbecued pork, pickled carrots and scallion sauce. Pre-order ahead of time because their menu tends to sell out fast.
Drake Commissary
Leave it to the folks behind the Drake to come up with one of the coolest places to break bread. At this bustling corner in the Junction Triangle, chefs, bakers, patrons and artists come together over some darn good dough.
The Commissary is more than a bakery, it's an 8,000-square-foot community-and-culinary hub set in a refurbished condiment factory. The Commissary is currently offering a small takeaway menu along with delivery on Uber Eats. 
Brodflour
Good bread starts with good flour. Brodflour sources organic, premium Canadian grains which are gently milled in their on-site stone mill into fresh flour. From daily sour dough ryes to heritage grain challah, the range of breads and treats that the different flours produce are as diverse as they are tasty.
Inspired by Scandinavian bakeries who maintain a close relationship from mill to mouth, Brodflour is reinventing the greatest thing since sliced bread – fresh, live dough. Brodflour is open for contactless pick-up and delivery on Uber Eats and foodora. 
Mabel's Bakery and Specialty Foods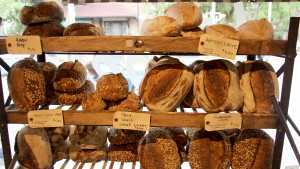 Mabel's is like that friendly neighbour who bakes pies from scratch for you (anyone have that neighbour?). Everything at Mabel's from their famous strawberry-rhubarb pie to their sourdough – still warm from the oven – is made fresh without preservatives.
Whenever you step into any of Mabel's Bakery's four locations across the city, you are immediately transported back in time to a quaint little homestyle bakery of yesteryear. The Dundas West, Roncesvalles and Queen West locations are open for pick-up and you can also shop Mabel's goods online at Fresh City. 
Forno Cultura
Half bakeshop, half laboratory, this bustling Italian house of carbs specializes in classic loaves from their Colomba Classico to the innovative Nero di Sepia Squidink sourdough. (Don't be alarmed by the colour, it's not burnt, it's naturally dyed black from the squid ink.)
Forno Cultura is constantly pushing the boundaries of baking. Their breads are handmade and naturally leavened, letting fermentation build flavour and rise. Plus, they've got the city's best focaccia. Both their King and Queen Street locations are open for pick-ups. 
Toronto's best gluten-free bakeries
Almond Butterfly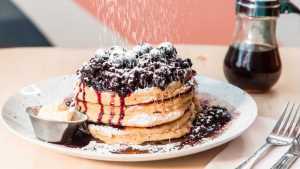 Almond Butterfly has been making gluten-free taste darn good since their Harbord location opened in 2014. Billed as a bistro, bake shop and café, whatever you're craving, both of Almond Butterfly's west-end locations have you and your dietary restrictions covered. Their perfectly dressed cupcakes come in a variety of rotating flavours like strawberry milkshake (sans the milk) and chocolate cookie dough (vegan). And their naked cupcakes — a.k.a. muffins — are fluffy, delicious and dairy-free, too.
Sweet Hart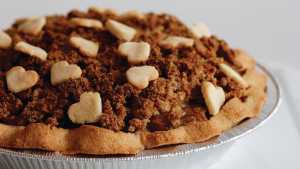 Childhood nostalgia meets plant-based baking at this adorable Kensington house, which looks like the kind of place on the block that always had baked goods on the counter — except without a stick of butter or gluten-full flour bag in sight. Everything at Sweet Hart Kitchen is 100 per cent vegan, gluten free and naturally sweetened. Sugar junkies rejoice with seasonal pies, pastries and raw or baked cakes. On the savoury side, they've got gluten-free pizza buns, quiche and a veggie pot pie to curl up with.
Bunner's
For the gluten-free, birthdays can be challenging, but thanks to Bunner's they'll be no crying over the cake, thank you very much. Well, unless they're tears of joy. This gluten-free and vegan bake shop makes scrumptious baked goods beautifully designed custom cakes with creative flavours like bourbon pear and vanilla bean, three-layered Neopolitan and the Best Chocolate Cake Ever — seriously, that's what it's called.
Cock-A-Doodle-Doo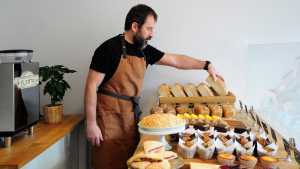 Looking for soft and squishy gluten-free bread that doesn't resemble cardboard at all? Look no further than Cock-A-Doodle-Doo bake shop on Bloor Street West. Bonus, the goodies here are also free of dairy, soy and corn. If you're still into sourdough after 2020, they've got loaves on loaves and a ryeless "rye" version, too. Pre-order their flaky, seasonal pies in a personal or a not-technically-personal size, we won't tell.
Tori's bakeshop
Tori's was Toronto's first vegan café when it opened back in 2012. Now, their home on Queen East is known for gluten-free goodies, too. Organic delights like their fudge dipped, salted dark chocolate donut and decadent Nanaimo bar with a crumbled gingerbread and coconut crust are baked-fresh daily and free of refined sugar. Can't decide? Well, you can't go wrong with the surprise mixed bag of gluten-free treats.