Make This: Nick Meyer's Miku Negroni
Miku's Head Bartender Nick Meyer puts a Japanese spin on a negroni cocktail by adding Yama Yuzu sake liqueur. Don't skip the garnishes on this one - the citrus flavour of the orange nicely balances out the bitterness of the Campari and the thyme adds a pleasant hint of herb.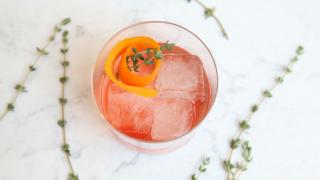 Serves 1
Preparation time 5 minutes
Ingredients
20 mL Beefeater Gin
20 mL Campari
20 mL Dolin Rouge
15 mL Yama Yuzu Sake Liqueur
1 thick orange rind
1 sprig of thyme
Method
Fill a double rocks glass about 3/4 of the way full with ice and then add the first four ingredients. Stir the ingredients and rim glass with orange rind. Roll orange rind around a sprig of thyme and place in glass.