No matter how you swing it, your living room is not a beautifully decked out wine bar, nor is it a hipster joint serving itsy, bitsy cocktails that arrive at your table smouldering. (If you're lucky, it's closer to a dive bar that still has its Christmas lights up).
But, as lockdown stretches on interminably, we've been pushed to the upper limit of our creativity, as we battle on to make our condo cocktail bar a thing. If your gin and tonic is getting as stale as the citrus in your fruit bowl, we've got what you need to revive your bar game.
We chatted to five of Toronto's best bartenders to find out how they've been staying sharp during the pandemic and what pearls they could impart on how to create the perfect home bar. Here, the mixing moguls share their favourite bar tools, tips and tricks for how to bring that bar atmosphere into your home, plus some fun recipes to try tonight.
Some cocktail connoisseurs eschew the pricey equipment (hello, chopsticks), while others encourage us to invest a little to take our creations to the next level — but one thing they could all agree on: the magic of the humble ice cube. Dust off your shakers and away we go.
Marta Ess
A dancer-turned-mixologist, Marta Ess has turned her hand to everything from competitive bartending to heading up the brilliant bar program at Parkdale favourite Chantecler.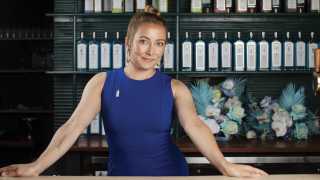 Modifiers
We have all of these beautiful modifiers created by people and distilleries, some of whom put hundreds of years of care into the recipes. I encourage people to reach for the bottles first and work with the modifiers available to us, before you start thinking about creating things from scratch. Working at Chantecler, where it's limited in real estate and staff, I was a big believer in not using syrups or going wild with flavours. My philosophy is pretty minimalist — two to three ingredient drinks, that's the way to go.
Marta's Manhattan
Ingredients
2 oz rye
1 oz Dolin Sweet Vermouth
3-5 dashes Angostura Bitters
Method
Combine all ingredients in a mixing glass and fill until completely packed with ice.
Stir until very well chilled.
Strain into a chilled coupe (put coupe in fridge or freezer while you're preparing to get it nice and frosty).
Garnish with a cocktail cherry. If you don't have cherries, peel a small swath of orange peel, express the oils on top, discard the peel and enjoy.
Hawthorne strainer
I totally, firmly believe that you can create a bar kit at home without using specialty stuff. But if someone is looking to invest, a proper hawthorne strainer does so many different things in one tool. What I love about Don Lee's Koriko hawthorne strainer from Cocktail Kingdom is that the coil is so tight it keeps out all the ice shards and has eliminated the need for bartenders to use a fine strainer. As important as ice is, we generally try to keep it out of the finished drink — pouring over fresh ice is what we want. The hawthorne strainer also has a design hack so you can double channel (pour two drinks) into two separate glasses from one shaker, but that's just showing off.
Ice cube tray
I am very much against garnish, and don't get me started on people who clip little clothes pegs to the edge of the glass! To me, a good piece of ice in an etched rocks glass looks just as impressive as a piece of orange floating around in there. People are sitting at home and they want a project — learning how to make clear ice and hand cut ice or just investing in a silicone King Cube ice tray is another way to kind of raise your at-home drink level. Ice is an ingredient. And using the correct volume of ice and the correct shape of ice can impart the right amount of chill and dilution, which is sometimes the difference between a really great cocktail and something that doesn't taste quite right. I know there's this mindset with people that when they get a drink that's packed with ice, it equates to them not getting the full value. But ice is important, so don't skimp.
João Machado
International man of mixing João Machado has been stirring things up between Miami, his native Portugal, and Toronto spots like Pinkerton Snack Bar and Pretty Ugly for nine years.
Boston shaker
A mixing glass might cost $65, which is a bit expensive, but I believe people can skip that part. I recommend buying a boston-style shaker, which normally comes with two parts: a glass and a metal tin. The tin keeps the temperature cool and you can use it as a mixing glass — you can make an old fashioned or a dry martini in there, then you can shake a french 75.
João's Pine French 75
Ingredients
1 ½ oz pine gin
¾ oz lemon juice
½ oz simple syrup
2 oz unoaked chardonnay
¾ oz water For pine needle gin
10 oz gin
30 gr dry pine needles
Method
To make the pine needle gin, place the pine needles in a sealable container and cover with gin.
Leave to infuse for 12 hours.
Filter and bottle.
To make the cocktail, combine ingredients and chill for at least an hour.
If you have a Soda Stream, carbonate liquid.
Cap immediately and return to the refrigerator until ready to serve.
If you really don't want to spend money on a shaker, everyone has a water bottle lying around. During lockdown, bartender Naren Young [formerly of Dante, New York] made cocktails in a Tupperware on Instagram. You don't actually need expensive cocktail kits to make good drinks at home.
DIY ice
At Pretty Ugly, we were known for the big ice cubes that we spent nine hours cutting upstairs. Good quality ice is the heart of any drink. To make your own version, you can actually use Tupperware that you have at home. Leave the water for 48 hours in the freezer without opening it — the shock of the temperature change will create spiderwebs and cracks. Important tip: no one enjoys a dry martini that tastes like shrimp or ribs that you have in the freezer, so try to keep things as separate as possible. Normally I try to keep some big cubes sealed in vacuum-packed bags. Then, I can make a nice old fashioned with quality ice and no dilution.
Evelyn Chick
A Vancouver native who has worked in some of the country's best drinking dens, including Toronto's Bar Raval and Pretty Ugly. Most recently, Evelyn Chick launched the Stay At Home Cocktail Club, a monthly subscription box.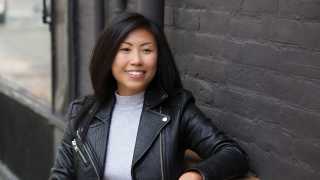 Jigger
A lot of people are wondering why their drinks at home aren't as great as the ones at the bars — it's because they're not measuring it. They're just ballparking it and those ounces really add up. I really like those tiered jiggers that look like a little cone. They're good for beginners because they're less fiddly. But if you want something a little more fancy, a Japanese jigger would work. Just make sure that you're using that particular one every single time.
Evelyn's 50/50 martini
Ingredients
1 oz Plymouth Gin
1 oz Guerra Spanish Dry Vermouth
3 dashes Bittered Sling Orange and Juniper Bitters
1 long twist of orange
Method
In a mixing glass, fill ¾ full of ice, stir and strain out water.
Add gin, vermouth and bitters, and stir again for 10 to 15 seconds.
Strain into a chilled martini glass and garnish with an orange zest.
Base spirit
Start with a spirit that you like, whether it's rum, gin, tequila or whatever. Then learn about it, so you actually know why you like it, what the flavours are, and what flavours you can pull out of it. You'll have much more fun making cocktails at home, because now you're not just blindly following a recipe. Build your palate and your tolerance, and develop what you want to pour from there. If you're not a whisky lover and you go and purchase a bold rye that people are saying is on trend, your first couple of sips won't be enjoyable. So I think it's important to identify what you like and start from there.
Aquavit
It's not that unusual outside of North America, but if you like gin, try using aquavit. It's a great spirit that is heavy on fennel and caraway. If you like those botanicals, it's a great spirit to graduate to and Spirit of York sells a 375 ml bottle. If you want to try something new, lots of spirits offer a smaller serving size. I think that's a great way to start building your home bar.
Blaise Couturier
The innovative Aussie expat has worked in top spots like Melrose on Adelaide and Otto's Bierhalle, but can currently be found creating colourful concoctions at Caribbean-Asian fusion spot Patois. 
The Flavor Bible
I love spirit infusions and one of my favourite things is The Flavor Bible. It's a great reference book for the home bartender who's not sure what will pair together — I regularly browse through and think about flavour combinations. It has a lot of liquor pairings, like pineapple and tequila.
Blaise's Krabi Colada
Ingredients
2 oz lemongrass & magrud rum (see below)
¼ oz Fen Chiew Baijiu
1½ oz Coco Lopez Cream of Coconut
1 oz coconut milk
⅓ cup passionfruit sorbet
¼ oz lime juice ½ cup crushed ice
4 dashes Peychaud's Bitters
Method
Add all ingredients except the bitters into a blender.
Blend until it's a slushie consistency.
Pour into a highball glass.
Top with bitters and garnish with a straw, lemongrass tops and makrut lime leaf.
Lemongrass & Magrud Rum:
30 oz white rum
4 g makrut lime leaf
40 g lemongrass
1 mason jar (1 quart)
Fine strainer
Sous vide
Preheat a sous vide bath (big enough to fit your jar) to 140 F.
lice lime leaf and lemongrass. Add to jar.
Add rum, close lid tight and place into the bath. Then, cover with cling film and a cloth.
After 2 hours, remove from bath and let cool.
Strain, bottle and store in a cool dark place.
*Alcohol has a boiling point of 173.1 F (78.37 C) do not exceed in a sealed vessel.
You also have to think about the best process to get the kind of flavours you want in there. If you want grilled pineapple flavour in there, sous vide is amazing. But if you want a super fresh, tart pineapple, then you're probably going to need to steep it.
Sous vide
From making syrups all the way through to spirit infusions with dry spices, using a sous vide is amazing. Soft, fresh produce like raspberries are great because you can do it at such a low heat. You can actually extract a bunch of flavour, without that jamminess, while retaining the freshness. You can use a mason jar, but it takes a lot longer and will mean you have to test incrementally. Using a sous vide speeds up the process and the heat actually helps the alcohol extract.
For beginners, I'd start with dry ingredients; it's easier. If you're infusing pineapple, berries and things like that, you will get a slightly lower ABV because of that dilution, but you'll still get great flavours. It's just a matter of weighing it out. I would err on the side of caution — less is more with spices when you're infusing. Once everything starts melding together, you can get quite a hit, especially with something intense like cardamom or cinnamon.
Nut milk bag
This is great for super straining the stuff you can't catch with a fine strainer. I've even used a pillowcase or cut-up linen sheets, but I recommend the nut milk bags because they're reusable and easy enough to get. It makes a huge difference. There's nothing better than a super-clear cocktail with a ton of flavour that you're not expecting. On top of that, you'll need it if you're ever planning to make a milk punch.
Christina Veira
When she's not programming and curating for Toronto Cocktail Week and Restaurants Canada, the mixologist somehow finds time to shake things up at Bar Mordecai — and on her Instagram where she campaigns for industry equality.
Chopsticks
Sometimes people get really caught up in the flashy tools instead of perfecting what they can do at home. I don't think you need to spend $50 on a bar spoon, when actually, a good chopstick works really well. It moves the ice around the glass very quickly, maybe better, because it can be hard to get that really nice fluid stirring motion. Honestly, if you have a chopstick and a bigger (classic shape) teapot, you can use it as a mixing glass.
Angostura Bitters
Christina's Fruitland Highball
Ingredients
1½ oz Spirit of York Gin
¾ oz your favourite shrub (Veira recommends False Ox Strawberry Mint Shrub, made locally in Toronto and available at Cocktail Emporium)
Top with your favourite sparkling water or soda
Method
Build over ice in a collins glass.
Serve and enjoy.
People get really fancy and they'll have all sorts of flavoured bitters, but they won't have Angostura. You can honestly get by on just that — it's a classic maceration of a bunch of different spices and flavours, you just need a little bit and it really augments your drinks. My family's Caribbean and we actually use it a lot in cooking too. But if you choose to branch out, make sure to have Peychaud's Bitters and Regan's Orange Bitters No. 6 — that will get you pretty far.
Glassware
I think getting a few basic pieces of glassware is really important and there are some 'mother glasses' that are really good to have. A double old fashioned glass, which is typically around 11 ounces, is great for your 'on ice stir' — you can make an old fashioned or a negroni. Next, a coupe or a nick and nora: basically a glass that is about four and a half ounces to five ounces. A good collins glass (10-12 ounces) also comes in handy and is good for any kind of highball or long drink (mojito, tom collins), especially if you don't want your ice to dilute as quickly. Lastly, you could get a bigger coupe to use for sours or a wider flute — that's very good for aromatics and any cocktails that are sparkling or have a higher volume.