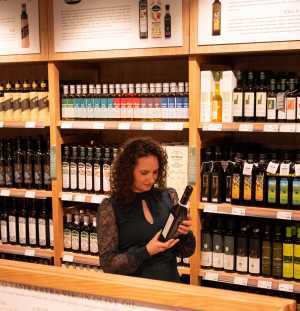 We're back for episode two, and this time we're decoding one of our most commonly used ingredients. Emily Lycopolus is the latest expert to host In the Kitchen with Foodism: Back to Basics, and the level two olive oil sommelier, recipe developer and George Brown College instructor is imparting her wisdom on the liquid gold. 
Olive oil is probably the bottle we reach for the most and it's often how we kick off our cooking journey. But how much do we really know about it? According to Lycopolus, it's technically a fresh-fruit juice and the only cooking oil that's edible and freshly squeezed.
We headed to Eataly on Bloor Street West to find out how the ancient oil is made, how to read a label and how to choose a bottle. Along the way, our minds were blown as Lycopolus debunked some common misconceptions about the oil. Plus, she shares where to store your olive oil and — spoiler alert — you're probably doing it wrong. 
Lycopolus (a.k.a. The Olive Oil Critic) has spent the last year developing Canada's first olive oil micro-credential program at George Brown College (launching January 2023) to teach students everything from branch to bottle. The course dives deep into all things olive, from the history of this storied fruit to pairings and how to cook with it. It's perfect for chefs looking to incorporate olive oil into menus or for anyone who wants to be confident in their purchases and know what's in their bottle.
Stay tuned for more chef-led In the Kitchen: Back to Basics videos from George Brown College's impressive roster of graduates and instructors.
Ready to start cooking with olive oil? Watch Emily Lycopolus's full video above.