Before he was the star in Disney's billion-dollar mega-hit, Aladdin, Mena Massoud was a budding actor who called the streets of Toronto home. A Toronto Metropolitan University (formerly Ryerson) theatre school alum, Massoud lived in Markham with his family before moving to sunnier climes in L.A. Now, he's back for a new six-part food and travel show, Evolving Vegan. You can stream the show now on Crave, and catch Toronto's episode on May 4 on CTV Life Channel at 8 p.m. ET.
Evolving Vegan is based on Mena Massoud's plant-based cookbook of the same name. For a vegan foodie such as myself, it's been a fascinating watch so far; Mena Massoud tours audiences around North America's buzziest vegan scenes to taste delicious food, interview local chefs and find out how they're making plant-based food exciting and accessible for everyone.
In Toronto's episode, Mena Massoud visits some of the best vegan restaurants in the city, meets chef Iván Castro at La Bartola, makes some vegan ice cream, and sits down for a chat with chef Michael Hunter. 
Like myself, Mena Massoud is a real live vegan. He's also a smart, down-to-earth guy; I had the pleasure of interviewing him about his new show, the vegan movement, Toronto, family and so much more.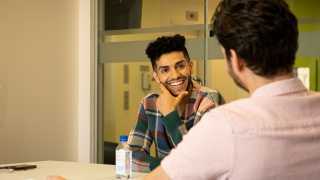 As a vegan food writer with Foodism, I can't wait to watch Evolving Vegan.
Mena Massoud: "That's awesome. I love the magazine. I'm so happy to be part of it."
In Evolving Vegan, you're travelling across North America to meet chefs making incredible vegan food, but you're also learning about their personal journeys. Why did you want to share these stories?
Mena Massoud: "I grew up with this idea that food was a representation of who you are. It's a way to hold on to your culture. It's something that stays with you. And when I think of home, I think of the food that I ate growing up, the conversations we shared around the table while my mom was cooking. So food has always been a big part of my life. It's always been a way to tell stories. When I did the series, I found the same thing.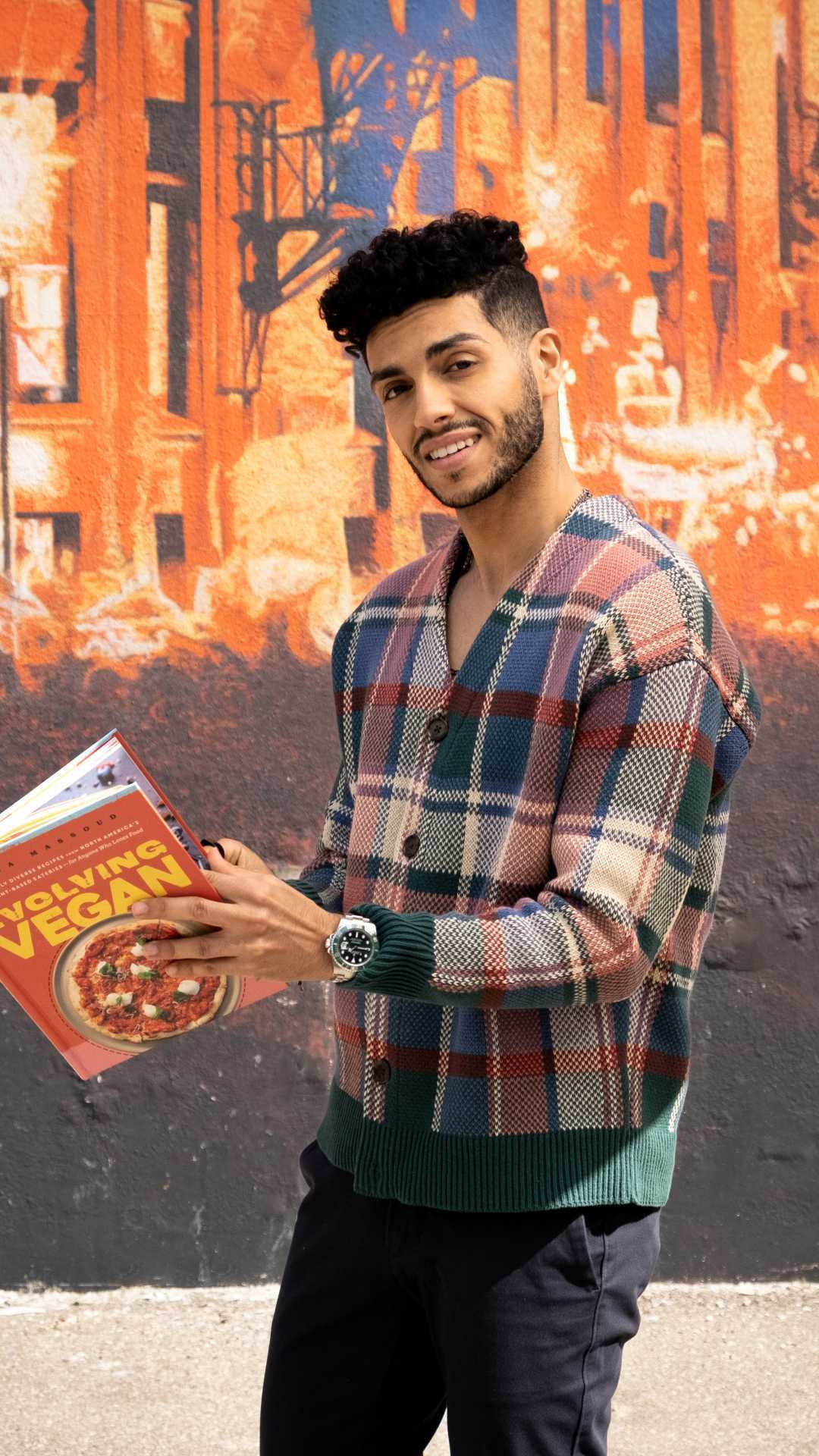 I think everybody has a story to tell, and chefs happen to tell that story through the food. We did that a lot on the show, too — we tried amazing food, but also with incredible storytelling."
You're best known for starring in Disney's Aladdin. How did filming your new show, Evolving Vegan, compare to Aladdin?
Mena Massoud: "Completely different. This will be my first real televised venture into non-scripted. You can just be yourself. I don't think you're necessarily trying to put on a performance at all, and you're trying to just be authentically who you are. It's so completely different, but I really enjoyed it. And I think non-scripted is something that I want to keep pursuing throughout my career."
Tell me about someone you feature on the show.
Mena Massoud: "We met this incredible chef in Portland. Cyrus Ichiza is one of the most underrated chefs in North America. He's punk rock, part of the LGBTQ community. You go to his restaurants, and you feel like you're tasting some of the best food you've ever tried. But it's like $8, because he wants to make it accessible to communities who don't have the money to go drop $40 on a dish at a restaurant."
"People will see a lot of diversity, not just in the people, but in the food as well"
I know telling diverse stories is important to you. How does Evolving Vegan do that?
Mena Massoud: "A lot of chefs that we feature are diverse people ... People will see a lot of diversity not just in the people, but in the food as well."
Why did you go vegan?
Mena Massoud: "In 2015, I started trying plant-based food. I had just graduated theatre school; I was living with my two best friends. We started learning more about animal products, how they affect our health, the planet and, of course, the animals. And I started cutting things out slowly, and started feeling a massive difference in my energy levels. I felt lighter ... And I was like, OK, I think this is for me."
What's your personal vegan philosophy today?
Mena Massoud: "I can't say that I call myself an animal activist. That's not how I got into it. I got into it more for sustainability, and then the health effects that I felt. That was my way in, but everybody's journey is different. I don't think one way is better than the other. At the end of the day, no matter why you get into it, you have an effect on your health, sustainability and animal rights."
"I'm not trying to convert people to veganism. I'm not even trying to convert people to eating more plant-based"
"If you can't take care of yourself, then you can't take care of animals or the planet. That's what Evolving Vegan is all about, it's something that we say over and over again: I'm not trying to convert people to veganism. I'm not even trying to convert people to eating more plant-based. What I'm trying to get people to do is think about what they're putting into their bodies and make an active choice."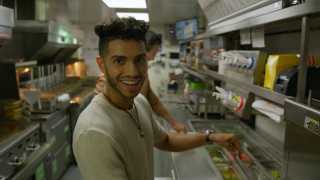 How did your mom react when you first went vegan?
Mena Massoud: "She didn't understand. But they didn't really understand when I was going into acting either. *laughs* So I was kind of used to it at that point. But yeah, my mom didn't get it.
I remember it very clearly. I came home for Easter dinner, and in my culture, you have a big feast to ring in Easter at midnight. And you're fasting, then you eat all the stuff that you were abstaining from. I told my mom, I'll have your lasagna — but just don't put ground beef in it.
She thought I was bluffing — she knows how much I love her food. She said 'no.' I said, 'OK, well I'm just going to have the rice that you make then.' At Easter I sat down and all I was having was rice, and she just started bawling. She felt like she let me down. She thought I was going to cave in and eat the food that she wanted. So, all that said, she didn't take it too well. *laughs* But she's good now."
You grew up in a time where there weren't many vegan options around. Are things different now?
Mena Massoud: "It's a lot easier to try plant-based these days because you don't really have to sacrifice much ... I think it's changed in that it's more inviting now. It's more convenient. People don't really look down upon it anymore, because they're starting to understand it a little bit better."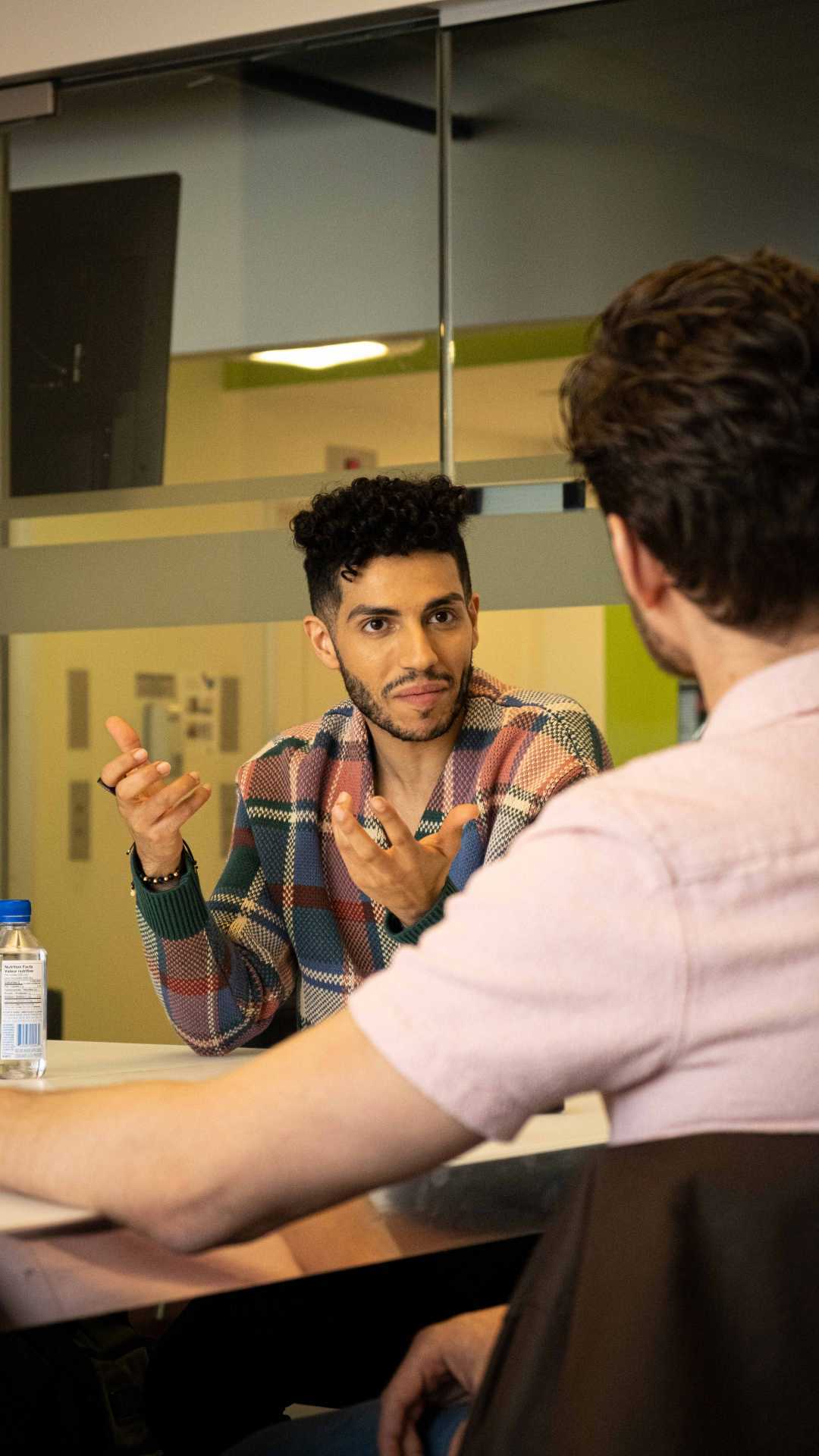 You did a brief stint at U of T for neuroscience, and then you went to TMU (formerly Ryerson). Which campus had better food?
Mena Massoud: "Well, I was at U of T Scarborough. So I would say Ryerson, just because there was more around you. I put myself through university, I was trying to save up money, so I had a lot of $5 foot-longs. So I can't say great food was a big part of my experience in college." *laughs*
What neighbourhoods in Toronto have the best vegan food?
Mena Massoud: "I always tell people to check out the east side — the Canary District, the Distillery District and Leslieville. Leslieville has some great restaurants. They've got Tabule over there which makes incredible Middle Eastern food. It's not all vegan but they have great vegan options.
Then you've got Tori's Bakeshop, a vegan, gluten-free bakery. They have incredible scones and coffee. So I would say the east ... But that's the thing now, it really doesn't matter where you go. In the west end, you've got La Bartola, you've got Gia right around there. You've got Honey's ice cream, which is also in the show. [Good vegan food] is kind of all over now."
Are there any vegan chefs doing really cool stuff in Toronto right now?
Mena Massoud: "I think Matthew Ravenscroft is really interesting. He's such a cool cat. He was at Rosalinda for a long time. I also think his Instagram is amazing; he experiments with a ton of incredible food, if you follow him on there. And he's just passionate about food."
What's your favourite place for vegan dessert in Toronto?
Mena Massoud: "Honey's ice cream. Ashley [Wittig] has an incredible story. She started Bunner's Bake Shop, which is a vegan dessert staple in Toronto. She sold that company and then she started Honey's. She's spent a lot of time perfecting it, and it is some of the best ice cream you'll have, period. And it just so happens to be vegan but, man, it's amazing!"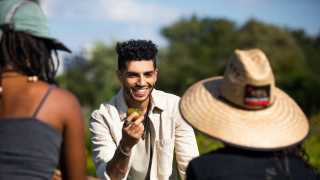 If you could sit down for a vegan dinner with anyone, living or dead, who would it be and why?
Mena Massoud: "Probably Marlon Brando or Daniel Day-Lewis, two of my acting idols. I'd love to break bread with them. Probably Marlon Brando because he was a renaissance man. In a way I think he revolutionized the industry, but at the same time hated the industry. He hated what Hollywood stood for, he thought it was completely trivial.
But at the same time, I think he was who he was largely in part due to Hollywood. So what's that like? To be at odds with the thing that made you who you are? That's a very kind of interesting thing to be able to get into his head about. So I'd say Marlon Brando."
How do you think he would react to you serving him a vegan meal?
Mena Massoud: "Probably throw it in my face, get up and leave." *laughs*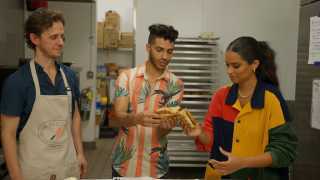 If you could address one misconception about veganism, what would it be?
Mena Massoud: "That there's no one specific way of doing it. It's not a religion, we don't have a central figure that comes up with a conclusion at the end of every board meeting and says this is how it has to be done.
I think that would be the number one thing: Don't be intimidated by the label because at the end of the day, it's a personal journey for everybody."
Watch Toronto's episode of Evolving Vegan Thursday, May 4 at 8 p.m. ET on CTV Life Channel or stream the full episode on Crave.