One of the things we're most thankful for in life is the popularization of Mexican food in Toronto (and an influx of birria taco stands like the Matty Matheson-backed Birria Balam). Long gone are the poorly flavoured, overly cheesy dishes that dominated our perceptions of Mexican cooking for so long (too long).
Instead, Toronto is home to some of the best authentic tacos. Flavour-packed morsels, salsas with zing, carnitas that fall apart at the slightest touch — these are tacos where you can taste the intricacy of every ingredient and not just an overly enthusiastic slosh of hot sauce.
Head to one of these neighbourhood taquerias, or place a takeout or delivery order, and you'll find Toronto's best tacos topped with everything from fish to gochujang-drizzled beef brisket at places bringing together Mexican and Asian flavours, in a very good way.
As we all get a little bit closer to dining with friends and family on a Toronto patio again, what's a more sociable way of eating than grazing on Toronto's best tacos while you catch up for hours?
Tacos aren't just for starters: they're the entry point into an incredibly diverse cuisine, and we're all here for it.
Toronto's best tacos: Leslieville
1. Chula Taberna Mexicana
1058 Gerrard St. E.
Missing Mexico? Or just a vacation in general? Yeah, us too. Leslieville's Mexican-fusion restaurant Chula Taberna Mexicana can help with that. Side effects may include: overwhelm when trying to choose from over 70 tequilas and disorientation when you can't believe that this isn't a casa in Mexico.
Tacos are cheap, cheerful and delicious. The crispy zucchini with roasted corn and queso fresco is a vegetarian favourite. For our carnivores, don't miss the BBQ beef brisket with salsa roja and cotija cheese.
2. La Carnita
Multiple locations
With four locations across the city, La Carnita is taking over and we're here for it — draught margaritas on the patio, anyone? You can't go wrong with their classic carne asada or the punchy Baja shrimp taco.
Want to switch things up? The vegan chorizo with cashew cream, mango salsa and plant-based sausage is a meat-free day-maker. The tiny tacos pack big flavours and fit perfectly in one hand while you hold a bag of warm cinnamon churros in the other. Balance, baby.
3. Barrio Cerveceria
884 Queen St. E.
Barrio is the kind of neighbourhood spot where you feel like a regular even if it's your first time ordering. Their colourful, heated patio is one of the city's best for vacation vibes.
Tuck into their "Can Cun" or street tacos and you'll be transported to a taco stand in the Yucatán Peninsula. Find unique toppings like sautéed cactus, chicharron crisps and homemade green chorizo in their assortment of tasty tacos, which even appear on their brunch menu.
4. Mexicados
Multiple locations
Fast-casual Mexicados is the ideal place for tacos-to-go. This Leslieville lunch-time staple has something for everyone to enjoy from halal meat to gluten-free menu items and crunchy or soft taco shells.
Choose your base: tacos, burritos, bowls and more; pick your protein; customize with toppings and you'll be cruising to the nearest park with your takeout box and a cold Jarritos in no time. Wallet-friendly, walk-friendly — what more could you need? Oh, and get yourself a side of chips and guac, you deserve it.
Toronto's best tacos: Midtown 
5. Clandestina Mexican Grill
2107 Yonge St.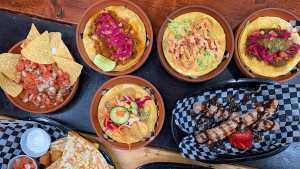 This tiny Mexican taqueria has bite-sized tacos loaded with fresh ingredients made in-house every day. The beef is slow-braised, the pork is slow-roasted and the tacos are soft — "as they should be!" Their words, not ours. We don't care how you like yours, but we're sure you'll find one, or several, to love here.
We fell for their juicy beef barbacoa with pico de gallo and salsa verde and the marinated chicken tinga with chipotle aioli. For more soft-shell goodness, their two-hander burritos are next-level.
6. Itacate
998 St Clair Ave. W.
More like a family-run fiesta, Itacate belies its small square footage with bold Mexican street-eats. Tacos take up the majority of their menu from classic carnitas like pulled pork to the adventurous beef tongue (do it!).
Their tacos campechanos with cheese and a mix of spit-grilled meat have layers of flavour. And you haven't truly lived until you've tried their friend quesadillas — tortillas stuffed with meat, lettuce, mushrooms and a boatload of shredded cheese, then deep fried for a crispy, crunchy, best-thing-you'll-eat-all-week snack.
Toronto's best tacos: The Annex
7. El Nahual Tacos
384 Bloor St. W.
What started as a humble taco stand in Keelside over a decade ago can now be found inside The Annex Food Hall. El Nahual may have grown and changed its address, but it's still got the same amazing, freshly pressed, gluten-free corn tortillas and gourmet toppings.
More good news for the gluten-free, their fried fish taco has batter-less cod that still has a nice crunch to it. For a traditional taste of Mexico, get the chicken puebla mole taco — the chicken is simmered in their velvety mole sauce and is simply divine.
8. Tacos El Asador
689 Bloor St. W.
Steps away from Christie Pits Park, Tacos El Asador is a no-frills shop specializing in Salvadoran/Mexican snacks, and of course, tacos. You like 'em soft? You like 'em crispy? You like 'em well-priced? They've got it all.
The crispy tacos are served in a wrap so they're hella portable, and they come in vegetarian, fish, shrimp and a bunch of meat options. They even have birria (goat), which you don't see on every taco menu in the city. The soft tacos have all the same options as the crispy, with the addition of tender lengua (beef tongue).
9. Mi Taco Taqueria
521 Bloor St. W.
From mom and daughter duo, Vanessa and Lydia Caschera comes Mi Taco Taqueria, our go-to spot for Tex-Mex-style home-cooking. Tacos come on either a house-made flour or corn tortilla and range from classic, like pork carnitas, to premium, like carne asada.
They've also got vegan tinga and chorizo tacos with marinated seitan (hydrated gluten) taking the place of protein for meat-free friends. Feeling hangry? The taco plato totally guacs our world with two classic tacos, smashed beans and Mexican rice.
10. Tres Compadres
928 College St.
At the end of 2020, Tres Compadres opened their secret taco joint in Folly Brewing. There must be some culinary sorcery going on inside this brew pub, because it's also home to the popular Tokyo Hot Fried Chicken — can we move in too?
For Tres Compadres, their name (compadres are friends who feel like family) is central to their identity and traditional family-style Mexican cuisine. Tuck into giant pepitos (stuffed sandwiches) and tacos like the 'drunken chicken' — grilled chicken marinated with agave, sun-dried chillies and glorious melted cheese.
Toronto's best tacos: Kensington Market 
11. Seven Lives
72 Kensington Ave.
For almost a decade, this Kensington Market stalwart has been slinging Baja-style tacos from their pint-sized shop. In warmer months, lineups often stretch down the block, so bring your appetite and your patience for this one — it's well worth it.
Meat and vegetarian tacos appear on the menu but we go for the seafood ones every time, namely the signature gobernador loaded with smoked blue marlin, grilled shrimp, cheese, crema and pickled onions.
12. Good Hombres
374 Bathurst St.
Chances are you've already tried a made-from-scratch, Mexican corn tortilla from Good Hombres and didn't even realize. Part-tortilla-supplier-part-taqueria, this takeout stand, from the folks who have also blessed us with Campechano, is a Toronto gem.
Pick up their DIY tacos for two which come with eight tortillas, lively salsas and all the fixins from pork confit to beer-battered haddock.
13. El Rey
2a Kensington Ave.
If there's one thing we love more than tacos, it's the combo of tacos and tequila, and this mezcal bar specializes in just that. A drinking den in non-COVID times, El Rey's bar program centres on tequila and mezcal of all kinds, featured in their range of cocktails from classics (hello, margarita, our old friend) to house originals.
Alongside their tacos and cocktails to-go, we'd also recommend springing for some of the other Mexican dishes that appear on the rotating menu like chimichangas, taquitos or molotes.
14. Tacos Gus
Multiple locations
When it comes to tacos, Gus is one of the city's more wallet-friendly options. With a mighty menu of decent-sized tacos all checking in at $5, this taqueria gives you a good bang for your buck. You could get lunch or dinner for cheap, but we like to go big or go home so we take this as an opportunity to sample different tacos from their lengthy list.
15. Pico de Gallo
214 Augusta Ave.
Pico de gallo isn't just the punchy, fresh-chopped salsa that we often dream about scooping up with a tortilla chip while sunbathing in Mexico (it's been a long pandemic OK?), it's also the name of one of Kensington's brightest taco stands.
Tacos, tortas (Mexican sandwiches) and ceviche are the name of the game here and of course there's plenty of their signature pico de gallo to go around. The combo for two with choice of five different tacos, torta or burrito and guacamole is nicknamed the "Instagram Tray" because it's so beautiful it deserves its own following.
Toronto's best tacos: Parkdale 
16. CINCO Mexican Restaurant
131 Roncesvalles Ave.
Finally, blue corn tortillas get their time in the sun at this modern Mexican "gourmetier" on Roncesvalles. But that's not all they specialize in. They're also known for their Mexican-spiced rotisserie chicken, charbroiled to a beautiful dark golden brown.
You can get the whole bird, which comes with sides, coleslaw and sauces like a habanero coconut-pineapple or habanero tamarind. Or, get it in a gourmet blue tortilla with queso Oaxaca and pico de gallo and you'll be flying high all day long.
17. Grand Electric
1330 Queen St. W.
For 10 years, Grand Electric has been dishing up some of the best tacos and quesadillas in the west... end, that is. Back in the day it was hard to hear yourself think (in the best way possible) over the pumping tunes and rousing energy that packed this Parkdale institution.
But even COVID can't turn down the vibes or the heat. Just take a bite of their spicy chicken taco with fiery arbol salsa, pickled red onions and cotija cheese and you'll see what we mean.
Toronto's best tacos: King West
18. Wilbur Mexicana
552 King St. W.
A stroll along King West just isn't complete without a taco from Wilbur Mexicana. Named after the American pharmacist Wilbur Scoville who created the Scoville scale to measure the spiciness level of chili peppers, this apothecary-style taco house brings the heat, if you want it.
After you order your flour or corn tortillas packed with toppings like grilled avocado and Korean-style beef bulgogi, choose a salsa from their fresh salsa bar. The pico de gallo and pineapple habanero are on the chill side, the "suave" will get you sweating and the "ghost" will have you calling out for mama.
19. Birria Balam
147 Spadina Ave.
It seems like anything Matty Matheson touches turns to gold. Along with co-owners Kate Chomyshyn and Julio Guajardo (El Rey and Rosalinda), their downtown pop-up for birria tacos, Birria Balam is going viral. Torontonians have been lining up to get a taste of the juicy, tender goods.
Birria-style tacos consist of meat that's slow cooked almost like a stew, then stuffed into a taco shell, which is dipped back into the stew and fried. Genius, scrumptious, messy greatness. Pro tip: extra napkins.
20. The Haam
342 Adelaide St W.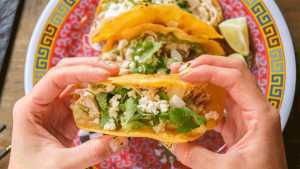 Any restaurant with a 'Taco + Sushi' suffix usually comes with a warning, but The Haam manages to totally nail its handheld offerings.
The Asian and Mexican fusion cuisine ('haam' actually means to combine in Korean) sees bulgogi and guac spooned between crispy tortilla sheets, while elsewhere gochujang and queso fresco are drizzled over brisket in the barbacoa tacos. If your fusion fetish knows no bounds, add hand rolls and sashimi to your order.
Toronto's best tacos: The Junction
21. Playa Cabana Cantina
2883 Dundas St. W.
From the Más Playas restaurant group (Playa Cabana, Bar Esquina, Taqueria Norte), Cantina dishes up the Mexican-inspired fare the brand is known for in a laid-back space decked out with cool neon lights.
Kick things off with bocaditos (appetizers) like the elotes, grilled corn on the cob with queso duro, tajin, mayo and lime. Their tacos come as a set of three so bring your compadres if you want to try a few different kinds — and trust us, you will. They've also got vegan, veggie and gluten-free options.
22. La Rev
2848 Dundas St. W.
Inspired by the Mexican revolution, La Rev specializes in authentic Mexican home-style cooking. The made-in-house jalapeno poppers stuffed with gooey mozzarella are the way to go, followed by tacos with your choice of filling.
From fish and shrimp to pulled pork and chipotle chicken, their long list covers all the bases. For the perfect picnic, they also offer full taco kits with everything you need — and they have cocktail kits, too.