Bagels are an elite type of bread. And in Toronto, it's more than just taste (although that is obviously very important). It's about loyalty. Do you like the smaller, subtly sweet, wood-fired Montreal style or the saltier, doughier Toronto/New York bagel? Are you an onion person with your lox and schmear or is that a hard no? Do you buy your bagels from Toronto bakeries downtown or are you strictly uptown-only?
However you slice it, there's no denying that Toronto has some of the best bagels. We've rounded up our faves, from the tried-and-true Gryfe's to the new-ish kids on the block at Primrose Bagel Co.
The best method for finding Toronto's best bagels? Follow your nose for scrumptious scents of wood-burning fires, house-smoked fish, fresh dill tucked between layers of cream cheese. BRB, drooling. Nothing beats a bagel... and some hot-from-the-oven latkes. 
The best bagels in Toronto 
1. Bagels on Fire
Multiple locations
With two locations on Queen Street (one on Queen West, the other on Queen East), Bagels on Fire is where you'll find some of the best Montreal-style bagels —wood-fired for extra chew and char — outside of, well, Montreal. 
Bagels are made from scratch every day starting at 4 a.m. Our pick? The breakfast sandwich, loaded with egg, cheese, mayo and your choice of ham or bacon. What a way to start the day.
2. Gryfe's
3421 Bathurst St.
The Gryfe family has been making bagel dreams come true since 1915... We think. The exact date is unknown (it was a long time ago, OK?). But we do know that their secret dough recipe makes for some glorious, Gryfe's-style, puffy, light bagels that are squishy on the inside with a delicate, crisp crust on the outside. 
The North Toronto shop opens early on weekdays and even earlier on the weekend (5:30 a.m.!), and die hards will be lining up for some nosh before the sun comes up. 
3. Primrose Bagel Co.
317A Oakwood Ave.
These spheres of joy are hand-rolled, boiled in malt and made fresh every day. Start with a schmear — signature toppings include scallion cream cheese — or go the whole hog with a sandwich like the Bagel Buster with slices of roast turkey, shredded lettuce and sub sauce spilling out of your bagel of choice.
Psst, they have vegan cream cheese too. While you're there, pick up a package of smoked fish or a spread to-go to upgrade bagels at home. 
4. What a Bagel
Multiple locations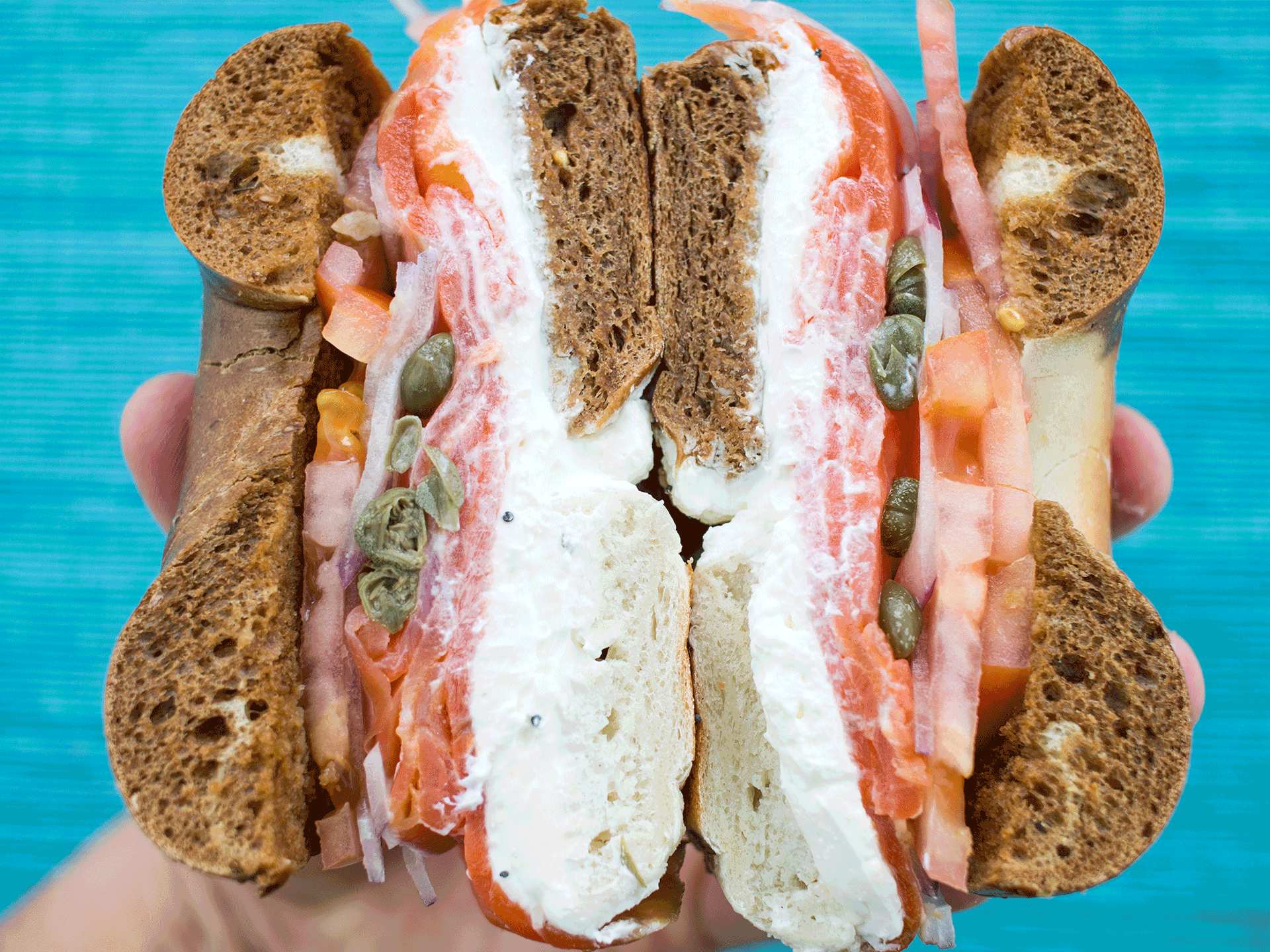 Be a hero and get a bagel for lunch and a pastry to finish at What A Bagel. It's one of Toronto's best bagel shops, with sites all around the city. 
Not only do they have a selection of classic bakes, but also a series of seasonal specials, like a glittery red bagel for V Day (wannabe Valentines, please take note). And when one perfect bagel just isn't enough (which is always), you can get a whole box full of 'em... Is that your next hangover calling?
5. NU Bügel
240 Augusta Ave.
If Nu's 20,000 pound wood-fired oven isn't enough to get your derriere down to Kensington Market, their Montreal-style bagels sure will. You can always get your paws on classics like sesame or poppy seed bagels, but we recommend checking out their fun flavours like a coconut bagel or rosemary and sea salt. They even have a gluten-free bagel that doesn't taste like cardboard. 
The bagel sandwiches come stuffed with fresh toppings but there's always room for add-ons like chili cilantro cream cheese and smoked chicken. 
6. St. Urbain Bagel Bakery
Multiple locations
Nothing beats a weekend morning bagel run at this long-standing vendor in Toronto's iconic St. Lawrence Market. A chocolate chip bagel?! Yes please. Bring home a bag of their bagels — still warm from the brick oven — or their bourekas (flakey baked savoury pastries) to get you through the upcoming week. 
7. United Bakers
506 Lawrence Ave. W.
Owning a restaurant in Toronto for more than a decade seems like an anomaly — try 11 decades. United Bakers, the humble North Toronto Jewish diner, has been around since 1912. And the quality has never wavered.
Their twister bagels have become a kind of Toronto relic — have them with a tuna reuben sandwich and salty melted cheese, or with lox and cream cheese (sliced onion is encouraged but not mandatory). The pizza bagel with house-made tomato and vegetable sauce and mozzarella may be our fave version. Don't worry flat bagel lovers, they have those too. 
8. Lox + Schmear
1030 St Clair Ave. W.
"Live, laugh, lox," is the motto at this St. Clair West fish smokehouse — and we dig that. Fresh, never-frozen salmon is cold smoked in-house over a four-day process, filling up the space with a delicious cedar campfire smell. Build-your-own sandwich on a St. Urbain bagel and add 'basic' or 'fancy' toppings like house-made pickles or dill pickle potato chips for some crunch. 
9. Kettlemans Bagel
33 Bathurst St.
Forget eating one bagel — Kettlemans does a 'bozo bagel,' which is made of three bagels twisted into one. Carb coma incoming. That's not their only specialty. Choose from the adorable mini bagels; the pizza bagel with pepperoni, mozzarella and mushrooms; or our favourite, the reuben bagel-sandwich.