If you ask us, the influx of gourmet doughnuts in Toronto is one of the best things to happen to this city in the last decade. Gone are the days when doughnuts were de-frosted, re-heated chewy circles that only came glazed, dipped or sprinkled. Instead, an abundance of top-notch bakeries in Toronto are turning out fresh-baked delights in fantastical flavours. The best doughnuts in Toronto are better than they've ever been, and we've got the best places to find them.
The real question is, what time of day doughnuts are best enjoyed. Are they a breakfast food meant to be part of an epic spread at one of the city's best brunch spots? Or should they be saved for a post-dinner indulgence picked up from a dessert shop? We say there's no wrong way to scarf down the fluffy circles of heaven.
With Toronto's vegan movement picking up steam, there are more options for vegan doughnuts than ever. Still fluffy, light and full of flavour, the doughnuts coming out of our favourite vegan spots can stand up to any non-vegan doughnut. Doughnut believe us? (Sorry, had to.) Then it's time to start eating your way through our list of the best doughnuts in Toronto. 
The best doughnuts in Toronto (vegan and non-vegan)
1. Machino Donuts
Multiple locations
If we could magically freeze our bank accounts (and our waistlines), we'd eat a box of Machino's vegan doughnuts every day. Their pillowy rings of joy are some of the best in Toronto, vegan or otherwise, with decadent flavours that rotate on a monthly basis. We're talking coconut cream-filled beauties, glazed almond dolce de leche, icing-sugar sprinkled cinnamon apple with real apples, chocolate-topped Ferraro Rocher, oozing peanut butter cheesecake — you get the idea.
Machino Donuts, which translates to "doughnuts in the town" in Japanese, is also home to one of the city's only vegan "cronuts" — a heavenly cross between a croissant and doughnut. They're sold out of two cute shops in High Park and Christie Pits, but they're also available for online order and delivery for a flat fee.
2. COPS Doughnuts
Multiple locations
COPS makes doughnuts look impossibly cool. Everything from their artful marketing and quirky storefronts, to the colourful glazes on the treats feels straight out of a modern art exhibit at the ROM.
Grab either a Trio (18 mini-doughnuts) or a Hotbox (a pack of 36); choose from cinnamon sugar, OG glazed or their feature flavour that rotates weekly; then prepare to feast. The doughnuts are best eaten immediately, when they're piping hot from the fryer and utterly delectable. Does miniature food always taste better? Much to think about.
3. White Lily Diner
678 Queen St. E.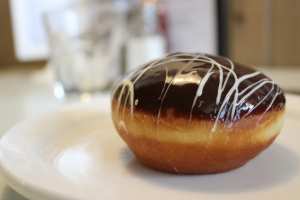 Riverside's perennial favourite brunch spot brings their usual elevated-classic approach to their doughnuts. The chubby delights are small enough that you can talk yourself into having two as a brunch dessert (or as a snack later) but indulgent enough that you could be satiated by just one — if your willpower is strong enough. Pre-order their daily flavours in a half-dozen or dozen box and enjoy.
4. Glory Hole Doughnuts
Multiple locations
Ashley Jacot De Boinod is the pastry chef and owner at Glory Hole Doughnuts, the once-crowdfunded and now-iconic Toronto sweet treat staple. Stop in at one of her two shops — one in Parkdale, another at Gerrard and Coxwell — for fresh, handmade-daily creations, or order them right to your front doorstep.
Glory Hole churns out flavours that get us weak at the knees, like lime coconut cream, salted caramel brownie, toast and butter, and many more. They also have DIY doughnut kits for sale, so you can make your own delicious creations, and bite-sized "Lil' Glories" doughnut holes.
5. Isabella's Mochi Donut Boutique
Multiple locations
No "best doughnuts in Toronto" list is complete without Isabella's. Largely credited with the sticky rice flour treat's current widespread popularity in the city, Isabella's — once a boutique restaurant — became a dedicated Japanese mochi doughnut shop during the pandemic, to massive success.
Now with three locations across Toronto (Beaches, Downtown and Koreatown), Isabella's decorates their soft, chewy doughnuts with more than 300 rotating flavours that range from chocolate chip cookies, adorned with a mini cookie, to matcha cherry blossom with petals.
6. SanRemo Bakery
374 Royal York Rd.
The Bozzo family is synonymous with SanRemo Bakery, a popular mom-and-pop Italian bakeshop in Etobicoke that's been around for more than 50 years. Natale Bozzo first started SanRemo in 1969, naming it after Italy's most prestigious music competition, and passed it down to his three sons, Roberto, Edward and Nicholas. Chances are, you'll see the brothers working away in SanRemo — this bakery is a labour of love and family.
Their delicate, fluffy doughnuts are their most popular treats and are sold out of a curbside pick-up window in regular or jumbo size. You can catch us smearing our faces with their delicate browned lemon meringue or getting really messy with the strawberry jam-filled powdered doughnut.
7. Unholy Donuts
Multiple locations
This new kid on the block is making major waves with their rich, handmade, hole-less brioche doughnuts. Unholy Donuts' hot-pink shop in the Church-Wellesley village draws eyes, then drops jaws once you're inside with some of the most elaborately decorated gourmet doughnuts we've ever seen.
Find their stunning pop-up flavours posted regularly on their Instagram. Recent options have been chocolate chip pistachio, filled with ricotta pastry cream and adorned with a delicate cannoli, or spiked cherry lemonade with lemon curd and a vodka-cherry-lemonade glaze. Yes, you read that right — alcohol and doughnuts, a matrimony we never knew how much we needed.
Unholy Donuts also just opened a second location steps from the Eaton Centre on Bay Street, so make sure to grab one of their tasty treats after your next shopping trip.
8. Tori's Bakeshop
2188 Queen St. E.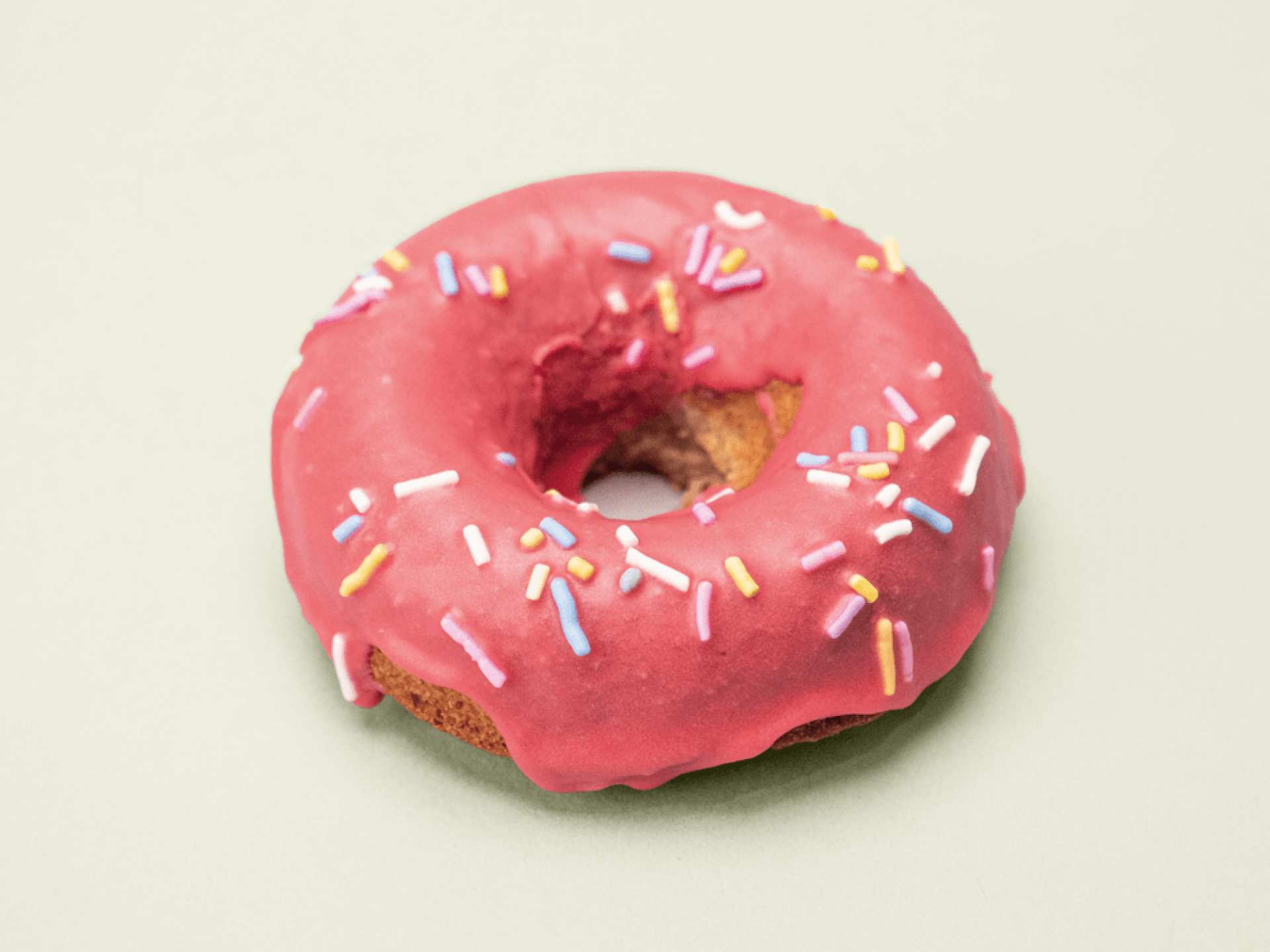 If your biggest complaint about doughnuts is that they're too small, boy, do we have some good news for you. Tori's Bakeshop — an all-vegan bakery and café in the Beaches — makes a full-size doughnut cake adorned with a pink icing glaze and colourful sprinkles.
Looking for something a bit more bite-sized? Try Tori's classic dark chocolate or vanilla options, or scoop up a mixed six-pack of whatever they've made fresh in the bakery that day.
9. Letterbox Doughnuts
235 Spadina Ave. Unit 1
Words are pretty powerful things, and turns out they're also really tasty when they come in doughnut form. At Letterbox Doughnuts, you can eat your feelings with their custom, handcrafted doughnuts made fresh daily. Choose your phrase and your glaze (personalized doughnuts take some time so plan ahead), or go for their classic ring or filled doughnuts like a squishy Nutella filled doughnut topped with crunchy hazelnuts.
10. Dipped Donuts
161 Baldwin St. Unit 1
Stroll by this tiny Kensington Market shop and you'll probably spot a line. Our advice is to get in it at once because the wait for a fresh batch of Dipped Donuts is well worth it. Their gourmet yeast donuts take around 20 minutes to rise before they're deep fried and dipped into scratch-made glazes with ingredients from the Market. Doughnuts are beyond fluffy and light, weighed down only by glorious toppings like crushed Oreo cookie crumbs. They also have vegan options and stuffed "donut bombs" rolled in sugar and filled until bursting.
11. The Donuterie
327 Carlaw Ave.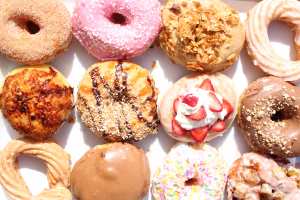 A quiet, largely residential stretch of Leslieville has a well-kept secret: The Donuterie, a small counter inside Fruitful Market serving some of the best classic doughnuts in the city. Yannis Banks, who owns both the Market and bakes behind the doughnut counter, creates rich and decadent flavours inspired by seasonal fruits, cocktails and anything else that tickles his fancy.
The Donuterie's soft, moist take on doughnuts has developed a passionate cult fanbase over the years. Visit on the weekend for the full array of flavours on offer, or during the week for a limited menu.
12. FK Dulce Bakery
3418 Bathurst St.
Find doughnuts with lip-smacking Filipino flavours on a busy stretch of Bathurst Street in North York. Past FK Dulce Bakery's poster-plastered storefront lays a collection of tasty treats inspired by the owners' heritage, with ingredients like ube, a purple yam that originates in the Philippines; pandan, a fragrant plant from Southeast Asia; or macapuno, sweet coconut strings.
13. Bloomer's
Multiple locations
Arguably the most famous vegan doughnuts in the GTA, Bloomer's has come a long way since its humble beginnings as a small, family-run artisan bakeshop in Bloorcourt. Their egg and dairy-free rings have been steadily growing in popularity since 2016, and recently rolled their way out of the city with two brand-new locations in Mississauga and Burlington.
Trust us, you won't miss the animal products when you sink your teeth into a Bloomer's doughnut. Out-of-the-box (sphere?) flavours constantly rotate at their 10 Toronto shops and counters; think mouth-watering biscoff cheesecake, pecan butter tart or creme brûlée. We'd keep listing flavours, but now we're salivating too much.
14. Krispy Kreme
Multiple Locations
Krispy Kreme still gives us flashbacks to when the U.S. chain was new to Canada and their doughnuts were the hottest treat for childhood birthday parties. Their O.G. (original glazed) doughnuts are a tried and true classic for a reason — and still our favourite — but the menu goes way beyond the glistening circles. Chocolate iced, strawberry iced and sprinkles are just the tip of the doughnut iceberg. The New York Cheesecake, a stuffed doughnut with cheesecake filling and cream cheese icing is among the more extravagant options. At the Hot Light locations in Mississauga and Scarborough, you can watch the doughnut-making magic happen.