An incredibly fresh, delicate piece of nigiri sushi has the power to make us swoon, while a seared-on-the-outside, raw-in-the-centre bite of tataki is a flavour and texture combination that lives in our heads rent-free. Beyond sushi, there's a myriad of delicious raw meat and fish dishes from different cuisines spanning the globe.
Cooking manipulates and can even remove the natural, succulent flavours of raw proteins. But there's still a lot of skepticism and misconception around eating raw fish. To dispel our fears, we talked to Antonio Soriano, the Park Hyatt's executive chef. Born in Peru and raised in France, Soriano brings his diverse background and experience with raw dishes from both cultures to the culinary program at the hotel. Here, he gives us the lowdown on some of his favourites from Peru, France and beyond.
Is it safe to eat raw meat and fish dishes?
"Normally the problem you have is never with the protein itself but with the surface of the protein — whoever manipulated it, whoever touched it and the surface where you're cutting it. So more important than having a protein that's safe is to have an environment that's safe — use gloves, have a clean knife, and a very clean cutting board. The most important thing is how you manage your environment when you are using raw proteins.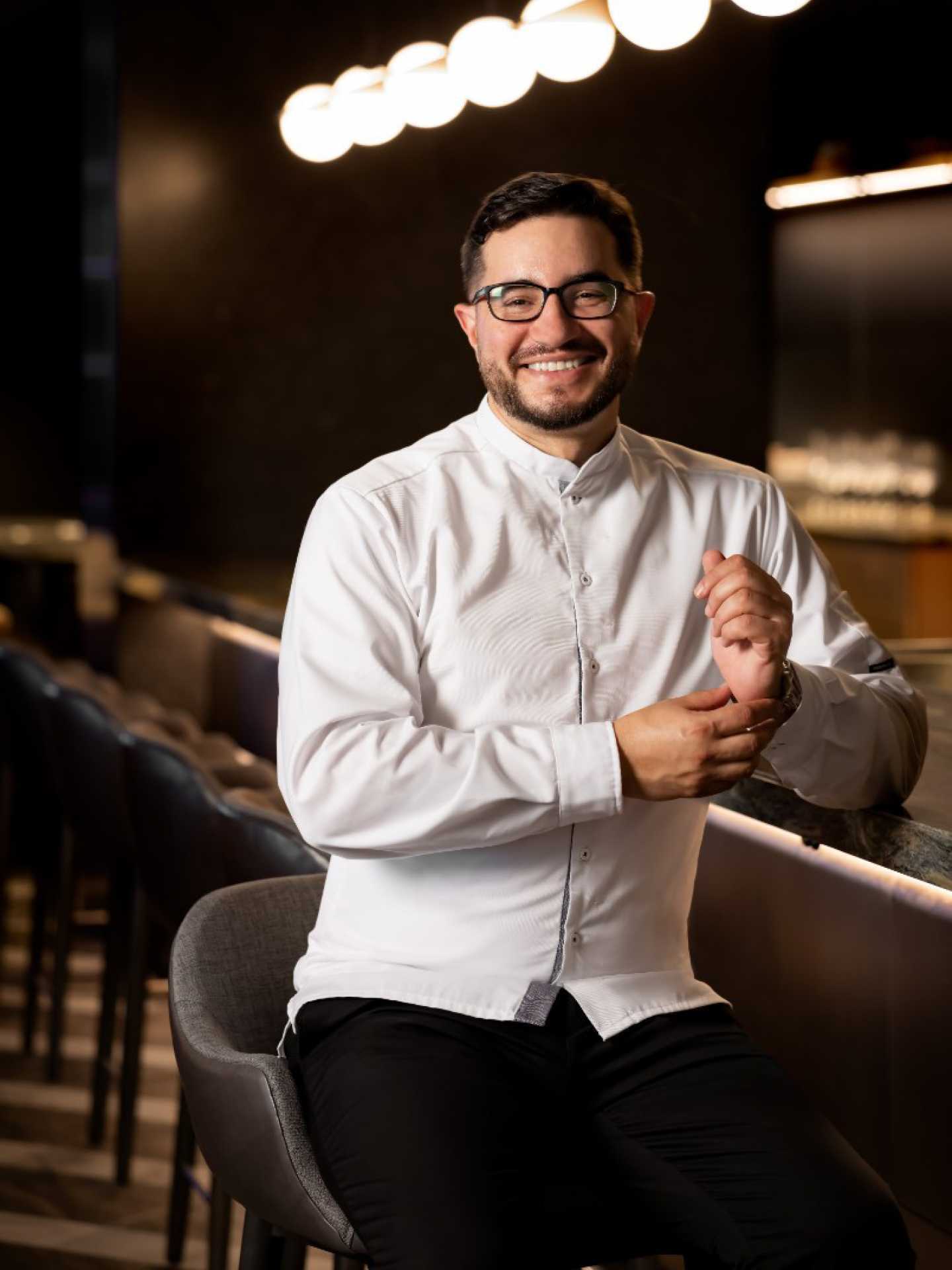 I will always recommend freezing the protein for at least 20 minutes, just to kill anything on top of the surface without cooking the meat. A lot of the bacteria, parasites or whatever could be in the meat will die under a certain temperature. So that will assure you that you're killing all of those. Then you have to trust who you're buying from. You need to trust that all the sanitation procedures are in place."
What if you're afraid of eating raw meat and fish dishes?
"We eat a lot of raw things every day. We eat raw salads, we eat raw fruits, we eat raw nuts. There's no difference. The main dangers we can have are where we source it and how we manipulate it. With raw things, it will be very clear if they're not agreeable. If it smells, you know it's not good, so you shouldn't use it. It's very clear. We eat raw stuff all the time, so we shouldn't be that afraid."
How do you ensure the quality of raw dishes at Joni restaurant?
"What we do at Joni is we receive all the pieces whole: fish, seafood, lamb and poultry. So, we know the quality, we see it and we open it all ourselves. For meat, we work with suppliers that only do grass-fed meat. We know them, they're in Ontario, so we know how they treat it and the procedures that they have. At the end of the day, it's a lot about trust. We really, really take our job seriously. We want to give pleasure and love to people, not make them sick."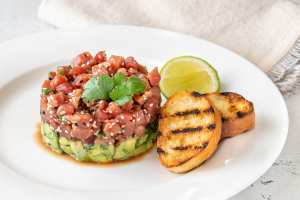 How does lime juice "cook" raw fish in ceviche?
"Lime juice, vinegar or lemon juice — they have a lot of acidity. They have a pH that's very, very low. The acidity of the juice will denature [change the molecules of] the protein of the fish in this case, like cooking will do. It kills everything, all the bacteria. To reproduce and to grow, bacteria need some conditions — a low pH is another condition that will kill them."
Raw fish and raw beef dishes: what are the different kinds?
"The difference between a ceviche, a crudo, a tiradito, aguachile or tartare is what elements they use. They are all different recipes," says Soriano. These dishes originate from various parts of the world, and each one sees the raw fish or meat sliced and prepared in a different way, with additional ingredients and sauces.
Ceviche and tiradito
"Ceviche is basically fish, celery, lemon juice, pepper and onion. Tiradito, you take off the onion," says Soriano. Ceviche is often cut into larger chunks or big cubes, while tiradito is sliced into the shape of sashimi, but both are Peruvian dishes of raw fish.
Tartare
This fish dish is usually presented with smaller, more finely chopped pieces of meat with onions, capers, pepper and other seasonings. It's sometimes topped with a raw egg yolk too. While steak tartare originated in France, tuna tartare was invented in Los Angeles.
Crudo
Meaning "raw" in Italian, crudo uses more thinly sliced pieces of raw fish, along with other ingredients.
Aguachile
This is a Mexican dish usually consisting of raw shrimp marinated in lime juice with slices of cucumber and onions. It may also be made with scallops.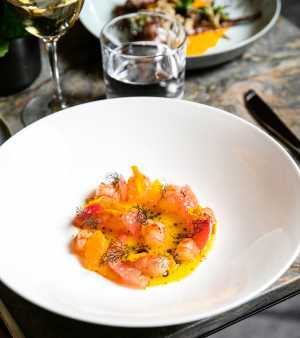 What do you pair with ceviche?
"Ceviche is fresh and acidic. I love to pair it with cocktails, but a nice white or sparkling wine or even a beer can do the trick."
What would pair well with steak tartare?
"I would also pair it with a beer or a more fruity white that's not too acidic."
What would you serve with ceviche or tartare?
Soriano recommends adding anything with a bit of crunch to give more texture to the dish, like crispy fried potatoes, banana chips or nori chips. "Also, you can get into raw vegetables, for example, cucumbers. They're going to give some freshness and some texture," he says.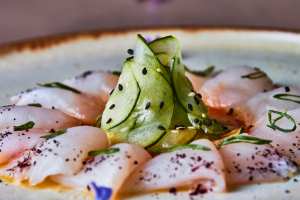 Gon MPMC via Shutterstock
Any tips for home cooks?
"Recipes are not a bible, they're a nice starting point. I recommend everybody start with a classic recipe for tartare or a classic recipe for ceviche, tiradito or aguachile, and then understand that the fish can be changed to any other fish or seafood. The lime can be changed to lemon, orange or lemon vinegar. Creating your own tartare is super fun and it's an easy and quick way to cook, but it's also a way to bring out your creativity and start playing around. Start with some classic recipes to understand what elements bring what to the table, and once you understand that, just start changing everything."
Where to get it the best raw dishes in Toronto
Joni
4 Avenue Rd.
Inside the lobby of the Park Hyatt, you'll find the sprawling, elegant Joni. Bask in the restaurant's art pieces and modern design while you tuck into contemporary Canadian cuisine. Dishes here are thoughtful and seasonally driven with a focus on sustainability. You'll find beef tartare and crudo on the menu, though the fish may vary with the season.
Aloette
163 Spadina Ave.
Have your pick of prawn ceviche, Hokkaido scallop crudo or beef tartare, complete with egg yolk on top, at this Michelin Guide–recommended spot just south of Chinatown. Or order all three of Aloette's raw dishes and compare. While you're at this fancy, train car–styled diner, dig into their famous burger and much-loved lemon meringue pie.
Nuna
1265 Queen St. W.
Tucked away in Parkdale, this Peruvian restaurant is a well-hidden gem. Settle into a banquette flanked by exposed brick and a beautifully undulating white wood ceiling, then dig into flavourful dishes like crispy fried tofu and grilled octopus. The grouper and octopus ceviche is pleasantly spicy and zesty, with sweet potato to cool your palate and canchitas for crunch.