It doesn't matter how appetizing that scoop of choc chip ice cream looks or how eager we are to drink a full fat mocha frappucino — sometimes allergies and intolerances prevent us from enjoying our fave foods. Lactose intolerant lovers of cheese are used to showing restraint. Now, thanks to Bothwell Cheese's new line of delicious lactose-free cheese, they can eat fromage that tastes just like regular cheese — without any issues.
Bothwell produces lactose-free cheeses by extracting the lactose (the sugar found in milk) through natural aging. Bothwell's lactose-free cheeses are made with 100 per cent Canadian milk and no modified milk ingredients, making them a great option for both mainstream consumers as well as lactose-intolerant consumers.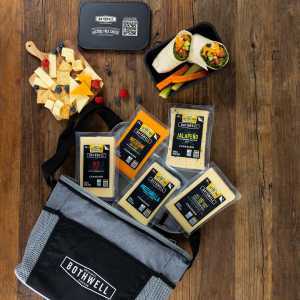 Choose from Old White Cheddar, 18-month Extra Old White Cheddar, Mozzarella, Medium Coloured Cheddar and Jalapeno Monterey Jack — all of which use the same traditional recipes to deliver the high-quality, natural cheese you expect from Bothwell Cheese.
To help assist the 7 million Canadians who are lactose-intolerant, Bothwell Cheese has added an Augmented Reality App to the rollout of their tasty cheese. Scan the QR code shown here or on any packaging of Bothwell's lactose-free cheese, download the app and a human hologram of Bothwell's own chef John will pop up to explain the benefits of their lactose-free line.
Plus, there's a coupon for $1 off and lots of delectable recipes that incorporate their lactose-free cheeses.
Whether you're lactose-free or looking to try something new, buying from Bothwell Cheese is a great way to support Canadian cheese makers and guarantee a flavourful fromage.
To learn more, head to bothwellcheese.com/augmented-reality