It's easy to say that meeting the right person means hitching your lives together. But how many people would decide to spend an entire career side by side with their significant other? These culinary couples chose to live out their nine to fives (and often much longer) with the one they love, for better or for worse. We sat down with four of the industry's most passionate pairs to find out how they juggle their jobs and relationships.
Jenny Coburn and Stacey Patterson
Together for 15 years
This front-of-house duo opened their popular Dundas West spot three years ago – today they're cracking down on sexism in the industry.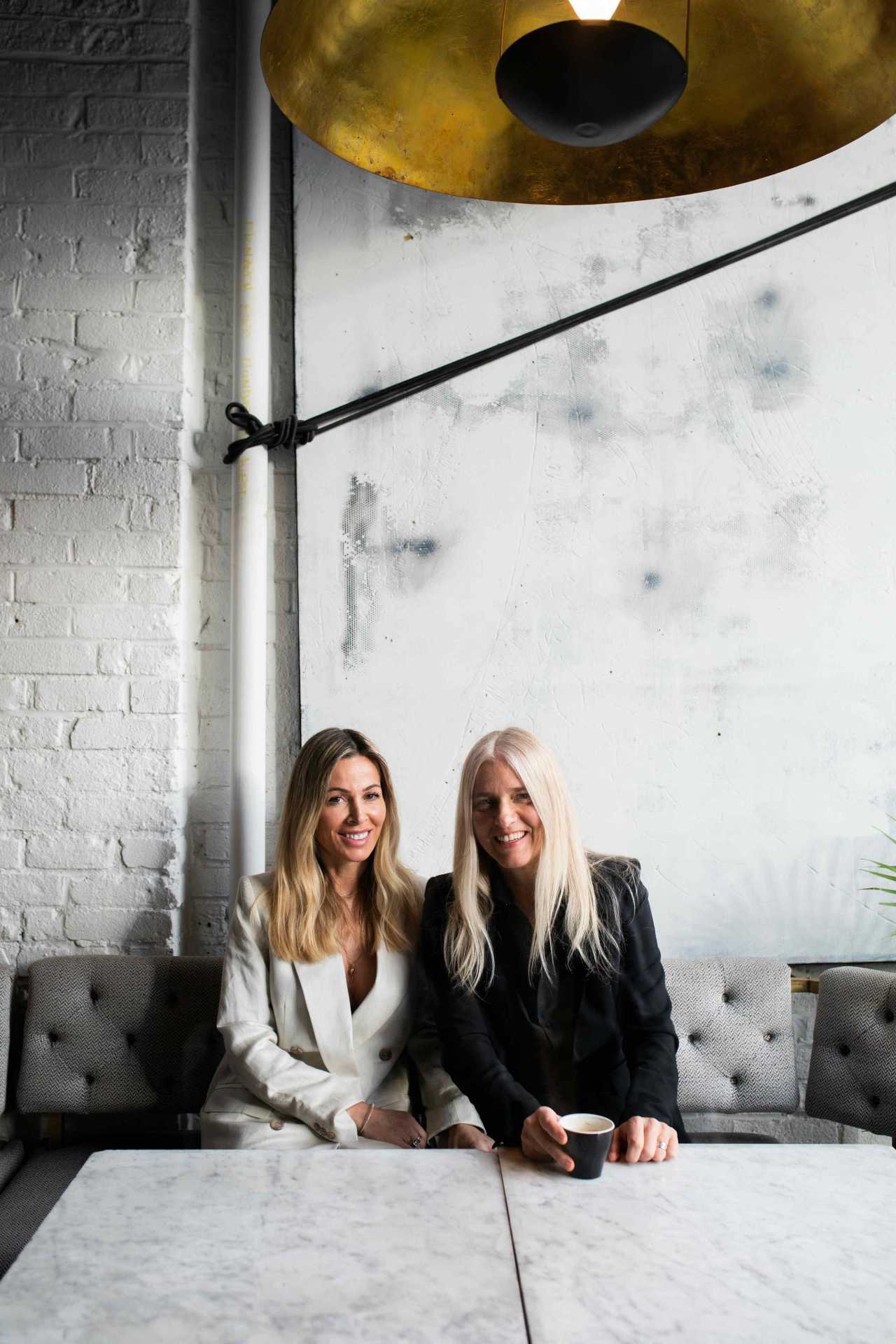 How did you meet?
Stacey: Jenny was working for a friend of mine at a restaurant. She was bartending and being flirtatious.
Jenny: Oh my god, it was so the other way around! Stacey is a very persuasive person.
How do you make it work?
Jenny: She does everything in the day and I do everything at night.
Stacey: We typically don't work together, to try to keep our relationship alive!
Jenny: We complement each other, which is sometimes not appreciated by Stacey – she's more of the macro and I'm the micro. I'm neat, patient, attention to detail. She's more like crazy service and throwing things!
Stacey: I don't want to talk to a customer for half an hour so we complement each other. We're good cop, bad cop. I'm the bad cop.
What's the best thing about working together?
Jenny: If I needed to know anything I would just call Stacey, as opposed to having to fumble through my first year at Ufficio. The other thing to note is that Stacey and I are owners and not chefs and that's pretty unusual in this day and age. Most chefs just want to do it their way. Sometimes, people make assumptions before they work with me. And some won't listen to Stacey who is experienced. It wasn't fun. I can't imagine telling an owner what to do with their restaurant.
Stacey: Jenny took a lot of beats. Before we partnered with Ivana Raca, I had never worked with a female chef in 33 years. We've really connected to a lot of females in the industry, by having our own restaurant and being female-focused.
Billy and Anne Madden
Together for 10 years
A decade after they met working at a call centre, this couple opened a dog-friendly Leslieville brewery named in honour of their black lab, Snoopy.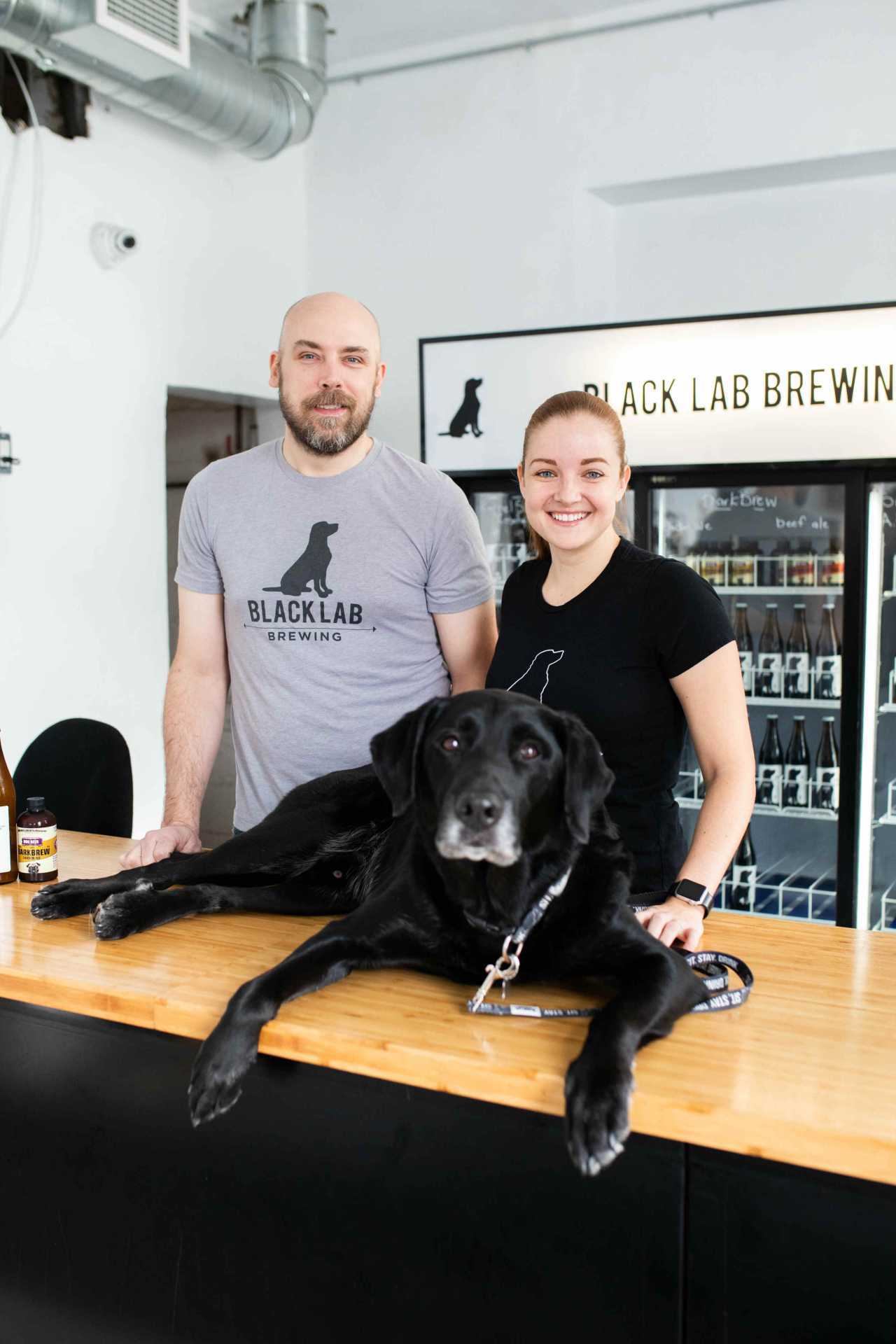 How did Black Lab come about?
Billy: I was working for a brain injury rehab company. I dealt with car accident victims and people with traumatic brain injuries, which was quite stressful and I took a lot of that home with me. One of my releases was going out to craft breweries and finding a new beer.
Anne: A year and a half ago, Billy came to me with a full business plan. I kept resisting it, because I'm very risk-averse – I'm a lawyer in my other job – but at that point, I couldn't say no.
Tell us about your dog, Snoopy.
Billy: On the one-year anniversary of us dating, we were driving through Niagara doing a wine tour. We decided to hit one more, Cornerstone Winery. We're drinking and chatting, and out of the corner of her eye, Anne spots a puppy running by the window. The owner Jerry said he couldn't find a home for him, and since it's almost Christmas if we want him, he's ours. We came back from Niagara with three cases of wine in the trunk – and Snoopy!
Anne: Our biggest love is Snoopy, so naming the business Black Lab Brewing aligns us all the time. Plus, we named our flagship black lager Cornerstone in memory of where we found him.
How do you juggle home and work life?
Billy: It's still fairly new and we're not home all that much. I'm putting in about 90 hours a week so keeping up with household chores is the biggest hurdle. Our laundry pile is huge and our fridge is almost always empty.
Julio Guajardo and Kate Chomyshyn
Together for 14 years
This chef couple fell in love – first with each other and then with Mexican cuisine – before bringing authentic dishes to Toronto.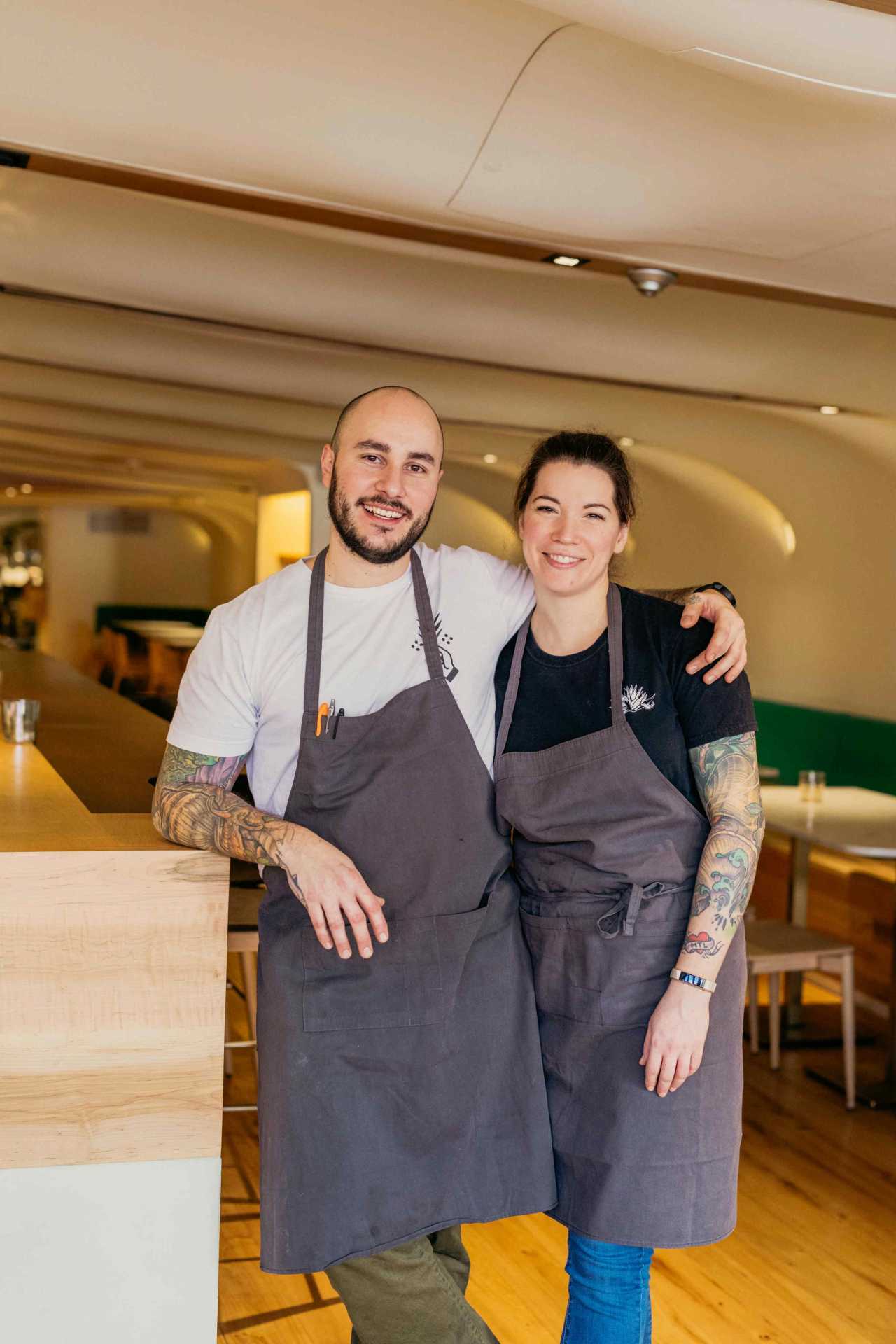 How did you meet?
Kate: We met at cooking school in Ottawa (Le Cordon Bleu).
Julio: I came to Canada to study in 2004. She was one class ahead, but we had friends in common. We went to the same party and a few months later we were living together.
Kate: Then we moved to Montreal, where we lived for 12 years.
How long have you worked together?
Julio: We were always somehow in the kitchen together. We had a popsicle business but we stopped it when we moved to Toronto.
Kate: One of our servers said to us: "If you guys didn't work together, you would never see each other," and it's true. That's why there are so many poor, single chefs. It's tough, it's a lot of hours.
How did Quetzal come about?
Kate: Eight years ago, we took our first trip to Mexico together. Mexican food in Canada is very Americanized. We wanted to show people the real thing. We try and cook with the matrons of the family – they're the ones who pass down the techniques.
Julio: They like to share it with people because they fear that the culture is getting lost.
Ever had a big argument at work?
Julio: Oh yeah, for sure. We moved here to open Quetzal, but because of design, it got delayed and we opened El Rey. Being in a tiny kitchen all day together, cooks quitting – it just built up the stress.
Kate: I've walked out before. I can be very dramatic! What advice do you have?
Julio: Don't do it! I'm kidding. We really share the same passion, ideals and work ethic and that's really helped. We try to keep work at work, and enjoy the little time that we have to ourselves. We go to dinner, and even though we talk about work, having that balance helps.
*Since we chatted, Kate and Julio have left Quetzal, but will continue to work together.
Stephanie and Bruce Lee
Together for 8 years
This culinary couple earned their stripes at a number of Michelin-starred restaurants in Paris and Hong Kong before heading back to Toronto's Corktown neighbourhood to open Roselle Desserts.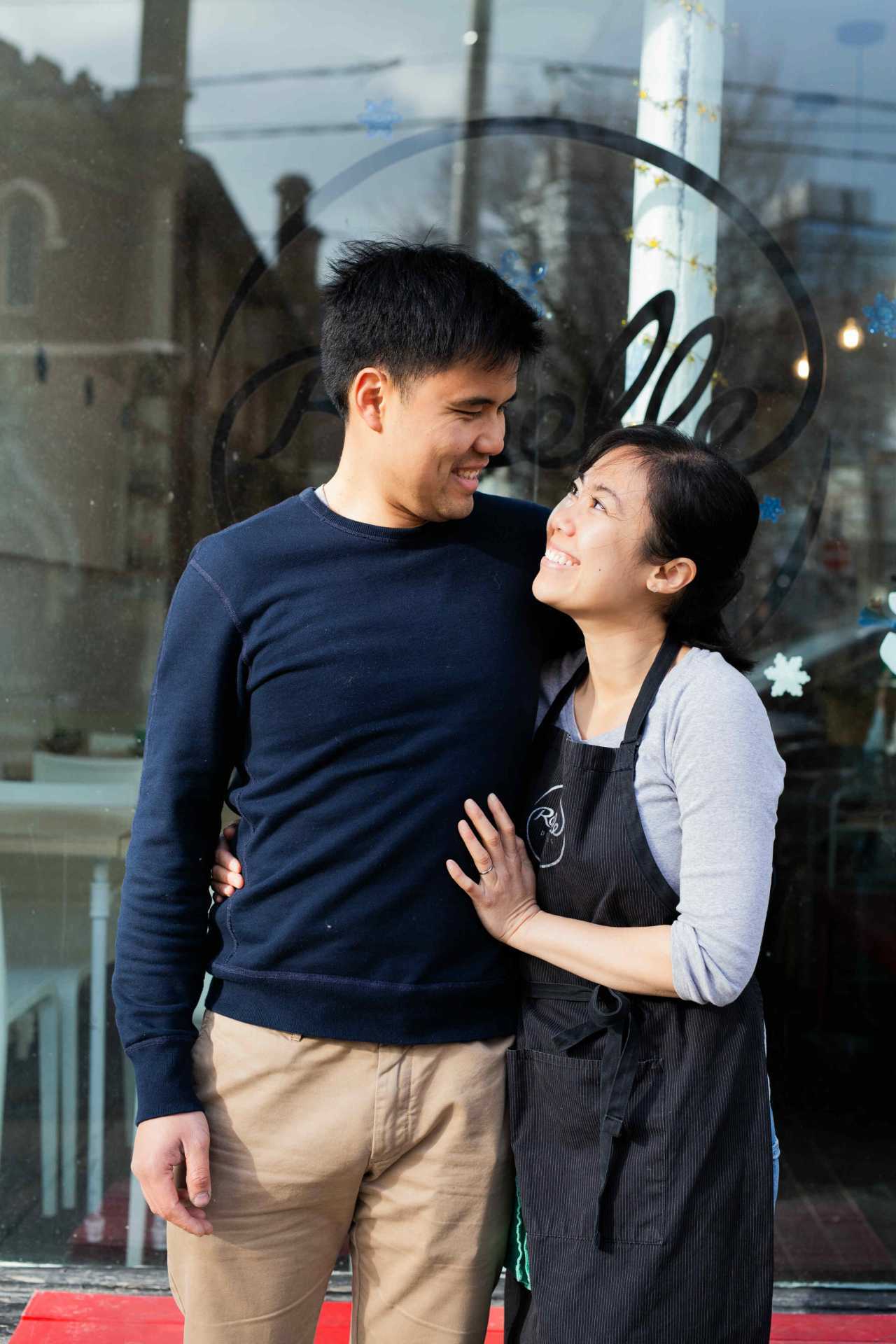 How did you meet?
Bruce: We met at George Brown College. Stephanie was studying baking and pastry, I was in the chef's programme. We both went to France on a postgraduate pastry programme.
Did you hit it off right away?
Bruce: Not exactly. I found out through the grapevine that Stephanie really didn't want me to go because she thought I was stealing a spot from a deserving pastry student. So when we first met, our relationship was a little strained!
When did you tie the knot?
Stephanie: We got engaged in 2014 but then we started Roselle in 2015 and it took over our lives. We got married in August last year – and we actually made the desserts at our own wedding!
How do you run the business together?
Bruce: Stephanie does all the baking. I cook staff meals and make cookies in the morning, but it's hard to have two chefs in the kitchen. Pastry is more Stephanie's domain. But I could do it.
Stephanie: Well, he thinks he could! Bruce went to Western and has a background in business, so it felt natural to do things that way. That's what we learned about having our own business – you can be a great chef but you need to know how to manage people and how to do all the other business-y things that come with it.