While we've long been aware of the shift towards sustainable models of food production, Toronto's bar scene has lagged behind in the mindfulness department. However, when you consider how many single-use ingredients go into every cocktail, not to mention the disposable accoutrements that quickly find their way into the trash, the waste easily adds up.
While campaigns like the Last Straw took aim at the plastic consumption in bars, few have been working towards any meaningful change in their day-to-day habits. However, when we dug a little deeper below the discarded orange rinds and pineapple husks, we found a growing number of eco-conscious cocktail slingers in the city who are making it their business to reuse and recycle ingredients as well as to incorporate environmentally responsible practices into how they run their drinks programs.
From homegrown garnishes plucked from their backyard and minimizing bar waste right up to macro changes like helping larger scale companies and distillers rethink the way they do business, the city's bartenders are reducing their environmental footprint. We spoke to some of Toronto's top cocktail shakers to find out how the changes they're making – both big and small – are contributing to a more sustainable future.
The Travellers: Trash Tiki
When Iain Griffiths and Kelsey Ramage met working at a bar in London, they could never have imagined where their sustainable journey would lead.
What began as a one-off, pop-up event quickly snowballed into Trash Tiki, a zero-waste movement that has seen the pair tour the world in the pursuit of garbage-free cocktails.
"Everything being said about sustainability was, honestly, incredibly fucking boring," says Griffiths. "When in actual fact, we viewed it as an exciting opportunity for bartenders to bridge the gap between the bar and the kitchen."
Initially, an innocent mission to provide recipes and a platform where people could chat eco-conscious bartending, it quickly graduated into a cocktail clinic in which the pair create menus made entirely of ingredients the venue normally throws out. Trash Tiki has also started to work with large-scale distillers and distributors to change their habits.
"Working with these corporate overlords might not seem very punk, but we figured we'd get a lot more done if we could work with them," says Griffiths.
After touring extensively, the pair are finally putting down roots with their first ever permanent bar landing in Toronto this spring – but it won't be called Trash Tiki.
"Very few people want to drink garbage made cocktails while listening to angry punk music at 5 p.m. on a Tuesday," says Griffiths.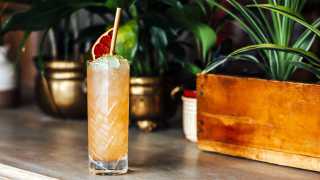 The Humanist: PrettyUgly Bar
With a degree in social theory, Robin Goodfellow was never going to be your average bartender. The cocktail wizard counts top spots like Bar Raval and PrettyUgly on his resume – but it was back at Ursa, a now-closed Queen West spot known for its highly-foraged menu when things came into focus.
"I was finally able to apply my academic background to my passion for social justice and sustainability," says Goodfellow.
While working at Bar Raval, he began growing mint in his mom's garden. Noticing that the less garnish-worthy herbs were being discarded, he created the Awesome Sauce, a dark juice used in cocktails at PrettyUgly. Despite his passion for waste reduction, the bartender refuses to manipulate the guests' experience and is not about to lecture anyone who frequents his bar.
"Cocktails are the tip of the iceberg when it comes to sustainability practices," admits Goodfellow, pointing out that it's up to the government to implement macro changes.
"Using ingredients that used to get thrown out five to 10 years ago isn't saving the planet, but it can have a huge ripple effect."
It's not just environmental sustainability that Goodfellow is passionate about. He believes that financial and mental wellbeing is just as important for bartenders.
"I work every day to make sure my employees have a way better lifespan in this industry than I did."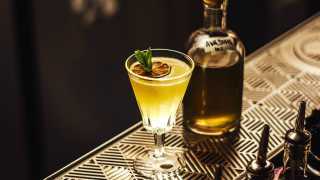 Eastern Promises: Poor Romeo
It didn't take long for the team behind Pinkerton Snack Bar, which opened in 2016, to start scoping out their next venue.
"We always said that if the old Chinese restaurant across the road ever became available, we would love to do Poor Romeo," says Marc Baglio, one of the owners.
The follow-up, an American-style spot named after a Thin Lizzy song, is a local bar with the requisite Cheers vibe that doesn't take itself too seriously. "There are definitely no molecular cocktails here."
Whereas Pinkerton Snack Bar is slowly working towards removing plastic, Poor Romeo embraced sustainability from the get-go having been inspired by Trash Tiki workshops.
"There has never been a plastic straw here because we opened with that mindset," says Baglio.
Poor Romeo also puts their money where their mouth is by working with suppliers with a similar ethos.
"It's easy to say it and promote it," says Baglio. "But just banning straws is a bit like quitting smoking on your deathbed. We try to think bigger picture."
Cocktails like the East York sour use bar lime, a juice made from repurposed citrus zest, to ensure a longer shelf life. Minimizing waste has been an important measure across their properties. Pinkerton Snack Bar, a small space with no walk-in fridge, forces them to be tight on inventory.
"We are wasting nothing," says Baglio.