It's a Friday afternoon in March, and I'm sipping a cup of oolong from the (relative) safety of a tea room. The weather outside is gloomy, and despite temperatures that hover around the 11C mark, today's blustery conditions – coupled with a heavy sky that resembles that of a grey army blanket – suggests that rain will be here before I've finished my drink.
Despite all signs to the contrary, I am not in my native U.K. Instead, I find myself in Victoria, British Columbia's capital, and my home for two nights. In a city that was named after Queen Victoria, it's not hard to fathom the rich tea tapestry that continues to weave its way through this wonderful place 177 years after British settlement began. But beyond the tiered cake stands and bone china, this city located on Vancouver Island's southern tip is steeped in a tradition as diverse as the history of tea itself.
This trip has coincided with one of the strangest weeks of my life. When I arrived in B.C. four days ago, the threat of COVID-19 was laughable, a hypochondriac's game that I scoffed at with fellow travel writers, who threw caution to the wind and shared family-style meals in defiance. But once the NBA postponed their season – the tipping point for many Raptors fans – we bumped elbows in greeting and nodded solemnly as talk inevitably shifted towards the virus. It's what puts the 'relative' in the safety I'm currently feeling as I cradle my cup at Silk Road Tea's tasting bar, the first of its kind in North America. Though Victoria has been hit with far fewer cases than the rest of Canada, I nevertheless take great comfort from both the lukewarm drink I have my hands wrapped around and my cozy vantage point inside.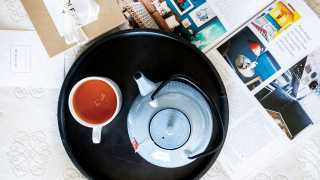 And it's no accident that my tea isn't piping hot. "If you're evaluating tea in the same way you would taste wine, you actually want to enjoy it at a slightly cooler temperature," explains Daniela Cubelic, a tea master and owner of Silk Road Tea, a retail store and purveyor of fine organic teas in Victoria's historic Chinatown.
My earliest memory is of tea – I remember drinking it from a baby's bottle
Cubelic, who opened the store back in 1992 when she was just 22, didn't expect her career to shake out the way it did, although she does confess to having read the tea leaves at a young age. "My earliest memory is drinking tea – and just to give you a sense of how early that was, I remember drinking it from a baby's bottle," says Cubelic.
Introduced to plenty of herbal teas by her grandmother, Cubelic pursued the subject as a hobby until a chance opportunity presented itself at the end of university. Despite career aspirations in the foreign services, the history graduate plunged headfirst into opening a teahouse on the edge of Chinatown, deciding that she was "just young and poor enough to go for it."
Though the location of Silk Road Tea's first store (the second is inside the Victoria Public Market) was based on a number of factors ("the building was up for lease!"), Cubelic believes its positioning adjacent to the gates of Canada's oldest chinatown is symbolic. The neighbourhood, which dates back to 1858 when Victoria first saw an influx of miners arrive from California, was designated a National Historic Site of Canada in 1995.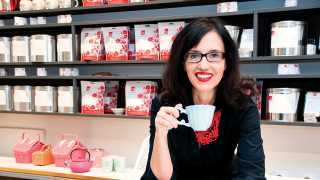 While Cubelic credits Victoria's strong British traditions with solidifying its 'Canadian capital of tea' status, as someone who studied in China and Taiwan for a decade, she cannot understate the Asian influence. "We have an actively involved and integrated Chinese and Japanese population, so people in Victoria get introduced to different types of tea from a young age."
Like matcha, a finely ground shock of processed green tea leaves, which can be sampled in a number of ways around the corner in Chinatown. Kip and Tiffanie Home opened their first Just Matcha Tea Shop in Greater Victoria in 2013, but when appetites for the Japanese tea continued apace, they launched a second storefront on Pandora Avenue. Though the couple has spent the years since coming up with innovative ways to enjoy the drink (from lavender lattes to lemonade infused with matcha), the initial attempt wasn't exactly their cup of tea.
"The first cup we made was a complete disaster," explains Tiffanie Home. "Used to regular tea, we filled a cereal bowl with boiling water, didn't sift the matcha and then tried to whisk it up. Determined that we must be doing something wrong – because there was no way something that tasted that bad could last for 800 years – we decided to read the instructions on the tin!"
By the third or fourth cup, the couple noticed increased energy levels, accompanied by a "calm wakefulness". Upon realizing it was the tea creating this feeling of well-being, the pair launched their empire, serving some of the best Japanese matchas.
"Victoria has fallen in love with matcha because it's a health-conscious city and people are looking for a coffee alternative," says Home. "The Just Matcha experience is all about personal reflection and connection."
Over on Fan Tan Alley, Canada's narrowest street, tea fans can get their cuppa in a cone at Kid Sister. The corridor, named after the Chinese game, was once a seedy, gambling district populated with opium dens. Today, ice cream addicts can get their fix from scratch-made seasonal scoops, including a London fog flavour made with a blend from Silk Road Tea. Despite the name, London Fog is actually a West Coast creation, believed to have originated in Vancouver in the nineties. The exact origin of the earl grey based drink may be cloudy (pun intended), but the frothed (hence "fog") milk drink has remained popular in Victoria's cafés, perfect for all those Pacific Northwest rainy days.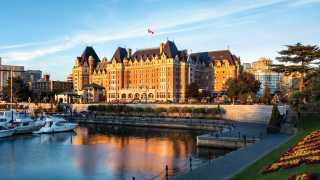 Victorian palates have come a long way, but it's impossible to speak about the beverage without bowing (or curtsying) to the original afternoon tea which began more than a century ago on the edge of the harbour. In 1908, almost 200 years after the first shipment of tea was imported into Canada by the Hudson's Bay Company, the Fairmont Empress opened its doors. Designed by Francis Rattenbury as a terminus hotel for the Canadian Pacific Railway, the château-like building began serving afternoon tea right away. However, it would take a visit from royalty to confirm its status as a tea destination.
In 1939, King George VI and Queen Elizabeth (later the Queen Mother) visited Victoria as part of a royal tour of Canada. The royal couple hosted a 250-person event at the hotel in the famous Empress Room, sending a china pattern ahead of time to be used. The visit launched a tradition of tea that still reigns supreme, and though the plateware would be shelved for another 12 years until Queen Elizabeth II paid a visit, a mimicry of the china pattern is still used in today's service.
The Fairmont Empress serves afternoon tea to 400 guests in a single day
During the summer months, the Fairmont Empress would usually serve afternoon tea to 400 guests per day – more than most hotels in London, England. "People come from all over the world for our tea," says Indu Brar, the general manager at the Fairmont Empress Hotel. "It's that nostalgia of a bygone era. Today's world is so 24/7. Everyone is so switched on and we don't really do enough for ourselves, something everyone is realizing in these unprecedented times."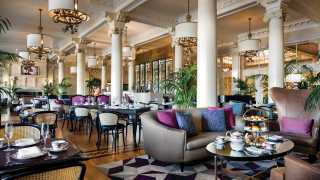 The usually bustling Lobby Lounge, whose doors have temporarily closed like the rest of the Empress, is serious about tea. Amidst the white pillars and mauve accent cushions sits a stunning signature bar designed with tea, not cocktails, in mind. Once guests have chosen from the Empress blends – a selection of seasonal teas created exclusively by the "crop to cup" Metropolitan Tea Company in Etobicoke, Ontario – hot tea is piped through urns and delivered to their table. If you need help deciding between the 21 loose-leaf teas, four of their staff are certified tea sommeliers, including Christian Elsing who leads the offerings at the Lobby Lounge.
"He is truly a star, just really engaged in and excited about the tea experience," says Brar.
The experience, of course, wouldn't be complete without the sandwiches and pastries that make afternoon tea.
Pacific sockeye salmon, poached Vancouver Island egg salad, and local Sun Wing cucumber sandwiches are just some of the seasonal fillings the Empress offers. And it doesn't get closer to home than the lawns of the Empress, where hundreds of thousands of bees make honey that's used in everything from desserts to tea and cocktails at the hotel.
"Then you get to the yummy parts," says Brar of the sweet treats. "We have our famous Empress scones served warm with house-made clotted cream and strawberry lavender preserve, made by our pastry chef. You've got cranberry, ginger and vanilla macarons, apple and pecan tarts, and sweet little French florentine cookies."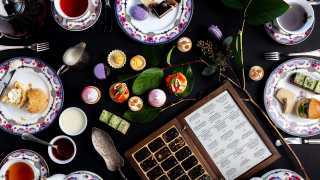 There's more than orange pekoe tea on offer. Guests who upgrade to a Royal Champagne Tea can toast to the majestic view of the harbour with a glass of Veuve Clicquot Rosé. But if you're looking for a cocktail with a real sense of place, we recommend a certain purple gin. A collaboration between Victoria Distillers and the Fairmont property, Empress 1908 Gin was born out of a desire to celebrate the hotel's grand reopening in 2017. Inspired by its iconic afternoon tea, the gin was infused with eight unique botanicals, including butterfly pea blossom, Pacific Northwest juniper, and the Empress Hotel's signature blend of tea, a floral mix from India, Kenya and China.
"Their master gin distiller and our tea team were playing around at the bar. We used our afternoon tea – Blue Suede Shoes – and by accident that's how that colour turned out."
This stroke of serendipity aligned the drink's hue with the hotel's royal purple colour – but there would be one final touch that Brar played a hand in. "When they were designing the bottle, I made sure that the top of the bottle was copper, like the roof of the hotel."
Elsewhere in Victoria, tea is finding its way into another boozy beverage. While coffee-flavoured porters and stouts have become a common part of the beer narrative, tea is an even more natural bedfellow for beer, with hops matching herbal notes for a bright sipping flavour profile. Spinnakers, Canada's oldest gastropub, makes a peach-flavoured German wheat beer as well as a spicy chai brown ale brewed with Silk Road Tea blends.
What makes Silk Road Tea so ripe for collaboration is an industry-wide respect for Cubelic and her years of experience. While it's fairly standard for North American tea to be stockpiled, the tea master refuses to deal in stale tea that has lost its antioxidant value and flavour. "Buying tea is a little like buying Persian carpets – if you don't know what you're buying, you don't know the quality that you're getting," says Cubelic. "When I look at a leaf, I can tell how fresh it is."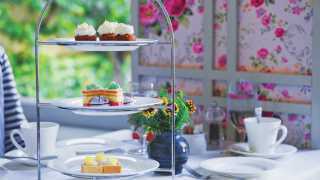 While tea in dining rooms across Victoria continues to evolve, from extended pinkie fingers at the stunning Butchart Gardens to plant-based offerings at family-run Venus Sophia, Cubelic is confident that the beverage will continue to be a fixture. And as I pair duck fat tater tots with a Silk Road Tea-infused cocktail at the Courtney Room, the dining room inside the Magnolia Hotel & Spa and one of 2019's Top 100 Restaurant's in Canada, I'm inclined to agree.
"People are foodies here," says Cubelic. "So the quality and the calibre of food and dining experiences you can have in Victoria, relative to its size, is very, very good."